Spiced Peaches Canning
Love peaches? I do! There are a few left out there in the farmer's orchards, so grab them up while you can. Today, we're gonna savor every last bit of them by spicing them up and preserving them.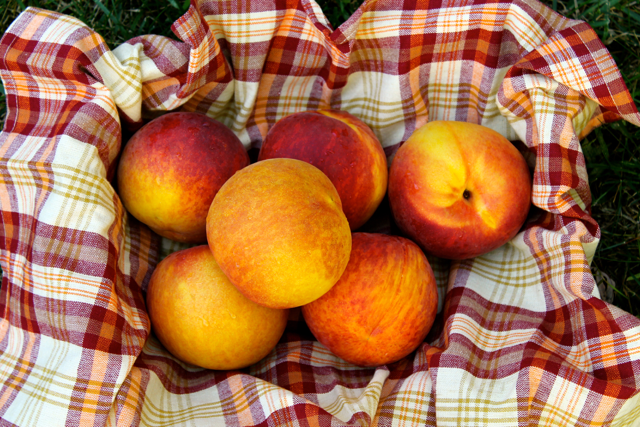 Unlike tomatoes, you have to actually peel peaches rather than blanching them. I did a few searches out on the net and found that you can blanch them to try and make the job easier but you're still going to have to use a knife to slice the peels away. They won't just pull off like tomatoes, so why do double the work? Right.
The easiest way to peel is to slice them in half first. Just take a paring knife and glide it around the pit.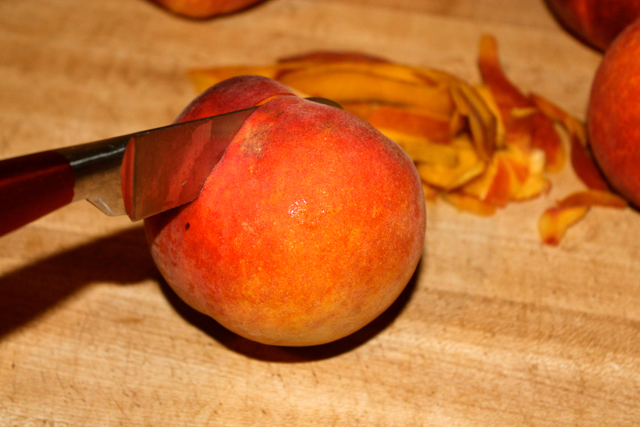 Twist the halves and the peach should come right apart, unless it's not ripe enough.
Remove the pit and proceed with peeling. Slice the peeled halves into pieces about 1/4 to 1/2 inch. They don't have to be exact but you want them to be about the same size.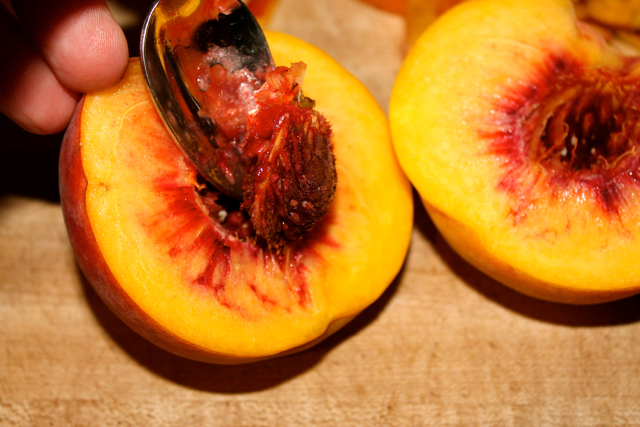 Fruits like peaches, apples, pears and apricots will turn brown due to oxidization. To prevent this, you can treat them with an acid such as lemon juice or a fruit protector such as Ball's fruit-fresh. You can find it in the grocery where the canning supplies are. You'll just mix a few teaspoons of your acid with water and soak the fruit for about 15 minutes.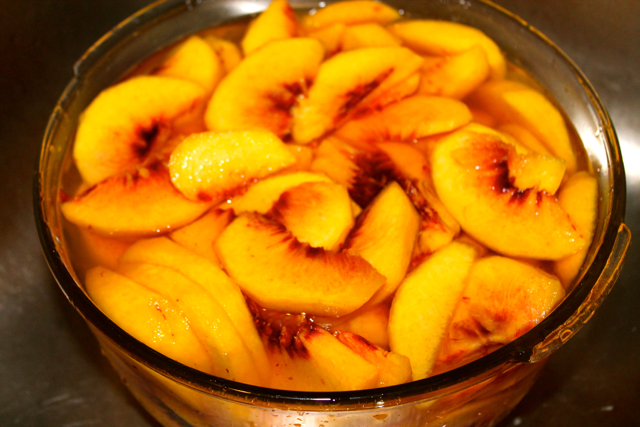 Now, for the spice flavoring in our peaches we're going to use nutmeg, a cinnamon stick and some whole cloves.
To sweeten the peaches and give them a little brightening, we'll use sugar, brown sugar, lemon juice and a couple tablespoons of white vinegar.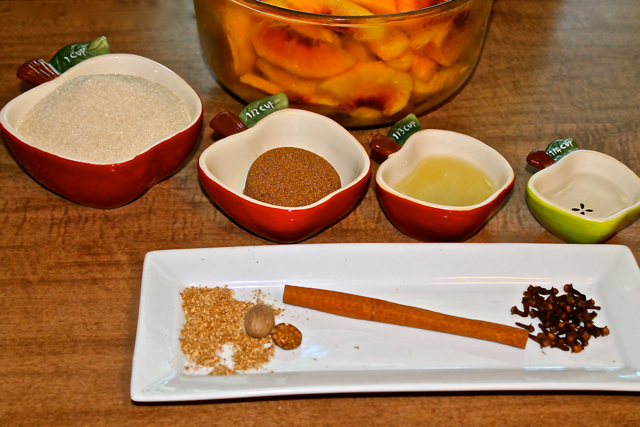 To get the most flavor out of our cinnamon stick, we'll break it. I just used the bone breaker part of my kitchen scissors to crack the stick.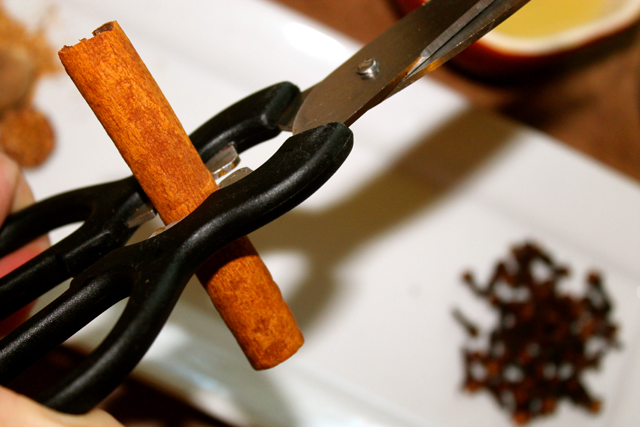 To avoid having to fish out the cloves and cinnamon, I placed them my herb diffuser. If you don't have one, you can just place the cloves and cinnamon in a piece of cheese cloth and tie it with a little butcher's twine or string.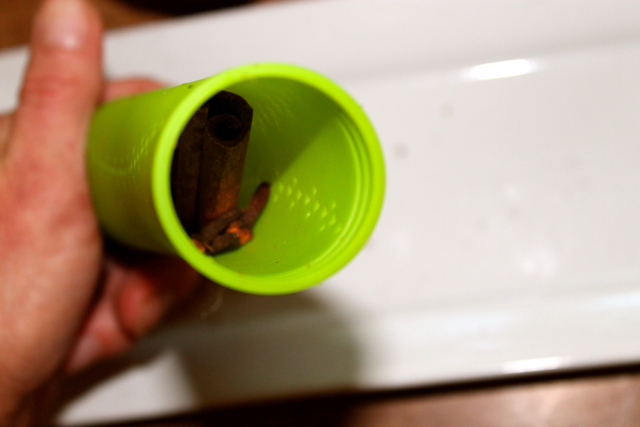 The last part of the flavoring for our peaches is a little bit of lemon zest.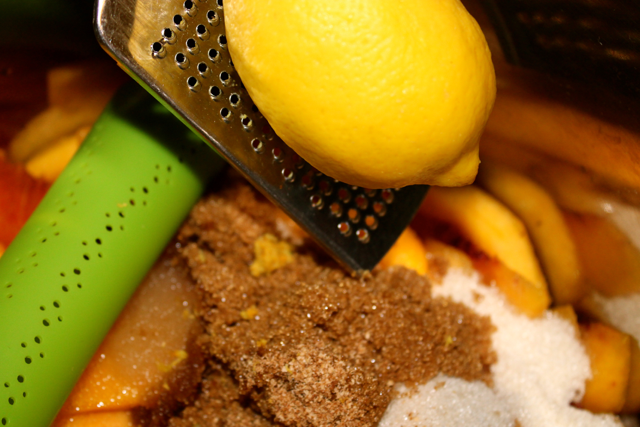 The peaches are simmered for about 45 minutes on the stove. While waiting for them to finish cooking, you'll go ahead and prepare your jars, lids and bands for canning. Wash them in warm soapy water and have a large pot with boiling hot water set out to dip the jars in before filling them. You want the jars to be hot to avoid shocking them and causing them to break or crack.
The lids will also need to be heated in hot water to get the compound softened on the underside of them for making a good seal.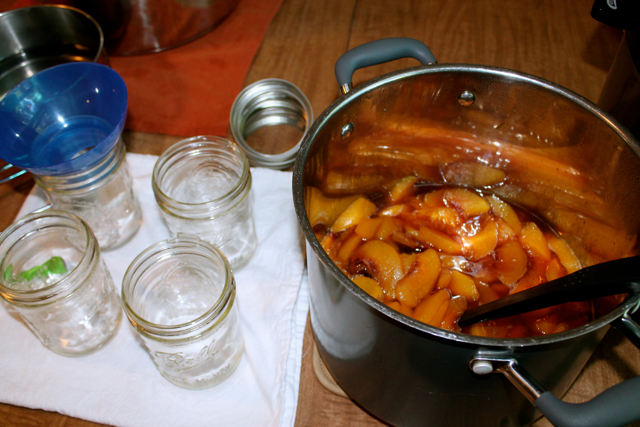 This recipe calls for one inch head space. After your peaches are ready, you'll fill the jars and measure the room left.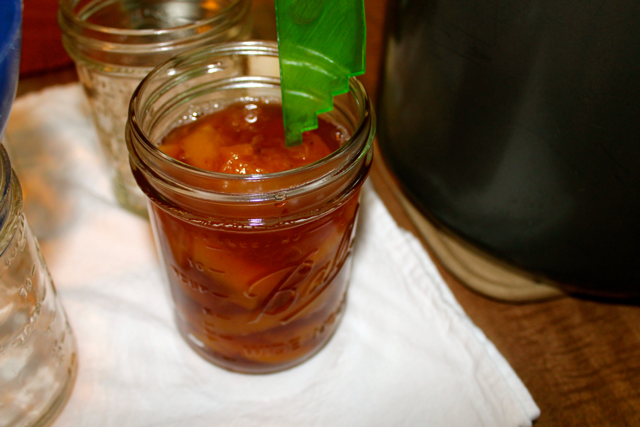 Using the end of a wooden spoon or non-metallic measuring tool, remove any trapped air bubbles.
Be sure to wipe the rims of the jars with a clean cloth dipped in a little white vinegar before placing the warmed lids on to ensure there are no obstructions to keep the compound on the underside from sealing.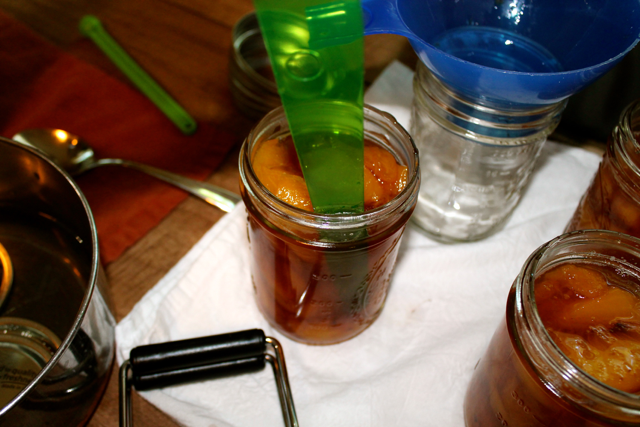 As described in yesterday's post (see Basic Salsa Canning and Preserving) you will process the filled jars according to the acid level of the food. Peaches are a high acid food and with the lemon juice and vinegar in this recipe, they are fine for processing in a water bath. I did mine in the pressure cooker but either way works.
You'll need to process the jars for 15 minutes. After they're done processing, turn the heat off or if using a pressure cooker, release the steam and remove the lid. Allow the jars to sit for 5 minutes before removing.
Place them on a clean towel in a draft free area for 12 hours. Check the seals by pressing the lids to ensure they have in fact sealed properly. If any of the seals did not take, refrigerate the jars. As long as the lids do not move or pop when pressed, you're good to go and you can store them in a cool dark cupboard for up to one year.
This recipe makes a great topping for ice cream. The spiced peaches are also good simply topped with some fresh whip cream. (see Party Bites ~ Fruit n veg snack-ity-roos and fun with a pastry bag )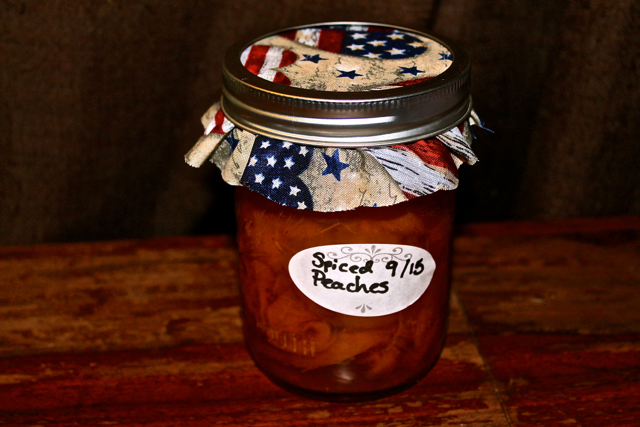 The sauce in the spiced peaches is thick enough for a peach crisp. Just place two pints of the peaches in a small baking dish and cover with a mixture of 1/3 cup butter, 2/3 cup brown sugar, 1/2 cup flour, 1/4 tsp ground cinnamon and 1/8 tsp of ground nutmeg. Bake in a 375 degree F. oven for 30 minutes and serve with your favorite ice cream. Delish!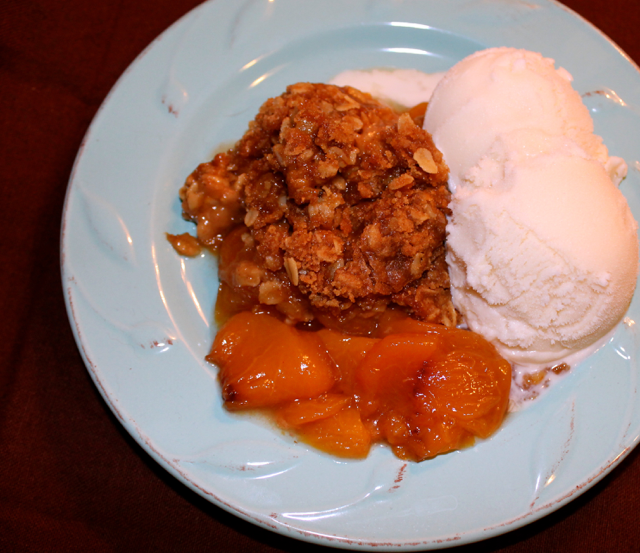 Tomorrow, I'll be featuring a low acid food recipe for canning, so stay tuned friends. I don't know about you but I want to fill my pantry with all the last bit of summer goodies I can.
If you have any requests or just wanna catch up with me, you know where to find me. Make it a great day and as always, keep it delicious! Till next time ~ much love, Connie
Canning Spiced Peaches
Ingredients
2

tsp

Ball fruit-fresh

1

C

water

8

C

peaches

pitted, peeled and sliced

1

cinnamon stick

2

tsp

whole cloves

1/4

tsp

ground nutmeg

1 1/2

C

granulated sugar

1/4

C

brown sugar

1/4

C

lemon juice

2

tbsp

C white vinegar

1

tbsp

grated lemon zest
Instructions
Place peaches in a large bowl with the water and Ball fruit-fresh and allow to sit for 15 minutes.

Drain the liquid off the peaches.

Place the cinnamon stick and cloves in a spice diffuser or in cheese cloth, secured with string.

Place all ingredients in a large pan over medium heat and bring to a low simmer for 45 minutes.

Fill another large pot with water and bring to a boil. Set aside.

Prepare jars, lids and bands by washing in warm soapy water.

Place jars and lids in the hot water to warm. Remove and fill jars with the peaches leaving 1 inch head space. Remove air bubbles with a non-metallic spoon or measuring stick.

Wipe rims of jars with a clean cloth dampened with white vinegar.

Place the warm lids on the jars and screw on the bands finger tight.

Electric Pressure Cooker Method:

Place the jars in pressure cooker pot and pour enough hot water in to reach 1/4 of the way up the jars.

Place the lid on and turn the steam release valve to locked position.

Press the canning/preserving button and adjust the timer to 15 minutes.

After the timer counts to zero, carefully release the steam and remove the lid.

Allow the jars to sit for 5 minutes before removing.

Place the jars on a clean towel in a draft free area and leave for 12 hours.

Test the lids to make sure the seal has formed. You can remove the bands at this point and store the jars in a cool dark cupboard.

Water Bath Method:

Place the jars into a large pot filled with 2 inches of boiling water. Pour more hot water in the pot to cover the jars by one inch.

Bring the water to a boil and cover with lid. Adjust the heat to keep the water at a gentle boil and process for 15 minutes.

Turn the heat off and uncover the pot. Allow the jars to sit for 5 minutes before removing.

Place the jars on a clean towel in a cool, draft free place for twelve hours.

Test to see if seal has properly formed and place in cool dark cupboard for storage. You can remove the bands at this point and store the jars in a cool dark cupboard.
Notes
Recipe by: Connie Murray @Happybellyfoodie.com