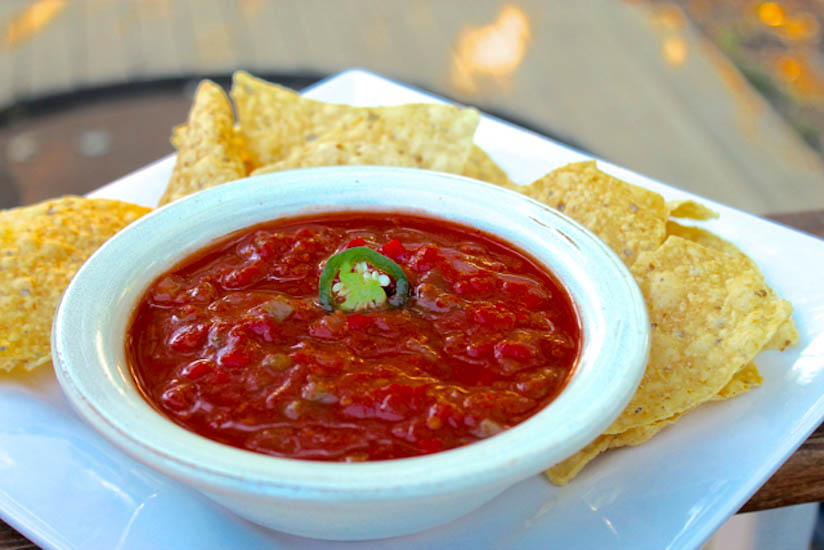 A bright bowl of sassy,
Spicy Tomato and Apple Salsa
has lots of spunk and you won't believe how a little bit of apple really does make the flavors come alive.
There's still some tomatoes on the vine and just before October whispers a frost over the night in Kentucky, we're gonna get the most out of those red beauties.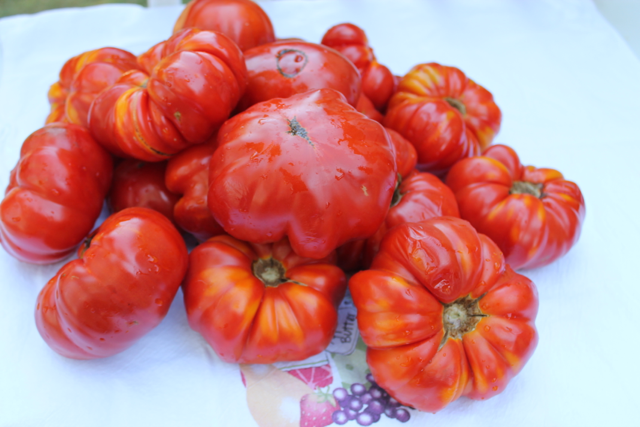 You can use just about any tomato variety you want for a salsa recipe or combine them. Just remember that blanching them in boiling hot water for a couple of minutes makes them easy to peel. The skins will slip right off and you can have them diced up in no time. Using the blanching method keeps waste to a minimum.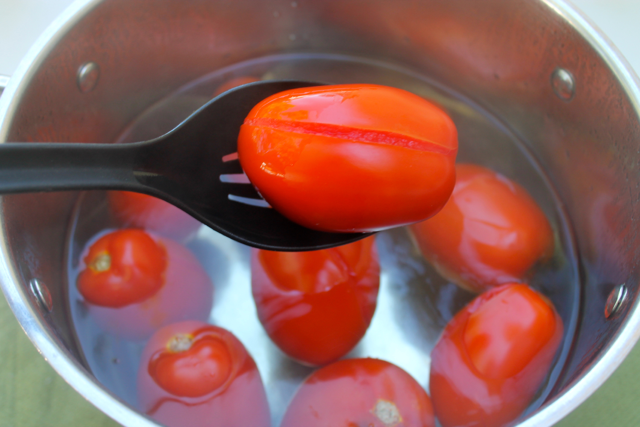 The apples in this recipe gives the salsa texture and adds depth to the flavor. The Granny Smith variety is perfect because the apples hold together well through the cooking and canning process. You'll simply peel, core and dice the apples and add them to the tomato mixture.
A few of the standards for salsa, onion, green pepper, jalapenos and garlic are chopped up and cooked along with the tomatoes, apples and seasonings.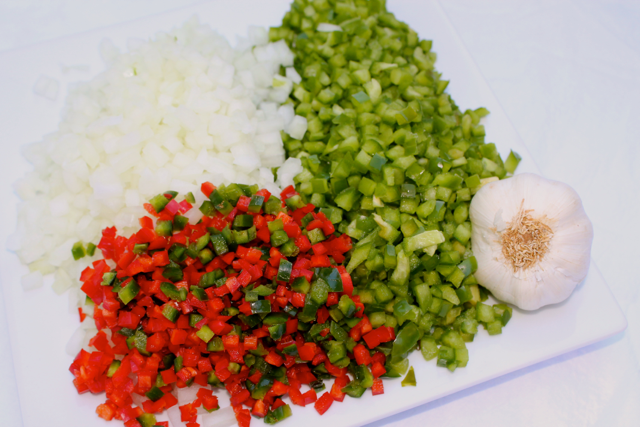 I wanted to take this salsa up a few notches and add some heat. A few habanero peppers and some Thai chilies are just the kick I needed. I also wanted a warm undertone but not too much of a cinnamon flavor, so I added a tablespoon of Madras curry powder mix. The curry mix has tumeric, ginger, fenugreek, cinnamon, cloves, anise and mustard.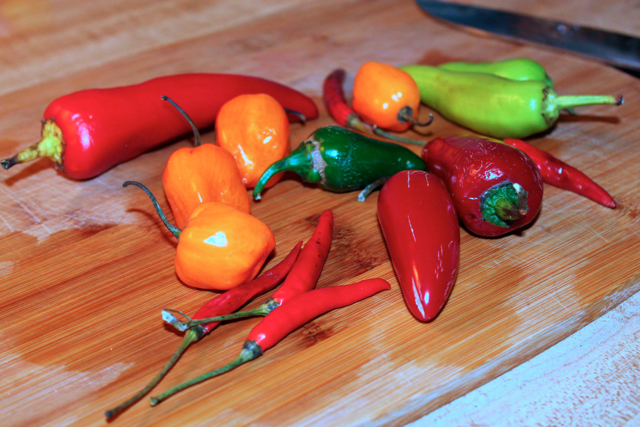 Once you have all your ingredients prepped, you'll combine them in a large pot and bring to a boil. Turn the heat down and simmer for 45 minutes.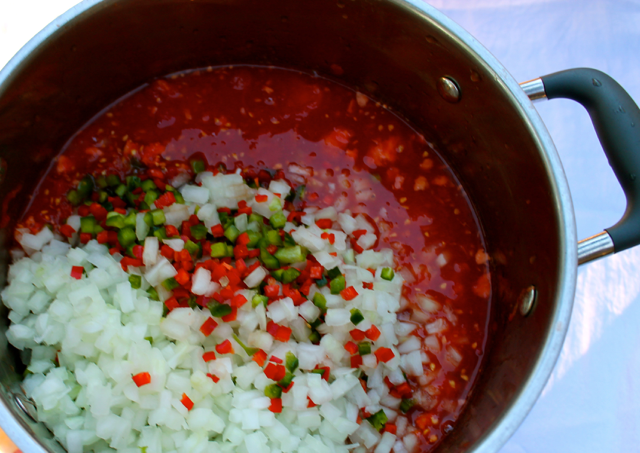 Prepare your glass jars for canning while the mixture is cooking and proceed with canning when it is done. If you missed my salsa canning post, check it out here –>Basic Salsa Canning and Preserving. Details and instructions are also included in the recipe print out below.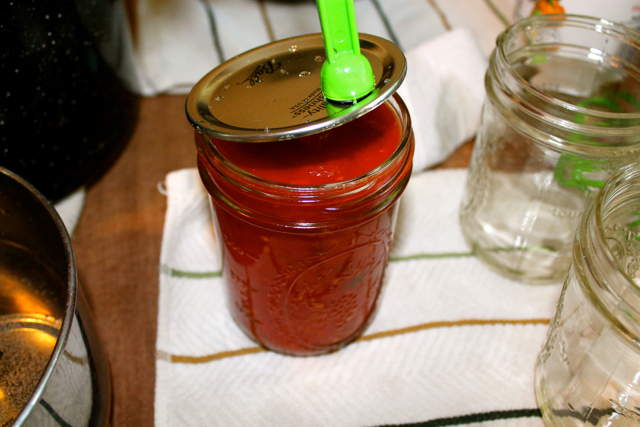 It truly does amaze me, how the things you never think of combining to make a salsa are unlimited. All it takes is the right balance and you can have a new favorite treat. After making a basic salsa recipe, you'll find that it's pretty much a no brainer. Adding a kick or a twist will soon be on your list when you're looking for something new to try.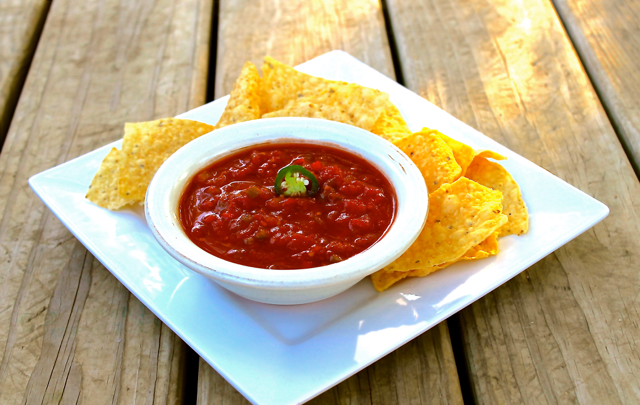 Salsa is a perfect recipe to make when you need to preserve those last few garden tomatoes. With cooler weather settling in, peppers are hanging on and producing their last fruits, too. In fact, peppers really thrive in cooler weather after withstanding the heat of summer.
You're not going to taste the apple in the salsa but you'll notice a brightness about it that makes you wonder, "hmmm what is that?" And that little bit of curry gives it a nice warmth. The habanero and Thai chilis don't set your mouth on fire. They just give you a front of the pallet after effect of cozy heat. Balance, that's what I call a great recipe and that makes me happy!
I do hope you'll give it a try friends. It's a great game day snack or anytime treat.
Make it a fabulous weekend and as always, keep it delicious!
Till next time ~ much love, Connie
Spicy Tomato and Apple Salsa ~ Hot Stuff
Ingredients
8

C

tomatoes

cored, peeled and diced

2

lg Granny Smith Apples

peeled, cored and diced

1

large onion

diced

2

large green bell peppers

trimmed, seeded and diced

4

jalapeno peppers

trimmed, seeded and diced

2

hot banana peppers

trimmed, seeded and diced

4

habanero peppers

trimmed, seeded and diced

2

Thai chili peppers

trimmed, seeded and minced

4

garlic cloves

minced

1

tbsp

cumin

1

tbsp

balsamic vinegar

1

tbsp

Madras curry powder

2

tbsp

kosher salt

1

tsp

ground cayenne pepper

1/2

C

apple cider vinegar

1 15

oz

can tomato sauce

2 6 1/2

cans tomato paste
Instructions
Combine all ingredients in a large pot. Bring to a gentle simmer over med/high heat. Turn heat down and allow to simmer for 45 minutes.

Fill another large pot with water and bring to a boil. Set aside.

Prepare jars, lids and bands by washing in warm soapy water.

Place jars and lids in the hot water to warm. Remove and fill jars with the salsa leaving 1/4 inch head space. Remove air bubbles with a non-metallic spoon or measuring stick.

Wipe rims of jars with a clean cloth dampened with white vinegar.

Place the warm lids on the jars and screw on the bands finger tight.

Electric Pressure Cooker Method:

Place the jars in pressure cooker pot and pour enough hot water in to reach 1/4 of the way up the jars.

Place the lid on and turn the steam release valve to locked position.

Press the canning/preserving button and adjust the timer to 15 minutes.

After the timer counts to zero, carefully release the steam and remove the lid.

Allow the jars to sit for 5 minutes before removing.

Place the jars on a clean towel in a draft free area and leave for 12 hours.

Test the lids to make sure the seal has formed. You can remove the bands at this point and store the jars in a cool dark cupboard.

Water Bath Method:

Place the jars into a large pot filled with 2 inches of boiling water. Pour more hot water in the pot to cover the jars by one inch.

Bring the water to a boil and cover with lid. Adjust the heat to keep the water at a gentle boil and process for 15 minutes.

Turn the heat off and uncover the pot. Allow the jars to sit for 5 minutes before removing.

Place the jars on a clean towel in a cool, draft free place for twelve hours.

Test to see if seal has properly formed and place in cool dark cupboard for storage. You can remove the bands at this point and store the jars in a cool dark cupboard.
Notes
Recipe by: Connie Murray @Happybellyfoodie.com