Dinner tonight, lunch tomorrow!
I love a dual purpose recipe. You can do so much with a good vinaigrette!  This one is perfect for chicken breast. It's light, citrus-y and has a touch of honey for sweetness. I always make an extra chicken breast or two when I have them for dinner because they go great over a salad for lunch the next day.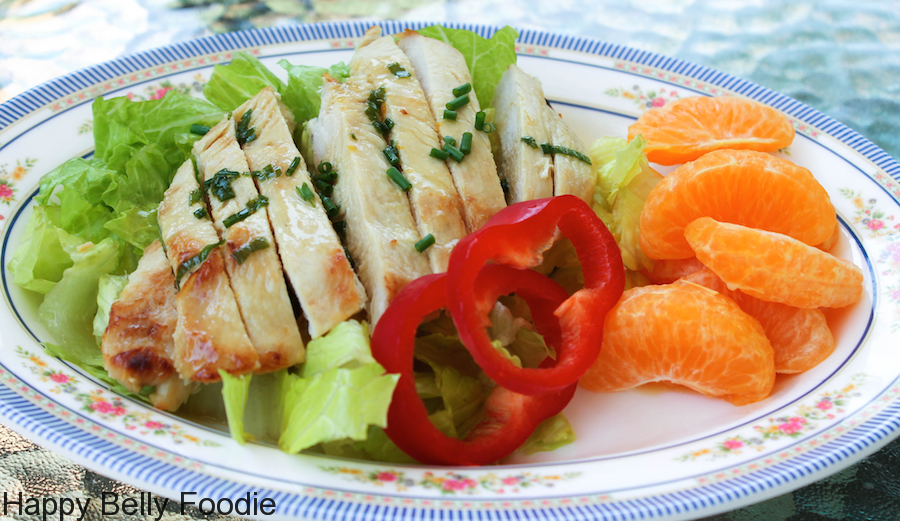 This recipe is simple and interchangeable with so many different flavor combinations. Of course! It's a vinaigrette. I've done pineapple juice, apple juice and a few others. They're all delicious!
Making your own dressing will save you money and it tastes way better than store bought. It'll also help you avoid ingredients like artificial flavors, sweeteners and colors. I know I harp on this a lot but if you start reading about what's really in those bottles, you'll be mortified. Nasty Nasty Nasty!!
Never fear my foodie friends, there's plenty of good stuff we can make on our own and that's why I'm here. 🙂 I love sharing my from-scratch recipes and telling you all about them.
Well folks, it's Friday and we had a beautiful Spring week here in Northern Kentucky. I hope you've enjoyed yours and I wish you all a grand (and delicious) Mother's day weekend! Till next time ~ much love, Connie
Sunshine Dressing ~ A marinade and vinaigrette in one
Ingredients
1

lg orange

1

lg lemon

1/2

C

grape seed oil

2

tbsp

soy sauce

2

tbsp

white wine vinegar

3

tbsp

raw honey

4

chives

chopped
Instructions
Squeeze the juice from the orange and lemon into a bowl. (you should have enough to equal 2/3 cup)

Strain the juice through a fine wire mesh strainer and discard the seeds.

Using a microplane/zester, grate enough of the orange and lemon peel to equal 1 tsp each.

In a jar or bottle, combine the juice, zest, oil, soy sauce, vinegar, honey and chives.

Cover with a lid and shake vigorously.

Divide the mixture in half.

Use half of the dressing to marinate 4-5 chicken breasts for one hour. Strain liquid off and spray both sides of each piece with oil to coat. Place on a broiler pan under the oven broiler set on high. Broil until the chicken is 170 degrees F internally and browned nicely.

Use the other half as a dressing for a nice salad.
Notes
Recipe by: Connie Murray @happybellyfoodie.com