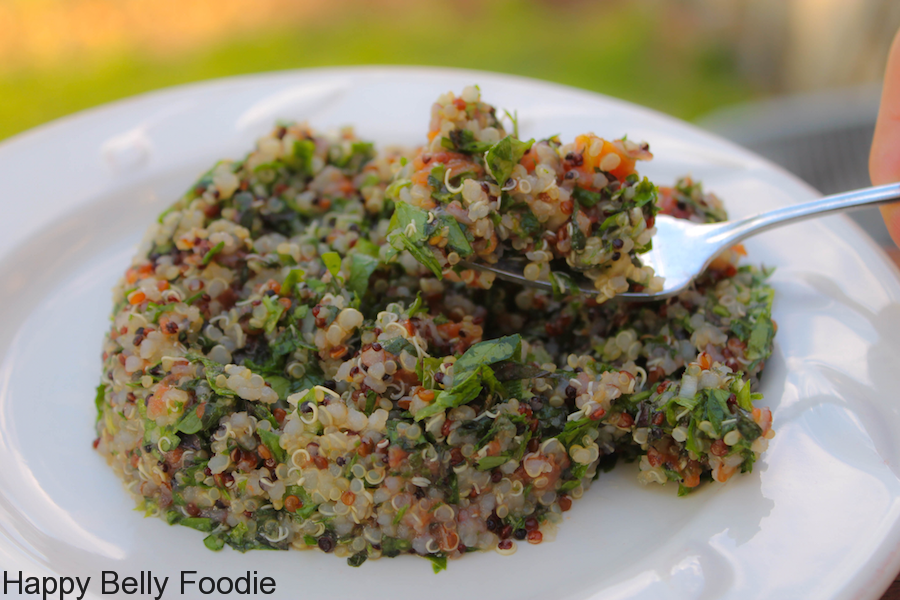 Don't let this pretty little dish fool you. Tabbouleh Salad ~ Featuring Fresh Ramps packs a bright punch!
The first time I had Tabbouleh Salad was in a Brazilian restaurant. They had it on the salad bar and I put some on my plate thinking, oh yummy! I love all kinds of salads, especially pretty ones. I wasn't expecting it to be bursting with vibrant flavors and I went back for seconds right away.
You know me well enough by now to guess that I immediately went home and started searching for recipes. This delightfully fresh dish has fascinated me ever since. What's really great about this salad is the fact that it's so versatile. You can pretty much put any fresh green thing in it (accept buggers, I wouldn't put those in there hahahaha!) and it'll be delish!
Recently, a very sweet friend of mine hooked me up with some fresh ramps that her Mama gave her. I'd never had them before but I couldn't wait to come up with something to put them in.
Here's what they look like: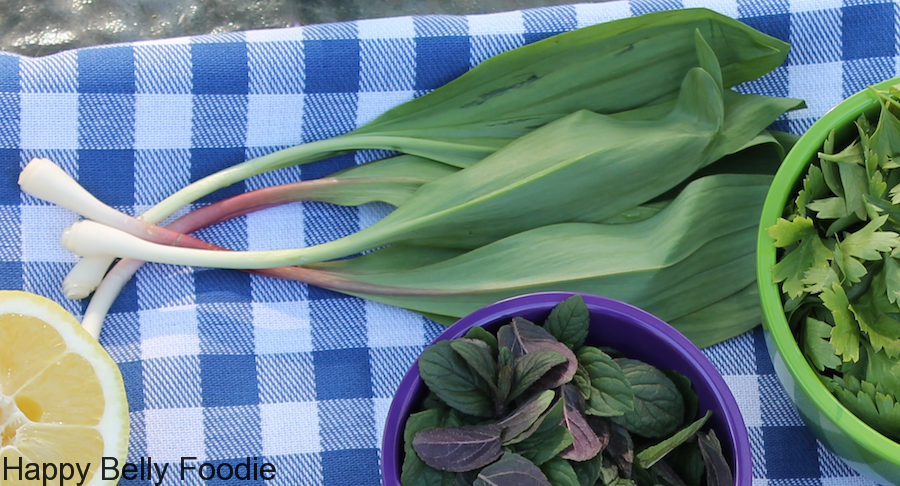 According to my friends' Mom, ramps are a Spring treat that grows wild and you can use them in many dishes. You can even freeze them for later use in soups and stews. They're flavor is a combination of green onion and very strong garlic.
Tabbouleh Salad came to mind when I got home with my new stash of ramps. I took a cruise around my yard and gathered up some fresh mint, bought a nice big bunch of parsley and went to work.
You can adjust any ingredient in this recipe to fit your liking. Some folks like more greens and less grain in theirs but I like mine grainy. I like quinoa because of its' bright color and firmness but you can use different grains such as bulgur, couscous, amaranth, etc. Really it's up to you. Regardless of what you choose, this dish is a fabulous side for any meal.
Well foodie friends, I hope you have a beautiful Saturday. I'm off to the market to see what goodies are available. Isn't Spring such a glorious time of the year? I do hope you'll try Tabbouleh Salad. Let me know what you came up with and how you loved it. Till next time ~ much love, Connie
P.S. If you're interested in finding ramps for yourself, here's a great article about them. http://leslieland.com/2010/04/ramps-finding-picking-cooking-and-planting/
Tabbouleh Salad
Ingredients
2

C

cooked quinoa

2

ramps

finely chopped

2

C

parsley

chopped

1/2

C

fresh mint

chopped

3/4

C

tomatoes

diced

Juice from 1/2 lemon

1

tablespoons

olive oil

Salt and freshly ground black pepper to taste
Instructions
Allow the quinoa to cool completely after cooking.

In a large bowl, combine all ingredients, cover and refrigerate for 1-2 hours or overnight.
Notes
Recipe by: Connie Murray @happybellyfoodie.com