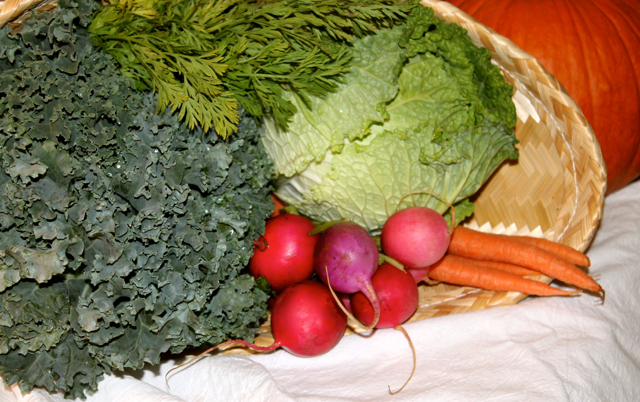 Thai Peanut Slaw with Crunchy Fried Noodles is a perfect Autumn side dish. With it's beautiful colors, flavorful dressing and various textures, you'll enjoy the liveliness. Next time you're at the farmer's market or your local grocery, pick up a few vitamin packed veggies to brighten up your meal and celebrate nature's freshness.
Don't you just love Autumn? Summer really does hand over a bounty of beautiful food. Cruciferous crunchy wonders, such as cabbage, kale, broccoli and brussel sprouts beam brighter greens more in Spring and Autumn. That's because cole crops love cool nights and it really shows. Leave them uncooked and they'll promise nourishing vitamins like A, C and Folic Acid.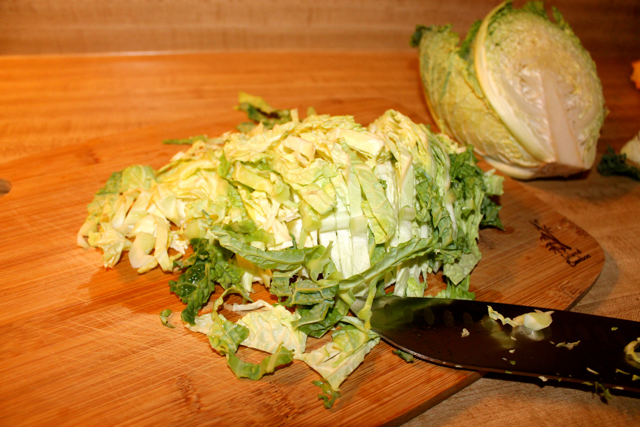 I love a healthy, versatile dish and slaw is just that. You can use just about any fresh veggie combination you like. Change up the standard creamy based dressing and try a vibrant Thai based vinaigrette. Not only will it look pretty on the plate, it'll smell and taste wonderful.
Speaking of beautiful food, I wanted to share this video about conscious cooking. Right about 6:11 in the video Cynthia Lair talks about how spending mindful time with your ingredients leads you to make better choices in foods. This rings very true for me as a cook, concerned with providing healthy choices for me and my crew. When you appreciate the beauty nature provides, you absorb that beauty.
I look for foods that are exquisite in appearance, not only because I am a food blogger but because they just make me happy. I was thinking about what Cynthia says in her video when I was shopping for my veggies. In one of those philosophically poetic kind of ways, it dawned on me; we really are truly blessed by our food. The energy that nature unleashes unto us in a single vegetable is such a gift.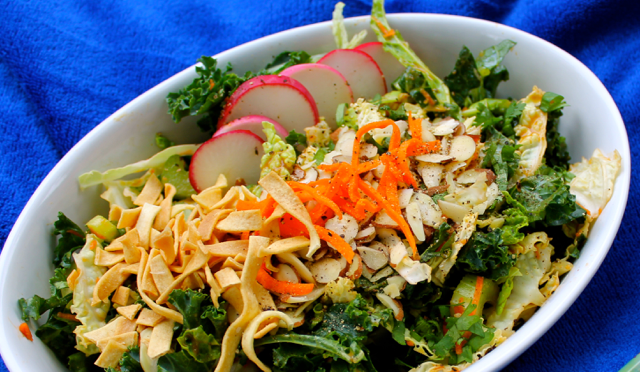 Taking the time to slice, dice and chop each element, for me is therapeutic. It's slowing down and smelling the roses, so to speak. I hope you'll enjoy it as much as I do, too.
Have a fabulous day and as always, keep it delicious!
Till next time ~ much love, Connie
Thai Peanut Slaw with Crunchy Fried Noodles
Ingredients
Slaw mix:
1

C

chopped kale

1

C

chopped cabbage

1

carrot

grated

1

stalk celery

sliced

3

radishes

sliced

2

tbsp

sliced almonds
Fried Noodles:
1

C

medium width egg noodles

boiled for 5 minutes and dried between paper towels

peanut oil for frying
Thai Peanut Dressing:
1/4

cup

organic creamy peanut butter

2

tbsp

sesame oil

2

tbsp

grapeseed oil

4

tbsp

rice vinegar

4

tbsp

soy sauce

1

cayenne pepper

chopped fine

2

garlic cloves

crushed

1

tbsp

freshly grated ginger

2

tbsp

light honey

1

tsp

salt

2

tsp

organic sugar

2

tbsp

fresh lemon juice

1

vanilla bean

scraped clean (save the pod and soak it in vodka for your own homemade extract)
Instructions
Slaw Mix:
Combine all the veggies and toss.
Fried Noodles:
To fry the noodles: Heat a wok or large skillet over medium with 1/2 inch peanut oil. Fry the noodles until the oil stops sizzling. Place on dry paper towels to drain.
Thai Peanut dressing:
Place all ingredients into a food processor and process until desired thickness. Adjust to taste. Serve over fresh greens and veggies.
Assemble:
Arrange veggies in a dish, drizzle with dressing and top with sliced almonds and fried noodles.
Notes
Recipe by: Connie Murray @Happybellyfoodie.com
Pin It: