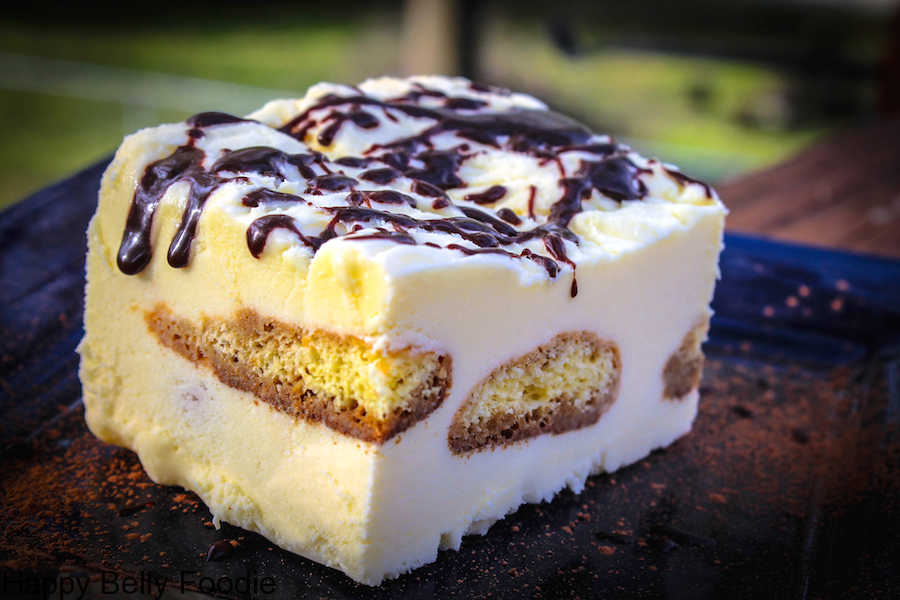 Yes. Tiramisu can be turned into an ice cream delight. Don't wag your finger at me!
Since my first discovery of the luscious Italian dessert, Tiramisu,  I've made it several times. (recipe coming soon!) Now that the weather is finally warming up, I'm thinking ice cream!
I got a sweet deal on an ice cream maker
that was on clearance last fall. With the discount it was only 24$. Whoo Hooo! How fun is that?!?!
Then winter came and after only making a hand full of ice cream recipes, I reluctantly put it back in the box. I've been dreaming of some fancy schmancy ice cream recipe ever since then.
So foodie fans, this is what I came up with. I'm really proud of this one because it turned out so beautifully. I even made the cookies from scratch. Though, there was a minor stumbling block ( see Post to Post Links II error: No post found with slug "the-evil-pastry-bag-deflating-fears-and-learning-to-be-happy-a-foodie-chat" ).
As a strong-willed foodie should do, I didn't let it stop me and I'm very glad I didn't.
If you've never had tiramisu, you're gonna be so delighted when you try it. Just like the original version, this dish is made with creamy rich mascarpone cheese. It's layered up with those lady fingers, which are lightly dipped in coffee and a touch of Kahlúa for that nice little kick you get when you get into the scrumptious layers. The drizzle of chocolate sauce brings it all home and makes you wanna ask for another slice (go ahead, have another!)
When you break out the ice cream maker this summer, consider giving this tiramisu ice cream delight a try. You'll be glad you did! I can't wait to make it again. Of course it's all gone! 🙂 ~ much love, Connie
Tiramisu Ice Cream Delight
Ingredients
3 1/2

C

whole milk

1/2

C

heavy whipping cream

1

tbsp

vanilla extract

6

large egg yolks

1

C

sugar

2

C

mascarpone cheese

20

lady finger cookies

* 1/2 C brewed espresso coffee

cooled

3

tbsp

Kahlua coffee flavored rum

The Sauce:

8

oz

semi-sweet chocolate

* 1/4 C brewed espresso coffee

1

tbsp

vanilla extract

Cocoa powder for garnish

* Instant espresso coffee can be used
Instructions
Note: You can substitute store bought French vanilla ice cream, if you absolutely have to 🙂

In a large heavy pot, combine milk and cream and place over medium heat, stirring every few minutes. Just before it begins to boil, remove from heat.

Combine the egg yolks and sugar in a mixing bowl. Whisk until well blended and creamy looking.

To temper the eggs, (keep them from becoming scrambled chunks) use a large ladle to incorporate the hot milk mixture into the sugar/eggs. Whisk one ladle full in at a time until 3/4 of the milk is incorporated. Add the egg/milk mixture back to the pot and stir well.

Turn the heat back on to medium. Stir constantly and cook until the mixture reaches 180 degrees F. Do not allow it to come to a boil.

Strain the mixture through a fine wire mesh sieve. Add the mascarpone cheese and vanilla. Stir until all the lumps of cheese have dissolved.

Take a piece of plastic wrap and lay it directly on top of the mixture to keep a skin from forming. Place in fridge until completely cold. (overnight is best)

Place the mixture in ice cream maker canister and process according to the manufacturer's directions.

While the ice cream is processing, make the sauce. Place the chocolate, 1/4 cup coffee and vanilla extract in a small sauce pan over low heat. Once the chocolate begins to melt, stir constantly until all is melted. Set aside.

In an 9 x 12 x 2 baking pan, pour enough ice cream in to cover the bottom. (about 1/2 inch thick)

Mix the 1/2 cup coffee and Kahlua in a small bowl. Dip the lady fingers in to coat. (do not soak)

Place the cookies on top of the ice cream, arranging them in an evenly spaced layer.

Pour the rest of the ice cream on top of the cookies. Spread with a spatula to smooth and cover with plastic wrap. Place in freezer to harden the ice cream for about 1 1/2 hours or until firm enough to slice.

Remove from freezer. Run a large knife under hot water and slice into desired serving sizes. Coat the serving dishes with a light dusting of cocoa powder. Place the slices on the dishes and drizzle the chocolate sauce on top.
Notes
Recipe by: Connie Murray @happybellyfoodie.com