Gluten Free Cranberry Orange Bread
How do you feel friends? That. Is the question. Should you go gluten-free or no?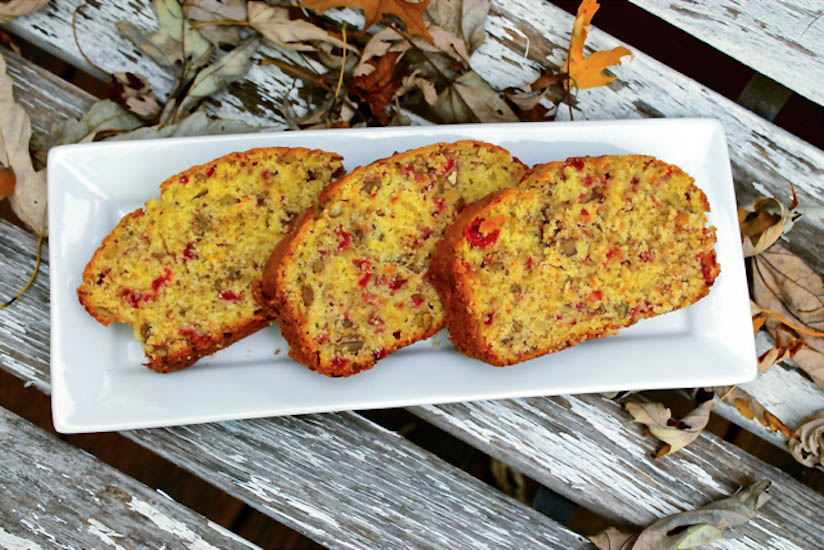 With the explosion of gluten free products on the market today, you may have asked yourself, "Should I go gluten free? Or not?" Let's dig a little deeper and find some answers so that we can make an informed decision.
Can you tell which one of these is gluten free?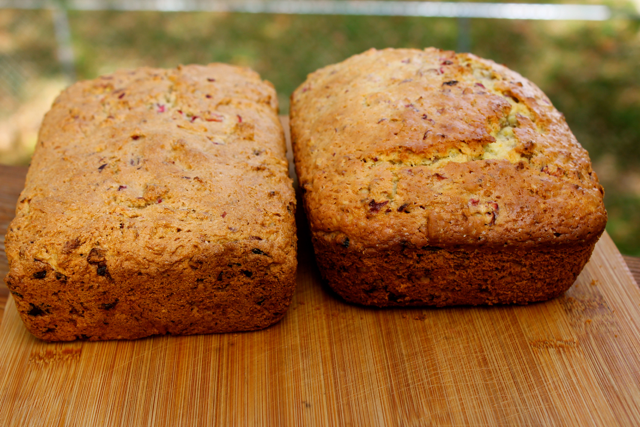 If you've considered changing your diet to exclude gluten from it, I ask one simple question;  Aside from a doctor's orders, what is the reason for the consideration?
I ask this because I myself had considered the option of going gluten-free with my diet because I do have some of my own health concerns. But I'm a skeptic when it comes to diets and restrictions. I have to have a pretty darn good reason to exclude something from my diet or include something in it before I make the decision.
Before I go any further with today's discussion, I have to throw this statement out there…
Disclaimer: I am not a doctor, health care professional or nutritional expert. The statements in this discussion are purely based on my opinion about the research I have done and are not meant to replace instructions from your health care provider(s). I invite you to do your own research and seek medical advice on your own accord.
It is a given that if you've been diagnosed with a sensitivity or allergy to gluten that you will need to make the change. If you have symptoms such as weight loss, diarrhea, gas, bloating, fatigue or weakness, it could be an indicator that you have an allergy to gluten. Again, please check with your health care professional for proper diagnosis.
For the rest of us:
So, do you really need to eliminate gluten from your diet?
Here are some questions I had and the answers I found in my research about gluten:
Q. What is gluten?
A. A natural protein composite found in grains such as wheat, barley, and rye.
Q. What does gluten do?
A. It acts as a glue, giving elasticity to dough, helps it rise and provides structure and texture.
Q. Would I be healthier if I didn't eat wheat or other products that have gluten in them?
A. If you are allergic or have a sensitivity to gluten, yes. If you're not allergic or don't have a sensitivity to gluten, it depends on what you consume in place of wheat.
Q. What nutritional values do wheat products (or other products which contain gluten) have in the diet?
A. They provide protein, vitamins, minerals and fiber, all of which are needed for a well balanced diet.
Q. Are there any health concerns involved in eating a gluten-free diet?
A. Yes. When you eliminate an entire category of foods, such as wheat products from your diet, you run the risk of dietary deficiency. If your diet does not include wheat products, you will need to make sure you're getting the right amount of  B vitamins, calcium, iron, zinc and magnesium elsewhere.
Q. Do gluten-free products have less calories and will they help me lose weight?
A. No. Gluten-free products are actually higher in calories than regular wheat products and have less nutritional value. Some gluten-free products have more sugar and fat in them then regular wheat products. Not only that, they are more expensive than wheat products.
Here is a side by side view of the nutritional differences in gluten free-flour and wheat flour:
The flour on the left is gluten free. The flour on the right is unbleached wheat flour.
As you can see, the gluten-free flour has less nutritional values and has more calories. For me, that gives me enough information to understand that going gluten-free isn't necessary. The only reason I would eliminate gluten from my diet would be if I had intestinal problems or serious health issues. Gluten-free products aren't going to help me balance my diet. In fact, I'd have to compensate for the reduced amount of nutrition I'd be getting.
Let's take a look at the recipe and see the difference in a gluten-free version versus a wheat version.
The only difference in the two breads for this recipe is the flour. Everything else is the same. There's no gluten in any of the other ingredients.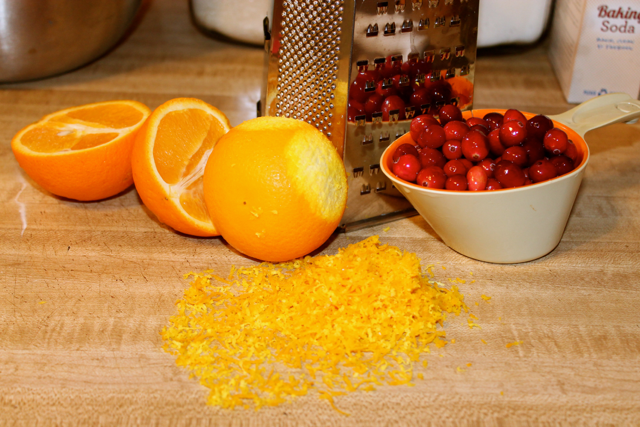 Here is the gluten-free flour brand I used, for any of you friends out there do follow a gluten-free diet.
Side note: Flour has three components that make up it's structure, starch, protein and gluten. Wheat and barley naturally have all three. Gluten-free flour needs three different products to simulate this, a ratio of 40 percent protein (whole grain) and 60 percent starch plus a gum in place of the gluten.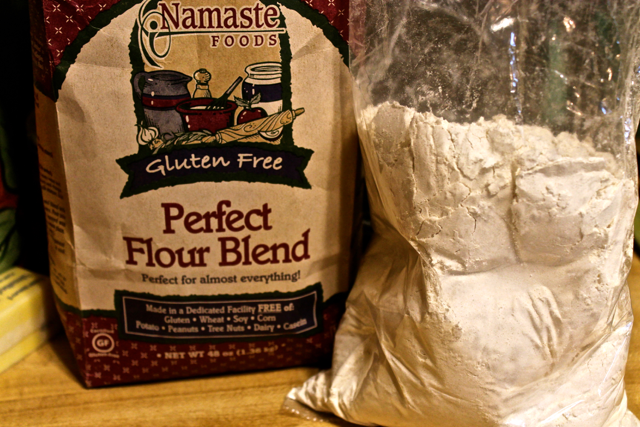 When you're mixing the ingredients up, you can see that the wheat flour mixture on the left is shinier and has more of a smoothness to it. The gluten-free mixture is a bit denser.
There is no yeast in this bread but the natural structure of the wheat flour is what allowed it to rise a bit more than the gluten-free one on the left here. Did you guess right at the beginning of the post, which one was which?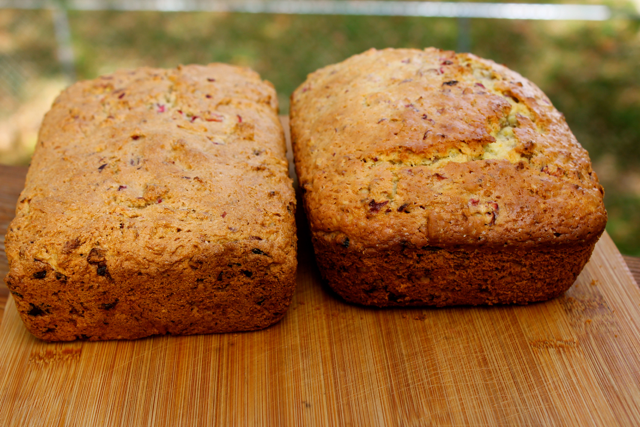 After the breads are baked, when sliced, the gluten-free bread on the left actually did hold up better. It was denser and wasn't as fluffy as the wheat bread but it wasn't bad at all. The taste was very close and honestly, I would have never guessed that either one of these were gluten-free.
So for this recipe, I'm gonna say that if you have to go gluten-free or already are, it's a winner.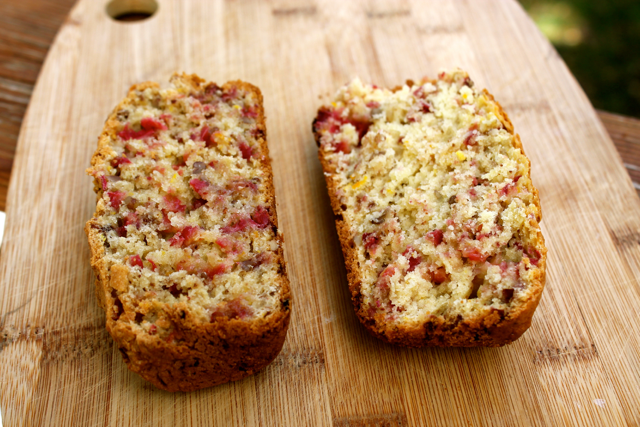 I do hope this information helps you fine folks out there that have been considering the gluten-free alternative for your diet. As with any dietary changes or considerations, you should always research and inform yourself as much as possible before deciding to make a change.
Also, for those of you who do need to exclude gluten from your diet, I'd like to recommend a great resource for gluten-free recipes. Gluten Free Girl and the Chef  is a terrific website and I found it a helpful place to learn more. They've got lots of info there and they do have videos on youtube as well.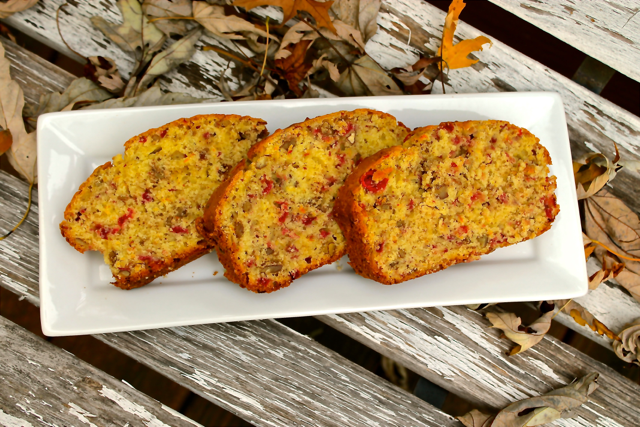 So there you have it folks. To be gluten free or not to be? What ever you choose, I hope today's post helps you make the best decision for you. Because your health is in your hands and I wish you the best.
Have a fantastic weekend and as always, keep it delicious!
Till next time ~ much love, Connie
To Be or Not To Be ~ Gluten free (or not) Cranberry Orange Bread
Ingredients
2

C

all purpose flour

or a gluten-free alternative blend

3/4

C

sugar

1 1/2

tsp

baking powder

3/4

tsp

salt

1/2

tsp

baking soda

1/4

C

softened butter

1

tbsp

grated orange peel

3/4

C

freshly squeezed orange juice

pulp and seeds removed

1

egg

1

C

fresh or frozen cranberries

chopped

1/2

C

chopped pecans or walnuts
Instructions
Preheat oven to 350 degrees F.

Grease the bottom (only) of a loaf pan with butter.

Mix the dry ingredients.

Blend in the butter until the mixture is crumbly.

Add the orange peel, juice, and egg and combine well.

Stir in the cranberries and nuts.

Spread the mixture into the loaf pan and smooth out the top with a spatula.

Bake in the oven until a knife comes out clean when tested in the center.

Cool, slice and serve.
Notes
Recipe by: Connie Murray @Happybellyfoodie.com