Tortilla Chip Fail
Sometimes, you gotta pat yourself on the back and say, "nice try."
I wanted to make my own tortilla chips from scratch and here's how they turned out. That's not exactly what I had in mind.
Rather than ditching the idea, I decided to share because, well, they're hilarious looking. It also made me realize a few very important points about cooking.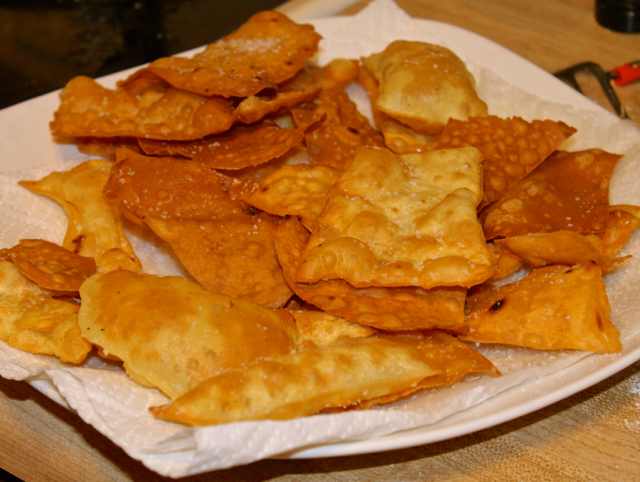 We've all done it. You think you've got a great idea for a recipe that'll use up old ingredients hanging out in the pantry. Or, you decide to try some terrific recipe you saw on one of those social sites only to find out that it was just a pretty picture. Perhaps you were a victim of a recipe gone awry because you got distracted or forgot a step. Come on.. you know it's happened to you.
Well, I'm here telling you that it's NOT a big deal. Really. Of course, I have no shame. I am a queen of cooking flops and fails, as you can see…
But really, if you're making your own food and not depending on pre-packaged, fast and convenience foods and you've legitimately made an effort to whip up something with delicious intentions, so what if it turns out terrible? Inedible even.
The point is, you're cooking and in my book, that's really important in this dizzy paced world we live in today. Processed foods are responsible for SO many health issues and we've all seen the scary stories about what goes into them.
When you're cooking your own food, you decide what ingredients go into it and ultimately, your diet is much healthier for you and the loved ones you feed. That's the entire theme of Happy Belly Foodie.
So laugh it up when you've got a fail. Share pics while you're at it! When it comes to cooking, it's a never ending learning process meant to be enjoyed, flop-a-roos and all.
Have a glorious day and as always, keep it delicious!
Till next time ~ much love, Connie