Imagine having your beloved, favorite pie in a new, creamy format. Vegan Pecan Pie!

This gluten-free, dairy-free, vegan version of pecan pie is fantastic for just about any alternative diet. Best of all, it's ready in way less time than a traditional pecan pie.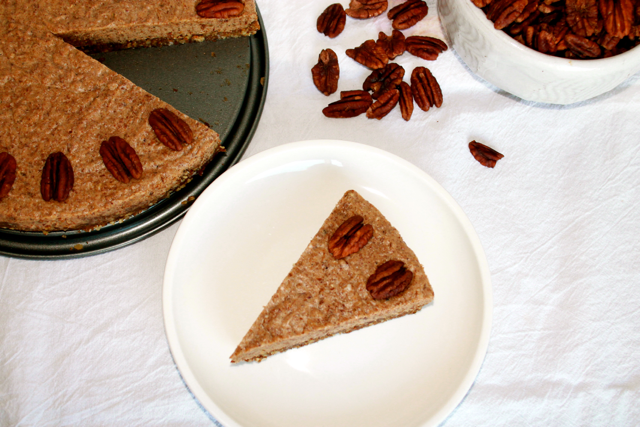 Side Note About Nuts:
When you're creating recipes that require nuts, the most nutritious way to have them is raw. However, if you do use raw nuts, you will need to soak them to remove the naturally occurring phytic acid, which interferes with digestion. Phytic acid binds with nutrients in the digestive tract and doesn't allow you to absorb them. The whole purpose of eating raw nuts is to get the most nutritious properties from them.
When you soak the nuts, you will also need to dry them out. Otherwise, they could become moldy and make you sick.
For most nuts, you can soak them in water with a little salt. They will need to soak for 6-7 hours. To dry them, place them in a 150 degree F. oven for 12 hours.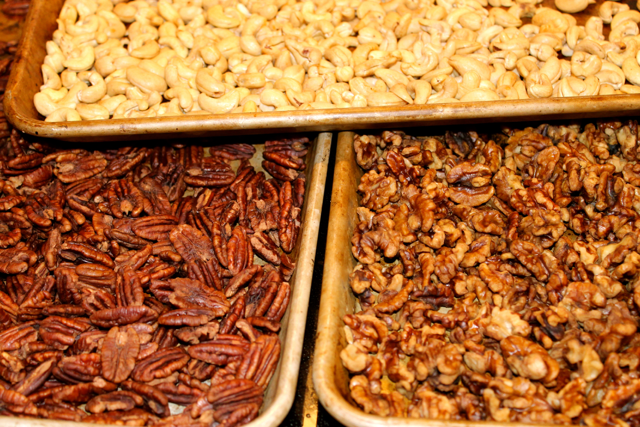 The crust for our pie is a combination of walnuts, dates, shredded coconut, a few spices and some coconut oil.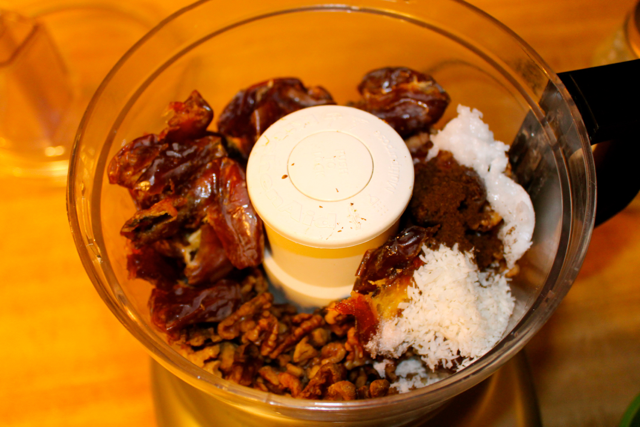 Once you have the crust ingredients pulsed into a fine mixture, you'll press it into the bottom of an 8-inch spring form pan and chill in the refrigerator while you're preparing the filling.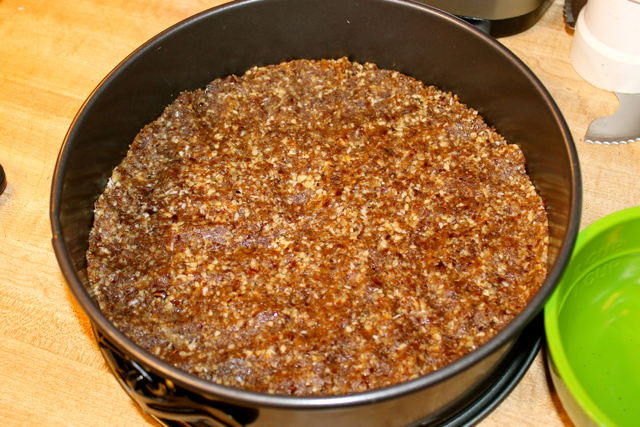 For the filling, you will need some pecans, raisins, dates, coconut oil, water and spices. Just like the crust, you will pulse the mixture in a food processor.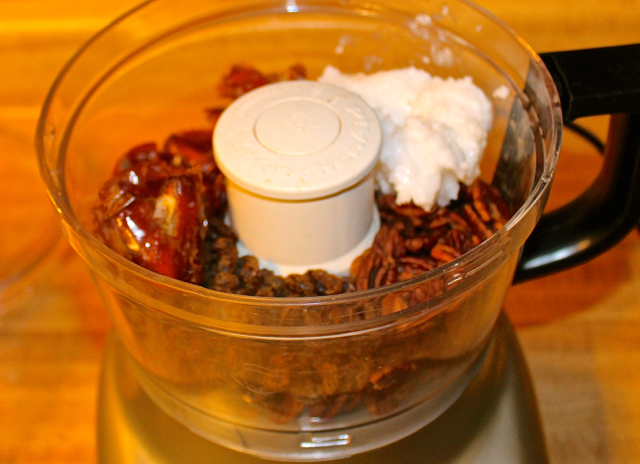 The filling will be a paste-like batter. Pour it over the crust and spread out smooth with a spatula.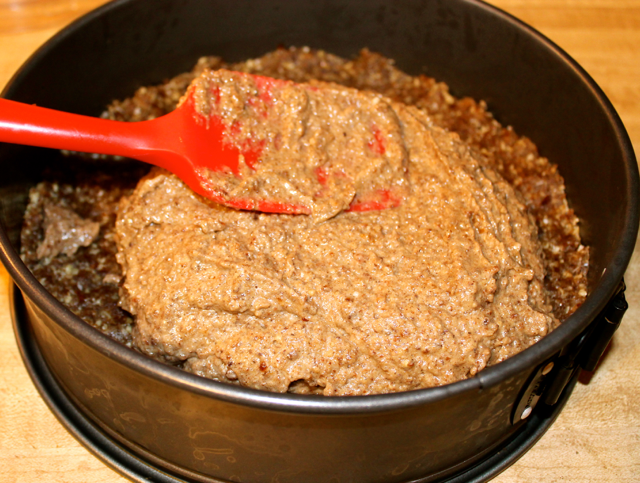 Give the pan a few taps on the counter to allow it to settle and then decorate the top with whole pecans.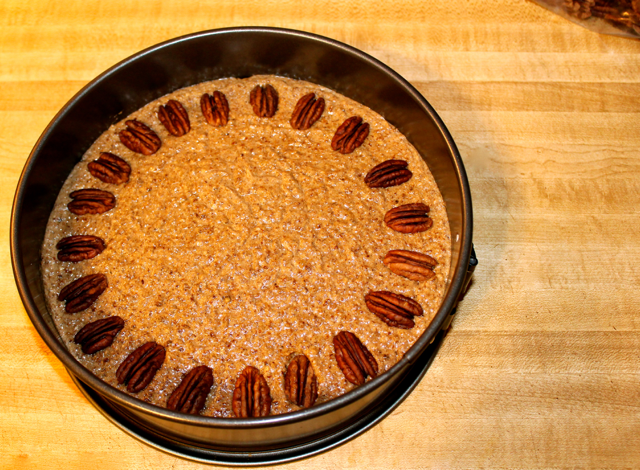 You will need to chill the pie in the refrigerator for about thirty minutes to allow it to solidify. The coconut oil is what keeps the pie together.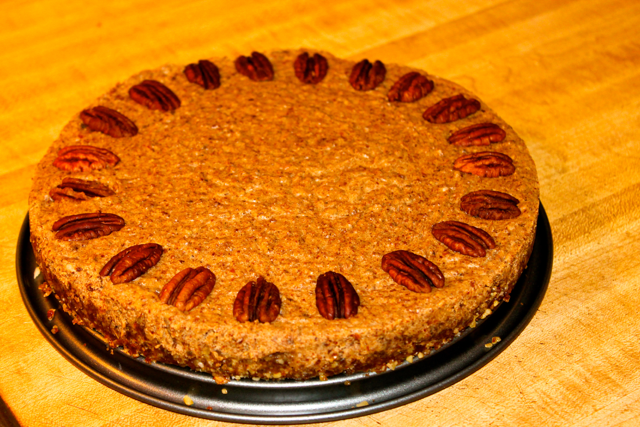 The texture of this pie is quite similar to the butternut pie in my post, Vegan Butternut Squash Pie, but the taste is all pecan pie.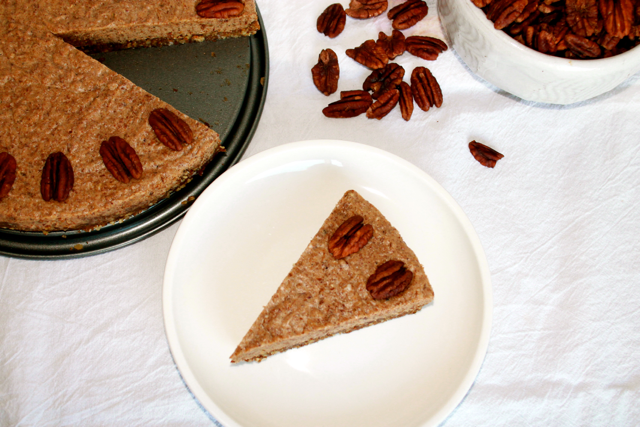 I really enjoyed this one, as I'm sure you will too friends. If you've got diet restrictions but you don't want to miss out on all the delicious desserts of the season, give this one a try. It's definitely a keeper!
Have a fabulous weekend and as always, keep it delicious!
Till next time ~ much love, Connie
Vegan Pecan Pie
Ingredients
Crust ingredients:

1 1/4

C

dates

2

tbsp

shredded coconut

1

tbsp

coconut oil

1 1/2

C

walnuts

1/8

tsp

salt

1

tbsp

vanilla powder

Filling Ingredients:

1

C

pecans

3/4

C

raisins

1/2

C

coconut oil

1

tsp

salt

1/4

tsp

nutmeg

2/3

C

water
Instructions
The Crust:

Combine all ingredients in a food processor and pulse until fine.

Press into an 8 inch spring form pan and chill in the refrigerator.

The Filling:

Combine all ingredients in a food processor and pulse until smooth.

Pour the filling into the pan, over the crust and smooth.

Tap the pan on the counter a few times to settle.

Decorate the top with whole pecans and chill for thirty minutes before slicing and serving.
Notes
Recipe by: Connie Murray @Happybellyfoodie.com