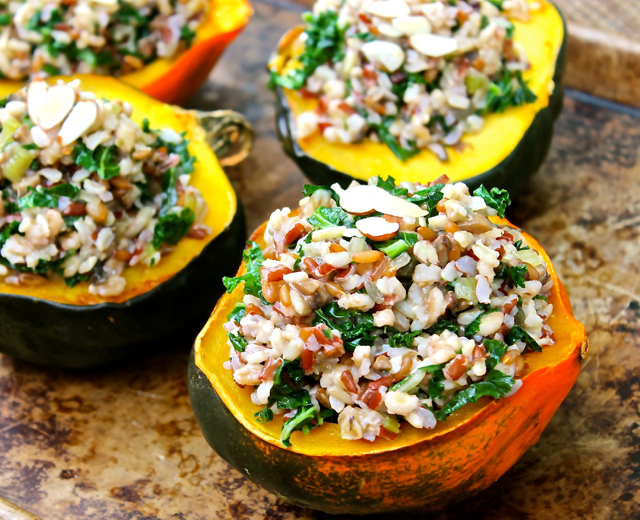 Wild Rice and Mushroom Stuffed Acorn Squash is a beautifully presented dish you can serve as a side or as the meal itself. These delicious squash are loaded with good for you wild rice, mushrooms, kale and full of flavor.

There's something magical, mystical about the scent of Autumn in Kentucky. To walk through a farmer's field, full of orange, yellow and green squash where the vines have given way, withered and browned is to witness something of a miracle.
When you cut a squash open, like this acorn variety here, you notice all the seeds that lie within. Not only does the flesh of the squash offer nourishment with vitamins and minerals that are so good for you, the seeds hold some amazing oils full of omega fatty acids that are good for your heart, skin, joints and much more.
Top that with some grains, a touch of leafy greens and some fresh seasonings and you've got a dish full of texture, flavor, color and aroma. What's not to love?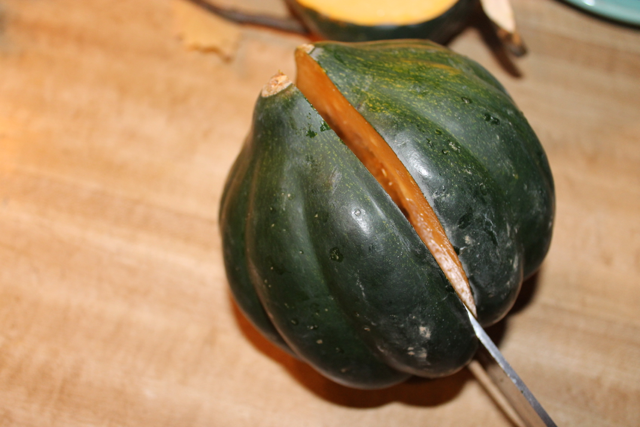 The acorn squash in particular is easy to prepare. You simply slice it in half, clean out the seeds (save those for a snack!) and bake them.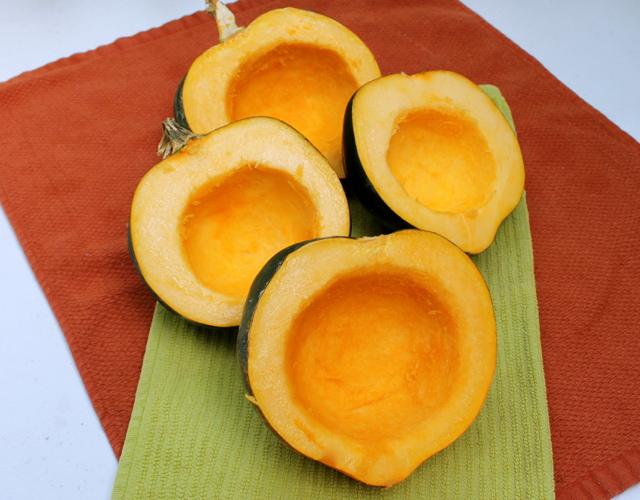 Place them shell side down in a baking dish and cook in a 400 degree F. oven until tender.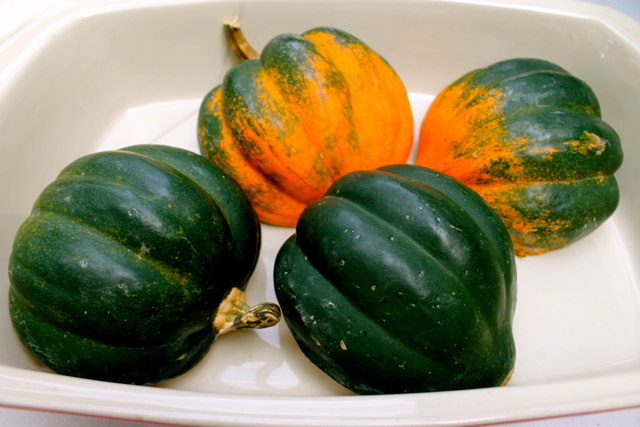 The wonderful thing about squash is the fact that you can go in so many directions with the flavor. You could fill them with a brown sugar and apple stuffing or go with the savory mix like the one I've chosen for today's recipe.
I went with a combination of onion, celery, garlic, portobello mushrooms, garlic, rosemary and sage.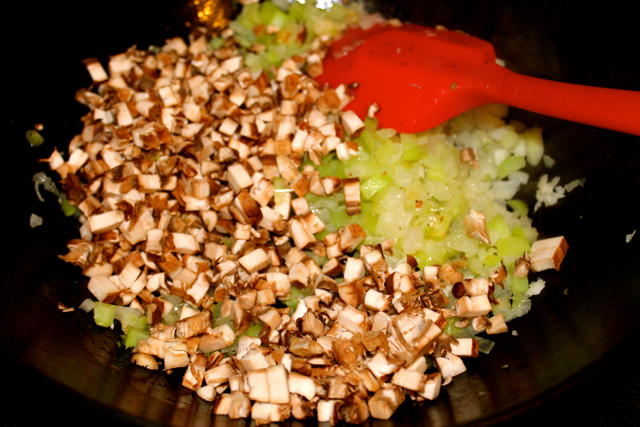 I added kale and a cooked wild rice blend after the rest of the mix was nice and softened to make the stuffing complete.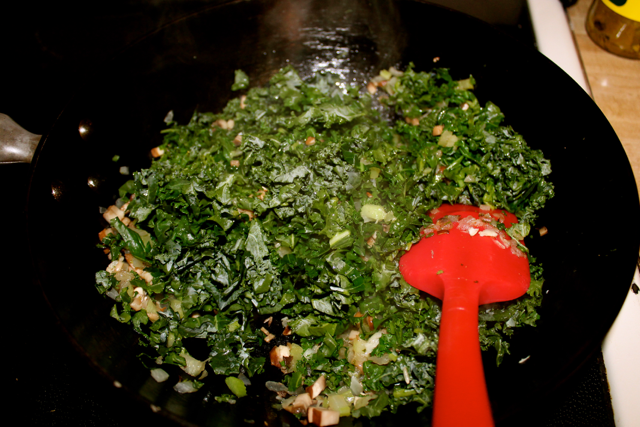 By the time everything was finished, the squash was ready for stuffing.
The thing I love about this recipe is that you can have the stuffed squash alone as a meal or you can pair it with a simple main dish like grilled pork chops or baked fish or really, any number of meats.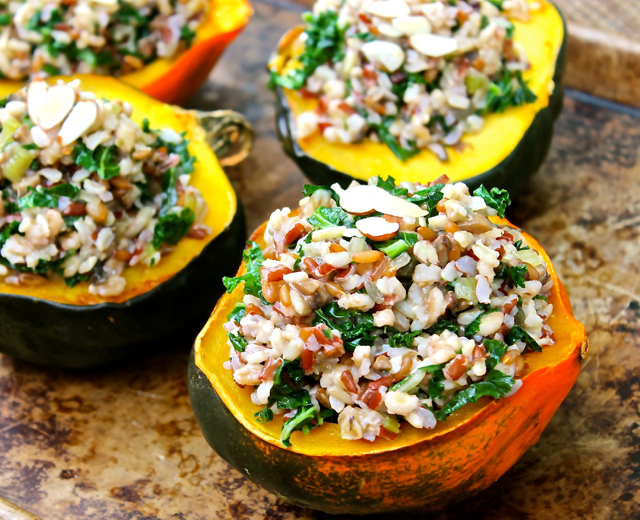 I tend to get all swoony just looking at that picture. Of course, I'm a foodie and my brain is always reeling with ideas for creations I can make in my kitchen but you have to admit, that. Right there. IS gorgeous and tempting.
The potential that a squash holds for recipes like this is endless. You can go with your favorite blend of flavors or try something completely new and exciting. So the next time you pass by a beautiful bounty of squash, pick a few out, take them home and invite creative intuition into your kitchen. I promise, you'll be glad you did.
Make it a fabulous day friends and as always, keep it delicious!
Till next time ~ much love, Connie
Wild Rice and Mushroom Stuffed Acorn Squash
Ingredients
2

whole acorn squash

sliced in half, cleaned and seeded

2

tbsp

extra virgin olive oil

1 1/2

C

cooked wild rice blend

prepare 1/2 C dry per package instructions with chicken stock instead of water

1/2

large onion

diced

2

stalks celery

diced

2

cloves

garlic

1

sprig rosemary

stem removed and chopped fine

6

large

portobello mushrooms

stems removed and chopped

1/2

tbsp

fresh sage

chopped fine

1

C

kale

stems removed and chopped fine

Salt to taste
Instructions
Preheat oven to 400 degrees F.

Place the squash, cut side down in a baking dish and bake until tender. (about 40-50 minutes)

Heat a large skillet over med/hi and add the olive oil.

Saute the onion and celery until soft.

Add the mushrooms, and saute until softened and water releases

Add the garlic, rosemary and sage. Saute for one minute.

Add the kale and saute until just wilted. Remove from heat.

Mix the cooked rice into the veggies well and season with salt to taste.

Fill the squash with the mix and serve.
Notes
Recipe by: Connie Murray @Happybellyfoodie.com
Pin It: