Copy Cat Frish's Big Boy Chili
If you love Frish's chili, you're gonna love this copy cat recipe. It's thick, tangy, full of warm toasty goodness and tastes just like the real thing. Only, it's better because it's made with ingredients from home.
If you've never had this stuff, don't feel left out. The Cincinnati tri-state area is home to Frish's Big Boy, so if you're not from this area, you've most likely been denied the distinct flavor and texture of this delicious chili. That is… until now. I've duplicated it in my own kitchen and now it's yours to have and devour, too!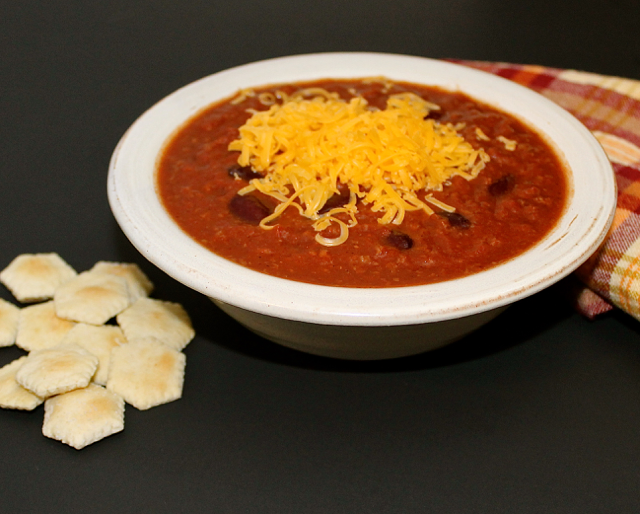 If there's one thing Cincinnati loves (and KY & IN) it's chili. Around here, texture is a big thing. Cincinnati style chili is very fine and very thick. Most importantly, it has great flavor.
One thing I really love about this dish is the fact that it's ready in about 45 minutes.
To get started, you'll need a medium onion. Taking note on that whole fine texture thing and the short cooking time, rather than dicing your onion, you'll want to grate it.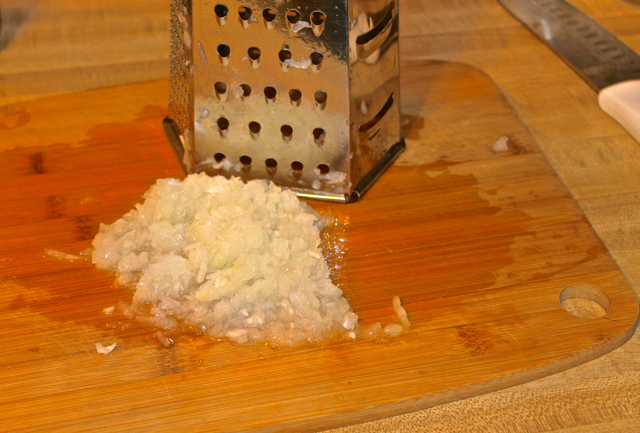 To get the ground beef finely textured, mash it into some beef stock before cooking. Be sure to use very lean ground beef because there's no removing the fat before adding the rest of the ingredients. That's a low-calorie bonus!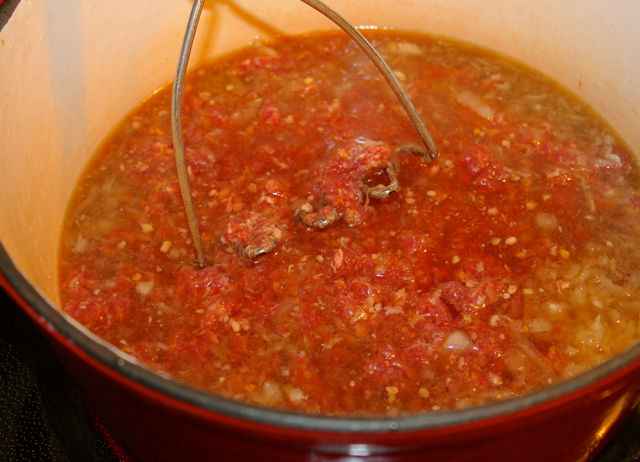 The seasonings for the chili are onion powder, garlic powder, salt, chili powder and cumin. To make the chili nice and thick, you'll need a large can of finely crushed tomatoes, a can of tomato sauce and a can of tomato paste.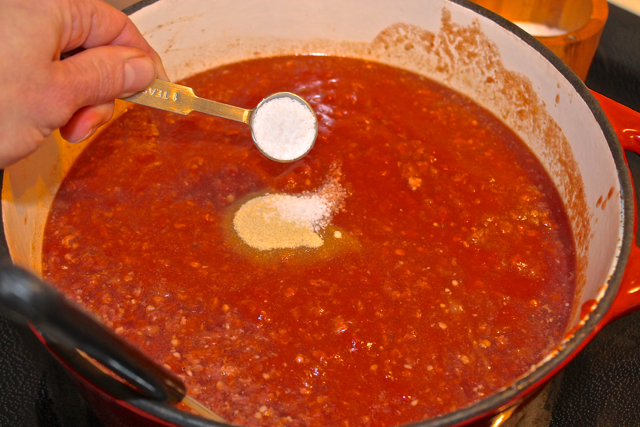 Once you have all your ingredients in the pot, give it a good stir and let it come to a boil. Turn the heat down to simmer and get the cheese and crackers ready. It'll be done and ready to eat in no time.
The recipe in the print out down below will make a significant amount of chili (about 10 servings). It's terrific as left overs (all chili's are great the next day!) and it freezes really well.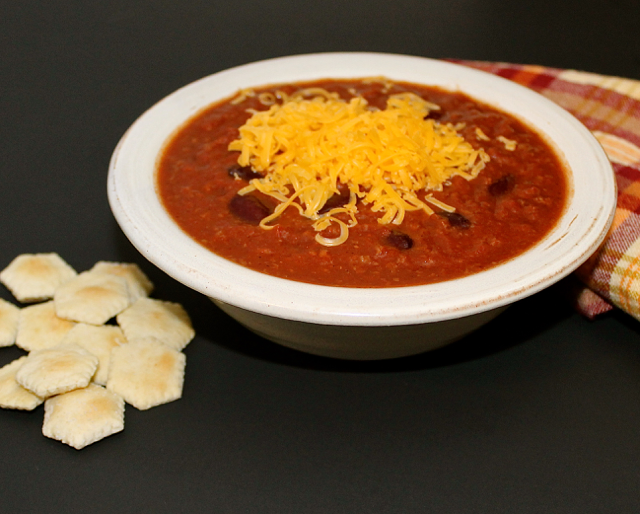 I hope you'll enjoy this one as much as we did. Give it a try and let me know how yours turned out.
If you've got a favorite restaurant dish you'd like a copy cat recipe for, send me a message. I love a good challenge!
Have a beautiful day friends and as always, keep it delicious!
Till next time ~ much love, Connie
Copy Cat Frish's Big Boy Chili
Ingredients
1

lb

lean ground beef

3

C

beef broth or stock

1

medium onion

minced

28

oz

crushed tomatoes

15

oz

tomato sauce

6

oz

tomato paste

2

tsp

chili powder

1

tsp

onion powder

1

tsp

garlic powder

1

tsp

salt

1

tsp

ground cumin

2

cans kidney beans

drained.
Instructions
In a large soup pot, combine the ground beef, onion and broth.

Mash the ground beef to a fine texture.

Add the rest of the ingredients and place over med/hi heat.

When the mixture comes to a boil, turn the heat down to medium.

Simmer until ground beef is cooked thoroughly.

Add the kidney beans and heat through.

Remove from heat and serve with shredded cheese and crackers.

Total cook time is about 45 minutes.
Notes
Recipe by: Connie Murray @Happybellyfoodie.com