Reuben Fritters with Honey Mustard Sauce
So you made a corned beef and now you've got left overs. Here's a fantastic snack to make with it!
Actually, I made my corned beef specifically to get at this recipe because I was dying to try Reuben Fritters. I saw them being made on a food show and had to make them. Though they didn't give the specific amounts for ingredients, I figured I'd give it a shot and MAN, they turned out fabulous.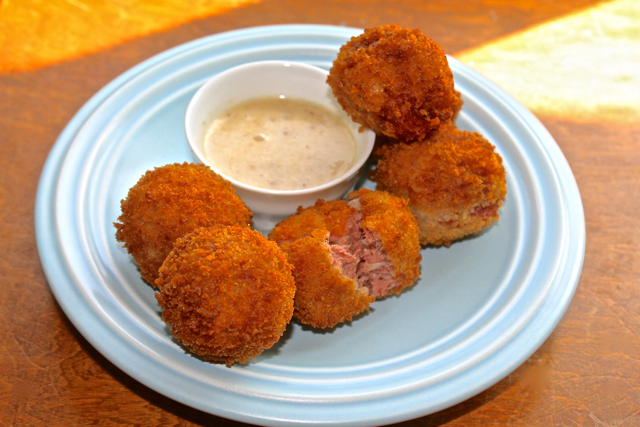 That's one great thing about cooking things from scratch all the time. You can generally figure amounts out just by watching a dish being made. That's actually where a lot of my ideas and recipes come from. Something looks good, so I try to figure it out. Sometimes it flops and sometimes I have a new recipe to share with you fine folks. It's all good.
So, to make these scrumptious bites of fried Reuben deliciousness, you'll need a pound of cooked corned beef. Just cut it up, fat and all and toss it in a food processor.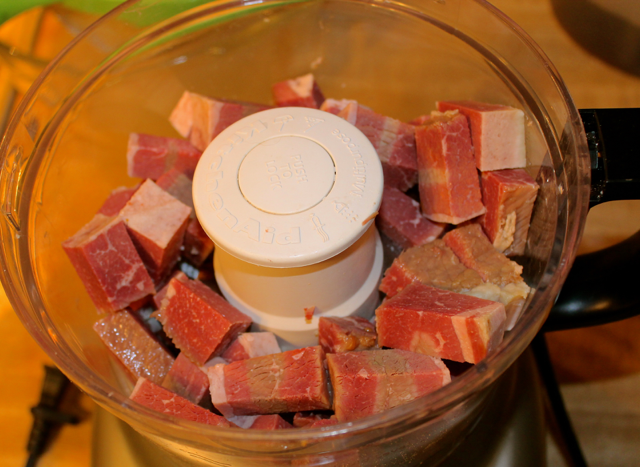 To your pureed corned beef, you'll need a block of creamed cheese, a cup of sauerkraut and four ounces of finely diced Swiss cheese. You want that Swiss cheese to be about the size of pebbles, like in a fish tank. (best comparison I could come up with, ha ha)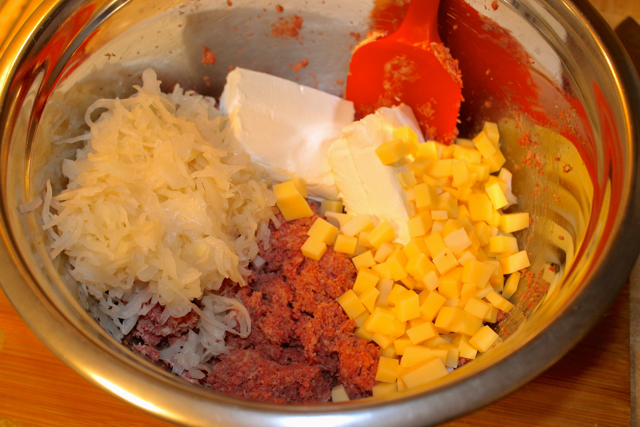 Mix everything together really well and form 1 1/2 inch balls, just like you're making meatballs. Dip the balls in flour to coat.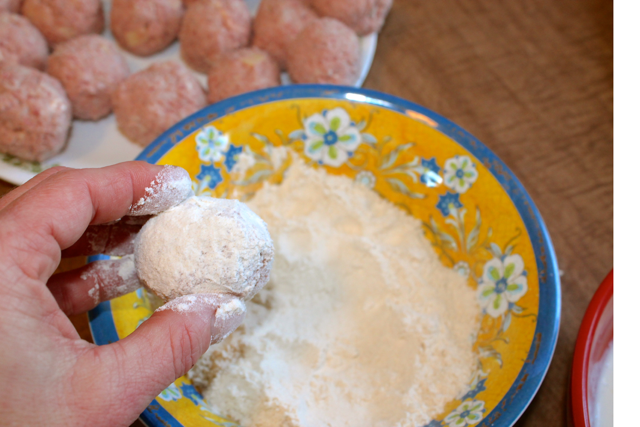 Then dip them in buttermilk to coat.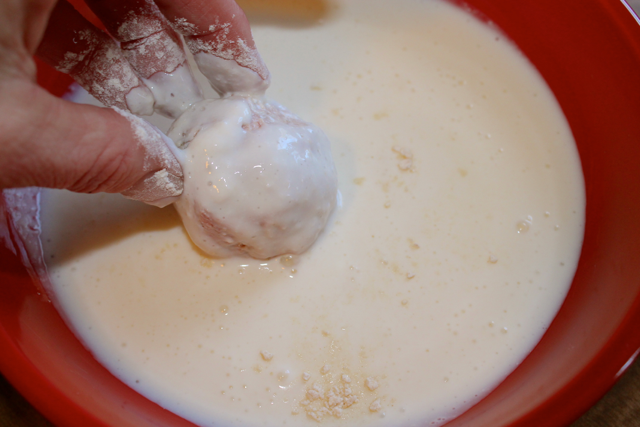 Finally, dip them in panko bread crumbs. That'll make for a super crispy exterior.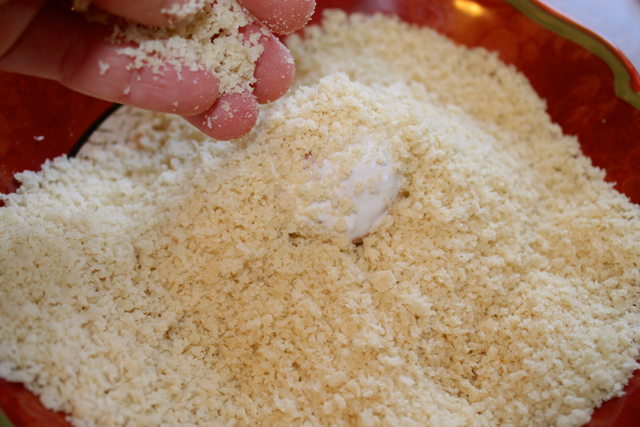 Once you have the fritters coated with everything, place them in the refrigerator to set up. About 30 minutes will do it.
Now, you can freeze these guys just like this if you want to save some for a snack later. In fact, that's just what I did with mine. Just plop them on a tray in the freezer until they harden and then put them in a zip top freezer bag until you're ready to use them. Just like cheese sticks, fry them while they're still frozen and they'll turn out great.
I think these would make a fantastic party appetizer. I might make them about half the size to get a bigger quantity, though. Just an idea.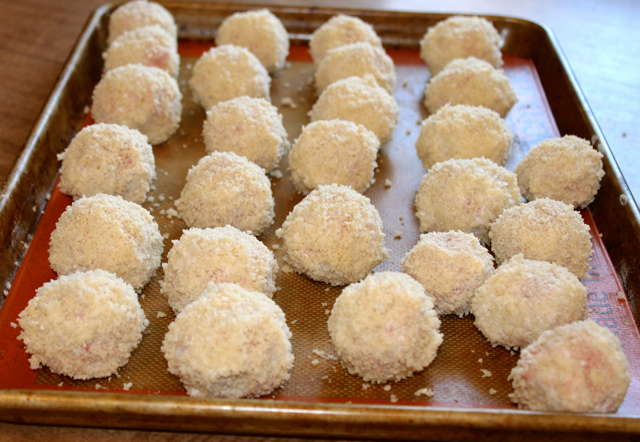 While you're waiting for the fritters to set up, why not make your own delicious dipping sauce?
Since they served a honey mustard sauce with the fritters on the show I was watching, I figured would too. Btw the show I was watching, which is currently on Netflix, was Diners Drive-ins and Dives, Season 2 Episode 8. I'm thinking about trying to replicate the Irish meatloaf and creamed cabbage from that show, too. So, you may see that recipe here soon.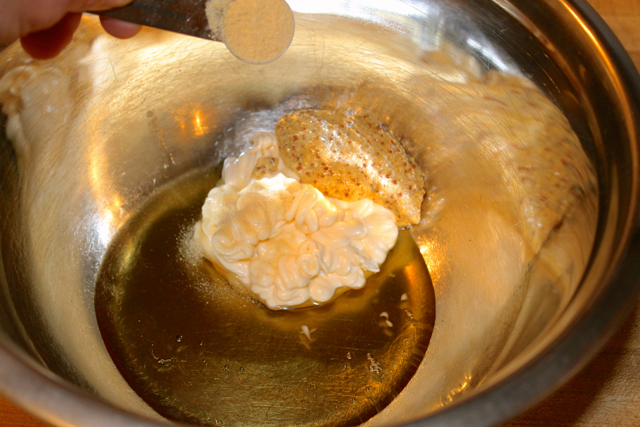 For my honey mustard, which turned out really good, I used some mayonnaise, some of my homemade spicy brown mustard, honey and a half teaspoon of garlic powder. Just mix everything together and there you go.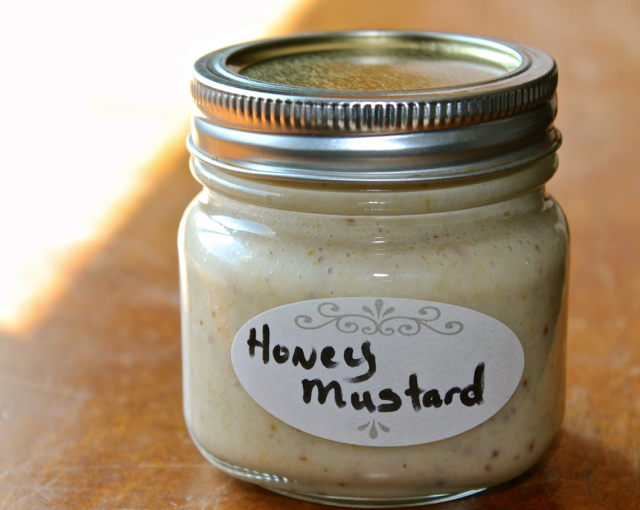 Time to fry. Heat some oil up in a heavy pan to 375 degrees F.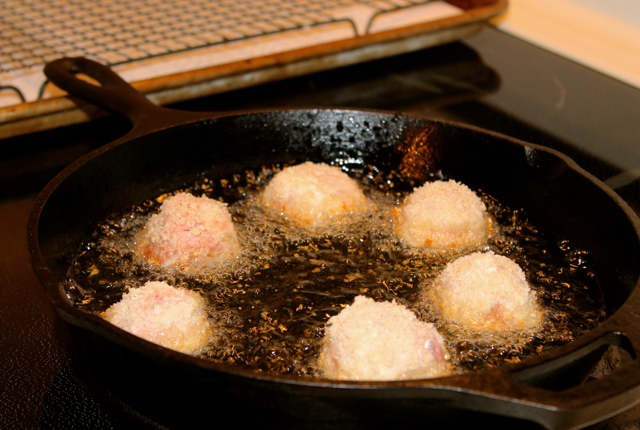 3 to 4 minutes on each side will get them browned perfectly. They're a fairly good size, so I had to work in batches of 6 or 7 at a time.
And yes, I had to eat one right away and about burned my tongue off. Anticipation was getting to me!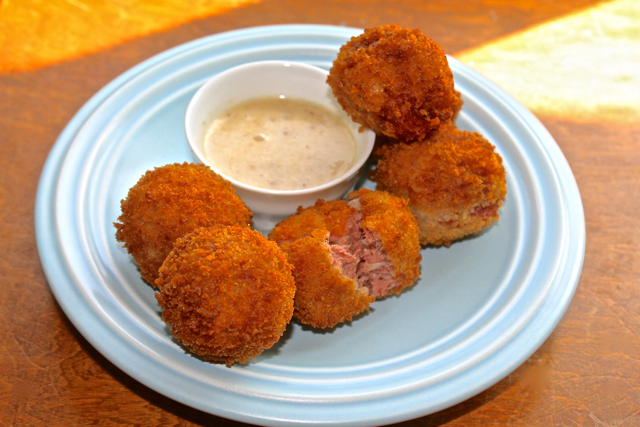 Were they good? Of course they were! They were REALLY good! And I'm super glad I made the honey mustard to go with them.
You know, I love sharing these recipes with you fabulous readers out there but I'm SO glad I have a record for my own personal reference as well. This one is a keeper, for sure!
I hope you'll give it a try and let us know what you think. Did I nail it or what?
Have a fabulous day and as always, keep it delicious!
Till next time ~ much love, Connie
Reuben Fritters with Honey Mustard Sauce
Ingredients
Reuben Fritters

1

lb

cooked corned beef

ground

8

oz

cream cheese

1

C

sauerkraut

4

oz

Swiss cheese

cut into small cubes

1

C

flour

1

C

buttermilk

1 1/2

C

panko bread crumbs

oil for frying

Honey Mustard

3/4

C

mayonnaise

1/2

C

honey

1/2

tsp

powdered garlic

1/4

C

spicy brown mustard
Instructions
Reuben Fritters

Combine the corned beef, cream cheese, sauerkraut and Swiss cheese well.

Form meatball sized balls (1 to 1 1/2 inch in diameter).

Dip each ball in the flour to coat.

Dip each ball in the buttermilk to coat.

Dip each ball in the panko bread crumbs to coat.

Place the balls on a tray and refrigerate 30 minutes or so until firm.

Heat oil (1 1/2 to 2 inches high) in a Dutch oven or high sided pan over med/hi.

Once the temperature reaches 375 degrees F. fry the fritters until browned on each side, working in batches.

Set on a paper towel to drain excess oil.

Serve hot with dipping sauce.

Honey Mustard

Combine all ingredients well.

Chill until ready to serve.
Notes
Recipe by: Connie Murray @Happybellyfoodie.com