Campfire Popcorn ~ Camping Recipes
When you're sittin' round the campfire singin' songs, you'll wanna take a break and have a snack, right? Why not make popcorn? Yes, you can make it over the fire.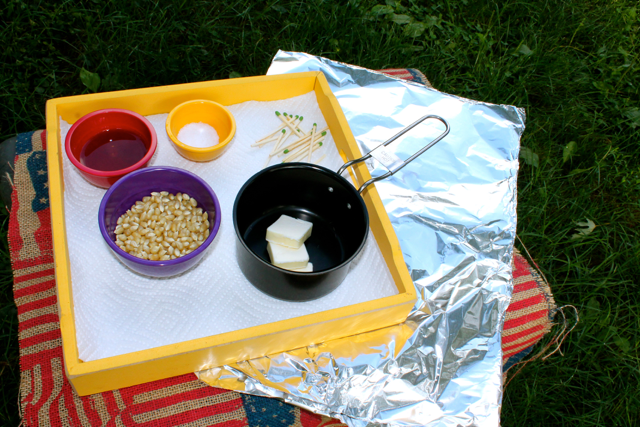 Out in the woods, everything slows down. I think it's important to take time to reflect and that's really hard to do in our fast paced everyday lives. Today's feature of cooking popcorn over a campfire takes me back to childhood memories of simpler times. Perhaps you'll enjoy taking a walk down memory lane in your own backyard or the next time you go camping.
These easy snacks don't have too many ingredients. There's not really a recipe. It's more technique than anything.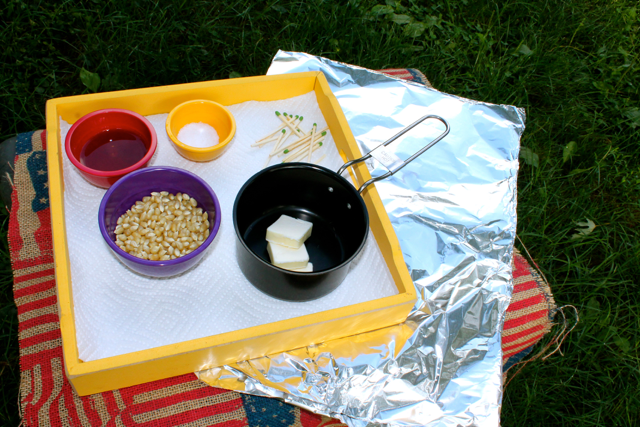 Place a handful of popcorn on a sheet of aluminum foil and add about a teaspoon of oil to it. You'll want the foil to be about eighteen inches long, roughly.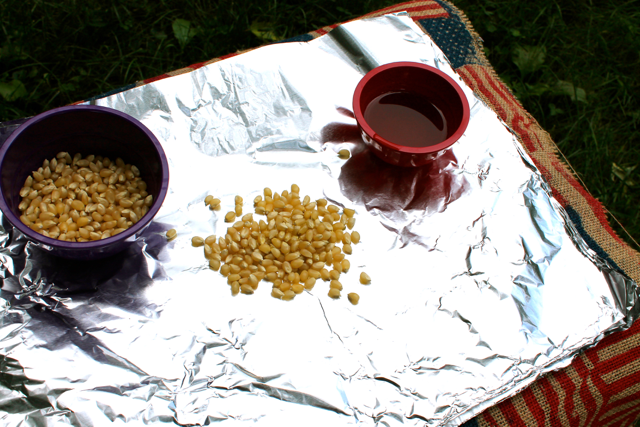 Fold the aluminum in half and fold the edge over.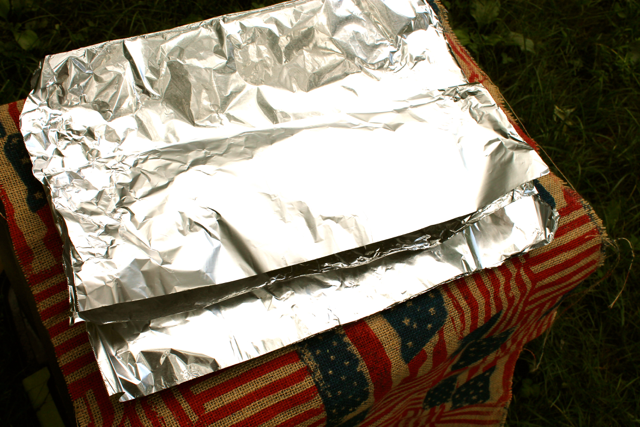 Twist the ends and make sure there's enough room in the middle part for the popcorn to cook and expand.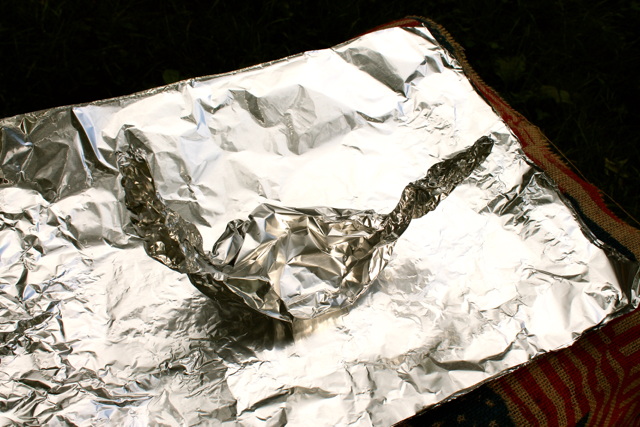 Gather some long sticks to hang the popcorn bundles from.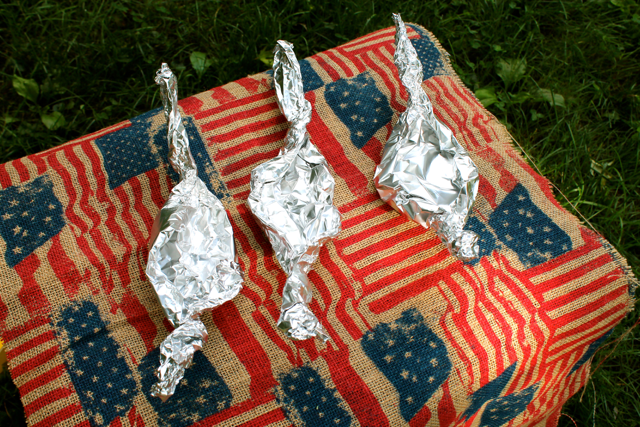 Twist the ends of the aluminum packets over the end of the sticks.
Oh look! We've got company. Shhhh be very quiet. Maybe she won't see us. LOL Say hello to my Honey Bunny. She's a big gentle bear but she is very nosy and she likes to get into the food if you're not paying attention. 🙂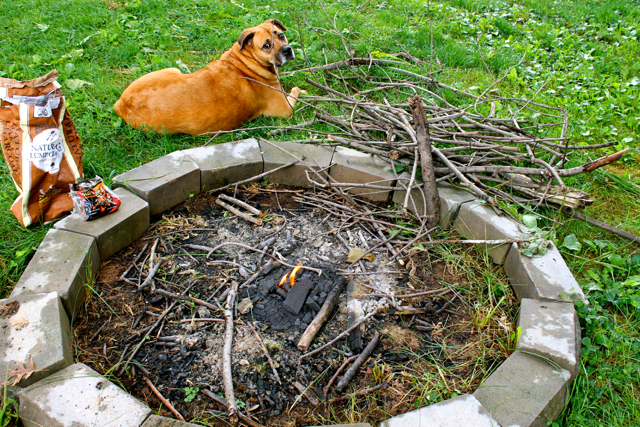 Place sticks and kindling over the hot coals in a Tee Pee fashion. Once the flames are going and the fire is good and hot, place the foil packets over top. It's okay to lay it directly on the fire but only for the first minute or so. After the oil in the packets gets hot, you'll want to pick the sticks up and hold them above the flames, allowing them to just hover over the heat.
Heat up some butter in a fire safe pot like this little one I have here.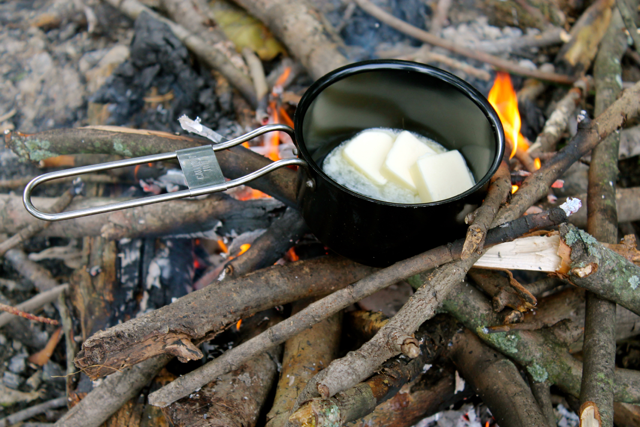 When you hear the popcorn stop popping, it's done. One of the things I liked about making popcorn this way is that you can feel it popping through the end of the stick when you're holding it.
Make sure you let the foil cool before handling it. We don't want any burned fingers.
You can plan on having some pretty burnt kernels on the bottom of the foil but that's okay. I like the burnt ones.
Open the packets and pour some of that melted butter on top. Season with a little bit of salt and you're ready to enjoy a nice little snack.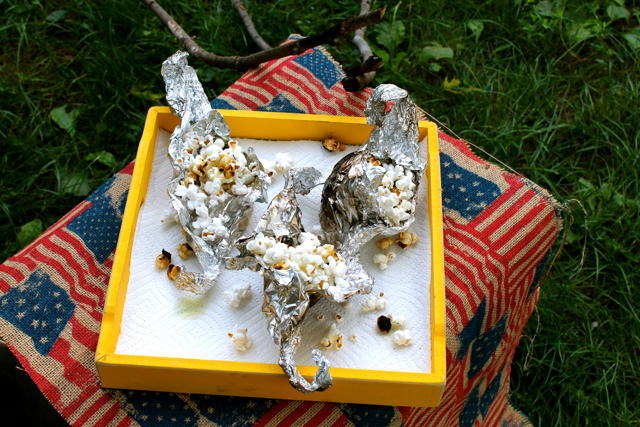 There you have it folks. A nice, easy and delicious simple snack to enjoy. I do hope you'll give it a try some time.
If you've got any great camping snacks you'd like to share, I'd love to hear from you. You know where to find me.
Make it a great day and as always, keep it delicious!
Till next time ~ much love, Connie