Salted Honey Popcorn Treats
You know what you can find at the farmer's market in early summer? White Honey!

Let's go meet some bee keepers and make some yummy treats!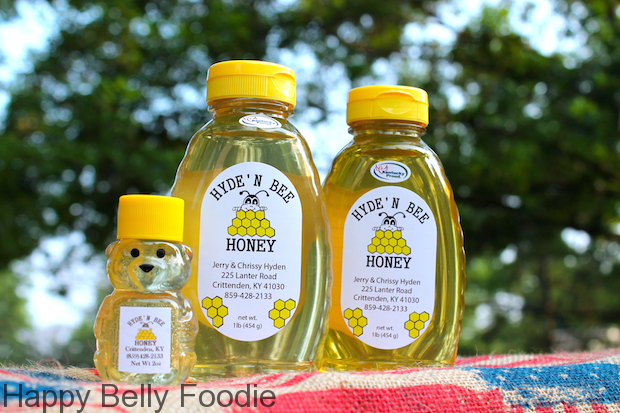 This is Jerry and Chrissy Hyden of Hyde'n Bee Honey and they have some of the best honey I've ever tasted.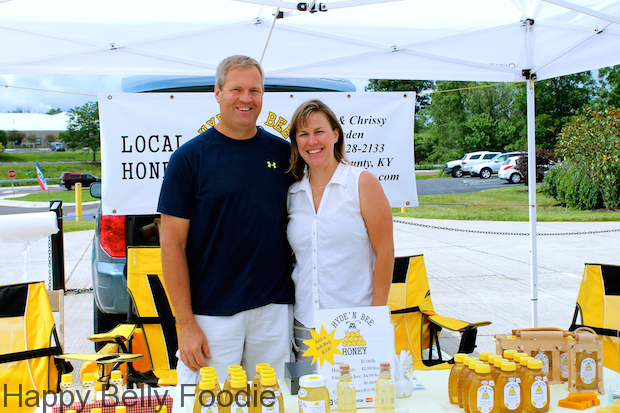 I met them briefly a couple years ago at the Boone County Farmer's Market where they sell their raw, unprocessed honey. I buy a few jars at a time and it doesn't last long.
Jerry and Chrissy are extremely knowledgeable about the bees and the flowers in season surrounding their land in Grant County, Kentucky. They're passionate about what they do and you can tell by the excitement in their eyes and the products they offer.
On the table up there in that picture, the lighter honey on the left, according to Jerry, "is from where the bees pick up the nectar in early blossoms of honeysuckle bushes and the earliest lightly sweet spring flowers," and the darker honey on the right, " are from "honeysuckle vine and darker, sweeter early summer flowers." ~ I think I remember that right.
You can go visit them and talk to Jerry and Chrissy yourself. They're happy to share all the fascinating info about their hives (they actually name them and have one named Connie, not after me but that tickles me 🙂 ). While you're there, make sure you get some of their great products. They're at the market on most Saturdays from 10 to 2. Or if you can't make it out there, visit their website, www.hydenbeehoney.com to contact them for a purchase.
This popcorn treat, made with their fantastic honey is great for snacking.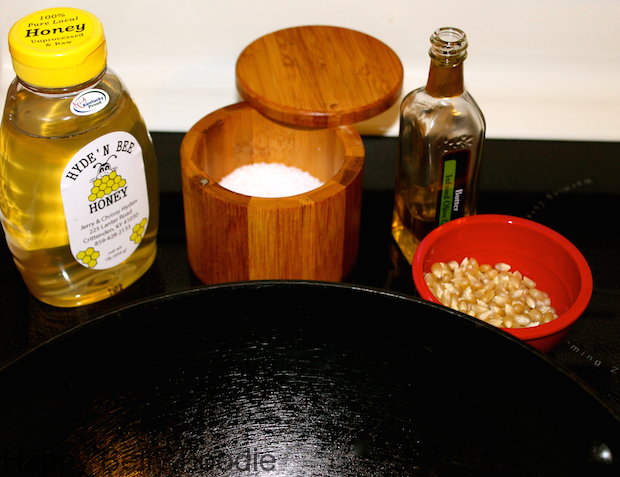 Just pop up some popcorn in a little butter flavored olive oil and add some fresh roasted peanuts.
Drizzle with the honey. Top it with a sprinkle of kosher salt and YUM! Tastes kinda like a really light version of salted caramel candy. Remember Cracker Jacks? Yeah, this is WAY better.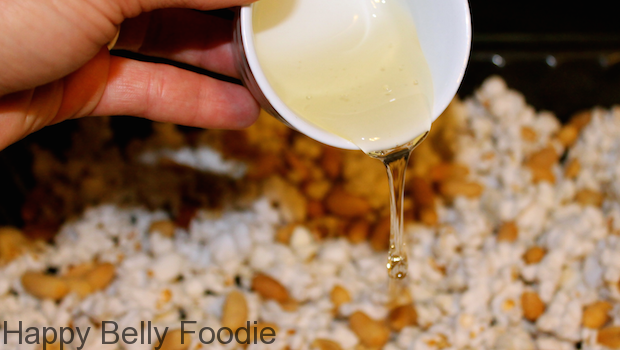 I found these cute little cups with lids that are perfect for little ones to hold while snacking.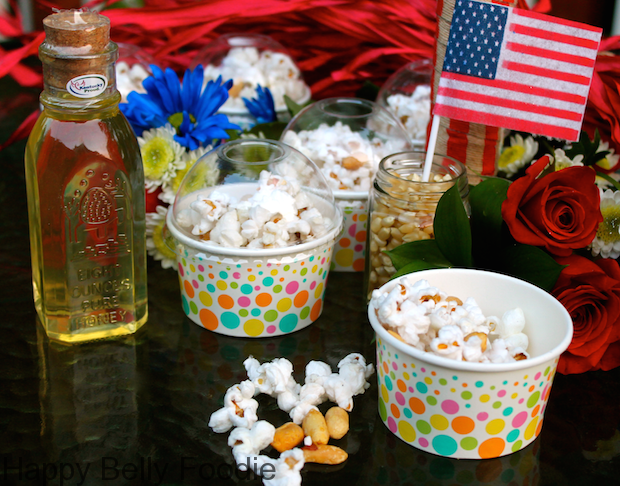 The really great thing about this treat is that it's light, not full of sugar.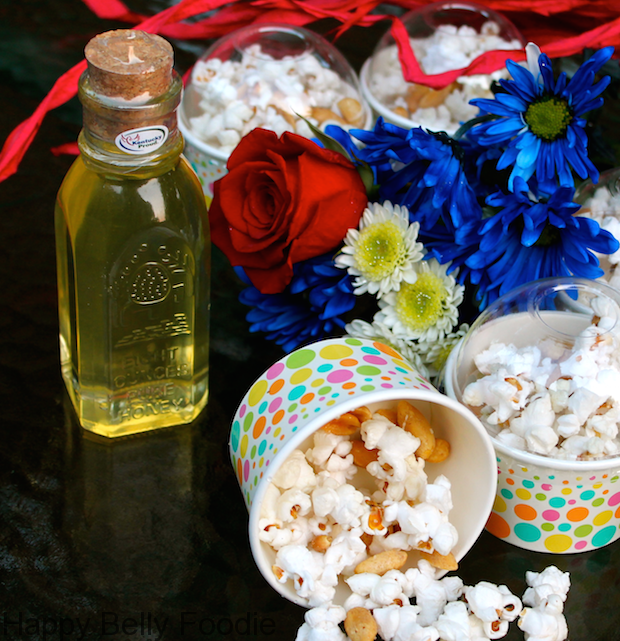 There you have if folks! A delicious light snack and a new place to find some great honey.
Thank you Jerry and Chrissy, for sharing your passion and great product with the community. Keep up the great work! We love supporting you!
Make a great day foodie friends and as always, keep it delicious! Till next time ~ much love, Connie
Salted Honey Popcorn Treats ~ Ow! I feel Good!
Ingredients
3

tbsp

unpopped popcorn

1

tbsp

olive oil

I used butter flavored

1

C

roasted peanuts

3

tbsp

very light honey

Kosher salt for topping
Instructions
Heat a heavy bottomed deep skillet on med/hi.

Add the oil and popcorn. Cover with a glass lid.

Cook, holding the lid and moving the pan back and forth over the heat, until all the popcorn is popped. Careful not to burn it.

Add the peanuts and mix. Drizzle with the honey and top with kosher salt to taste.

Store in an airtight container or serve immediately.
Notes
Recipe by: Connie Murray @Happybellyfoodie.com