Thai Green Curry Chicken
Cozy comfort in a bowl.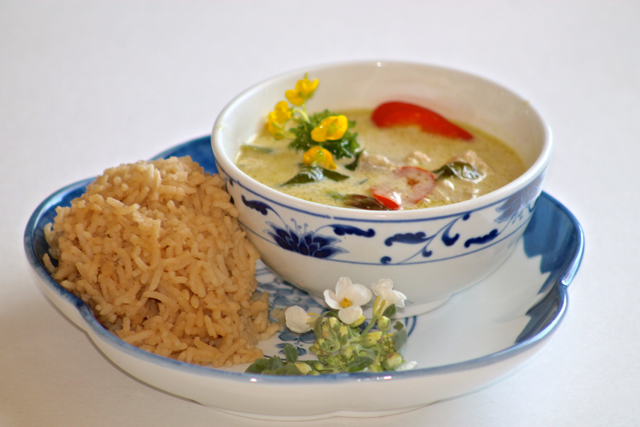 There's something so heart warming about a bowl of curry.
The first time I had a Thai curry was at a little restaurant in Ohio. It had delightful hints of lemon, tender bites of chicken, fresh vegetables tucked in here and there and the perfect amount of heat throughout. I had to recreate the dish so that I could have it at home.
When making a Thai curry, the first thing you've gotta find, if you're not planning on making it yourself, is a really good curry paste. What better place to find a good Thai curry than Thailand? Right? Okay, perhaps the international section of your grocery store is a little closer to home.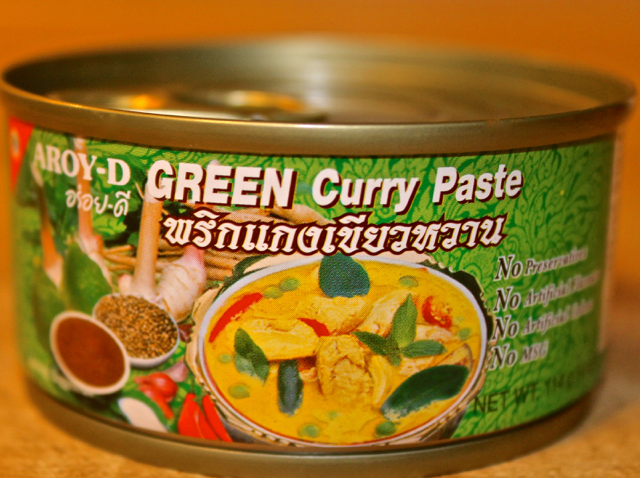 The main things you want to look for on the ingredient listing are a good amount of green chilies and lemon grass. Those are the key notes in the dish. This one is perfect.

The second thing you want to look for is a good quality coconut milk, preferably one that comes in a can. That way you can just pull some of the solidified fat from the top of the can to get started. It's easier to get the fat to separate from the coconut milk when it's solidified like this.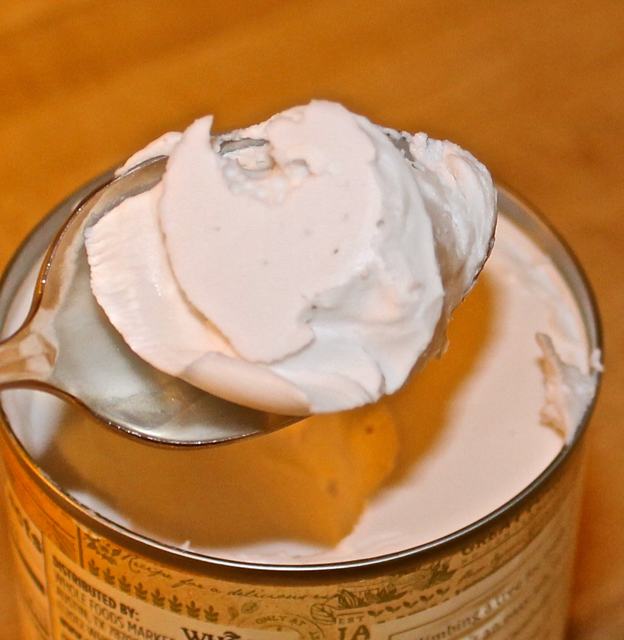 About 1/3 of the coconut milk (solids) will go in a pan to simmer until the milk separates from the fat.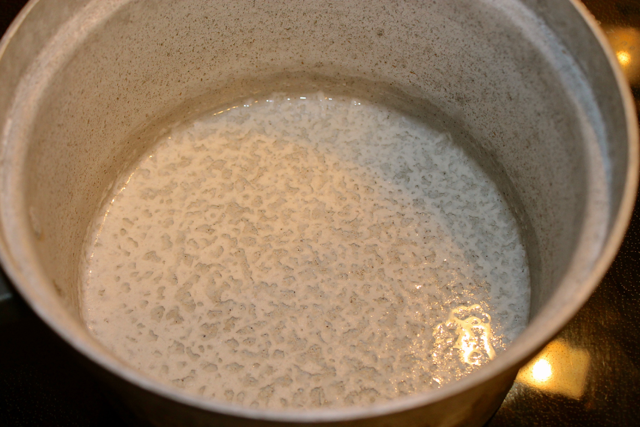 Once the milk separates, the onion and chicken go in for a quick saute. I added the onion to my recipe because I like the flavor onion gives to just about any dish.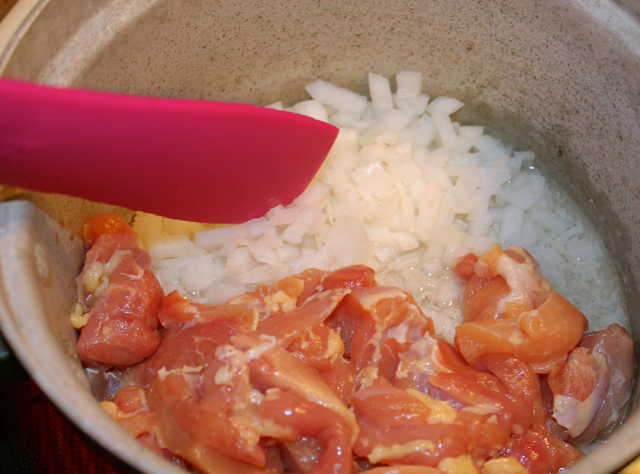 Now, many recipes that I did research on said to put the curry paste in before the chicken but I wanted to test the heat before I dumped the entire can in my dish. You may want to do this as well to be sure of the amount of heat you want in yours.
Heat the rest of the coconut milk and a cup of chicken stock in a separate saucepan over low and add a tablespoon of the curry paste at a time, tasting in between. Some of the heat cooks out so make it a little hotter than what you're going for. I ended up using the entire 4 ounce can in mine.
Once you've got the heat level to where you want it, add the coconut milk and curry paste mixture to the chicken and onion. Cook over a slow simmer for about 20 minutes or until the chicken is fork tender.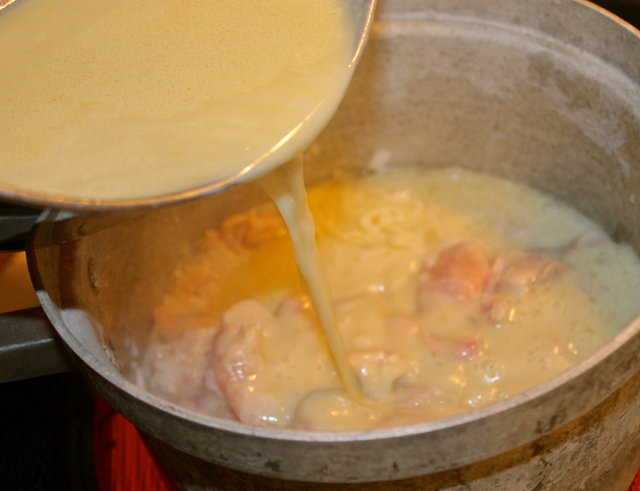 Add in veggies of your choice. I like asparagus.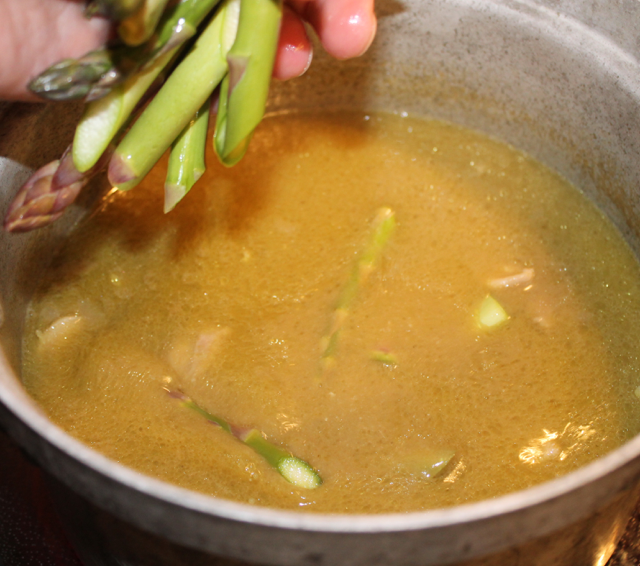 And a few colorful veggies I found at the international market, some baby bok choy, Chinese broccoli and a sweet red chili pepper. What ever floats your boat goes as far as the veggies, I think.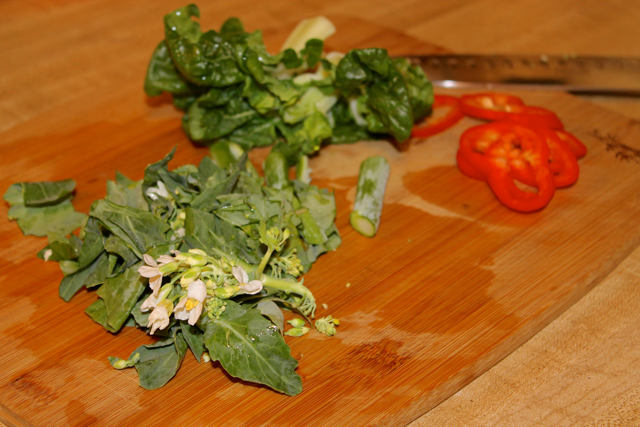 Once the veggies are tender, after about 10 minutes or so, season with salt to taste (or fish sauce if you prefer) and your curry is ready to eat. Drop in some fresh basil leaves for garnish and serve with a side of your favorite cooked rice.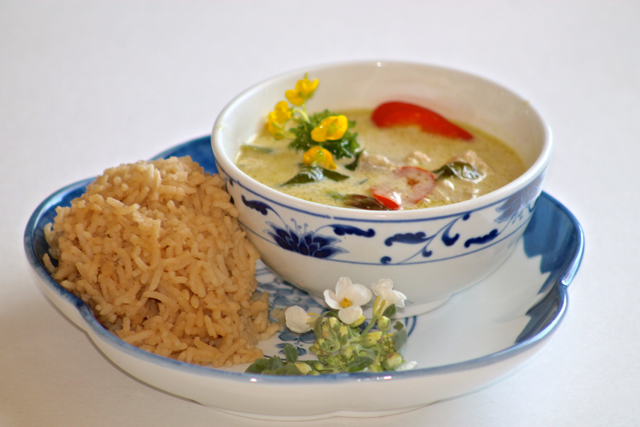 Simple and tasty.
When you go to a Thai restaurant, you can choose from many different curry flavors. Recreating those terrific flavors at home is easy and affordable. I hope you'll give this one a try.
Make it a fantastic day and as always, keep it delicious!
Till next time ~ much love, Connie
Thai Green Curry Chicken
Ingredients
13.5

oz

coconut milk

4

oz

Thai green curry paste

1

C

chicken stock

1

medium onion

diced

1

lb

boneless chicken thighs

cut into bite size pieces

1/2

C

bok choy

1/2

C

asparagus

cut into thirds

1/2

C

Chinese broccoli

1

small sweet red chili pepper

Salt to taste

or fish sauce if you prefer

8 - 10

Thai basil leaves
Instructions
Place 1/3 of the coconut milk in a medium pot over med/high heat.

Reduce until the milk begins to separate.

Add the onion and chicken and coat well.

Add the curry paste, the rest of the coconut milk and the chicken stock.

Simmer for 20 to 30 minutes until the chicken is fork tender.

Add the vegetables and continue simmering until tender.

Season with salt (or fish sauce if you prefer) to taste.

Remove from heat and add fresh Thai basil leaves.

Serve hot with a side of rice.
Notes
Recipe by: Connie Murray @Happybellyfoodie.com