Mole Sauce

Trying to define Mole sauce is next to impossible because there are so many versions.
Making a delicious Mole sauce is another story.
When you go looking for a recipe you want to try, it can be quite an overwhelming experience. There's just SO much "advice" out there. I'll never claim to be an expert on any particular recipe but I know when I like something.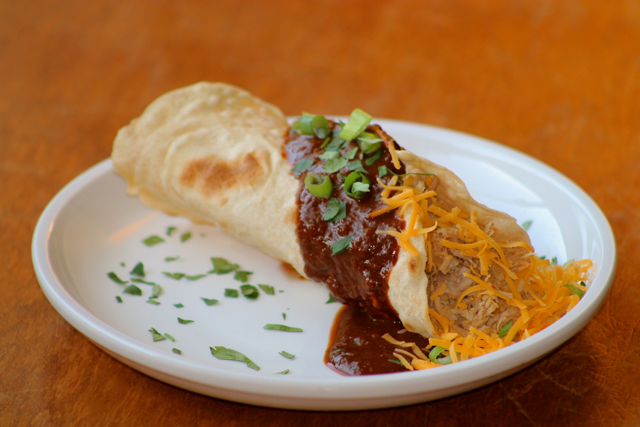 After some research on the subject I found that starting out, you really don't need to get caught up in the complexities that some recipes portray. Keep it simple and just make sauce. In the end, you're going to change it to suit your taste, so why make it complicated? (This is me talking to my procrastinating self…)
Essentially, there are five components to a mole sauce, chilies, spices, some of which are dry, toasted and/or ground, fruits such as dried raisins, tomatoes or tomatillos and thickeners such as ground nuts and bread crumbs.
You'll begin with dried chilies, which can vary in heat and flavor. I chose ancho chilies for my sauce because they have a very mild heat and a bit of a fruity aroma like cherries. Do a little research on your peppers and choose one or a few that appeal to your taste. Be sure to remove the stems and take out the seeds before using them.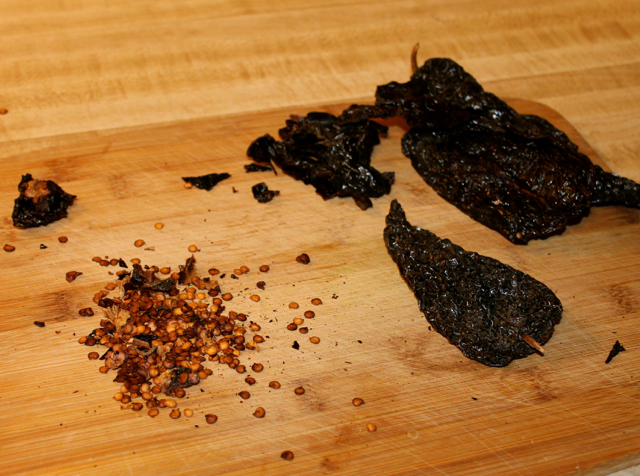 To bring out the aroma and flavor of your chilies, toast them in a dry skillet for a few minutes on both sides.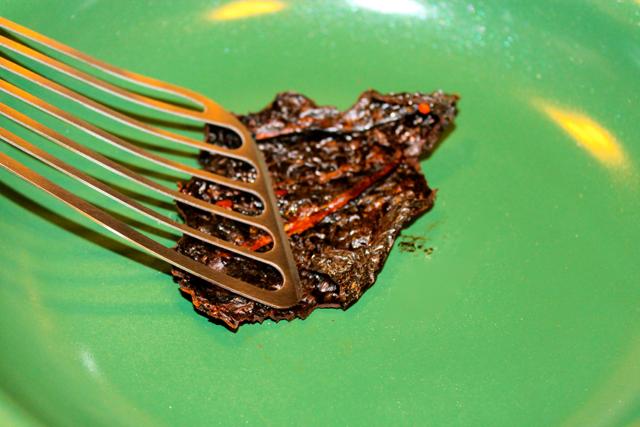 After the chilies are toasted, soak them for 30 minutes in hot (not boiling) water and place a bowl or weight on top to allow them to be completely submerged.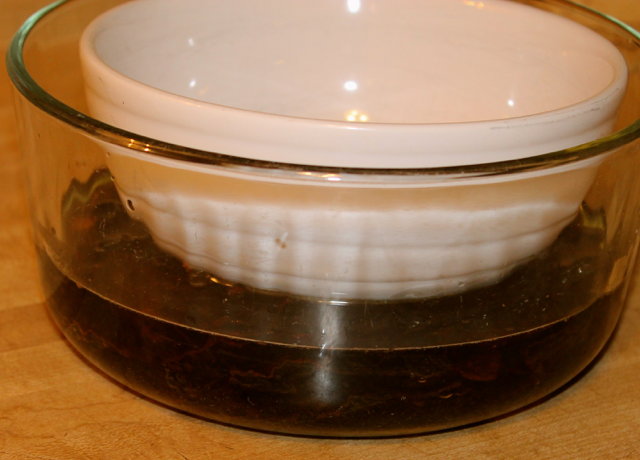 After the chilies are re-hydrated, they'll need to be pureed. This is where you'll want to incorporate your dry spices, dried fruit and any nuts or seeds.
For my recipe, I used toasted sesame seeds, dried oregano, ground cloves, ground cinnamon, ground cumin, freshly ground black pepper and a couple of dates. (amounts are in the printout below)
The mixture needs to be strained through a fine mesh wire sieve to remove the chili skins and hulls from the seeds. This gives a smooth base for the sauce.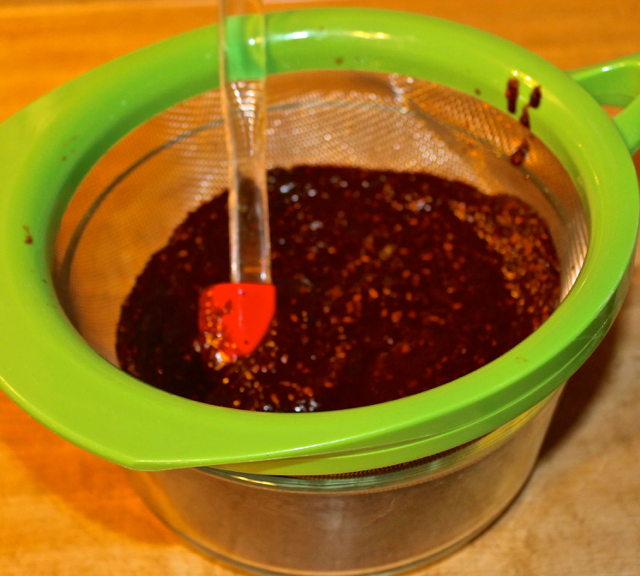 The tomatoes for the sauce are also pureed along with some roasted onion and roasted garlic. I used a 15 ounce can of tomato sauce but if you have fresh, roast 4 or 5 along with the garlic and onion for 30 minutes in a 400 degree F. oven. Cool and remove the skins before processing.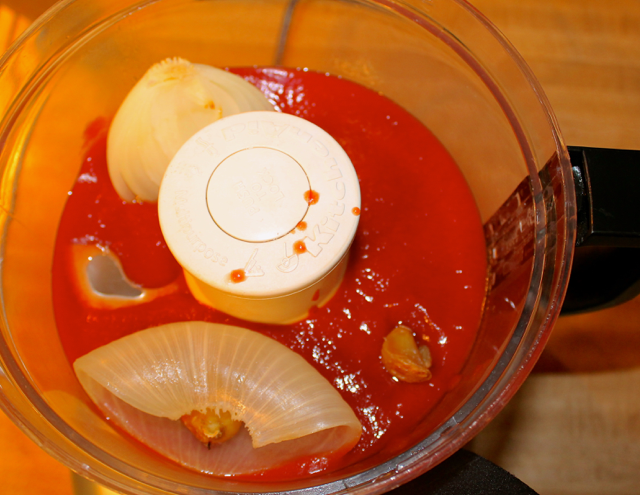 Once everything is pureed and smooth, the sauce needs to be cooked down to a thick paste consistency. Add a little oil to a dutch oven or large sauce pot and heat over med/high. Stir in the pepper mixture and the tomato mixture and continue to stir occasionally. After 20 to 30 minutes, you should be able to run a spatula along the bottom of the pan and it will leave a clear path. Be wary, the sauce will splatter, a lot.
Last but not least, the finishing touches for the sauce are added. You'll need some chicken stock, bread crumbs and chocolate. Yes, I said chocolate. Preferably Mexican chocolate but a bitter dark chocolate will work. You may need to add a little salt and sugar to adjust the flavor.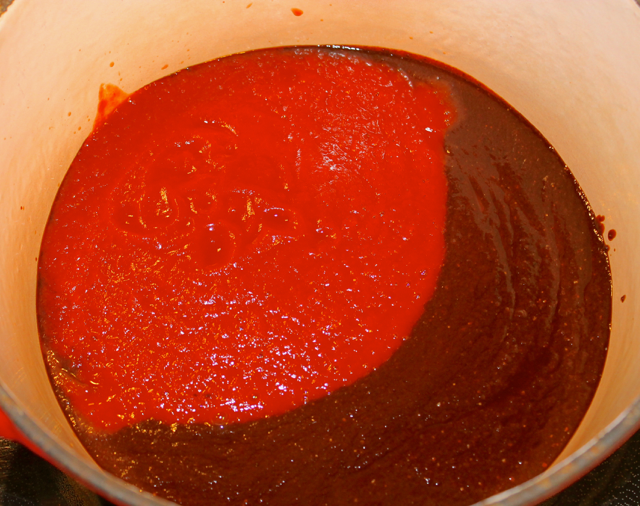 After you add your stock, bread crumbs and chocolate, allow the mole sauce to cook for about 30 minutes more on med/low heat.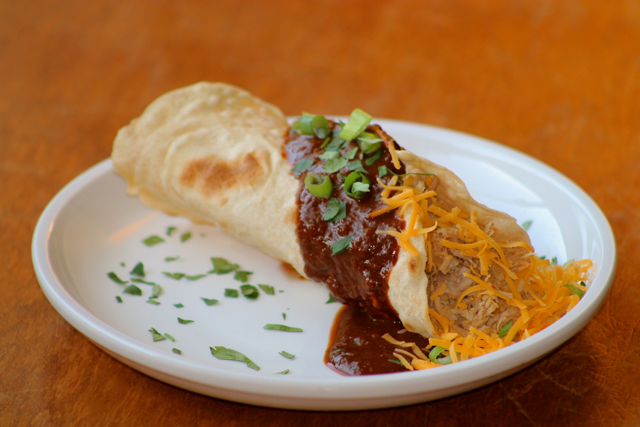 Adjust the seasonings to taste and serve with your favorite tacos, enchiladas or other Mexican dish. I added about a tablespoon of sugar and a touch of apple cider vinegar to mine.
The thing I like most about making this sauce is that it's something you have to define as your own from the very beginning. You're choosing the chilies and all the other components according to what's available to you, what's in your kitchen and what flavors you like. No wonder there are so many versions out there.
I hope you'll try making your own mole sauce and let us know about your experience. We'd love to hear from you!
Make it a fantastic day and as always, keep it delicious!
Till next time ~ much love, Connie
Mole Sauce
Ingredients
1

med onion

unpeeled

4

garlic cloves

unpeeled

1 1/2

oz

dried ancho chilies

destemmed and seeded

1 1/2

C

hot water

105 degrees F.

1/4

C

toasted sesame seeds

1/2

tsp

dried oregano

1/4

tsp

ground cinnamon

1/16

tsp

ground cloves

1

tsp

ground cumin

1/8

tsp

freshly ground black pepper

2

tbsp

dates

1 15

oz

can tomato sauce

1

C

chicken stock

2

oz

bitter sweet chocolate

1

tbsp

bread crumbs

finely ground

1

tbsp

sugar

1

tbsp

apple cider vinegar

salt to taste
Instructions
Preheat oven to 400 degrees F.

Place the unpeeled onion and garlic cloves on a baking sheet and cover with aluminum foil.

Bake for 30 to 40 minutes or until soft.

Allow to cool and remove peels.

Heat a dry skillet on med/high and toast the chilies on both sides.

Pour the hot water into a medium bowl and add the toasted chilies.

Place another bowl or plate on top of the chilies to weight them down.

Allow the chilies to re-hydrate for 30 minutes.

Remove the chilies and reserve the water.

Place the chilies, sesame seeds, oregano, cinnamon, clove, cumin, ground pepper and dates in a food processor along with one cup of the reserved chili soaking liquid.

Pulse and puree the mixture until everything is as smooth as possible.

Strain the mixture through a fine mesh wire sieve and discard the solids.

Place the strained mixture in a large Dutch oven or pot.

Place the cooled roasted onion and garlic in the food processor with the tomato sauce and puree until smooth.

Add the onion mixture to the pot with the chili mixture.

Place over med/high heat and stir occasionally.

Cook until the mixture becomes a thick paste.

Add the chicken stock, chocolate and bread crumbs and cook on med/low for 30 minutes.

Add the tablespoon of sugar and apple cider vinegar if needed and salt to taste.

Server over tacos, enchiladas or other Mexican dish.
Notes
Recipe by: Connie Murray @Happybellyfoodie.com