Buttermilk Biscuits ~ All Jacked up on Garlic and Cheddar
My awesome copy cat recipe for Cheddar Bay Biscuits!
You've been to Red Lobster and know how amazing the "Cheddar Bay Biscuits" are. Right? They're irresistible!
Since I'm doing seafood dishes this week, I figured I'd share my favorite copy cat version of them. Now, I know everybody and their brother (or Mother) has their own version but these are mine, concocted up by me with the help of my trusty ol' Betty Crocker cookbook. A few adjustments to the original 1980's version of her buttermilk drop biscuit recipe and the addition of freshly minced garlic, cheddar and fresh parsley make them mouth watering and delish.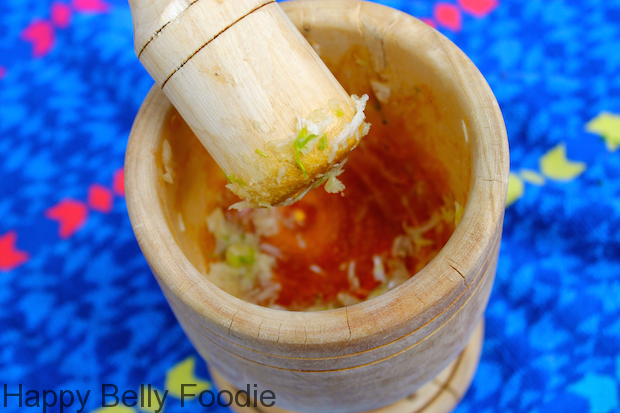 The recipe included in the print out down below is a quick, buttermilk drop-biscuit type, so there's no rolling out the dough or adding yeast or waiting for the dough to rise. However, they are fluffy and flaky and everything you dream of in a biscuit because they have creamy buttermilk in the mix.
To make sure they are nice and fluffy, you'll combine all your dry ingredients and cut shortening in to get it broken up and evenly distributed throughout before adding the buttermilk. In fact, the buttermilk is the last thing you'll add in. You want to have pea sized clumps of flour covered shortening. A potato masher
works great for this part. Then, the cheddar parsley and freshly minced garlic get stirred in.
Lastly, the buttermilk goes in and then you're ready to drop the biscuits onto your baking tray.
To make the biscuits a nice uniform size, I use a 3 oz ice cream scooper
and then adjust the dough balls here and there if I need to, to make 8 biscuits. Just get couple of cups of hot water to dip the scooper in between scooping each biscuit out. They'll cook up nice and even when you make them all the same size.
Lay the biscuits on a baking stone or baking sheet with plenty of room between. You don't really want these guys touching.
I like my biscuits on the big side but if you wanted more, you can make them smaller to get twelve out of the batch like Miss Betty's original drop biscuit recipe.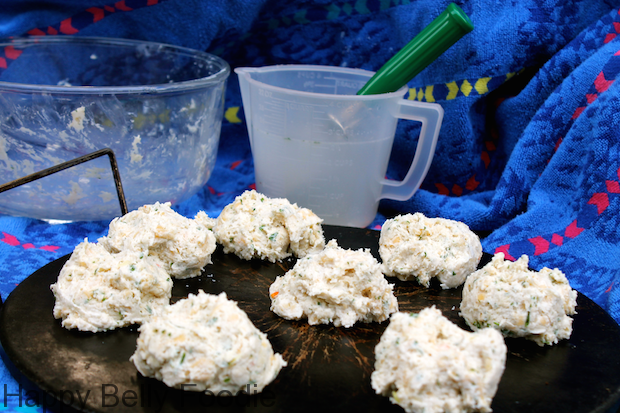 While the biscuits are baking, put some butter in a bowl along with some of that fresh chopped parsley and pop it in the microwave for about 30 seconds.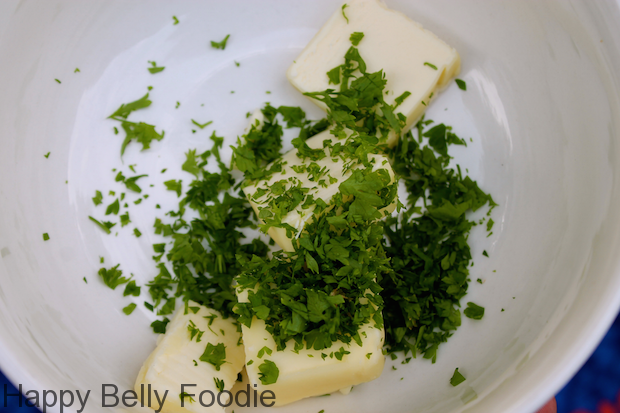 When the biscuits are nice and golden brown on top, pull them out of the oven and brush the butter and parsley over them.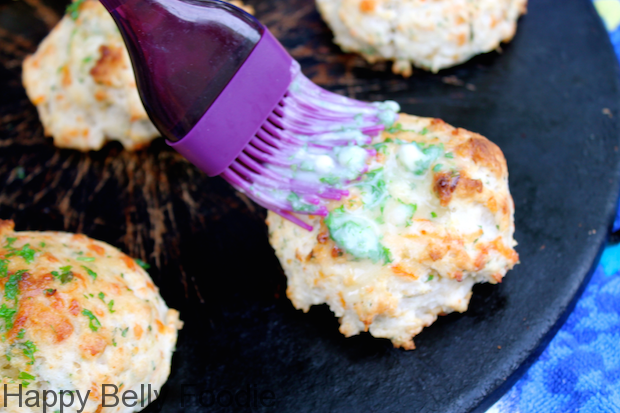 I know, you're licking your screen right now. Aren't you? [wp-svg-icons icon="tongue" wrap="i"]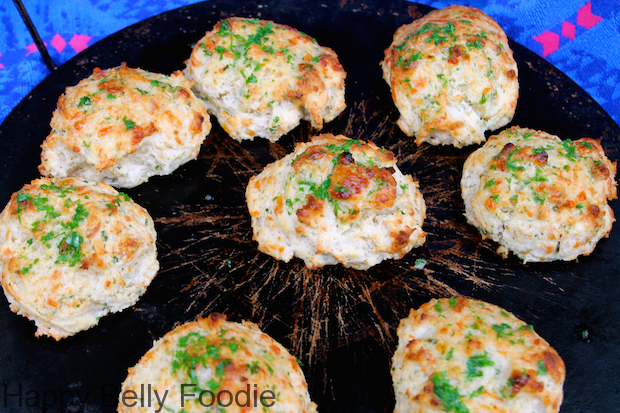 These guys are truly delicious. I actually like them better than Red Lobster's, simply because I know how fresh mine are and I know exactly what's in them.
A friend of mine told me that she used to work for Red Lobster and they use granulated garlic, rather than fresh cloves. I suppose that would be alright but I like fresh where ever possible.
And there you have if folks, my favorite copy cat version of Red Lobster's Cheddar Bay Biscuits. I know you're gonna try this one because it's super easy and scrumptious!
Have a fantastic day and as always, keep it delicious! Till next time ~ much love, Connie
Buttermilk Biscuits ~ All Jacked up on Garlic and Cheddar
Ingredients
2

C

flour

1

tbsp

sugar

2

tsp

baking powder

1/4

tsp

baking soda

1

tsp

salt

1/2

C

shortening

can use lard, butter or a combination

1

C

buttermilk

3

garlic cloves

minced

1

C

sharp cheddar cheese

shredded

1/4

C

fresh parsley

chopped fine

1/4

C

melted butter

2

tbsp

fresh parsley

chopped fine
Instructions
Heat oven to 450 degrees F.

Combine the flour and all the dry ingredients. Add the shortening and cut it into the flour with a potato masher or pastry blender. The shortening will need to be broken down into pea sized bits.

Mix in the buttermilk a little at a time until the dough is sticky.

Use an ice cream scooper to measure out the biscuits and drop them onto a baking stone or parchment lined baking sheet.

Bake in the oven for 10 to 12 minutes or until golden brown and bubbly on the outside.

Melt the butter in a small bowl with the parsley for 30 seconds in the microwave.

Brush the butter mixture over the biscuits and serve hot.
Notes
Recipe by: Connie Murray @Happybellyfoodie.com