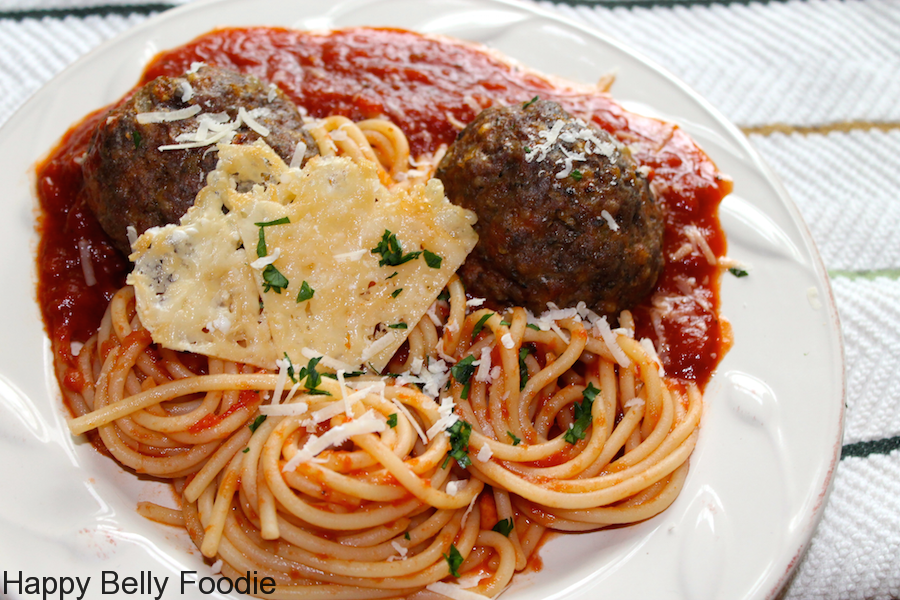 What's your secret to happy meatballs? I'm on a quest to up my game for this recipe and I changed a few things I did in the past. A good recipe that remains a favorite is always born out of trial and error.
Everybody and their mama has a favorite recipe and secret techniques for getting the juiciest tasty meatballs. And they're easy to make. Kid's stuff, right? But are they really that good?
I gotta admit, mine had a way to go. In fact, my meatballs were… meh, okay. The problem I faced was dryness. They tasted pretty good but getting a great texture always eluded me.
When I decided to make this old favorite again, I did some consulting with a few fellow foodies first. Boy was I surprised! People are serious about their meatballs!
Come to find out, I was doing all sorts of things wrong! I was cooking them on way too high of a temp (375 degrees F.) I used too much of the bread crumbs, too many eggs, too much salt, didn't combine the ground beef with any other meat and made the meatballs WAY too small! Eek!! And, I've made them this way for years!
If you're cringing because you make some of the same mistakes, don't. We're here to make it all better, right? If you're getting all proud and big chested because your balls are perfect, well good for you. Let us imperfect little foodies regroup and try again.
* clearing throat
So, the recipe that follows is a collection of tips from fellow foodie folks as well as my own inclinations toward the goal. We're going for moist as well as tender, not soggy and not tough or dry. We're using milk-soaked bread crumbs and very little of them, less eggs, less salt and we're adding ground pork to the recipe. We're baking them in the oven on a lower temp and covering them with foil to keep the moisture in. Then, for the last five minutes of cooking we'll uncover them to get a nicely browned finish.
"How were they?" SO glad you asked! They were FANTASTIC! So much better! Really. You should have a bite 🙂 Or just try the recipe. Did I mention that they were moist and tender?
Props to my fellow foodies for the great tips! Thank you!
Till next time ~ much love, Connie
Happy Meatballs
Ingredients
1

tbsp

olive oil

1/2

small onion

finely minced

1

garlic clove

finely minced

2

tbsp

panko bread crumbs

regular bread crumbs will work too

2

tbsp

whole milk

1 1/4

lb

fresh ground beef

1/2

lb

fresh ground pork

1

egg

1

tsp

dried oregano

1

tsp

dried basil

1/2

tsp

salt

1/4

tsp

freshly ground black pepper
Instructions
Preheat oven to 350 degrees F.

Heat a skillet on medium heat and add the olive oil. Add the onions and cook until soft and transparent. Add the garlic and cook for 1 minute. Remove from heat and allow to cool completely.

In a small bowl, combine the bread crumbs and milk and let sit for 10 minutes.

Strain what's left of the milk off of the bread crumbs. Discard the milk.

In a large bowl, combine the ground beef, ground pork, oregano, basil, salt, black pepper, the cooled onion and garlic mixture, the egg and the bread crumbs. (Light hands here!) Don't over mix.

With lightly oiled hands, gently pat together 3 ounces of the mixture at a time to form the meatballs (not too tight) and place in a lightly oiled casserole dish, leaving plenty of space between.

Note: If you have a scale, weigh each meatball to get a consistent size so they all get done at the same time.

Cover the dish with foil and poke holes in the top to ventilate.

Bake for 25 minutes. Remove the foil and bake for 5 minutes more.

Serve with your favorite sauce.
Notes
Recipe by Connie Murray @ happybellyfoodie.com