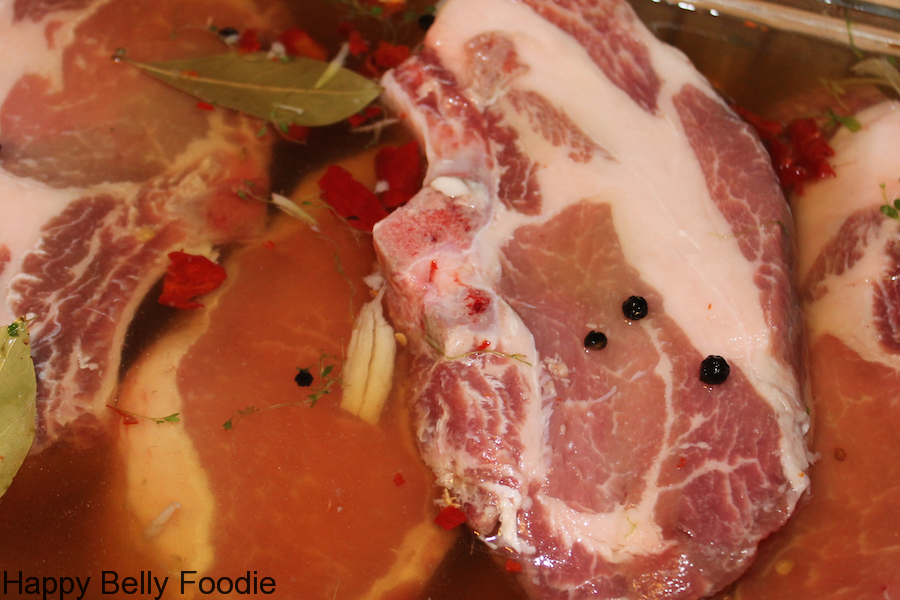 Brine for Chops
is a simple method of maximizing flavor.
Last year I bought some of the most beautiful, thick, bone-in pork chops from a local butcher in my area. I really wanted to do these chops some justice. After a little research, I found that brining them and grilling them would be perfect. Let me tell you, they were fabulous! Like I'd never tasted anything like it. Who'd have thought this simple method could completely revitalize a plain ol' chop? They were juicy, loaded with flavor, and smokey all in one. I was very proud to pull these babies off the grill. DE-licious!
And this is when my brining obsession really began..
Next time you pass by the butcher's meat case and spot some big ol' chops, snatch those babies up and give the brine method a try. I promise, you'll be glad you did. ~ much love, Connie

Brine for Chops
Ingredients
2

C

water

1/3

C

salt

1/3

C

brown sugar

1/2

tbsp

peppercorns

4

garlic cloves

1

tsp

fresh thyme

2

cayenne peppers

2

bay leaves

2

C

ice cold water
Instructions
Place all ingredients except the cold water in a pot on medium heat. Heat until the sugar and salt have dissolved.

Remove from heat and add cold water. Allow the mixture to cool completely. Place chops in a dish with a tight fitting lid or zip top bag along with the brine. Refrigerate for 48 hours, 24 minimum.

Drain liquid off, dry the meat with paper towels, and cook as desired. Grilling is highly recommended.
Notes
Recipe by : Connie Murray @ happybellyfoodie.com