Fermented Dill Pickles
Healthy pickles? Yes, you can make a pickle that's absolutely good for you but you've gotta play dirty. Naturally!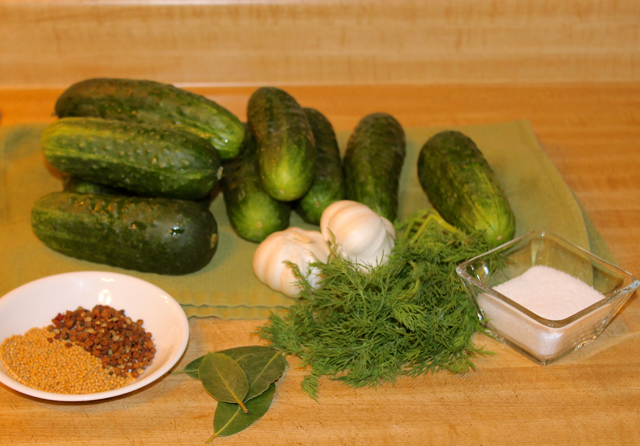 I love a good pickle! The delightful sour scent of vinegar, garlic and dill makes my mouth water. Oh, the crunch of it all!
However, I've been reading a lot about my beloved dilly bites and decided that it's high time I ask for more. Since reading Michael Pollan's "Cooked" and following some of the sources he sites about fermenting, I couldn't help but want to give fermenting a try.
When I began researching information about fermentation, I found myself a bit overwhelmed with the plethora of health benefits bacteria and yeasts all around us have to offer. That's right, those dirty little critters we've been taught to sanitize and sterilize are the thing that many of us are missing in our diets. By shewing them away with anti-bacterial strategies, we're denying ourselves nourishment.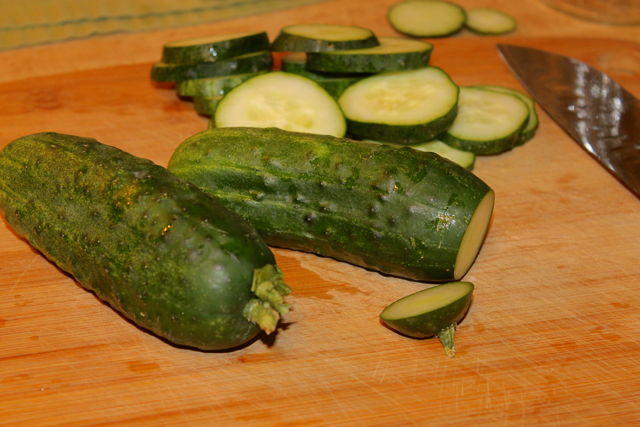 Heating our foods ensures that bacteria and possible pathogens are eliminated and our food is safe to eat. Unfortunately, this also ensures that we aren't going to get the most nutrition our food has to offer because good bacteria as well as vitamins, minerals, enzymes and probiotics are also destroyed in the process.
Fermenting foods naturally allows "good" and "friendly" bacteria to safely eliminate "bad" bacteria by way of inhibiting their putrefying abilities. According to Sally Fallon in her book, "Nourishing Traditions," Lacto-fermentation not only safely and effectively facilitates perfect food preservation, it enhances digestibility as well as increases vitamin levels.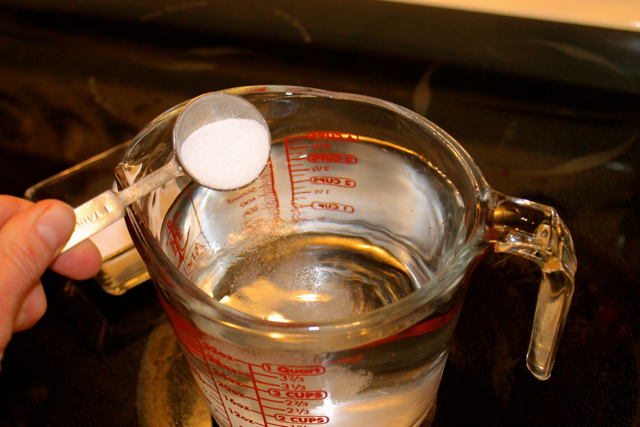 So how is the fermentation process initiated?
Most generally, salt and liquid initiate fermentation. Natural salt, not the iodized and chemically treated types, inhibits harmful bacterial growth while promoting growth of good bacteria. Water, either non-chlorinated or the natural moisture that comes from the plant to be fermented, which is the case with sauerkraut, is used to submerge the food and protect it from decay and harmful microorganisms.
In Sally Fallon's book, whey is also added to the mixture to help speed the process along and allow lactobacillus (good bacteria) to flourish. (I'll be trying that with my next batch.)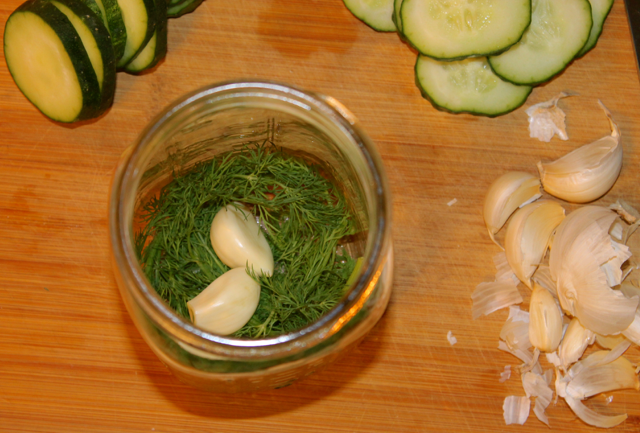 For fermented pickles, you can use whatever flavorings your heart desires. Simply place fresh herbs, garlic and spices in the bottom of a jar. Toss in a few hot peppers if that floats your boat.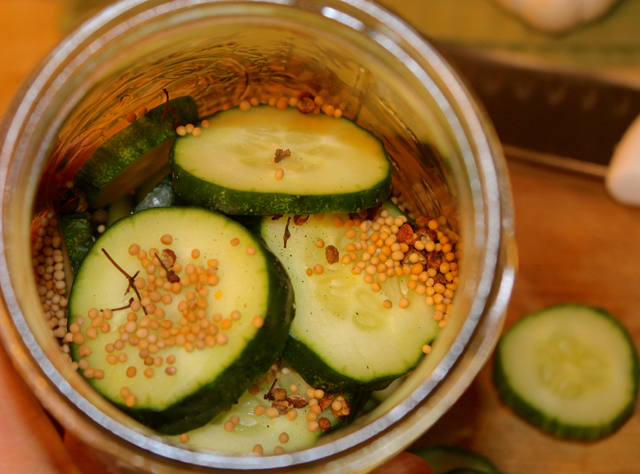 Pack your sliced, speared or whole cucumbers into the jar as tightly as possible. This will keep them from floating to the top.
*Be sure to cut the ends of the cucumbers off, as the ends have enzymes that will cause mushy pickles.
Because cucumbers can go soft while fermenting, ensure crispness by placing a few oak, cherry, grape or horse radish leaves in the jar. In my case, I had none of these available and used bay leaves.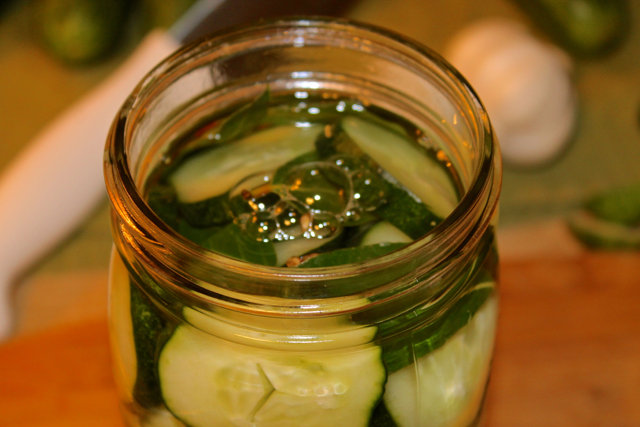 Fill the jars with cool water, seasoned with salt to your taste. And do be sure to taste the water before you pour it in. It should taste like sea water, not too salty but just salty enough.
Place your lid on the jar and tighten the band to finger tight.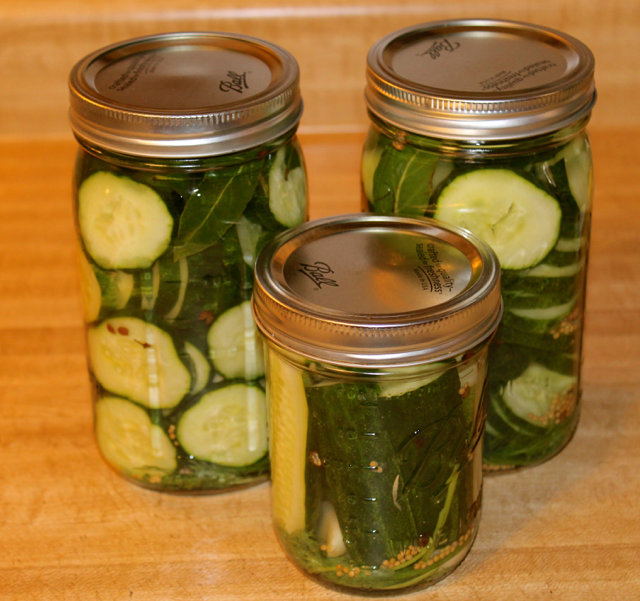 Place on a warm counter where your jar(s) will not be disturbed. 24 hours later, you will notice bubbles begin to appear.
Twist the lid loose to release the carbon dioxide build-up. You'll hear a slight hiss. Re-tighten the band to finger tight.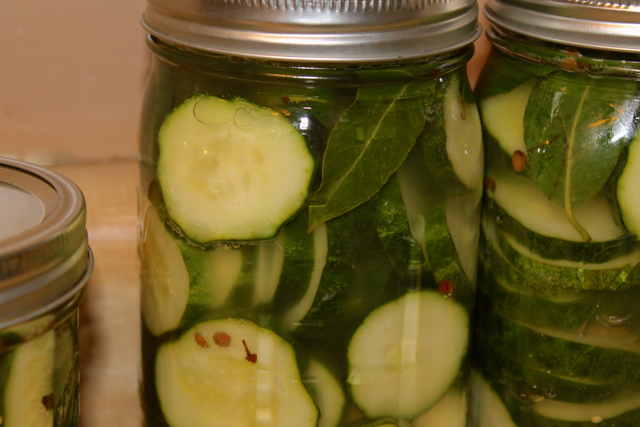 48 hours later, more bubbles appear and the water will become slightly cloudy.
Loosen the lid once again to release the carbon dioxide and re-tighten.
Repeat the process of releasing the carbon dioxide and re-tightening the bands each day until 4 days have passed.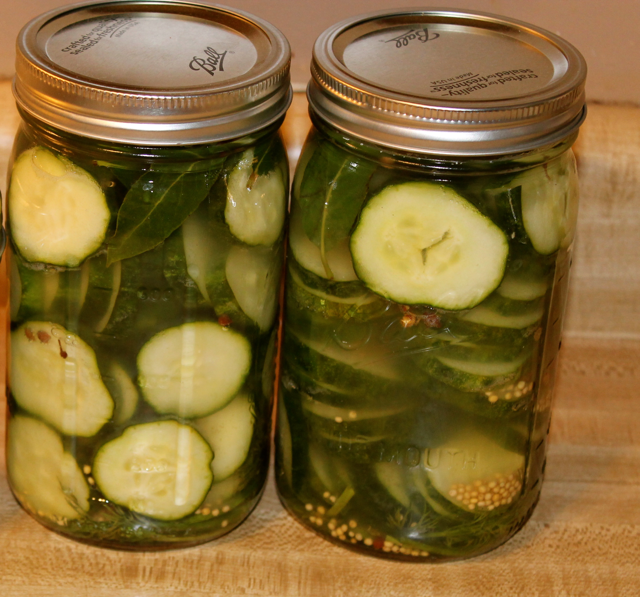 Each day, you'll notice the odor from the brine becoming stronger and more "pickle-like."
Feel free to take one of the cucumbers out and give it a taste to test its progress in flavor.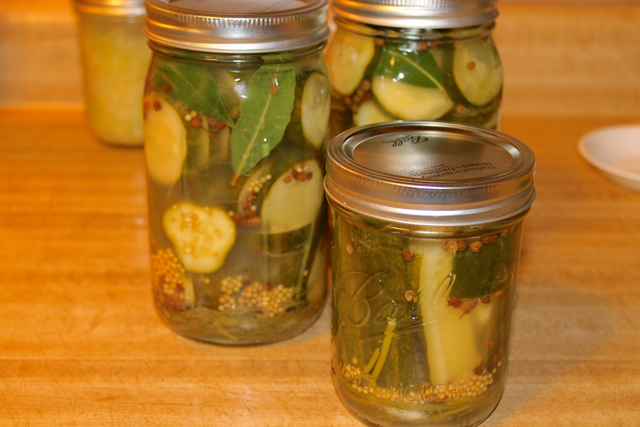 After 4 days, your pickles will be ready to refrigerate and enjoy. In cooler weather, you may need to give them an extra day or two to ferment, as the colder the temperature is, the slower the cucumbers will ferment.
So how did my fermented pickles turn out?
Very good, indeed! They were nice and sour and had a good crunch. The spears were crunchier than the slices, so next time I will try them whole. Love that crunch!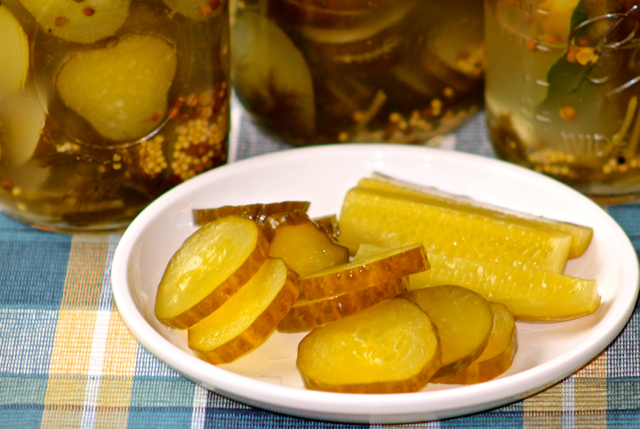 I will definitely play around with the flavors and perhaps try a bread and butter pickle. Hopefully my garden will produce plenty of things to ferment and pickle this season. I love that I now have a new-to-me adventure to explore and I'll be improving my crews' diet while I'm at it.
I do hope you'll consider trying fermentation with your favorite veggies and fruit as well. I'll be sharing recipes as I try them out right here. So stay tuned.
If you'd like to check out the sources I'm studying, see the following:
Books:
Cooked, by Michael Pollan
Wild Fermentation, by Sandor Ellix Katz
The Art of Fermentation, by Sandor Ellix Katz
Nourishing Traditions, by Sally Fallon
Also, check out youtube video Lacto-Fermentation: The Secret of Healing by Richters Herbs
And the website Cultured Food Life
Have a fabulous day and as always, keep it delicious!
Till next time ~ much love, Connie
Fermented Dill Pickles
Ingredients
1

bunch fresh dill

3-5

whole garlic cloves

1

tbsp

mustard seeds

1

tsp

whole peppercorns

3-4

small cucumbers

not waxed

non-chlorinated water

natural salt or kosher salt

not iodized or chemically treated

3-4

grape

cherry, oak or horse radish leaves (may use bay leaves)
Instructions
Place the dill, garlic, mustard and peppercorns in the bottom of a clean, quart sized mason jar.

Wash the pickles thoroughly to remove any debris.

Cut the ends of the cucumbers off and discard. (the ends will cause mushy pickles)

Slice the cucumbers into thick rounds or spears.

Pack the pickles into the jar so that they fit very tightly and do not move, leaving 1 inch head space.

Combine the water with one tablespoon of salt and taste.

Add more salt until the water tastes suits you. It should have taste like sea water.

Pour the water over into the jar until it covers the cucumbers.

Stuff the leaves into the jar to further tighten the pack.

Cover with lid and screw on band to finger tight.

Set on a warm counter where the jar will not be disturbed.

After 24 hours, loosen the lid to release carbon dioxide and re-tighten to finger tight.

Repeat loosening the lid and re-tightening once or twice per day for four days, total.

After the fourth day, taste test a pickle to see if it is to your liking.

If it is not sour enough, allow the jar to remain on the counter for another day or so until it reaches your satisfactory taste.

Once the pickles taste to your liking, refrigerate and enjoy.
Notes
Recipe by: Connie Murray@Happybellyfoodie.com