No Soak Pressure Cooker Baked Beans
Have you got a dry bean dilemma? Your pressure cooker can come to the rescue!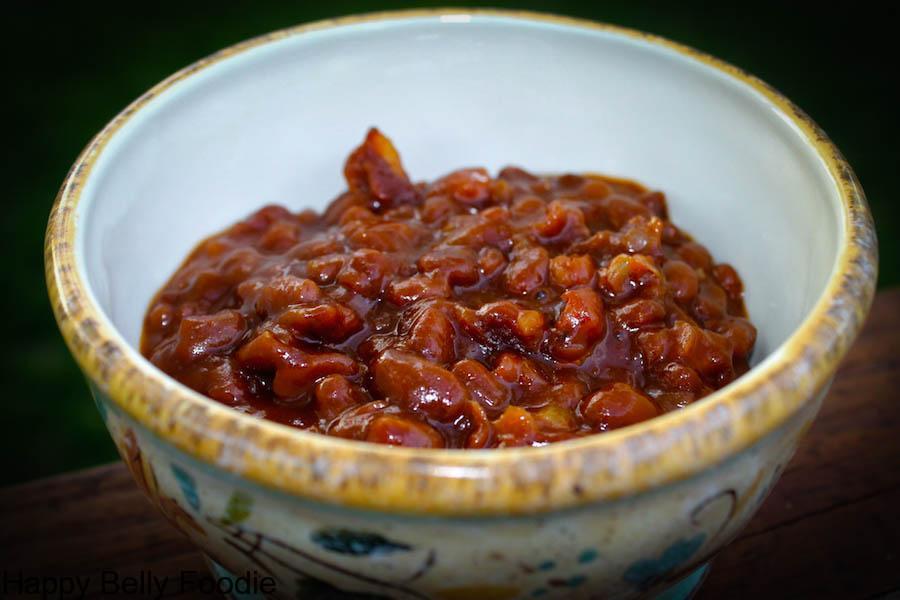 I can't tell you how many times in the past, I've wanted to make a bean dish with dried beans  and ditched the idea because I didn't think ahead and soak them over night. Of course, you can use the "quick" method by placing them in a pot and boiling them for a few minutes and then covering for an hour. But then you've gotta cook them good and long (hours) before they even become remotely tender. In the heat of summer, who wants to steam up the kitchen with a pot of boiling beans all day?
That's where an electric pressure cooker comes in mighty handy.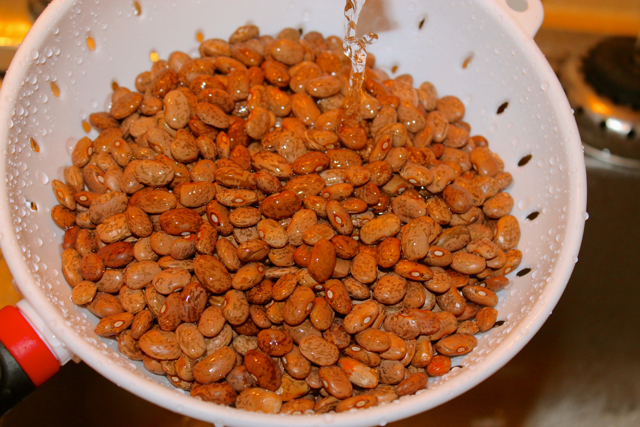 I must say, I am absolutely head-over-heels in love with my electric pressure cooker. Btw, I'm using the Power Pressure Cooker XL
. It's so easy to use and makes my life a whole lot easier when I'm in a hurry or just don't feel like messing with dinner. Not only does it speed things up, the food always turns out fabulous!
I figured it wouldn't hurt anything to try cooking dried beans in it to see how they'd turn out. I was completely surprised and thrilled with the results. So far, I've tried pinto beans, kidney beans and cranberry beans. All turned out tender enough for me to move on with my recipes in just 60 minutes cooking time. Not a bad deal.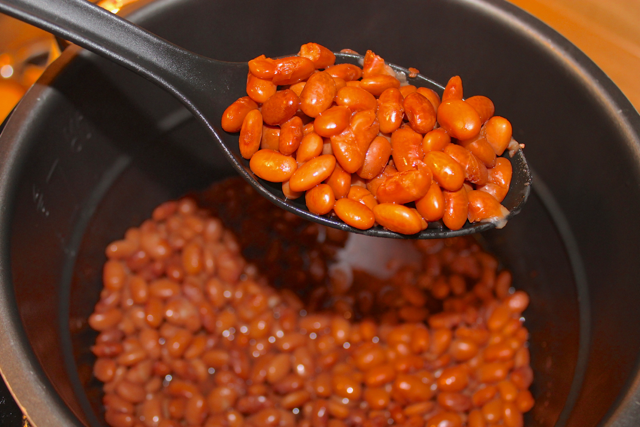 You don't lose water when you're using a presser cooker so as a guideline, simply add twice the amount of water as you have beans. So, one cup of beans will need two cups of water.
Note: If you find that your beans are not tender enough after the first pressure cook, add a little more water to the pot if needed and pressure cook another 20 minutes.
Once your beans are fully plump and wonderfully hydrated, you can use the pressure cooker to make your baked bean recipe in just 30 minutes. Simply strain the water off of the beans and set them aside. Brown some bacon and saute the onion right in the same pot of the cooker.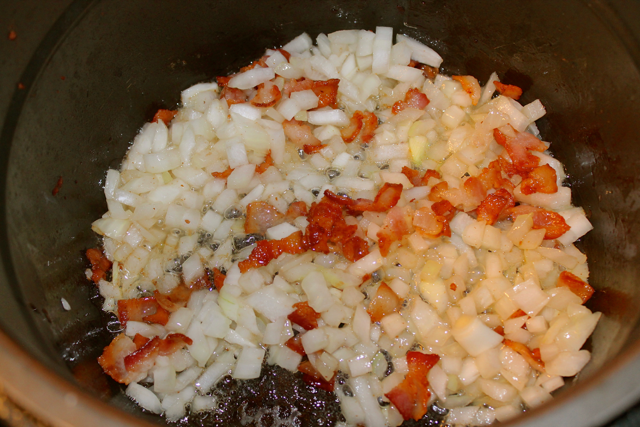 Stir in the rest of the ingredients (included in the recipe below) and add the beans. Seal the lid and set the timer for 30 minutes.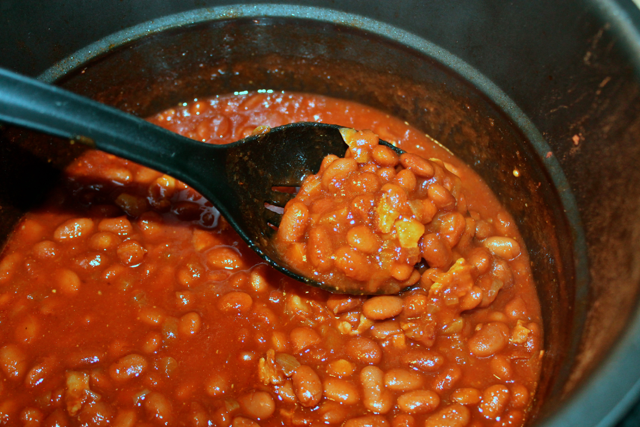 After your beans are done, carefully release the steam and remove the lid. You can serve right away or allow them to sit in the pot with the warmer on until you're ready. They will thicken some, the longer they sit, so keep an eye on them and stir occasionally.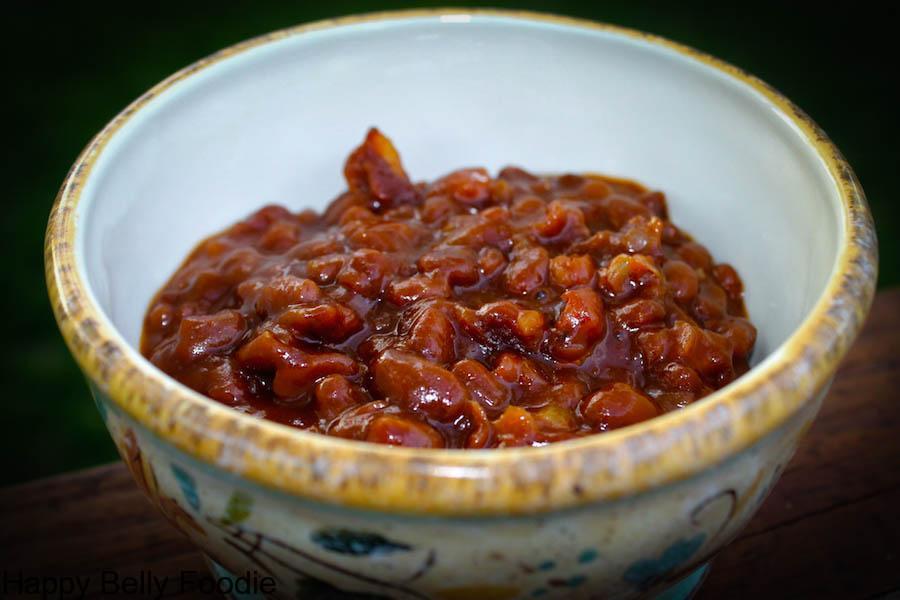 I personally like to place the beans in a foil pan and give them a little smoke while I'm grilling the rest of my dinner but we've had them straight out of the pressure cooker as well and they're a terrific side for any meal. Either way, going from dried beans to finished dish in WAY less time with the pressure cooker makes them an accompaniment we enjoy more often.
I hope you'll be inspired to use your pressure cooker to make your favorite bean recipes as well. Let us know about it. We'd love to hear from you!
For more great pressure cooker recipes, check out this post —> Electric Pressure Cooker Recipes.
Make it a fantastic day and a always, keep it delicious!
Till next time ~ much love, Connie
No Soak Pressure Cooker Baked Beans
Ingredients
2

C

pinto beans

4

C

water

1

C

diced onion

4

strips bacon

chopped

1 6

oz

can tomato paste

2/3

C

brown sugar

1/4

C

honey

1

tbsp

molasses

2

tbsp

apple cider vinegar

1

tbsp

distilled white vinegar

1

tbsp

prepared mustard

1

tsp

garlic powder

1

tsp

worchestershire sauce

1/4

tsp

cayenne pepper

1

tsp

salt

2

C

chicken stock
Instructions
Rinse beans and discard any damaged ones.

Place in pressure cooker with 4 cups water.

Cover with lid, locking it in place and closing the steam vent.

Press the bean/lentil selection and adjust the timer to 1 hour.

In the meantime, in a small bowl, combine the rest of the ingredients EXCEPT the bacon and onion.

Set aside.

Carefully release the steam when the timer goes off.

Remove the beans, strain and discard liquid.

Set aside.

Heat the pressure cooker back up by selecting one of the options.

Place the bacon in and saute until slightly browned.

Add the chopped onions and saute for 2 to 3 minutes.

Add the combined ingredients and the beans to the pot.

Stir well.

Replace the lid on top and lock.

Close the steam vent.

Press the beans/lentil option and adjust the timer for 30 minutes.

Once the timer goes off, carefully release the steam.

Remove the lid, stir and serve.

Optionally, leave the beans in the pressure cooker on the keep warm mode to allow the sauce to thicken for 30 minutes, stirring occasionally.
Notes
Recipe by: Connie Murray@Happybellyfoodie.com