French Bread Made with Whey
So you've made cheese and now you've got all this left over whey? If you google that question, "What to do with leftover whey," you'll find a bazillion things you can do with it. Here's what I've been doing with mine…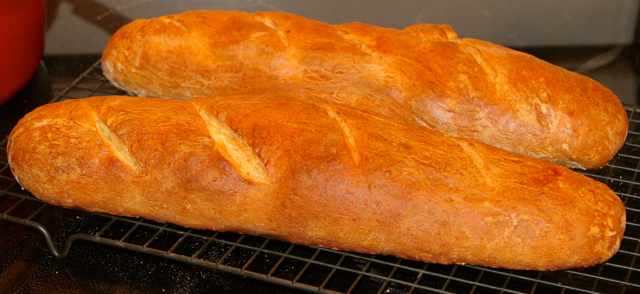 Of all the things I've struggled with, bread (actually, baking in general) has been my biggest challenge. But like the true foodie warrior that I aspire to be, I keep marching on, one loaf at a time.
This time, I'm after a nice crusty loaf of French bread. The kind you cut a hunk off of and slather butter and garlic all over or use as a dipping utensil in a plate of herb infused olive oil and vinegar. The kind that gives you a great big crunch at first bite, yet has a soft, chewy interior with all the lovely aromas of bread yeasts baked right in.
What I'm finding out in my "whey" adventures is that this fantastical liquid, left behind by removing the fat solids of milk, is something of a miracle for breads and otherwise bread-y recipes. (check out what it does for pizza crust here.)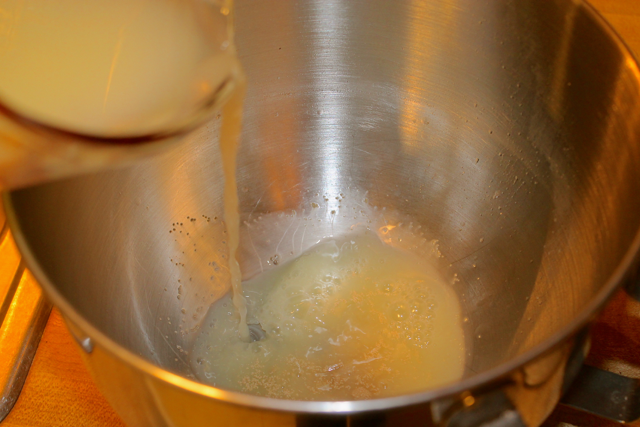 While I'm not a scientifically inclined person, I do like to experiment and I do know good flavor and texture. What whey does to bread, scientifically speaking, I have not a clue. But if you're talking hands on, dough-ing it up, perfuming my kitchen while baking said bread and consuming it happily with all my bread creation dreams coming true, I'll tell you that whey does a bread good.
It's something of a mystery, as all bread things are to me but whey sure does make a damn fine French loaf.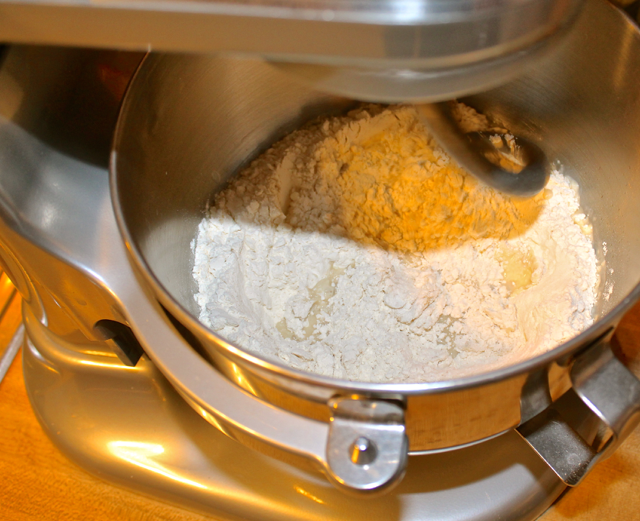 The recipe I'm using for today's French bread comes from my good ol' Fannie Farmer cook book. (Complete details are in the printout below.) If you want to try old fashioned recipes, yet not so old that the ingredients don't exist anymore, it's a trustworthy source to get you started.
With Fannie's recipe, I switched out the water with whey, which I warmed to 105 degrees F. and cut the recipe in half. The original recipe makes 4 loaves. I also omitted spritzing the loaves with water while baking, as the original calls for doing so every 15 minutes through the baking process and makes for a really hard bread.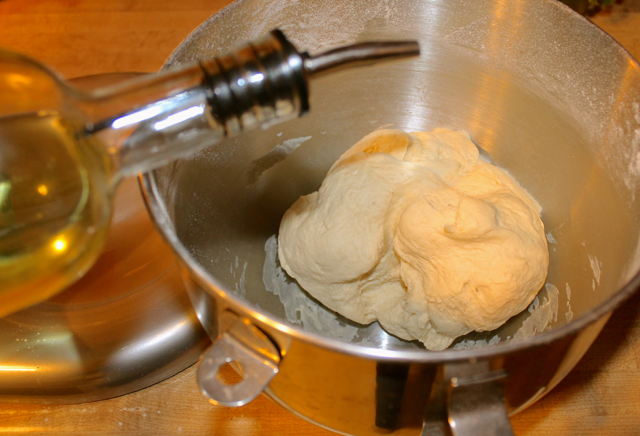 Fannie (Yes, I do call my cook books affectionately by name) instructs to mix, knead and proof your dough with the typical double rise technique in a warm corner with the first rise being in the bowl. An hour or so will do, depending on the warmth of your kitchen. Simply cover with a dish towel or plastic. You're looking for it to double in size.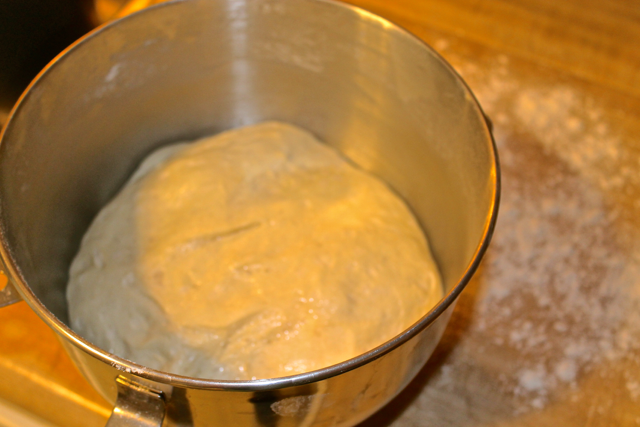 After the first rise, divide the dough into two equal parts and roll out to 14 inch ropes. Spritz with water and place on your lightly dusted (with cornmeal) baking sheet. Cover with plastic and allow to rise another hour or until doubled.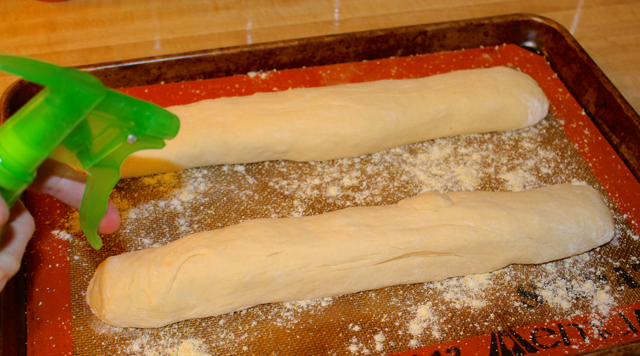 About halfway through the second rise, preheat your oven to 450 degrees F.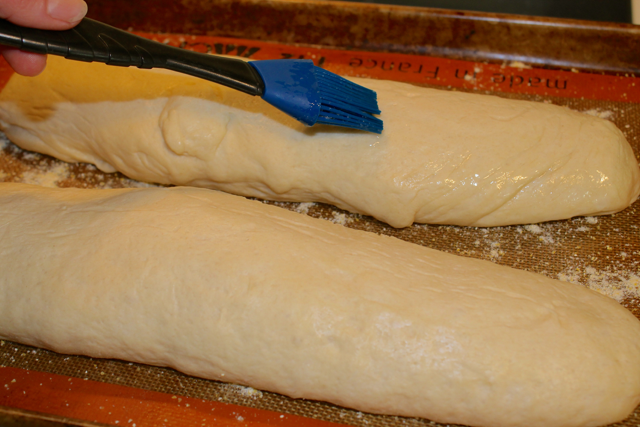 For a glowy golden finish, just before you place the dough in the oven, brush the loaves with an egg wash. Give the loaves a few slashes with a very sharp knife or a razor blade for that classic French loaf look.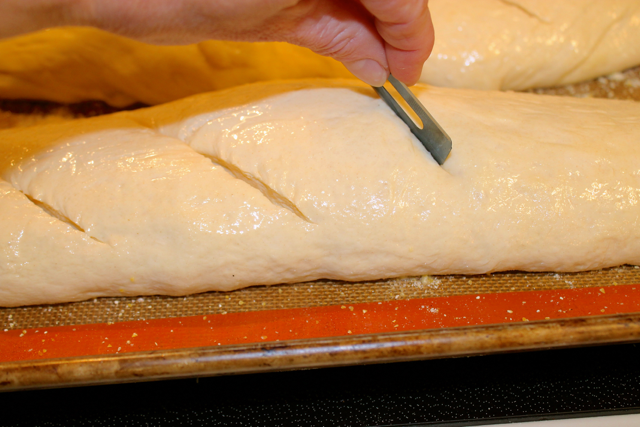 Bake in the 450 degree F. oven for 10 minutes.
After 10 minutes of baking, turn the oven down to 375 degrees F. and continue baking until golden brown and the loaves are hollow sounding when tapped on the bottom.
Kinda looks like a pair of really weird elf shoes (for a gigantic elf!). Or a pair of Dutch clogs? So my loaf shaping may need a bit of work…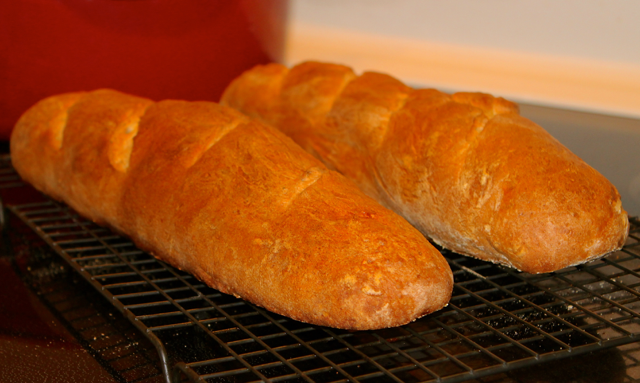 Imperfect appearance aside, they turned out wonderfully. This was my second batch of this recipe and it's definitely a keeper for my files, perfect for pasta night or with any hearty meal.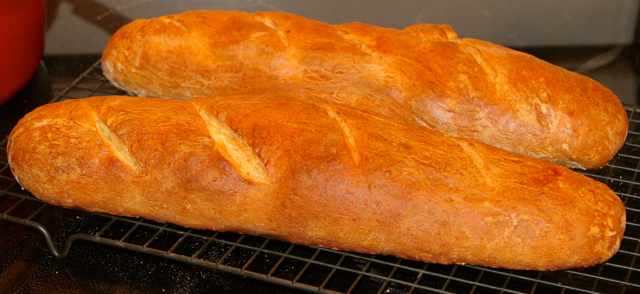 I'd say that whey just gives the bread the tang it needs. I do believe it deepens the color of the crust as well. I did read somewhere that whey will make your fresh bread last longer. Though we didn't have much left and I did finished up what little was left over for my breakfast with a big smear of coconut oil. Yummers!
I really like what the whey does and most likely, I'll add it to all my bread recipes when I have it on hand. Perhaps you'll give it a try and be thrilled with the results as well. If you do, let us know what you think. We'd love to hear from you!
Have a beautiful day and as always, keep it delicious!
Till next time ~ much love, Connie
French Bread Made with Whey
Ingredients
1 1/8

tsp

active dry yeast

1 1/4

C

Whey

or water 105 degrees F.

1/2

tbsp

salt

4

C

all purpose flour

1

tbsp

extra virgin olive oil

for the bowl

water for spritzing the loaves

room temp

1

egg white

for wash

1

tbsp

cold water

for wash

1 - 2

tbsp

cornmeal for dusting the baking sheet
Instructions
Dissolve yeast in the bowl of a stand mixer, fitted with a dough hook, in the warm whey.

Add 2 cups of the flour and mix on low until the flour is incorporated.

Add the salt and the rest of the flour, a little at a time until all is incorporated.

Turn the mixer off and allow the dough to rest 10 minutes.

Resume mixing and mix on med speed for 6 - 7 minutes.

Drizzle the olive oil in the bowl and coat the dough.

Cover with a towel or plastic and allow to rise 1 hour or until double in size.

Punch the dough down and divide into two equal parts.

Roll each piece of dough into a 14 inch long rope.

Line a baking sheet with a silpat mat or parchment paper and dust with the cornmeal.

Place the loaves on the baking sheet three inches apart.

Spritz the loaves with a fine mist of water and cover with plastic.

Allow the loaves to rise for one hour or until double in size.

Preheat oven to 450 degrees F.

Carefully remove the plastic.

Slash the tops of each loaf lightly, three or 4 times down the length with a very sharp knife or a razor blade.

Combine the egg white with the tablespoon of cold water and lightly brush the tops and sides of the loaves.

Place the loaves in the oven and bake 10 minutes.

Turn the heat down to 375 degrees F. and continue baking until golden brown and hollow sounding when tapped on the bottom. 15 to 20 minutes.

Remove from oven and allow to cool on a cooling rack before slicing and serving.
Notes
Recipe by: Connie Murray@Happybellyfoodie.com