Fish Stock ~ Getting the most out of your fresh catch!
Alright, if you happened to miss yesterday's post, go on back and take a gander. Just click Post to Post Links II error: No post found with slug "lets-go-deep-sea-fishin-charter-fishing-and-how-to-clean-fish" to catch up.
You're gonna need a few things to get started: Get you a big ol' pot, a few ingredients and some canning jars. Ready. Set. Go!
You won't need to worry about being all fancy when you chop up your veggies because they'll be strained out and discarded. By the time we're done simmering everything, all the good flavor will be incorporated into our stock. I don't even worry about peeling anything.
One thing I am very conscious about is getting the most out of my food. For instance, that celery is usually trimmed up and the ends are discarded. Instead of discarding scraps, use them for stocks like this one. You can freeze the scraps of just about any veggie, herb stems or bones for use in stocks. Smart thinkin' huh?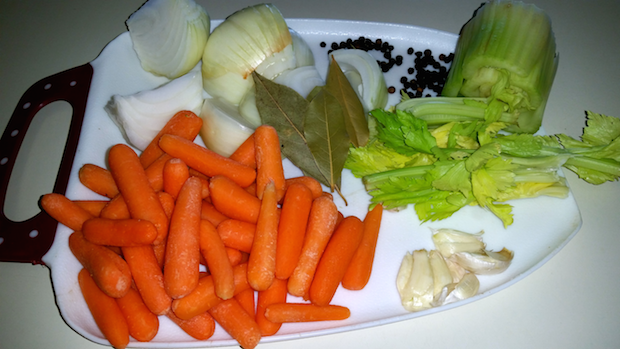 Alright, let's get busy. Get you a large skillet and heat it up. Add some oil and butter and get it all hot.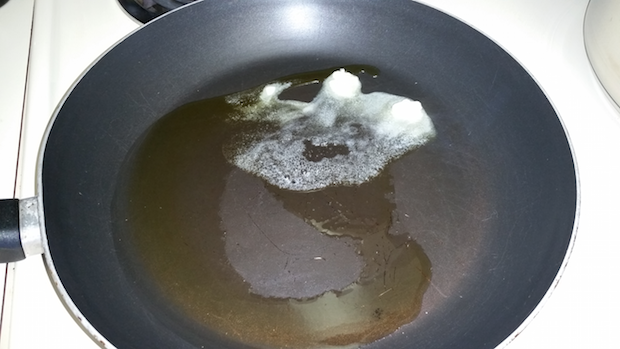 Throw your veggies, peppercorns and a few bay leaves in. Get them all nice and browned and deglaze the pan with a touch of white wine.
Of course, I had a non-stick skillet here and that wasn't necessary but since I was on vacation, it's what I had to work with. I like the hint of richness the wine gives a stock. Not too much is needed. Just a touch. And while I'm at it, I'll just go ahead and tell you that it's really not necessary to brown the veggies but doing so adds to the richness. Plus it just smells really good.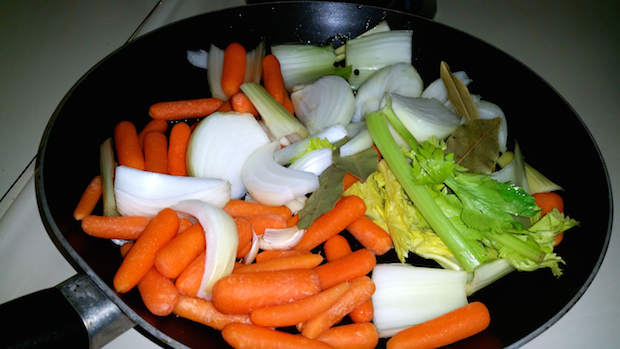 While the veggies are browning, go ahead and heat up four quarts of water in that big ol' stock pot. Get the water to a boil and then turn the heat down. You want a gentle simmer with a few bubbles popping up from the water. That's it. I've said this before and I'll say it again… You never boil a stock. When you're making this kind of deliciousness, you really want to take your time and go slow and low on the heat.
Once the veggies are nice and browned, add them to the simmering water.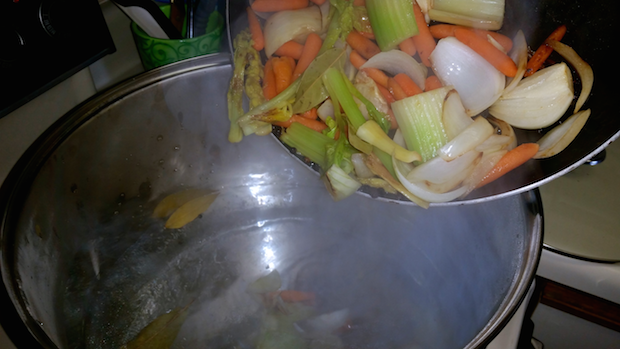 Add some fresh herbs to the pot. I had parsley and thyme for this recipe and it made the entire kitchen smell delightful.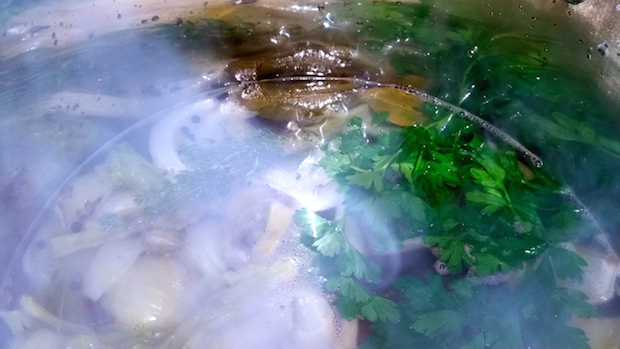 Once you get everything in the pot, it's time to add the super good stuff. Now, you can save those eyes and some people actually eat them after they're cooked but you know, I kinda got a little creeped out by the whole idea. Meh, I pretended like they weren't there. Okay, well I did touch a few of the eyeballs and they felt like jelly. LOL
By the way, these fish are an assortment of red snapper, white snapper, rock salmon and google eye.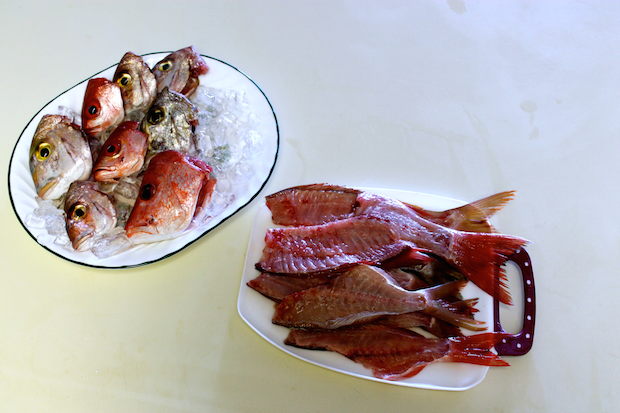 Moving right along… Add the bodies and heads to the pot and simmer for 30 to 40 minutes.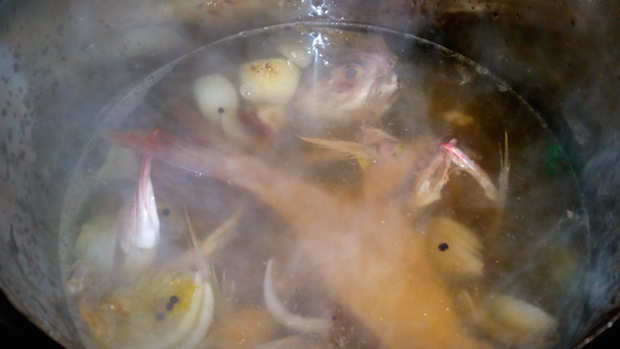 Remove the heads and set them aside to cool. Finish simmering the rest of the mixture for another 30 minutes. Then take a slotted spoon and remove all the solids from the stock.
Keep simmering the liquid until it reduces by 1/4, about another hour.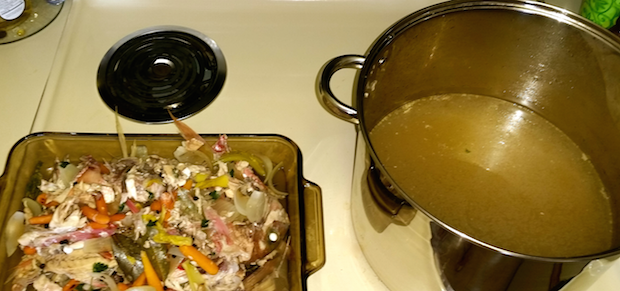 When the fish heads are cooled enough to handle, peel the outside bones and skin off and get all the meat you can from them. The cheek meat is especially rich and delicious. Cool the meat completely. Cover and refrigerate if your gonna use it within the next day or so. Or you can simply seal it in a zip top baggie and freeze. Don't forget to label it.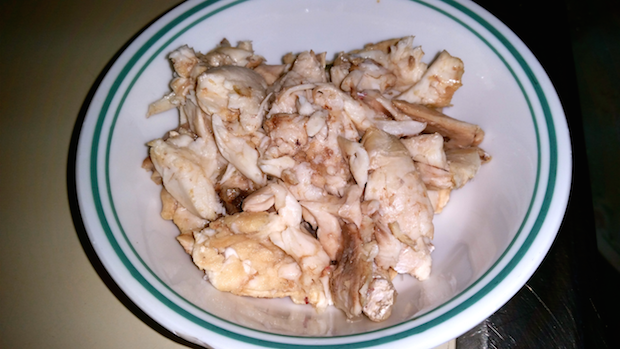 Now the reward for all that hard work…
I didn't have a strainer so we made do with what was in the kitchen. Coffee filters. Hey, whatever works, right?
So once you have all your jars cleaned and ready to go, you'll ladle the liquid into them through a fine strainer.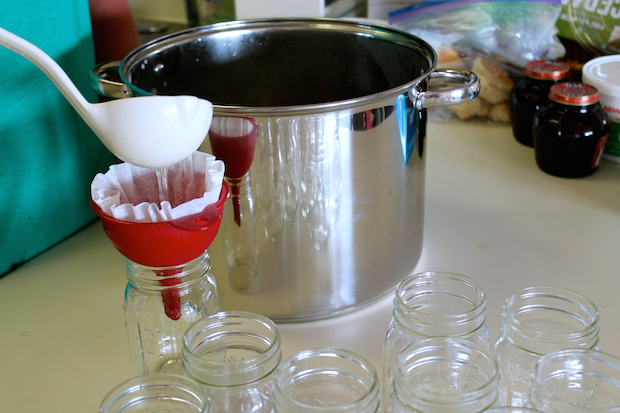 Liquid gold baby! Look at that. There's a nice sheen from the oils of the fish and that tiny bit of olive oil and butter we cooked the veggies in. Mmm Mmm Good!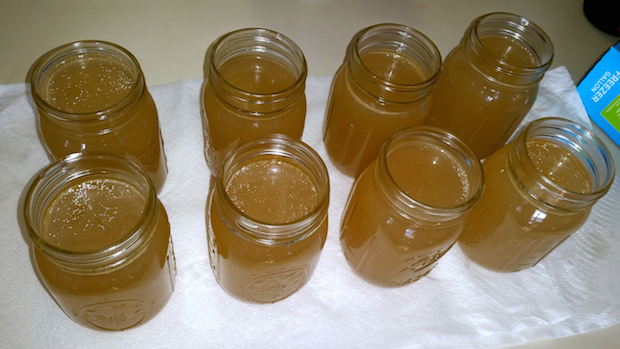 I will admit that when it comes to canning stuff, I am kinda lazy. I just freeze all my stuff. Hey, we all have our weaknesses, right?
I actually do have plans to do a week of canning on here but I'm not quite there yet. Look for that come the end of summer and into fall. The mad rush to save everything we can before winter sets in will motivate me.
Here's the glory of all the trouble we went through to get the most out of our fish. I say we because my awesome son, Bobby helped me with all of this. Thank ya Bobby! Nice work!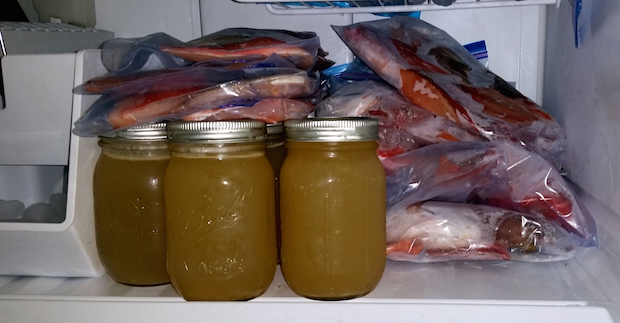 There you have it folks. A wonderful stock, saving money and wasting nothing. This stock will go a long way and make lots of delicious soups, stews, risottos and whatever else I feel like making with it. That's satisfaction, right there! 🙂
Make it a great day and as always, keep it delicious! Till next time ~ much love, Connie
Fish Stock
Ingredients
2

tbsp

olive oil

2

tbsp

butter

1

C

celery

roughly chopped

1

C

carrots

1

lg onion

3

bay leaves

1

tbsp

pepper corns

2

garlic cloves

smashed

1/4

C

dry white wine

4

quarts

water

1

bunch of fresh parsley

3-4

sprigs of fresh thyme

4-5

fish heads and bodies

cleaned of organs and separated

Salt to taste
Instructions
Heat a large skillet on med/hi. Add the olive oil and butter. When the butter is melted, add all ingredients except the wine and the fish.

When the veggies are browned, add the wine to deglaze the pan.

Fill a large stock pot with the 4 quarts of water. Heat on high.

Add the veggie mixture to the water. Bring to a gentle boil and turn the heat down to med/low.

You'll want to keep the boiling to a minimum, so just allow it to bubble a little.

Add the fresh parsley and thyme.

Add the fish heads and bodies.

Simmer for 30-40 minutes and remove the heads only.

Allow the rest of the mixture to continue simmering for about 30 minutes more.

When the heads are cooled enough to handle, remove the flesh and discard any bones. Set aside until completely cooled and refrigerate the meat for use within the next day or so. Otherwise, freeze the meat.

Remove the veggies and fish bodies with a slotted spoon.

Allow the liquid to simmer until reduced by 1/4.

Use a fine wire mesh sieve to strain any remaining solids off.

Ladle the stock into canning jars.

Label the lids to the jars with date and content. Seal and freeze or process with a canning method.
Notes
Recipe by: Connie Murray @Happybellyfoodie.com