Growing Sweet Potato Plants and Broccoli ~ Garden Update
Spring is making way for Summer and it's time to move things around a bit. Let's take a look at rotating veggies.
In the thick of March, in between winds shifting from butt freezing cold to actually being bearable, I was anticipating the gardening season here in Kentucky with great angst. Well it finally came and here we are raring to go. My little experiment with the organic sweet potatoes from the grocery proved to be profitable and we've got slips.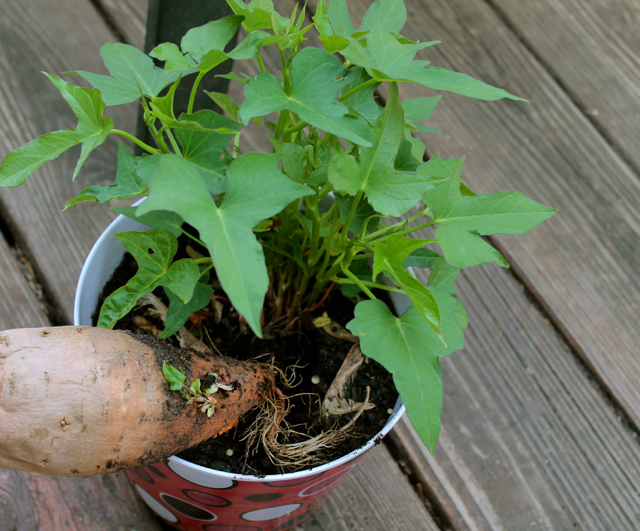 To get free plants from grocery store bought sweet potatoes, I simply placed them in a jar with water and propped them with toothpicks inserted in the middle. Once the sweet potatoes got some good roots going on them and had a few sprouts on their sides, I moved them to pots with dirt to encourage those slips to grow out. Each cluster of sprouts will make a plant for tubers to grow underground, so we gotta get them in the ground. Btw, did you know that sweet potatoes are of the morning glory family?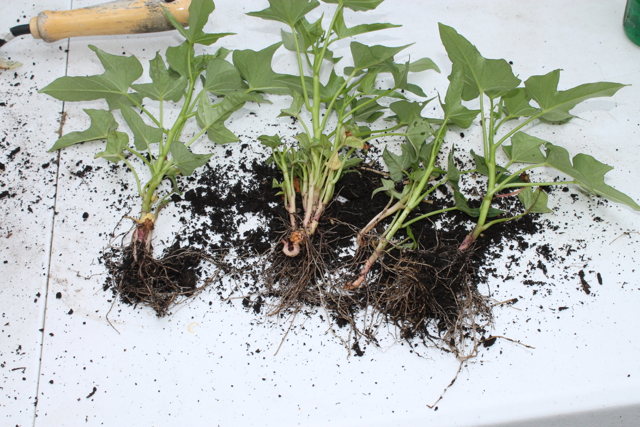 There's only one minor issue… I've planted veggies everywhere! And the weeds think they've got a place here too.
In this little bed I've got a bunch of brassica. Broccoli, cabbage and cauliflower with some onions in between them all. It's been quite the cool and rainy Spring so everything has taken it's sweet time getting going.
Something's gotta go and my broccoli is about over due for pickin'.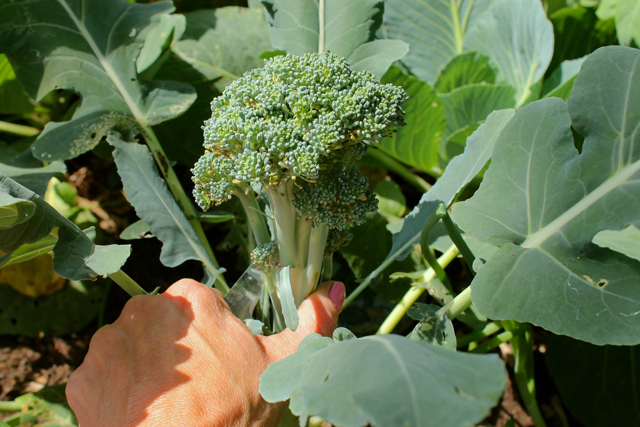 Not bad for a first time growing broccoli, huh? These were all plants I purchased from a local nursery but I do believe next year I'll take a shot at starting them indoors from seed. The friendly folks at the shop told me that the broccoli would be done just in time for planting sweet potatoes and as it turns out, they were right on.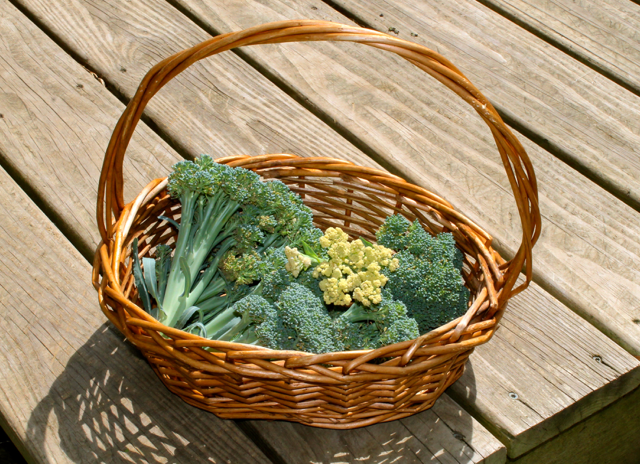 If you're frugal like me, there's no need to throw those plants away once you've gotten your broccoli from them. There's a lot of nutrition in the leaves and stalks and everything from root to leaf is edible or at least compostable.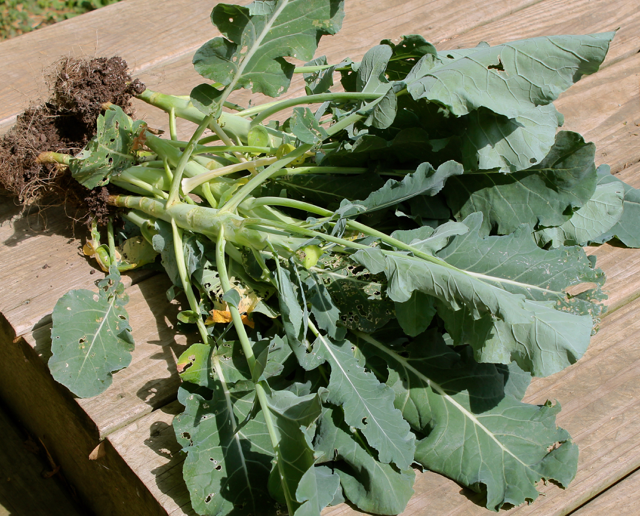 Break out that juicer for a super charged green juice.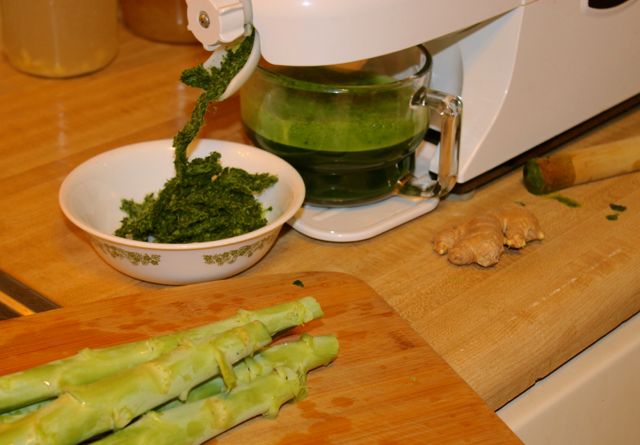 Toss in a little ginger, lemon, cucumber and apple and you've got a delicious, healthy drink.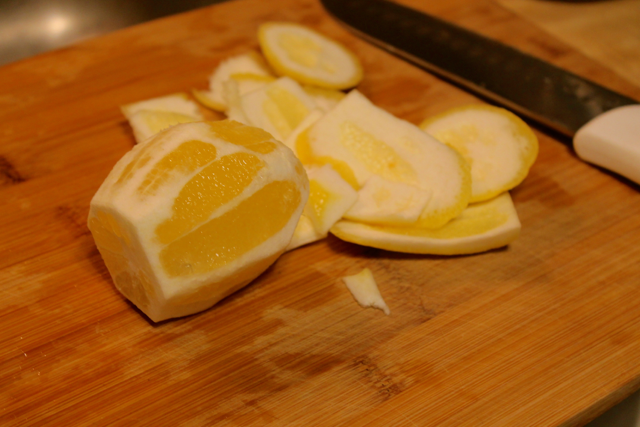 It doesn't get any fresher or healthier than that friends! I'll put that recipe down below if you wanna take a gander.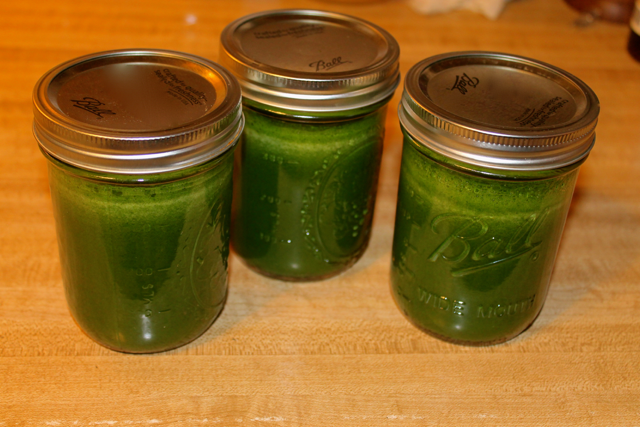 The sweet potato slips fit perfectly right there in that newly cleared row. Soon enough it'll be time to gather up the cabbage and cauliflower and the onions will let us know when they're ready because the tops will yellow and fall over.
Next update, we'll take a look at how the asparagus, tomatoes, herbs and everything else is doing.
What's growing in your garden and how's it doing? We'd love to hear from you!
Make it a fantastic day and as always, keep it delicious!
Till next time ~ much love, Connie
Super Charged Broccoli Juice
Ingredients
6

broccoli plants

leaves and soft part of the stalks only

1

inch

piece of ginger root

2

lemons

peeled

2

apples

cored and seeded

1

cucumber
Instructions
Juice all ingredients in juicer according to manufacturer's instructions.

Stir well.

Chill and serve.
Notes
Recipe by: Connie Murray@Happybellyfoodie.com