Fish Salad from your fresh catch

Alright foodie friends, let's get to the meat of our deep sea fish! Fish salad!
There is so much you can do with one particular item, such as the Red Snapper I'm featuring this week. That's mostly what we caught on our fishing trip. If you read yesterday's post, you'll know that I totally dig getting the most out of all my food. Yes, it is a lot of work but I don't consider it work because I thoroughly enjoy doing anything with food.
So, just to recap, we cleaned our fish heads and bodies up by removing any digestive system organs and the lungs (gills).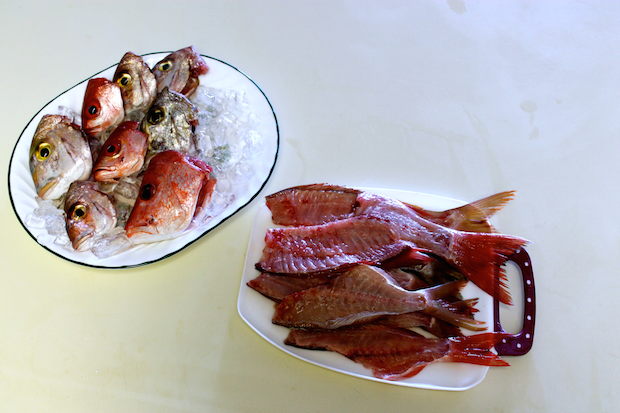 We simmered them in a pot of water along with some onion, celery, carrots and a few herbs. After simmering the heads for about a half hour, we pulled them out and allowed them to cool.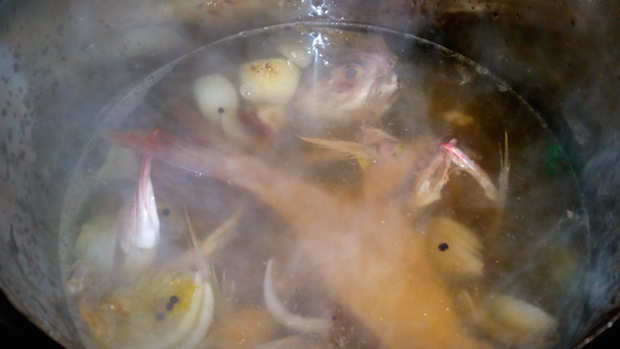 After we pulled the rest of the solids out of the pot, we went through and got any bits of meat and added that to our saved portion of fish meat.
I gotta mention here that there's lots and lots of teeny tiny bones. They looked like hairs, they were so small. My suggestion to anyone that's going to pick through the meat of fish bones is to have really good lighting and to use your fingers to feel through every piece of meat. I'm sure there's some expert out there that knows how to remove the bones all in one swipe but hey, we were wingin' it when we did ours.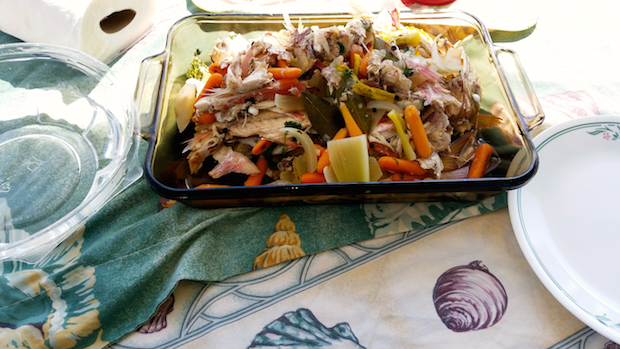 When you're finished picking out all the meat, you're left with this gorgeous bowl of tasty goodness. Now I did add some of the left over meat from one of the filet dinners we had the night before, which is perfectly fine. See the brown sections of the meat in that bowl? That's really rich and moist fish meat. That's the fat and it's the kind of fat that's absolutely good for you. Omega-3 fatty acids baby! Good for your heart, brain, bones, skin and hair and I'm sure a bazillion other things too.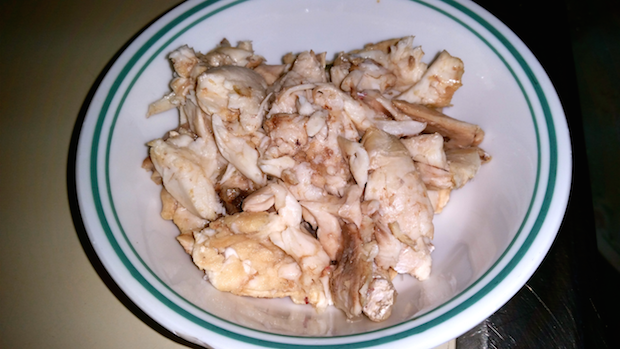 That fat is actually the part between the skin of the fish on the outside and the flesh of the fish on the inside. It's what insulates the fish.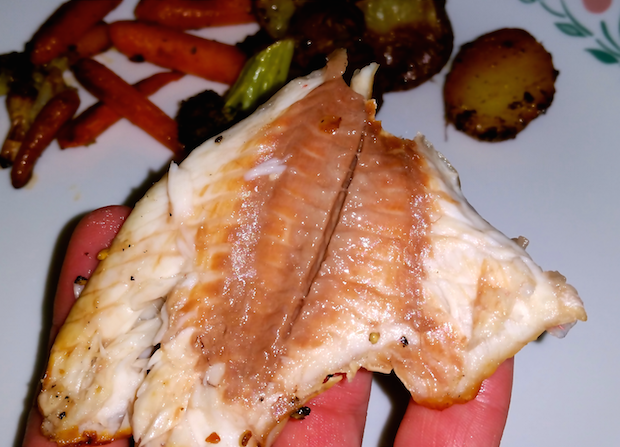 For our salad: I wanted to keep this light and refreshing. Nothing too heavy or over powered by spice. Red Snapper is a perfectly delicious, white, firm fish. It has just the right amount of fat to keep it moist and tender. The filets are not real thick like a Sea Bass, so you wont cook it as long but they're not real flaky like a tilapia, so it's not gonna dry out on you if you do cook it a little too long.
Our ingredients are simple and not a whole lot of them are needed because the fish itself is truly delightful. The cheek meat is so tender. I am really glad we took those heads home from our fishing trip.
Here we have some tomato, celery, parsley, lemon zest and a teeny tiny bit of onion. I added a bit of that delicious fish stock, some salt and pepper and a touch of olive oil to the mix.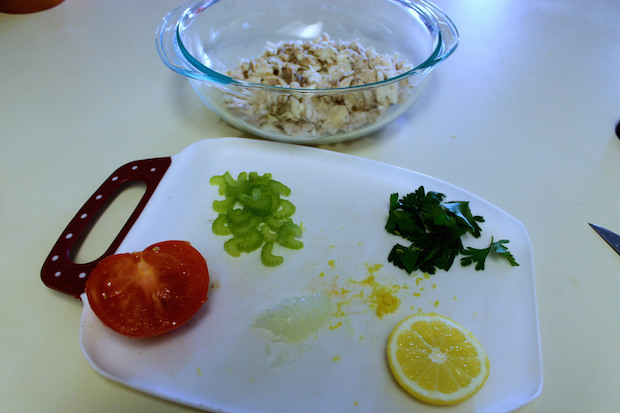 I used some celery stalks for scoopers and served the salad with some nice blue corn tortilla chips. YUMMY!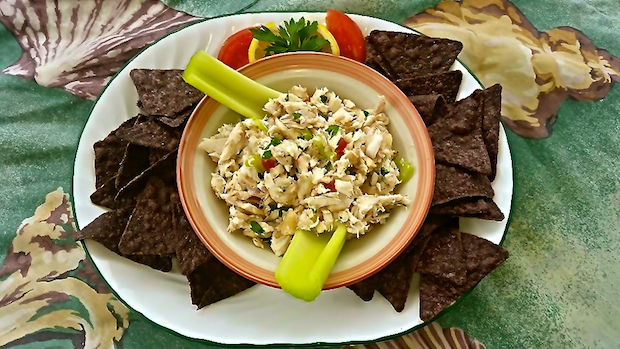 A little side kicker discussion about deep sea fishing. I'd never been before and if you're interested in doing it and have no experience either, here's what you can expect.
First of all, take a gander at the post from Monday. Just click here —> Post to Post Links II error: No post found with slug "lets-go-deep-sea-fishin-charter-fishing-and-how-to-clean-fish"
I didn't get into the specifics of actually fishing in that post, so here's how that part went:
When we were out on the boat, the crew explained to us that the best fish are on the bottom of the ocean where we parked. The fishing poles that they provided were set up with 20 lb sinker weights on the lines so that the bait on our hooks would actually get to the bottom of the ocean. The bait we used was just cut up pieces of some kind of tuna fish with the skin still on so that it would stay on the hooks. The hooks that are on the line are special circle hooks. On the Gulf of Mexico coast, anyone fishing for any species of reef fish such as Red Snapper, in Gulf waters is required to use non-stainless steel circle hooks when fishing with natural bait. The hooks allow for release without harm to the fish. You are required to put the fish back if it is under a certain size.
When you drop your line into the water, you have to place your thumb on the line part of the reel that holds all the line, flip the reel handle release forward and let it slowly go down so that it doesn't get all tangled. When you feel it stop, that's when you know it hit the bottom. You flip the reel handle release backward to lock it and then reel it back up about four turns. Then, you watch the end of your pole. Since your out in the ocean, the waves are gonna make the end of the pole go up and down but when you see it dip hard, that's when you start reeling it in. Hopefully, when you get the line all the way back up, you'll have a nice big fat fish on the end. (That's so daggone exciting!!)
About halfway up, you'll kind of know whether or not you've caught a fish because the resistance will be there pretty strongly. I mean, you're not very likely to catch a whale or a shark so don't worry about losing your pole. They did tell us that if it's a really big fish or whatever and you feel like you're going to be pulled in, don't fight it and holler for help. If it's too much, let it go because it ain't worth getting hurt. That didn't happen to any of us but the crew, of course had some big fish tales to tell us. Funny 🙂
The day that we went out was the last day for Red Snapper, as the fish have seasons in which the state laws in Florida allow you to catch. That's how they maintain each species because we don't want to do damage by over fishing one particular kind. If you're planning a trip to Florida or anywhere in the Gulf of Mexico and you're interested, here's a guide for deep sea fishing and all the ins and outs about it…  Regulations for Gulf of Mexico Fishing. That guide will show you what's in season and when.
There you have it folks. A nice fish salad to enjoy and a little info about deep sea fishing. I do hope you all enjoy this week's recipes and tips. Give me a shout on one of those buttons up top or leave me a message in that little comment box down below. I'd love to hear from you and I'd love to know what you think about Happy Belly Foodie. Don't forget to share and like us on our social media pages. That would tickle me pink 🙂
Have a great day and as always, keep it delicious. Till next time ~ much love, Connie

Fish Salad
Ingredients
1

C

cooked fish meat

cleaned of bones and skin (any firm, white fish will work for this dish)

1/2 to

mato

diced

1

celery stalk

chopped

1

tbsp

onion

minced

2

tbsp

parsley

chopped fine

1

tsp

lemon zest

1

tbsp

lemon juice

2

tsp

olive oil

1

tbsp

fish stock

salt and fresh ground pepper to taste
Instructions
Since we're not using any kind of dairy or mayonnaise in this dish, you don't have to worry about chilling the meat before making the salad.

Place all ingredients in a bowl and mix well. Cover and chill for 1 hour.

Serve with tortilla chips or on flour tortillas.
Notes
Recipe by: Connie Murray @Happybellyfoodie.com