Scented Salt Soak and Herbal Poultice

Are your feet and legs screaming at you by the end of the day? Treat em' right! A few simple ingredients and some warm water will soothe and revive those tired tootsies and legs. Heck, you might even be up there dancing with Rod Stewart by the time you finish being so nice to yourself 🙂
Here's what you'll need:
Equipment –
A bowl, large enough to fit both of your feet in. Two towels, large enough to fold in half and wrap around each of your legs. Marbles for the bowl. (I have three sets of kid's playing marbles here) A wash rag for your hands. Extra towels if needed.
Ingredients –
Foot soak: Hot water. (Enough to fill the bowl) 1/2 Cup of Dead Sea Salt. 1/4 Cup Lavender bath foam. 10 drops of Eucalyptus essential oil.
Poultice: Hot water to soak the towels in. 1/2 Cup of Dead Sea Salt. 4-5 sprigs of fresh lavender, 3-4 sprigs of fresh rosemary.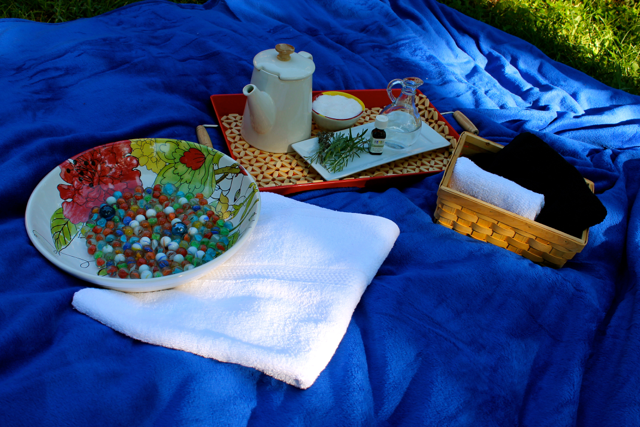 For the foot soak, you'll mix the salt, bath foam, essential oil and water. Stir the water around until it is mixed very well. Place your feet in the bowl. Move your feet around on the marbles to massage them. This really helps with circulation and it's fantastic for diabetics. It's also great to soak your feet like this before grooming and trimming your nails.
You can soak the feet as long as you like but usually about 20 minutes to a half hour is long enough to revive those tired puppies. Rinse your feet with clean water when finished and dry.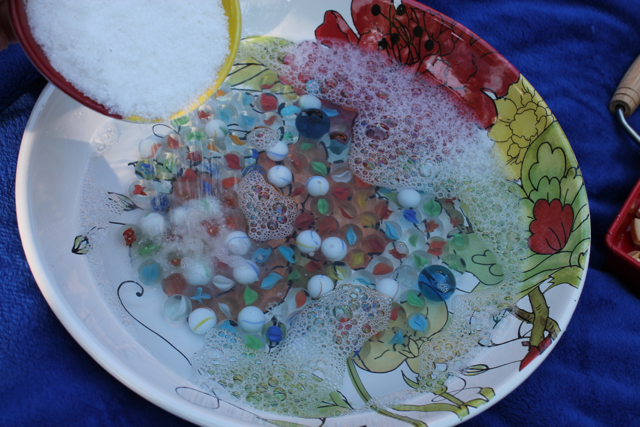 After you've soaked your feet. Dry them well and prepare the poultice.
Take your towel and place half the herbs and half the salt on one side.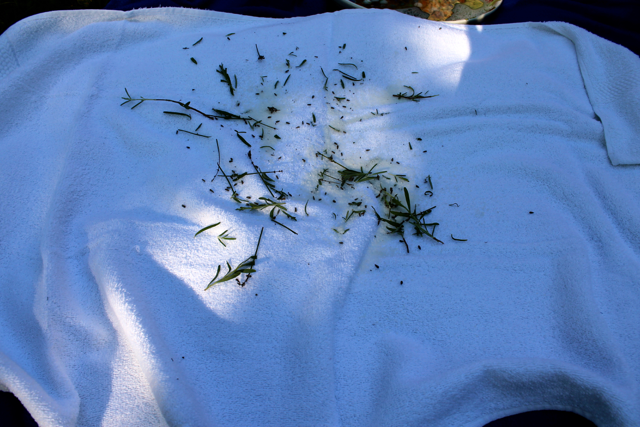 Fold the towel in half, keeping the herbs inside. Use your bowl to pour hot water in. Place the herb and salt filled towel in the bowl of hot water and let it soak for a few minutes to dissolve the salt. Once the salt has dissolved and the towel is good and soaked, gently wring the excess water out. Wrap the towel around your leg where needed. Repeat for the other leg.
NOTE: Make sure you are not placing the part of the towel with the herbs and salt directly on your skin. The water in the towel will allow the therapeutic effects of the herbs and salt soak through to your skin. Placing the herbs and salt directly on your skin can be irritating to it.
Keep the towels on your legs until they are completely cool. Rinse your legs when finished and dry well.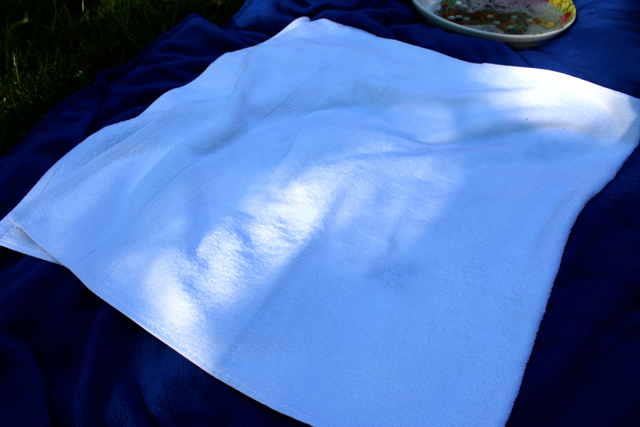 Apply your favorite moisturizer when finished.
A few words about the ingredients and poultices here:
Unfortunately, I am a sufferer of Fibromyalgia. I have done much research on remedies to help relieve pain over the years and found that the salt, oil and herbs are the best way to go. You can use the soak for a full bath. You can use the poultice on any part of your body. I've used it on my neck, shoulders and back many many times and it always helps.
I found Dead Sea Salt on Amazon. I used to use Epsom salt in my bath and in a foot soak and it does work fabulously. The magnesium absorption really does help with sore muscles and joints. I still use it but I add the Dead Sea Salt or just use that alone because there are many minerals in there that you won't find in just the Epsom salt. Using Dead Sea Salt, to me is like using Epsom salt that's all jacked up on make-you-feel good qualities. (LOL I don't know how else to describe it. It's just REALLY good stuff!)
The herbs and essential oil I have listed here in today's post (lavender, rosemary and eucalyptus essential oil) are soothing and relaxing. They're also anti-inflammatory, which is what you need when you're hurting. Not only do they help with easing tension, the scents they give off are very potent for therapeutic aspects internally because you'll breathe them in while you're soaking.
These spa recommendations are beneficial to anybody. When you take time out for yourself, you present the best you and your performance in anything you do improves. Ya gotta take care of you. You're the one person you spend your entire life with. Right? Right.
If you have any requests or questions for more information about poultices, herbs, salts or essential oils, you know where to find me. If you have something you'd like to share, by all means please do. I'd love to hear from you!
Be good to yourselves friends.
Till next time ~ much love, Connie
Scented Salt Soak and Herbal Poultice ~ Hot Legs
Ingredients
Salt soak:

Hot water

enough to fill a bowl

1/2

C

dead sea salt

can use Epsom salt instead or with

1/4

C

lavender scented bath foam

10

drops eucalyptus essential oil

Marbles for massaging the feet

Leg Poultice:

can also be used on neck, shoulders, arms etc..

Hot water

enough to soak towels

4-5

sprigs fresh lavender

2-4

sprigs fresh rosemary

1/2

C

dead sea salt

can use Epsom salt instead or with
Instructions
Salt soak:

Mix all ingredients in bowl along with the marbles. Soak feet while rubbing the soles of the feet over the marbles for twenty to thirty minutes. Rinse feet with clean water and dry well.

Poltice:

Break the herbs into bits and spread over half the towel. Pour 1/4 cup of the salt over the herbs.

Fold towel in half and soak in hot water until the salt is dissolved. Gently ring out the excess water.

Place the towel on desired area until it becomes cold.

Remove and rinse.
Notes
Recipes by: Connie Murray @Happybellyfoodie.com