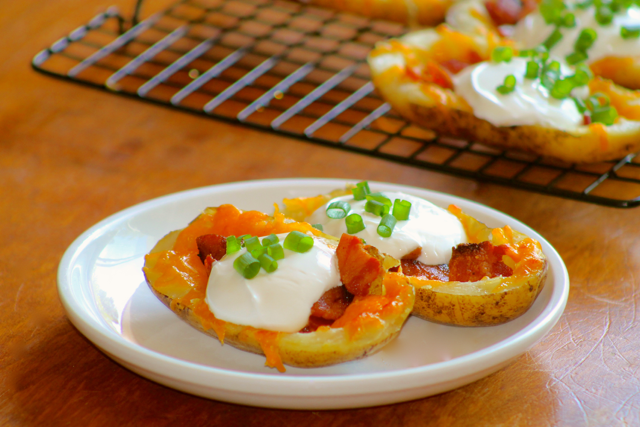 Instant Pot Loaded Potato Skins are perfect for satisfying a craving quick. Load 'em up the way you like!
Need an appetizer quick? Or just need a bacon fix? Your pressure cooker
can speed things up so you can have your goodies in a flash! As basic as this appetizer is, I'm thrilled that I can make it super quick in my pressure cooker
. I was hoping for perfect potatoes and perfect potatoes is what I got.
All it takes is 1 cup of water in the bottom of the pot and 12 minutes of pressure cooking for 6 medium russet potatoes to be perfectly done. Not too soft and not underdone. How wonderful is that?
This opens the door for so many possibilities. You can load potato skins with broccoli and cheese, pizza fixin's or even some of that delicious Carolina pulled pork, which by the way can be made in the pressure cooker, too. Anything you want!
Take a gander…
You have to love a tasty dish that's so so quick and easy!
Every day I'm creating, testing and tasting recipes that I can share here with you fine foodie folks because, well, it's what I do. I love that I can offer a great variety of techniques for cooking everyday favorites.
The pressure cooker
is just one of those things you really need help with, when you're starting out. I like the idea of making these short videos that aren't too complicated. To me, they make sense and give you what you need to go on to build your very own master piece and say, "Why yes. I did that!"
I do hope this one brightens your day as well as helps you make something fantastic with your potatoes.
If you have any questions about any of my recipes, pressure cooker
, help with converting one of your favorite recipes for the pressure cooker or anything else, leave me a comment in that handy little box below or you can find me through one of those shiny buttons up top. I'm pretty quick to reply and love hearing from you fine foodie folks.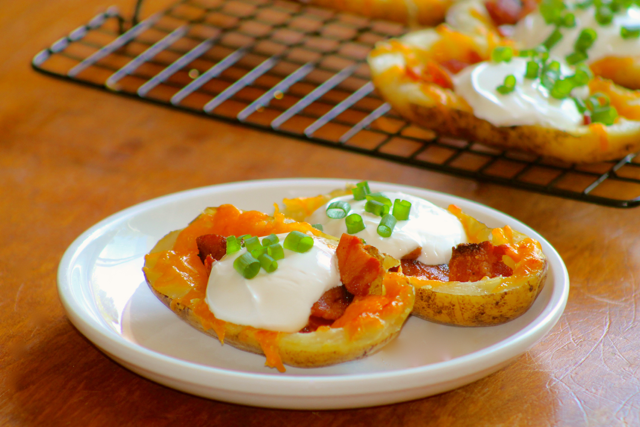 Instant Pot Loaded Potato Skins
Ingredients
1

lb

bacon

cut into chunks

1

C

water

6

medium russet potatoes

2

tbsp

melted butter

12

oz

shredded cheddar

1

C

sour cream

chives for garnish
Instructions
Preheat the pressure cooker on sauté.

Cook the bacon in the pot until browned.

Turn the unit off.

Remove the inner pot and drain the bacon and grease onto paper towels.

Replace the pot into the unit.

Pour a small amount of water in and use the sauté selection to deglaze the pot.

Turn the unit off and wipe the pot clean.

Pour 1 cup of water in.

Place the potatoes in an ovenproof (7 inch diameter) strainer and lower into the pot with the trivet.

Place the lid on and turn to locked position.

Turn the steam release valve to closed.

Press the manual button and adjust the time to 12 minutes.

Once the unit has finished cooking, carefully release the steam.

Take the potatoes out and allow them to cool enough to handle.

Slice the potatoes in half and scoop out the center of each half.

Save the scooped potatoes for another use (like gnocchi).

Brush the bottom of each potato with melted butter and place on a baking sheet.

Add 1 oz of cheddar to the center of each potato half.

Top each with bacon.

Place the baking sheet under the broiler on the center rack in the oven.

Broil on high for 2 to 3 minutes, or until the cheese is melted.

Remove from oven and top each potato with sour cream and chives.
Notes
Recipe by: Connie Murray @Happybellyfoodie.com