Kombucha Tea ~ Probiotic Drink

If you love kombucha tea, you probably already know about the myriad of health benefits this tasty little brew boasts. If you don't know what it is, I urge you to give it a try. It's a wonderfully refreshing elixir!
Though kombucha has only been available commercially in the United States since the 1990's, it has been home brewed around the world for centuries. Today, you can go into just about any grocery or health food store and purchase a bottle for around $4 bucks. Not bad for a healthy treat once in a while but when you drink a lot, it can become quite costly.
If you're like me and you love the stuff, making it at home makes sense. With summer just around the bend, I decided to begin making it for myself for several reasons; to save money, to be able to control the level of carbonation in the end result and to flavor it the way I like.
So what is kombucha tea?
Simply put, kombucha is a probiotic drink. It is a sweetened tea that has been fermented with a symbiotic colony of bacteria and yeasts, also known as a SCOBY, similar to how vinegar is produced. The finished product has a sweet-sour flavor with a light effervescence. When the finished tea is fermented a second time, flavors may be added such as fruits, juices and/or herbs. If sealed in an air-tight container on the second ferment, the drink becomes naturally carbonated and delightful.
Yes, it (the SCOBY) does look and feel very strange. I would liken it to a jelly fish. Some people mistakenly call it a mushroom, though it has no fungi in it.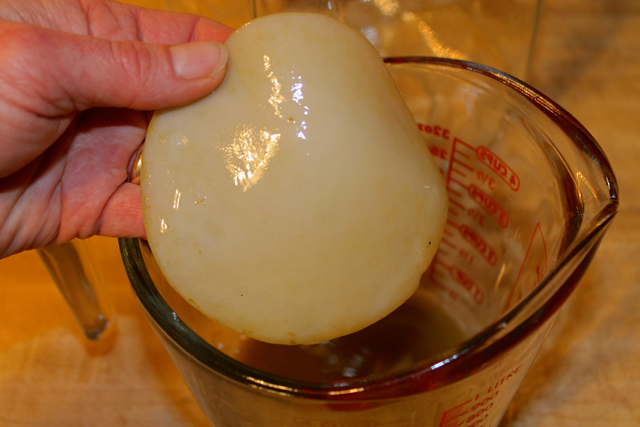 Why is kombucha tea "healthy" or "good for you?"
A kombucha SCOBY is a living culture or better said, a community of good bacteria and yeasts. When placed in a mixture of water, tea and sugar, the culture is fed and thereby produces more good bacteria and yeasts as well as B-vitamins, vitamin C, enzymes, pro-biotics and antioxidants.
Benefits include:
The active enzymes in kombucha aid the digestive process.
Kombucha's probiotic rich properties help to restore the balance of healthy gut flora as well as improve the body's acid/alkaline balance.
Can help to increase absorption of minerals and proteins.
Can help to minimize latose intolerance.
The B-vitamins and vitamin C in kombucha help increase stamina and energy, increase cognitive function and help reduce anxiety and depression.
Acids such as glucuronic acid contained in kombucha help to detoxify the body by binding toxins and safely eliminating them.
All of the above benefits contribute to the promotion of a healthy immune system.
I've been drinking kombucha tea since the early 2000s on and off. I like the slightly sour taste of it and I love that it gives me a quick pick me up when I'm feeling run down. I believe the home brewed version is notably more effective than commercially available versions as well as tastier.
How do you make kombucha tea?
First you must obtain a culture/SCOBY. There are many reputable resources online that you may purchase from or there are groups on Facebook that you can ask someone for a free culture. You can also ask around at your local health food store. Generally, people know someone that makes it. For myself, I simply purchased one from Amazon
and received it within a few days. Your SCOBY should come in a sealed bag, preserved in some starter liquid, which is just some previously fermented kombucha tea.
Once you have obtained your culture/SCOBY, you will need:
Non-chlorinated water
White (preferably organic) sugar
Black or Green Tea (stay away from flavored teas and Earl Grey brand as they can contain oils that inhibit fermentation)
Distilled white vinegar
A spray bottle
A gallon sized glass jar that has been cleaned and sterilized
A very clean, thin cloth to cover the jar with (old bed sheets work great)
A rubber band to affix the cloth to the top of the jar
A warm dark place to place the jar where it won't be disturbed
A glass vessel to store the finished kombucha in your refrigerator
To get started on your first batch of kombucha tea, heat the water and sugar over med/hi heat in a large, very clean pot and stir until the sugar is completely dissolved. (amounts are given in the printout below).
Remove from heat and steep the tea in the hot mixture for at least 10 minutes, longer is okay if you want it stronger. Remove the tea and allow the mixture to cool to at least 90 degrees F. or cooler.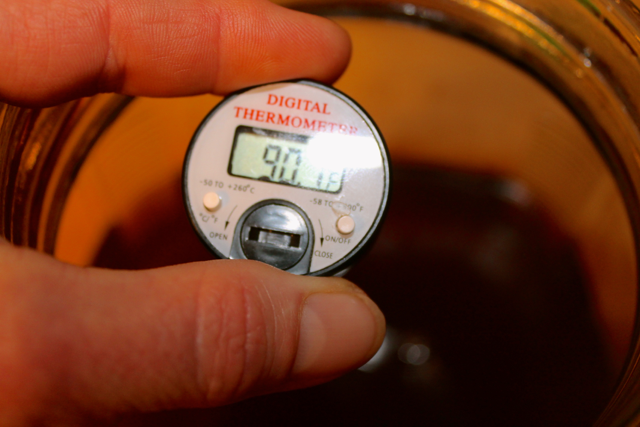 Pour the cooled tea mixture into your jar and stir in the starter liquid. If your SCOBY did not come with starter liquid, you can use distilled white vinegar in place of it. (amounts given below in the printout)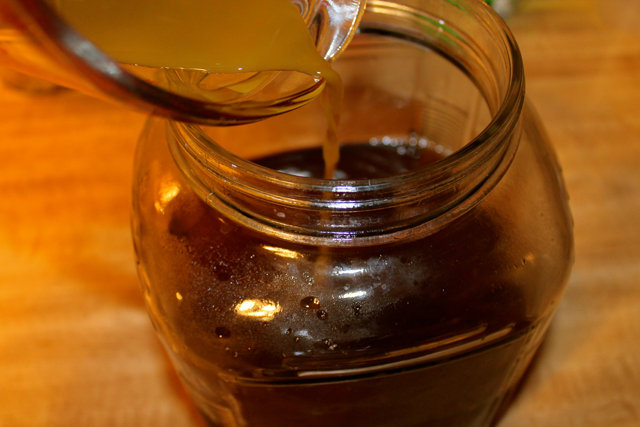 Now it's time to place the SCOBY in the jar. The top of the culture will be light in color and smooth. The bottom will have a slimy film with a brownish or green color to it. Place the SCOBY on top of the tea with the filmy brownish side facing down.
When you first place the SCOBY in the tea, it may float or sink. It may float at first and then sink. Or it may sink at first, then float. This is fine and nothing to worry about.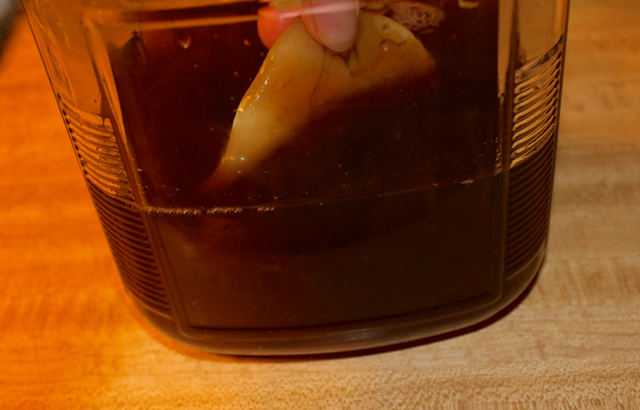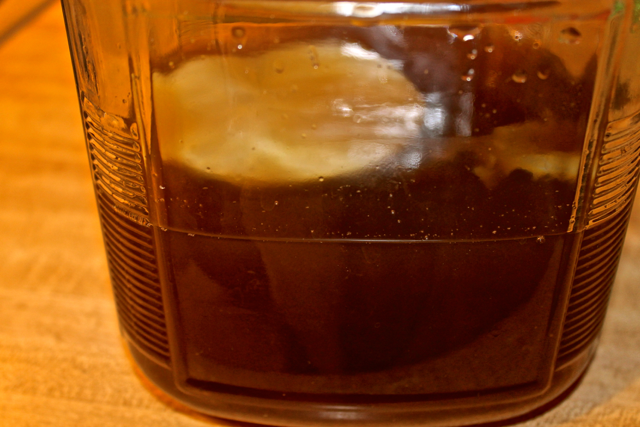 Cover the top of the jar with your clean cloth and affix with the rubber band.
As an extra precaution against mold spritz the top of the cloth with a spray bottle, filled with distilled white vinegar.
Put the jar in a warm (65 degrees F. to 80 degrees F.) place where there is no direct sunlight, preferably in a dark cupboard or pantry where the jar will not be disturbed.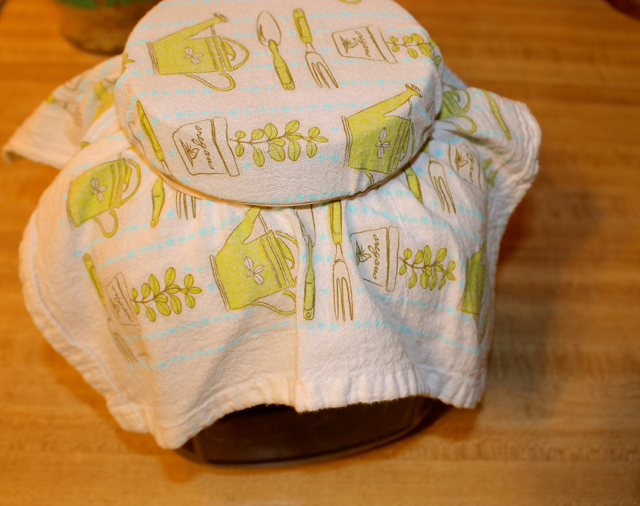 Now you just have to wait. Normally, it takes about 5-7 days to be finished. The first time you brew with your SCOBY, it may take a little longer as the culture acclimates itself to your environment. In cooler conditions it may take as long as 14 to 30 days.
You will likely notice a thin film develop on the top of your tea. That's a new SCOBY forming, which is terrific because it means your culture is alive and well and producing the way it should. Do not worry if you don't see this, as sometimes it can take a few batches to get a new SCOBY. Once your kombucha begins creating new SCOBY's, you will likely get a new one each time you make a batch.
As you gain experience with making your own kombucha, you can separate the new SCOBY's and make more batches in separate jars or simply share them with friends. You can keep the extra SCOBY's in a jar with some of the kombucha liquid in the refrigerator to store them. Just make sure they have plenty of liquid to cover them. Generally, you don't want to have more than one inch of SCOBY's on top of your brewing kombucha, as it would require too much of the sugared tea mixture to feed.
How can I tell when my kombucha is ready?
It all depends on your preference in taste. I personally like mine on the slightly tart side. Generally in the summer months, it will take 5-7 days for this but at about 4 days into the brewing cycle, I begin smelling and tasting to see where it's at. As you get used to making it, you can pretty much smell when it's done as it will no longer have a tea scent and have more of a light vinegar aroma.
Slip a straw into the brew and hold your finger over the top to trap some of the liquid in the straw. Pull it out and taste. One suggestion that I highly recommend if you've never tasted kombucha, is that you purchase a bottle of commercially made raw, original flavored kombucha tea and taste it so that you have something to compare it to.
Once the kombucha tastes the way you like it, you can now enjoy. Store the finished brew in the refrigerator in a glass container. Be sure to save at least one cup of the brewed liquid for your next batch. Keep your SCOBY in the liquid, in a sealed container and in the refrigerator until you're ready to make it again.
How much kombucha tea should I/can I drink?
Because home brewed kombucha has powerful detoxifying qualities, I would recommend starting slow if you have never had it before. Try 1/2 cup a day at first to see how well you tolerate its effects. Slowly build up to the quantity you wish to enjoy, increasing the amount by 1/2 cup each day. Also, trying a raw, unflavored commercially made brand first is probably a good idea before you go through the trouble of making your own.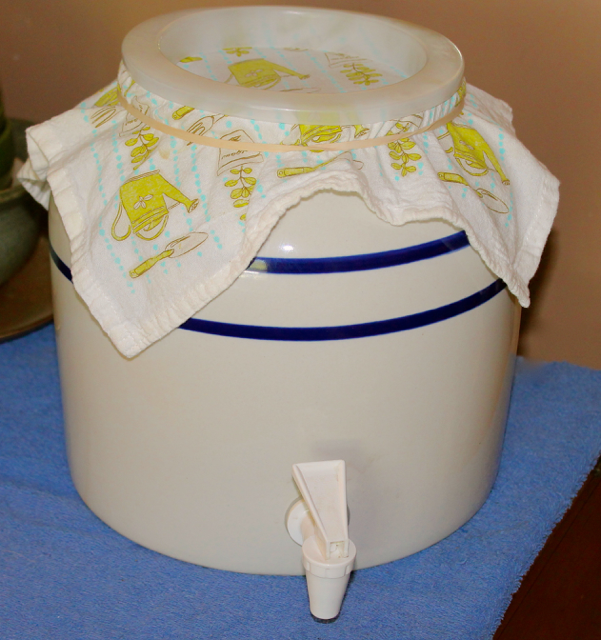 There is a continuous brew method for those who want to have a steady supply of kombucha, which involves making the brew in a glass or lead-free container with a plastic dispenser. Simply follow the directions for making the batch. Once the brew is ready, dispense a majority of it into your storage container, leaving at least 20% of the liquid behind. Then add more cooled sweetened tea to continue brewing. About every six months or so or if the dispenser becomes clogged, clean the container and begin a new batch. Simply use white vinegar and hot water to clean the vessel.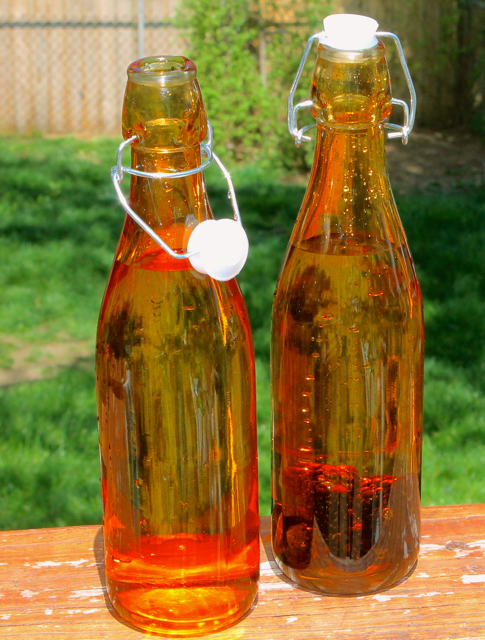 Your finished kombucha tea will have a very light effervescence when it is finished. If you would like to make it even more carbonated, place the finished brew in bottles with sealing caps and allow it to sit in a warm place for a day or two. You can even add fruit or fruit juice to the bottles to flavor your tea at this time.
In my experience with making kombucha, I have never done the second fermentation or added flavorings because I've only made small batches and they don't last long. However, this is currently on my agenda and I'll likely have a part two for this post. I have a 5 gallon brew going and I can't wait till it's finished!
I just finished drinking my last glass of my small batch kombucha tea and I'm patiently waiting for my next batch to be finished. Good things like this do take time. I hope you'll consider making your own as well. It's SO good for you and it's quite tasty! If you do, let us know how it goes. We'd love to hear from you!
Have a beautiful day and as always, keep it delicious!
Till next time ~ much love, Connie
Kombucha Tea ~ Probiotic Drink
Ingredients
1

quart

2

tea bags or 2 tsp black or green tea

1/4

C

sugar

white organic

3

C

non-chlorinated water

1/2

C

previously brewed kombucha or distilled white vinegar

1

SCOBY culture

1/2

Gallon

4

tea bags or 4 tsp black or green tea

1/2

C

sugar

white organic

7

C

non-chlorinated water

1

C

previously brewed kombucha or distilled white vinegar

1

SCOBY culture

1

Gallon

8

tea bags or 8 tsp black or green tea

1

C

sugar

white organic

14

C

non-chlorinated water

2

C

previously brewed kombucha or distilled white vinegar

1

SCOBY culture
Instructions
In a medium pot, heat the water and sugar over med/hi.

Heat and stir until the sugar is dissolved.

Remove from heat and add the tea.

Steep for at least 10 minutes or longer if a stronger brew is desired.

Remove the tea and discard.

Allow the mixture to cool completely to 90 degrees F. or cooler.

Pour the mixture into a glass or lead-free ceramic container.

Add the previously brewed kombucha or the distilled white vinegar.

Place the SCOBY on top of the liquid with the smooth, light side facing up.

Cover the top of the container with a clean cloth and affix with a rubber band.

Spritz the top of the affixed cloth with a light mist of distilled white vinegar to ward off molds.

Place in a warm (65 to 80 degrees F.) place where it will not be disturbed.

Allow the brew to sit until desired sweetness and tartness are achieved. (about 5-7 days)

Remove the SCOBY and at least one cup of the finished kombucha and set aside.

Strain the rest of the finished kombucha into a container for storing.

Refrigerate the finished brew and begin a new batch of kombucha.

Enjoy for your health!
Notes
Recipe by: Connie Murray @happybellyfoodie.com