Every now and then, you gotta give in and just eat something crispy-cruchy-yummy-fried!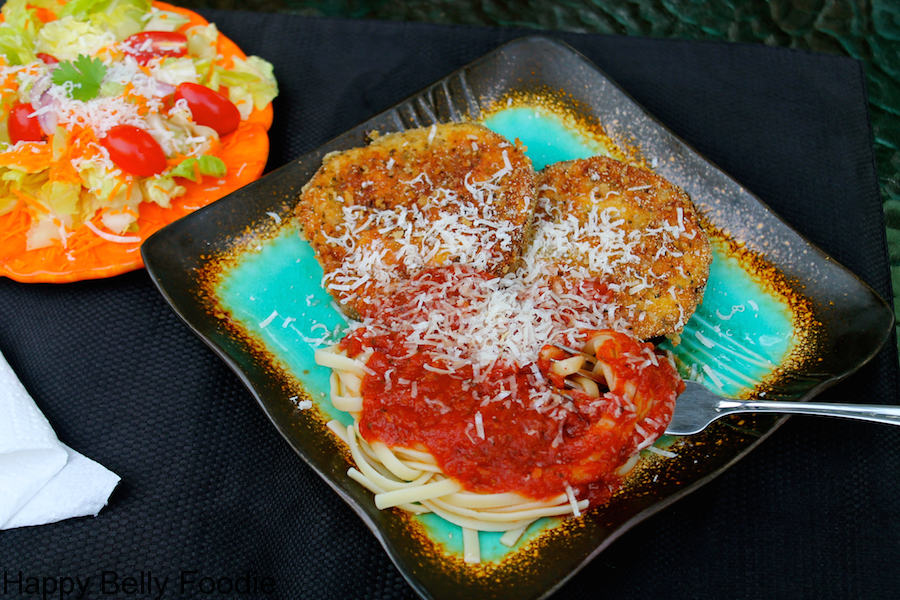 Eggplant, zucchini, green tomatoes… A nice thick breading and deep fried to golden deliciousness is really the most satisfying way to eat em! *CRUNCH*
What? I had a salad, too!
Let's face it folks, you just have to give in and have a favorite now and again. I'm not against eating fried foods at all but it's not something I want to make a habit of. It's simply not healthy to eat like that all the time. However, I also believe it's not healthy to deny yourself completely, either.
So, when I do give in to a craving like fried eggplant, I wanna do it up right! I don't want soggy middles or undercooked eggplant. I also don't want half the breading floating in the pan
because it didn't stay stuck to the veg while I was cooking it.
There's a few reasons those things happen:
1. Moisture. When it comes to frying, you want as little moisture to go in the pan as possible. Water is an enemy to oil. They just aren't friends. That's why we put salt on the eggplant first to draw out the water. That way we can wick it away with a paper towel. (sorry water, get outta my food!)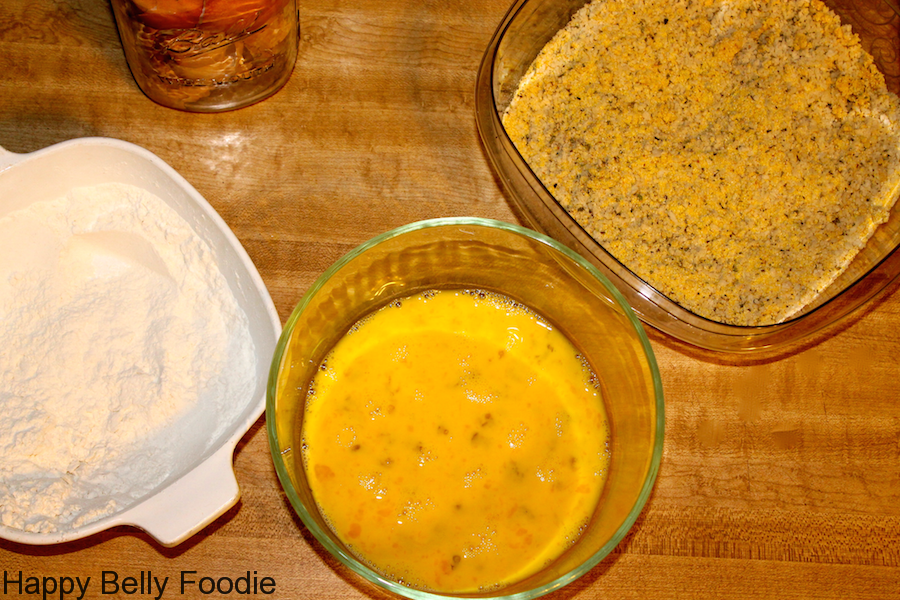 2. We need to let the flour do it's magic attachment thing by allowing the eggplant to rest with the flour on it before dipping it into the egg. Otherwise, the flour ends up in the egg. This step is important because if you skip the flour, the egg just doesn't stay on the eggplant well enough and that lends itself to breading slippage. (get back on my food!)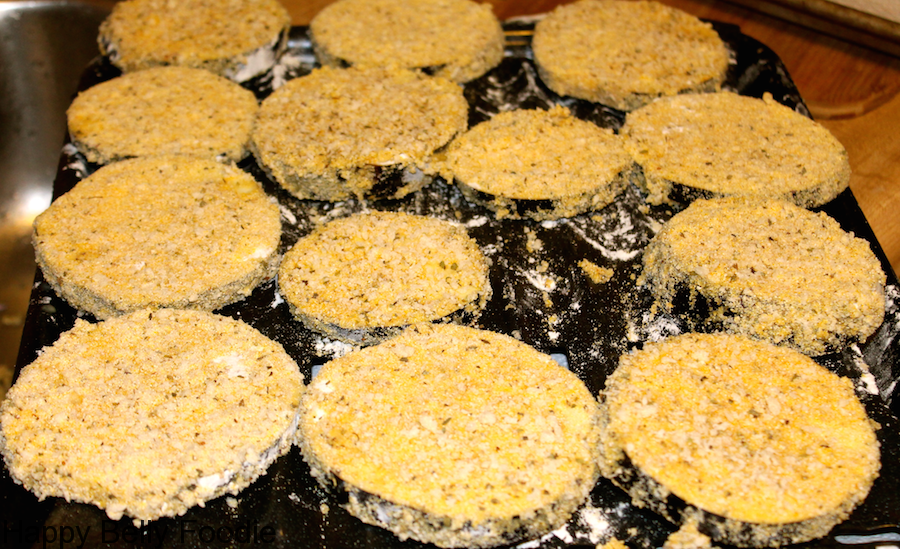 3. Let the breading bind with the egg and milk mixture. Give it time to work or the dreaded loss will happen. The egg will tighten up as it sits and get that breading nice and stuck to the eggplant. (the sky is blue, the grass is green..)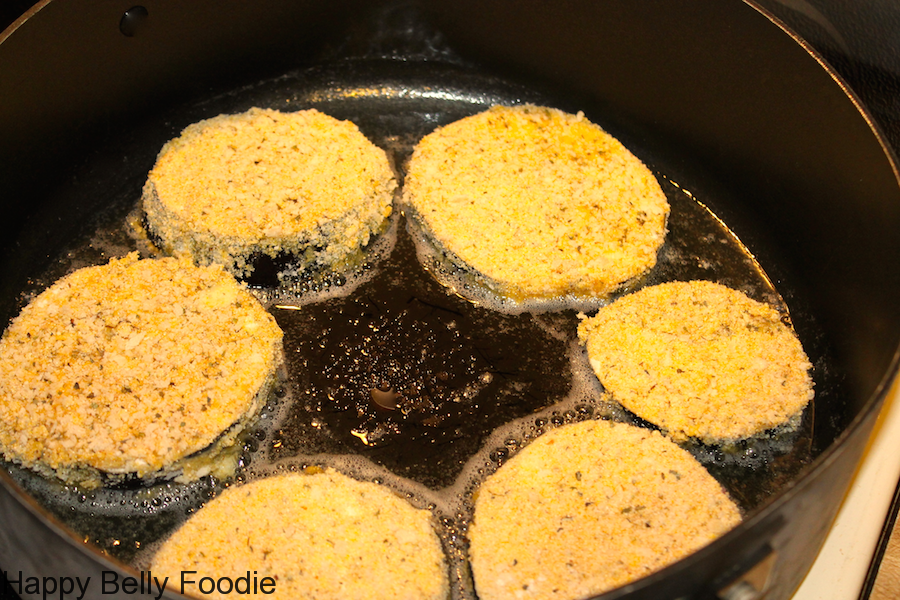 4. Frying too high will get a crispy crust but won't allow the eggplant to be cooked thoroughly. Frying too low will cause those mushy middles. So medium heat works best for sliced veggie frying. You'll get a nice golden crunch and a soft, cooked perfect interior. (.. happy days are here again)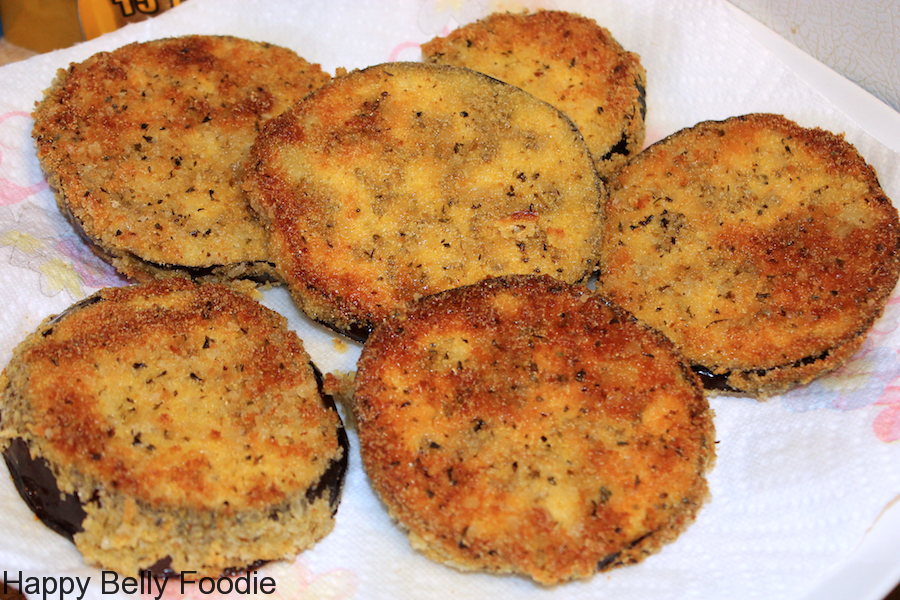 Now I used the bread crumb, corn meal and panko
bread crumb mixture here because I like texture. Lots of texture! I also gave some thought about how the three would work together and it sounded like a good plan to me. It did work out really great. Of course you can use what you have on hand and it will work, too as long as you do the whole resting between stages thing and don't cook too high or low.
I served my eggplant with a side of pasta (carb much? lol) and that fantastic sauce I love so much. (See Post to Post Links II error: No post found with slug "italian-tomato-sauce") You wanna talk about YUM? Yeah, we pigged out. Meh, I got work to do in the garden and that'll make up for it.
Next time you got a craving for some crispy-fried-crunchity-deliciousness, I hope you'll give this eggplant parm a try. After all, it is a vegetable 🙂 right?
Make it a delicious day foodie friends! Till next time ~ much love, Connie
Fried Eggplant Parm ~ satisfying a craving
Ingredients
1

lg eggplant

cut into 1/2 inch slices

salt for sprinkling over eggplant

2

eggs

1

tbsp

milk

1

C

flour

1/4

C

bread crumbs

1/4

C

cornmeal

1/2

C

panko bread crumbs

1

tbsp

dried oregano

1

tbsp

dried basil

oil for frying

2

tbsp

butter
Instructions
Place the eggplant on a cookie rack and sprinkle with salt. Wait for 10 minutes to allow the salt to draw out moisture. Blot both sides of each slice with a paper towel to remove the water.

Coat the eggplant slices with flour and allow to rest for a minute.

Combine the two eggs with the milk in a large bowl.

Combine the bread crumbs, cornmeal, panko bread crumbs, oregano and basil in a separate large bowl.

Dip the eggplant slices into the egg mixture and then coat with the bread crumb mixture.

Allow the breaded slices to rest for 10 minutes or so to tighten up the coating.

Heat a large, deep skillet on medium heat. Add oil to the pan, 1/8 inch deep. Add the butter to the pan.

Once the butter begins to bubble but not burn, add the slices of eggplant.

Cook until browned, then flip each piece.

Brown on the other side and remove. Place on a paper towel lined dish to drain the oil off.

Top with Parmigiana cheese and serve hot with your favorite sauce and pasta.
Notes
Recipe by: Connie Murray @Happybellyfoodie.com