Homemade Flour Tortillas Using a Pasta Maker
Ever wondered if you could use your pasta maker for things other than pasta? Well the answer is yes, you can.
I don't know about you but I don't have room for anymore gadgets in my kitchen. Buying a tortilla press seems like a waste of money and space, to me. But I REALLY wanted to make my own tortillas. I've heard they are SO much better than store bought ones.
And they are! Compared to manufactured tortillas, they're superbly WAY better. They're not dough-y or flour-y at all and the flavor is golden toasty goodness. YAY!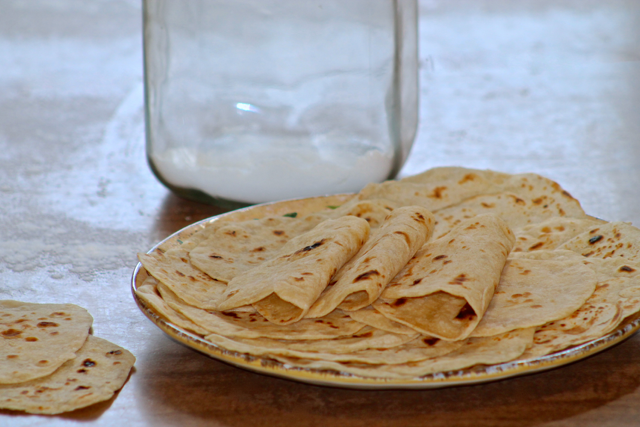 The ingredients are very simple, too. All you need is some all purpose flour, a little veggie oil, baking powder, salt and some hot water. You can mix by hand or you can use a food processor to put the dough together.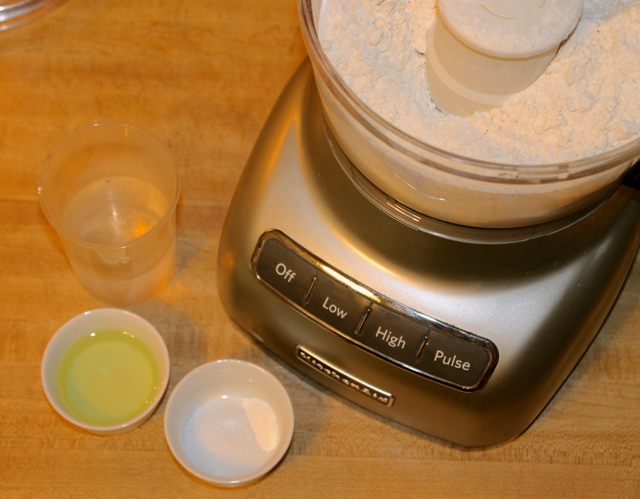 The dough might seem a bit crumbly at first.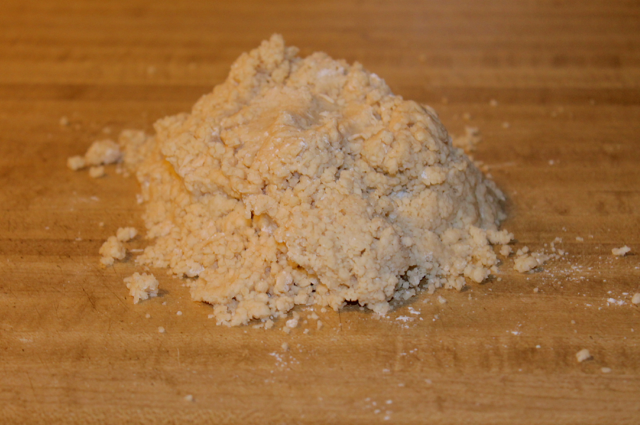 After you knead it a few times, it'll become soft and pliable.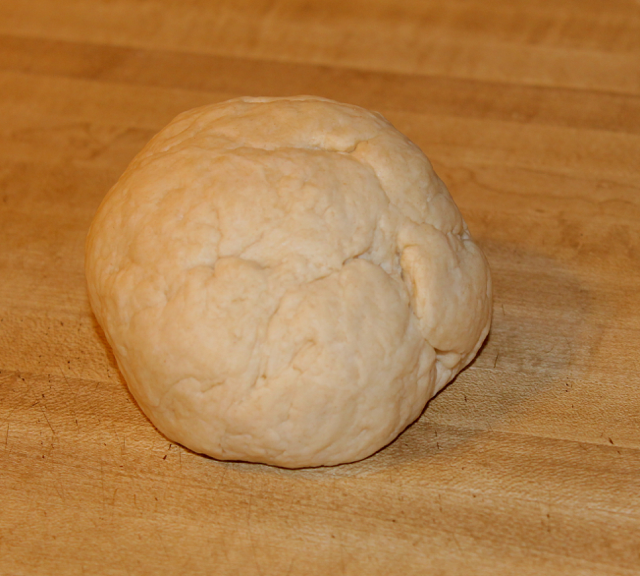 And since we're using the pasta maker to make the tortilla shapes, you'll want to cut the dough into 16 individual balls. Those will need to rest for about 30 minutes to allow the gluten to really get to work. Just cover with a piece of plastic to keep them from drying out.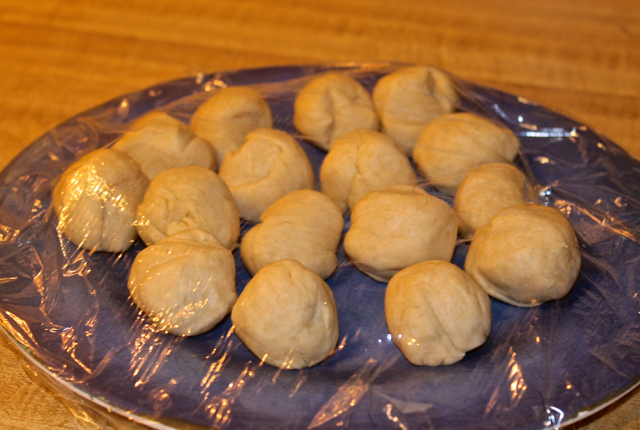 Once the dough has rested, you'll take each piece and flatten it into a small disk. Rub a little flour on both sides to keep it from sticking to the pasta maker
.
.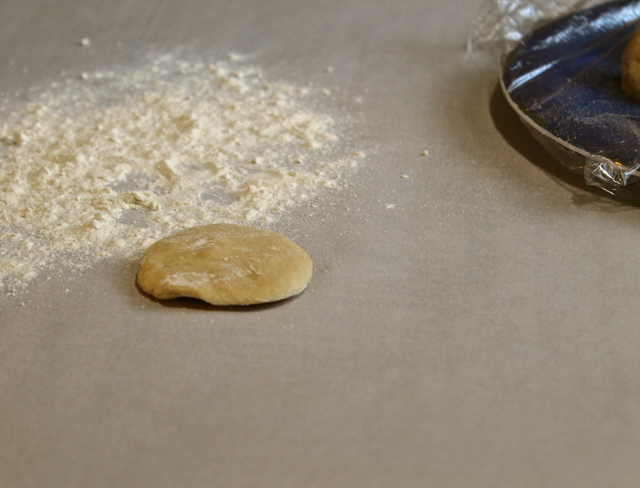 Set the dial on the pasta maker
to the widest setting.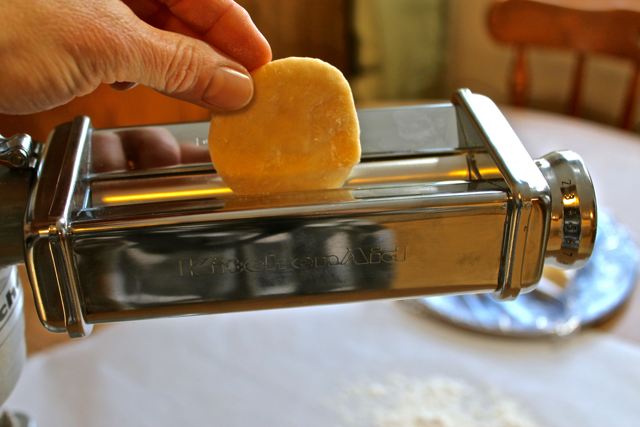 Run it through on low speed.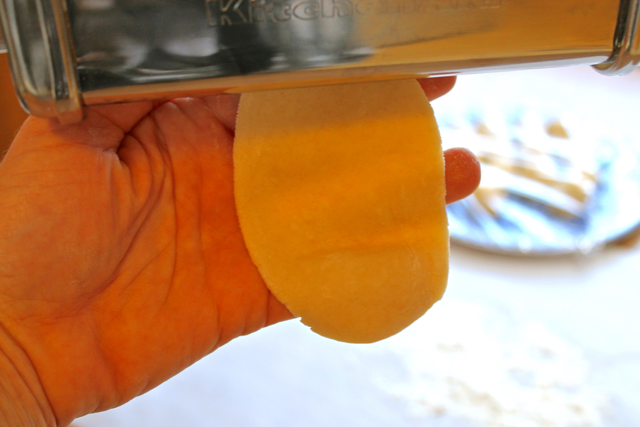 Give the dough a turn so you can run it through lengthwise to even it out into a round shape. The first piece you do is going to seem a bit awkward but that's okay. Run it through on the lowest setting a few times to get the feel for how it's going to come out.
The great thing about this dough, unlike pasta dough, is that you can just ball it up and start over if it's not shaped the way you want it.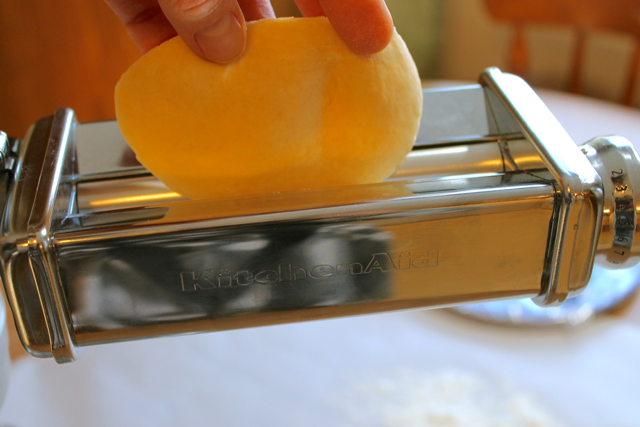 Each time you run the dough through, you'll turn the width setting on the pasta maker one notch smaller. Make sure you're turning the dough to adjust the shape as it comes through.
It's okay if the width gets a little wider than the pasta maker because the machine will size it down.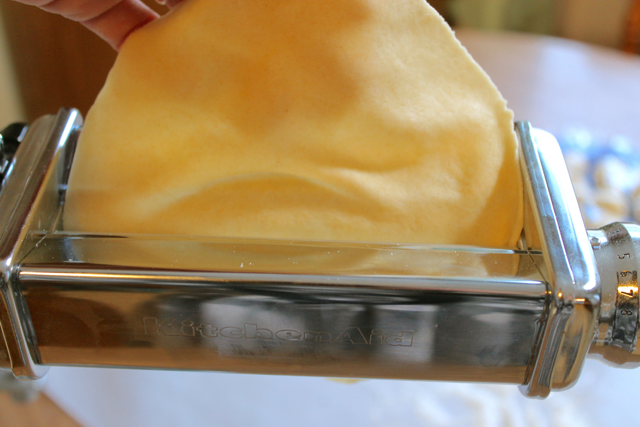 The highest width setting you can really go on a pasta maker like this for the tortilla dough is 4, which is the perfect thickness. You should be able to see your hand through the dough when you hold it up.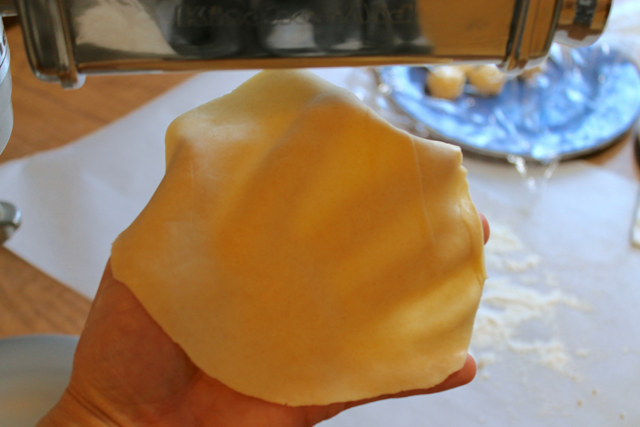 After you roll out each tortilla, brush a little flour on both sides so you can stack them on top of each other without having them stick. Keep them covered with a kitchen towel as your working so they don't dry out.
You can make the tortillas a few hours ahead by covering them with plastic and placing them in the fridge. Just let them come to room temp for about 30 minutes before you cook them.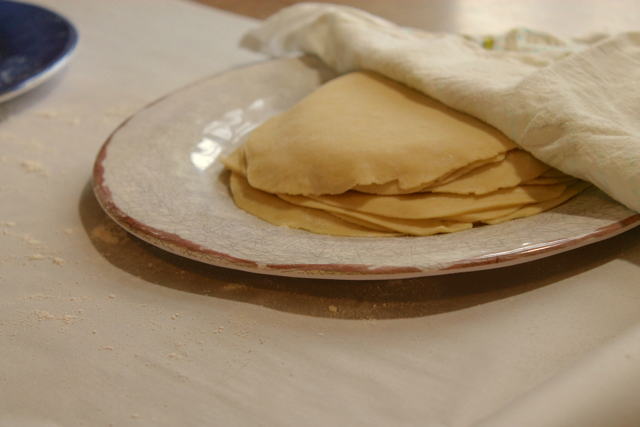 To cook the tortillas, you'll need a very dry skillet set over med/high heat.
The first tortilla you cook is going to basically be your tester to see if your heat needs adjusting. Start by placing the edge of the tortilla down into the skillet and carefully letting the rest follow. They should lay down fairly easy without air pockets.
If your heat is correct, you should hear a slight sizzle when you begin laying the tortilla down. If you don't hear that, turn the heat up a bit until you do.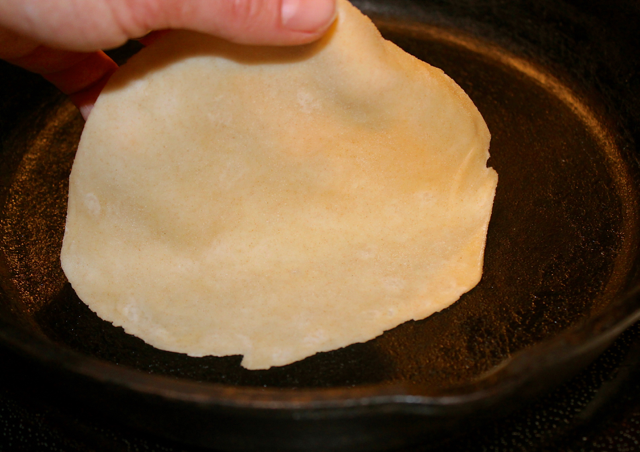 You want to let your tortilla cook on the first side until you begin to see big bubbles like this. It will look like the dough is starting to cook through to the top.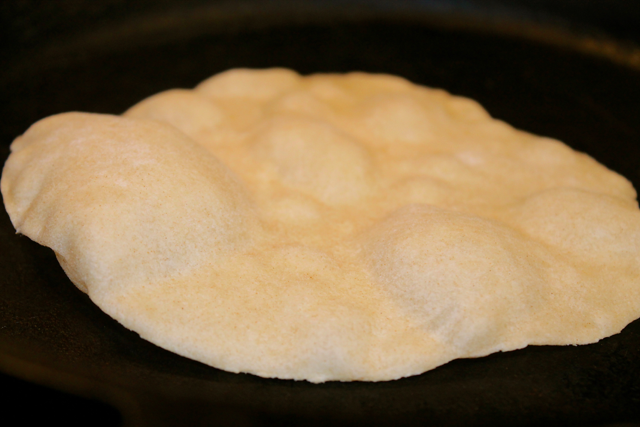 Check for browning on the first side and then give it a flip. Press it down with the back of a spatula to release some of the air bubbles and cook the other side until it is browned as well.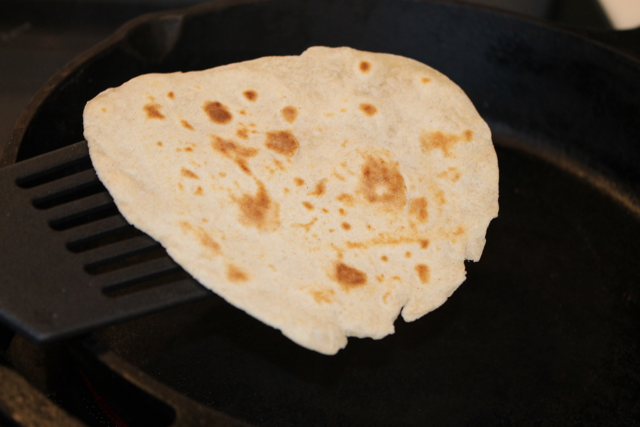 Place the hot tortillas on a kitchen towel and cover to keep warm.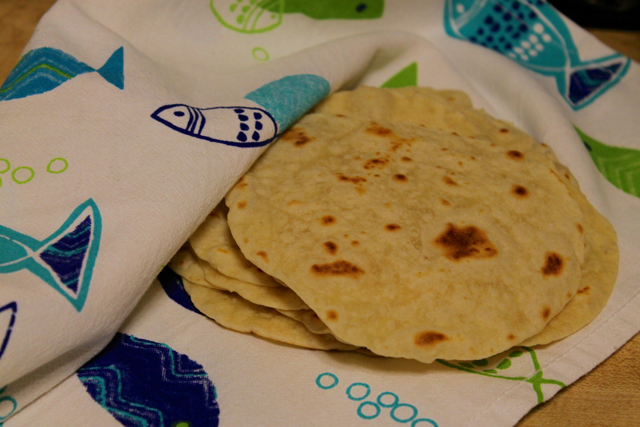 Continue cooking until they're all done. They only take about 30 to 45 seconds to cook on each side.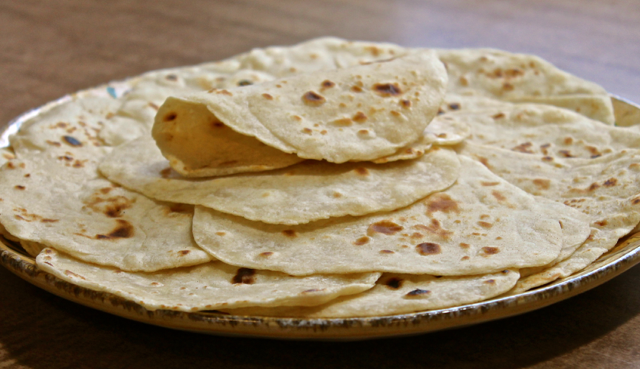 Now you're ready to serve your freshly made tortillas with your favorite taco fixin's.
Speaking of taco fixin's, you're gonna want to tune in later this week because I have a couple more recipes to go with these fantastic tortillas and they are out of this world.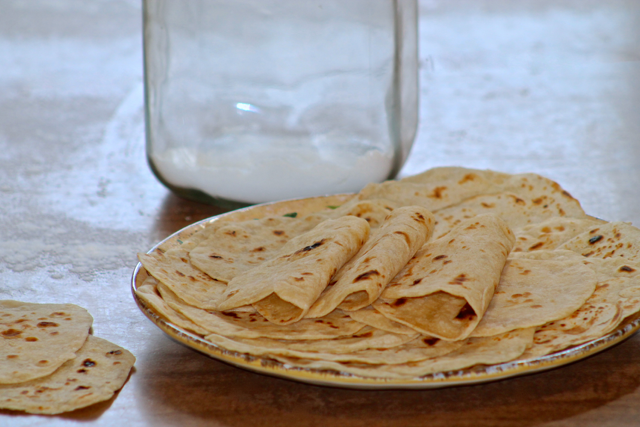 That's about all there is to making homemade flour tortillas with a pasta maker. Pretty easy, huh?
By the way, if you don't have a pasta maker, you can make this recipe with a simple rolling pen. I did give it a try and it's not too terribly difficult. You'll just have to give them a little more elbow grease.
I hope you'll give these guys a try and let us know how we're doing in the Happy Belly Foodie kitchen.
Make it a fantastic day and as always, keep it delicious!
Till next time ~ much love, Connie
Homemade Flour Tortillas Using a Pasta Maker
Ingredients
1 3/4

C

all purpose flour

more for dusting with

1/2

tsp

salt

1/4

tsp

baking powder

2

tbsp

vegetable oil

1/2

C

hot water

not boiling
Instructions
Place the flour, salt and baking powder in a food processor and pulse a couple times to mix.

Turn the speed to low and drizzle in the oil.

Drizzle in the hot water until it is all incorporated.

Turn the dough out onto a clean surface and knead 9 or 10 times.

Cut the dough into 16 equal pieces and roll into balls.

Place the dough pieces on a clean plate and cover with plastic for 30 minutes.

To make the tortillas, take each piece of dough and flatten it into a round disc.

Dust with flour on both sides.

Run the disc through the pasta maker on the widest setting and lowest speed.

Turn the disc a quarter turn and run through again.

Turn the width setting a notch up and run through again.

Continue turning the width setting a notch higher and running the dough through until you reach the 4th width setting.

The dough should be thin enough that you can see your hand through it.

Dust each side with a little flour again and place on a plate.

Cover with a kitchen towel to keep from drying out.

Continue processing each piece of dough.

To cook, place a very dry skillet over med/high heat.

When the skillet is very hot, place one of the tortillas in by the edge.

If the skillet is hot enough, you'll hear a slight sizzle.

If not, turn the heat up a little to adjust.

Cook the tortilla on the first side until you see large bubbles appear and the dough looks like it's beginning to cook through to the top.

Flip the tortilla over and press down with a spatula to cook the other side until browned lightly.

Place the hot tortilla on a kitchen towel and cover while cooking the rest of them.

Serve the warm tortillas with your favorite taco fixin's.
Notes
Recipe by: Connie Murray @Happybellyfoodie.com