Pork Tenderloin Sauteed Cabbage and Apples
Need a little sunshine in your dinner? Need dinner in a flash? If you said yes, this beautiful pork tenderloin dish is for you!
It's ready in 30 minutes and with apples and cabbage, it's perfect for any weeknight meal.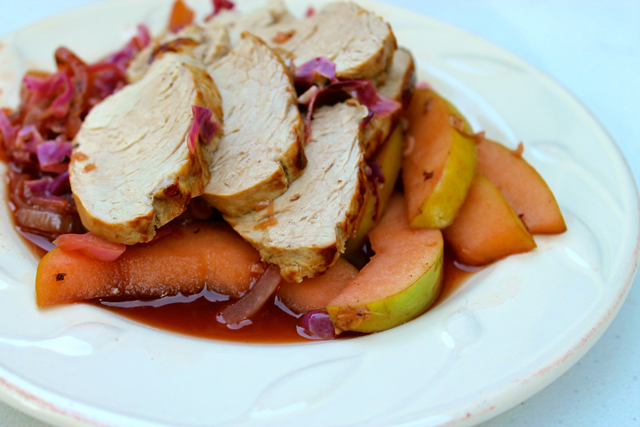 To get started, simply cut the tenderloin into quarters and sear on all sides in a skillet.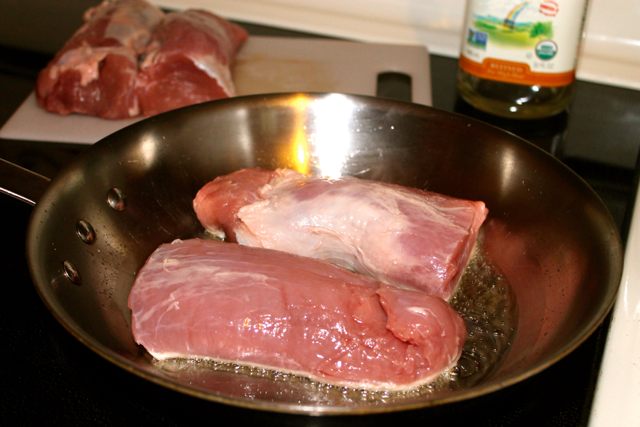 After the meat is browned, place it on a baking sheet in a 500 degree F. oven for 15 minutes.
Saute some red cabbage in the skillet along with the juices that remain from the tenderloin and a few seasonings.
A little ginger, some garlic and a dash of cinnamon will do.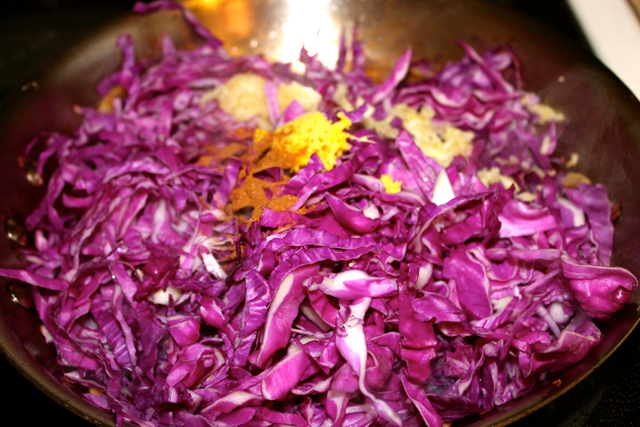 Add some Granny Smith apples to the cabbage and cook until softened.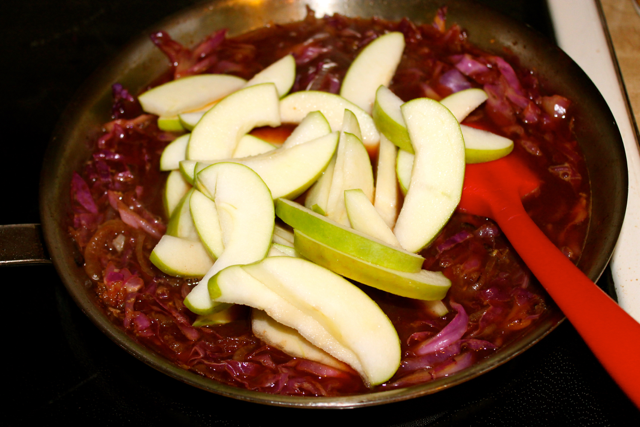 When the tenderloin reaches 165 degrees F, take it out of the oven and slice thinly. Serve over top the cabbage and apples.
Simple, easy and delish!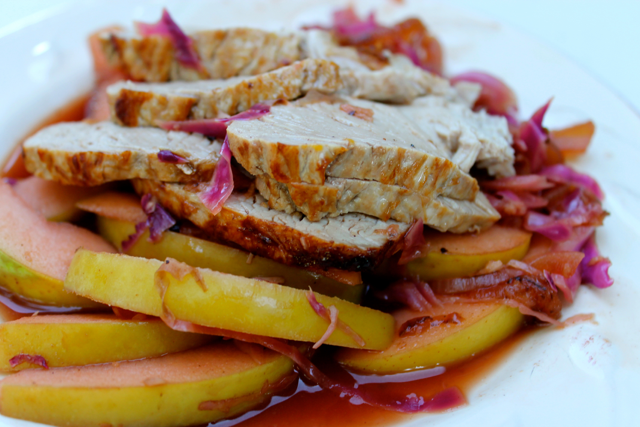 Sometimes, you need a good hearty meal with no fuss. This dish is delightful and you'll be out of the kitchen in no time.
As a foodie, even I get in a hurry on occasion and need a quick meal. Pork tenderloin is light, has a great flavor and cooks up very quickly with this method. It's tender, moist and delicious over cabbage and apples. That little bit of seasoning with the ginger and cinnamon gives it a nice, satisfying warmth and it's perfect for any Autumn weeknight meal.
There you have it foodie friends. I do hope you'll give this one a try. If you'd like to catch up with me, you know where to find me. Make it a great day and as always, keep it delicious!
Till next time ~ much love, Connie
Pork Tenderloin ~ Seared in cabbage and apples
Ingredients
1 3

pound

pork tenderloin

cut into quarters

oil for the pan

1/2

head of red cabbage

sliced

2

Granny Smith apples

sliced

1

garlic clove

minced

1

tbsp

ginger

1/4

tsp

cinnamon

salt and freshly ground black pepper to taste
Instructions
Preheat the oven to 500 degrees F.

Sear the tenderloin on all sides in a skillet over med/hi heat.

Place the meat on a lined baking sheet and finish cooking in the oven for 15 minutes or until the internal temp reaches 165 degrees F.

Use the skillet with the juices from the meat to saute the cabbage until tender.

Add the garlic, ginger, cinnamon and salt and pepper to taste.

Add the apples to the skillet and saute until tender.

Thinly slice the tenderloin and serve over the cabbage and apples.

Season if needed.
Notes
Recipe by: Connie Murray @Happybellyfoodie.com