Stromboli Made From Scratch
Strombolis and calzones. Ah, those glorious fluffy breads with just the right amount of crunch on the outside. And don't forget the fantastic, ooey, gooey goodness on the inside.
Yes, they are pretty much the same thing, stromboli's and calzones. They're just shaped different.  Okay, maybe they really are just stuffed pizzas but hey, I won't tell if you don't. 😉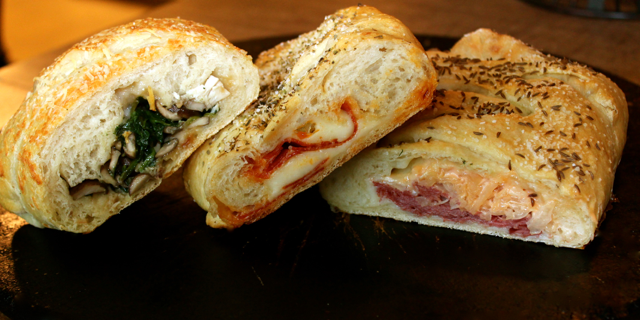 You can pretty much pull off a masterpiece with a hunk of pizza dough and a few choice ingredients for the stuffing. It's your thing. Do what you wanna do.
I like a Reuben. There's just something so alluring about slow cooked corned beef with sauerkraut and that melty Swiss cheese that makes me say, "Yes please!" And making it into a stromboli? Why the heck not? See what I'm talking about?
So, to make these fabulous stuffed "breads" *wink wink* you'll need a pizza dough. You can use a pre-made dough or make it yourself. The recipe in the printout below is our favorite. It'll make three 10 to 12 inch strombolis. If you've got a bread maker, check out –> Post to Post Links II error: No post found with slug "pizza-show-me-the-dough-plus-a-fresh-tomato-sauce". The tomato sauce recipe in that post is perfect for dipping a pizza flavored stromboli. For a thicker dipping sauce, check out —> Easy Marinara Sauce.
To get started on your scrumptious strombolis, divide your dough into thirds. Stretch each piece out onto a standard sized baking sheet as much as possible.
For a Reuben, you'll need some thinly shaved corned beef, sauerkraut (drained very well), thousand island dressing and Swiss cheese.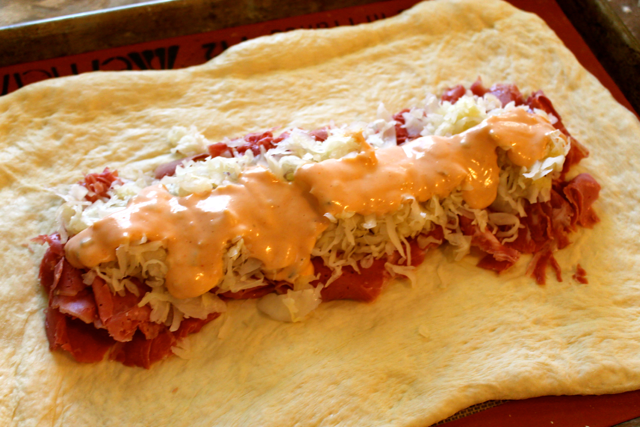 After you have your filling laid in the middle of the dough, take some kitchen scissors or a knife and cut the sides into strips like I have here.
Fold the ends over.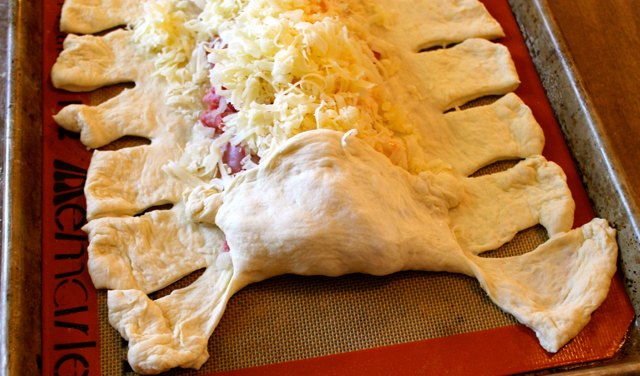 And then fold the strips over the filling, overlapping them like a braid.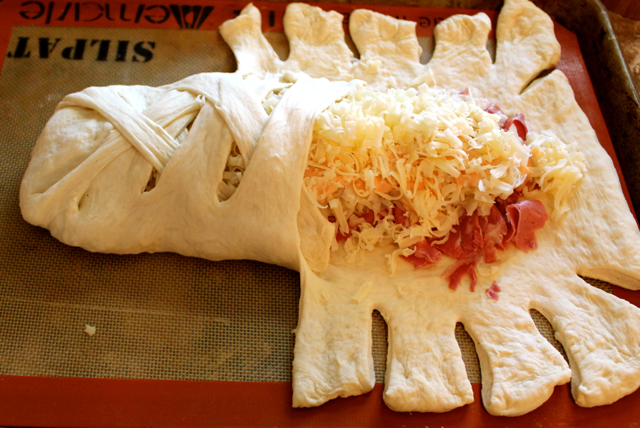 When you get to the last piece, simply tuck it under the bottom of the bread and press it in.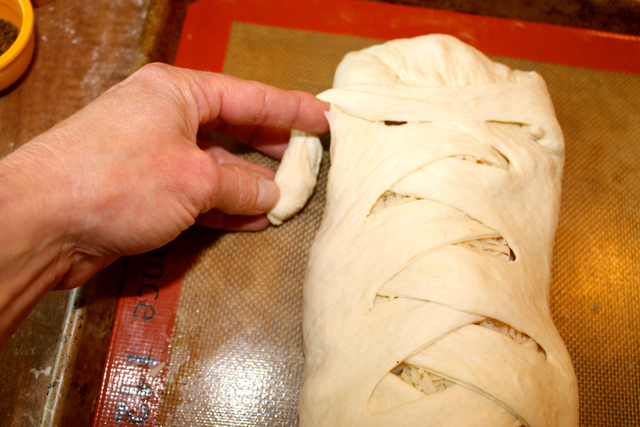 You'll brush an egg wash over the top (an egg and milk mixture) lightly.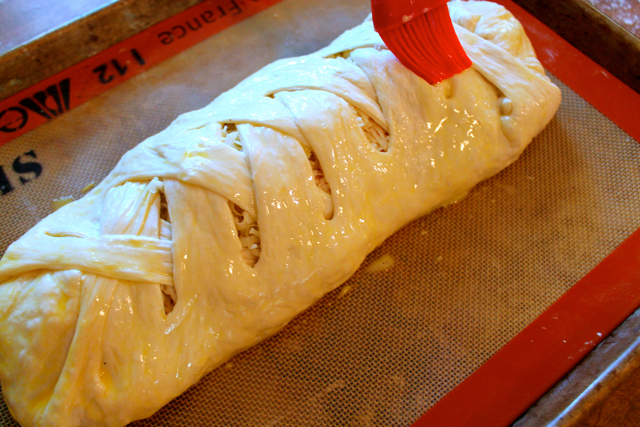 Sprinkle a topping to decorate. I chose caraway seeds for the Reuben. Bake the stromboli in a 400 degree F. oven for about 20 minutes or until golden brown on the outside.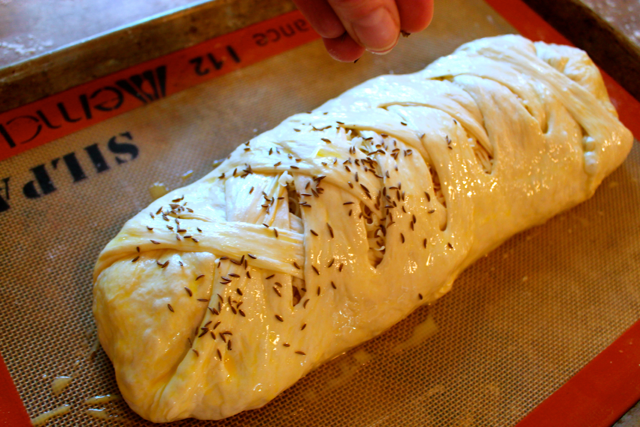 My youngest son likes pizza, so I made a pepperoni and cheese filling for him.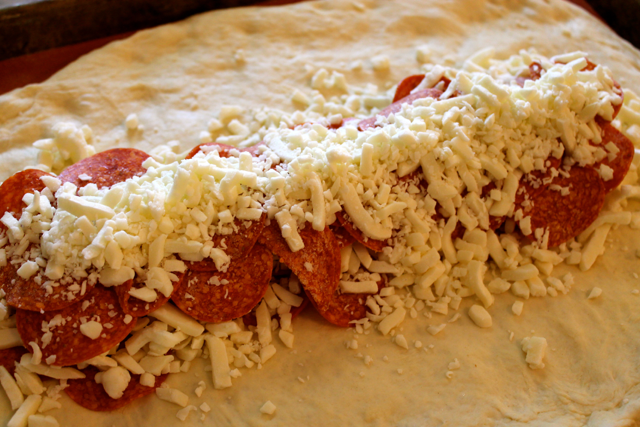 I topped this one with a little Italian seasoning, basil and oregano.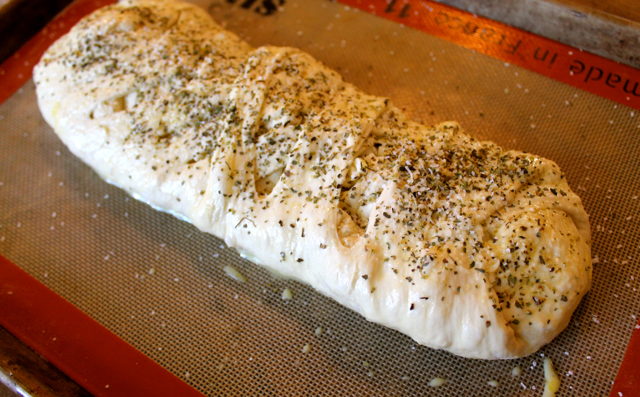 For the third stromboli, I made a  garlic, spinach, mushroom and chicken filling. I had some chicken, already cooked and just diced that up. I sauteed the mushrooms and spinach in a skillet and drained all the liquid off of them. To mellow the garlic out some, I roasted it in the oven for about 45 minutes. You'll just chop the tops off and drizzle them with a little olive oil. Cover them tightly with foil before you put them in to roast.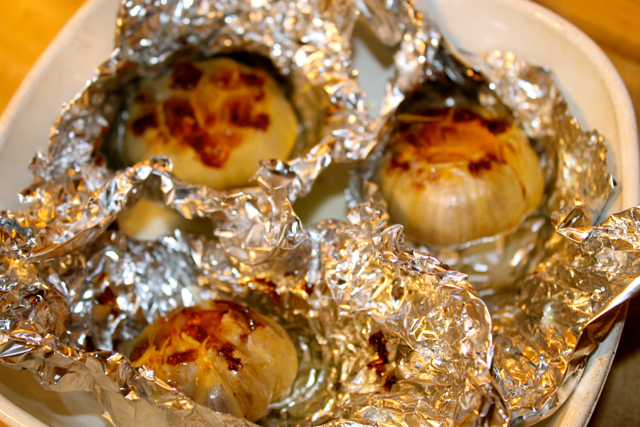 After the garlic cools, you can just squeeze it out of the casings. You can roast a bunch of garlic at one time and store the paste in the fridge to have on hand.
Simply spread the garlic over the middle of the dough and fill with the rest of the ingredients.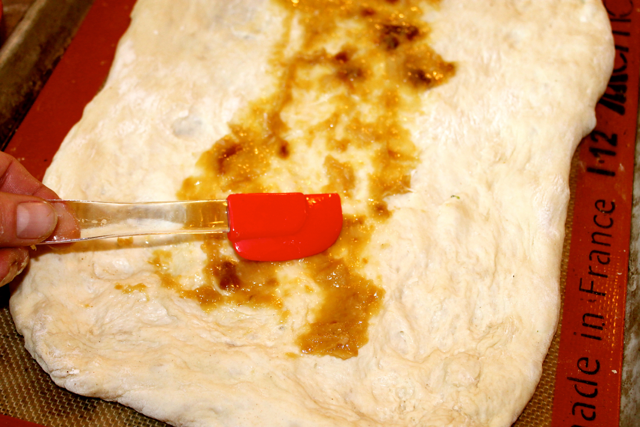 Some Parmesan cheese tops this mixture off nicely.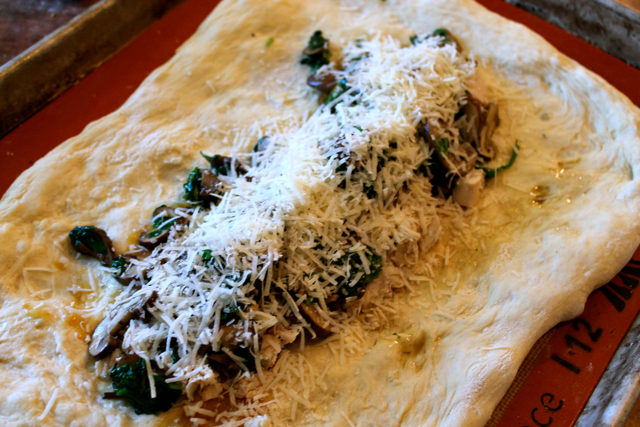 Perhaps a little on top, too.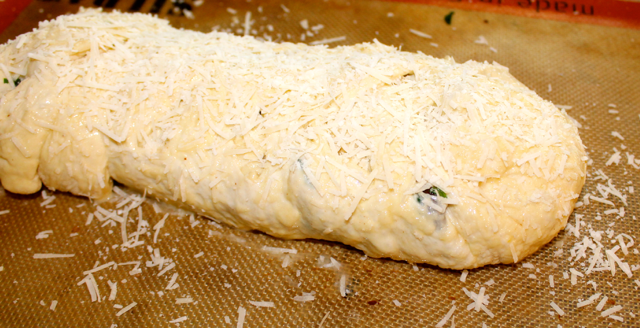 Have you ever had a stromboli in a restaurant and thought, how in the world do they make these? Well, now you know. It's not really anything fancy-schmancy, it just looks that way. Don't worry, it'll be our little secret. 😉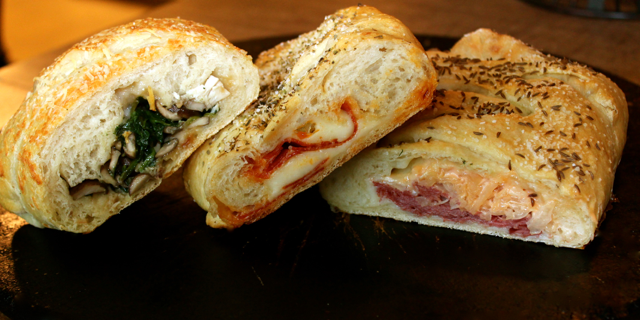 Of course, the Reuben was my favorite of the three. You won't need any sauce for this one because that little bit of thousand island dressing and the sauerkraut have plenty of moisture. Delish!
If you want to make the pizza stromboli, have some of your favorite pizza sauce to dip it in. Or perhaps some garlic butter.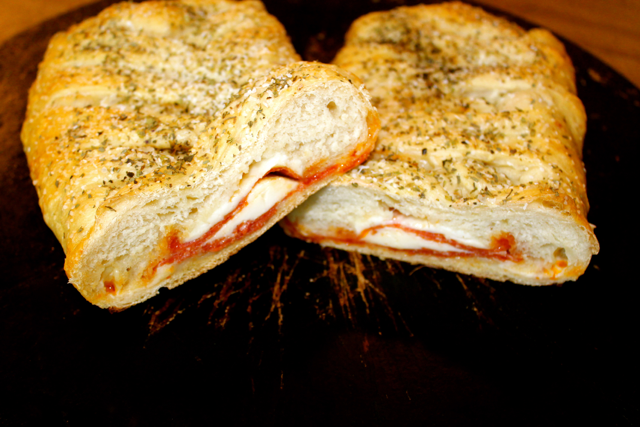 The roasted garlic, mushroom, spinach and chicken stromboli is great alone or with your favorite alfredo sauce.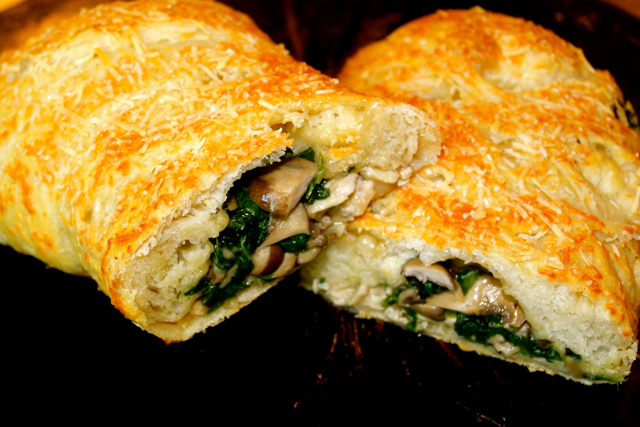 I did have a slice of all three and each one was fantastic.
I'd love to hear what fabulous combination you've come up with for your stromboli. Let me know how it turns out. You know where to find me friends!
Hey, make it a great day and as always, keep it delicious!
Till next time ~ much love, Connie
Stromboli ~ It's your thing!
Ingredients
Dough for 3 Stromboli's
1-3/8

C

water

3

tbsp

olive oil

3/4

tsp

salt

4

C

all-purpose flour

2

tsp

active dry yeast
Egg Wash for 3 Stromboli's:
Reuben Stromboli Filling
6

oz

shaved corned beef

1

C

sauerkraut

very well drained

1/4

C

thousand island dressing

1

C

shredded Swiss cheese

Caraway seeds for garnish
Pizza Stromboli Filling
8

oz

pepperoni slices

1 1/4

C

shredded mozzarella cheese

Italian seasoning for garnish
Roasted Garlic, Mushroom, Spinach and Chicken Stromboli Filling
2

garlic bulbs

1

C

cooked chicken

diced

1/2

C

sliced mushrooms

1/2

C

fresh spinach

chopped

3/4

C

Parmesan cheese
Instructions
Dough for 3 Stromboli's
Combine all ingredients for the dough in a large bowl. When the dough comes together, place it on a well floured surface and knead until soft and pliable.

Place dough back into the bowl, with olive oil and coat all over. Cover and allow to rise for one hour.

Divide the dough into three equal parts.

Spread each piece of dough onto a baking sheet to fit.

Proceed with filling.
For the Reuben Stromboli Filling
Place the meat in the center of the dough in layers. Top with the sauerkraut, thousand island dressing and shredded cheese.
For the Pizza Stromboli Filling
Place the pepperoni in the center of the dough in layers. Top with cheese.
For the Roasted Garlic, Mushroom, Spinach and Chicken Stromboli Filling
Roast the garlic. Cut the tops of the garlic bulbs off. Drizzle olive oil over the open bulbs. Cover tightly with foil and roast in a 400 degree F. oven for 45 minutes. Allow to cool. Squeeze the garlic out of the casings and set aside.

In a medium skillet, saute the mushrooms in a little olive oil until all the liquid releases and they begin to brown. Add the chopped spinach and saute for one minute. Remove from heat and place in a strainer to drain and cool.

Spread the garlic paste onto the center of the dough. Top with the chicken, spinach and mushrooms. Sprinkle 3/4 the Parmesan cheese over the mixture.
To finish assembling all
Using kitchen scissors or a knife, cut slits down the sides of the dough.

Fold the ends of the dough over the filling. Fold the strips across the dough, alternating sides in a braid like fashion. Tuck the last piece under the opposite side of the stromboli.

Mix the egg and milk well and brush over the top of the stromboli.

Garnish the top.

Bake in a 400 degree F. oven for twenty minutes or until golden brown on top.

Allow to cool for 20 minutes before slicing and serving with your favorite sauce, if needed.
Notes
Recipe by: Connie Murray @Happybellyfoodie.com
Pin It: