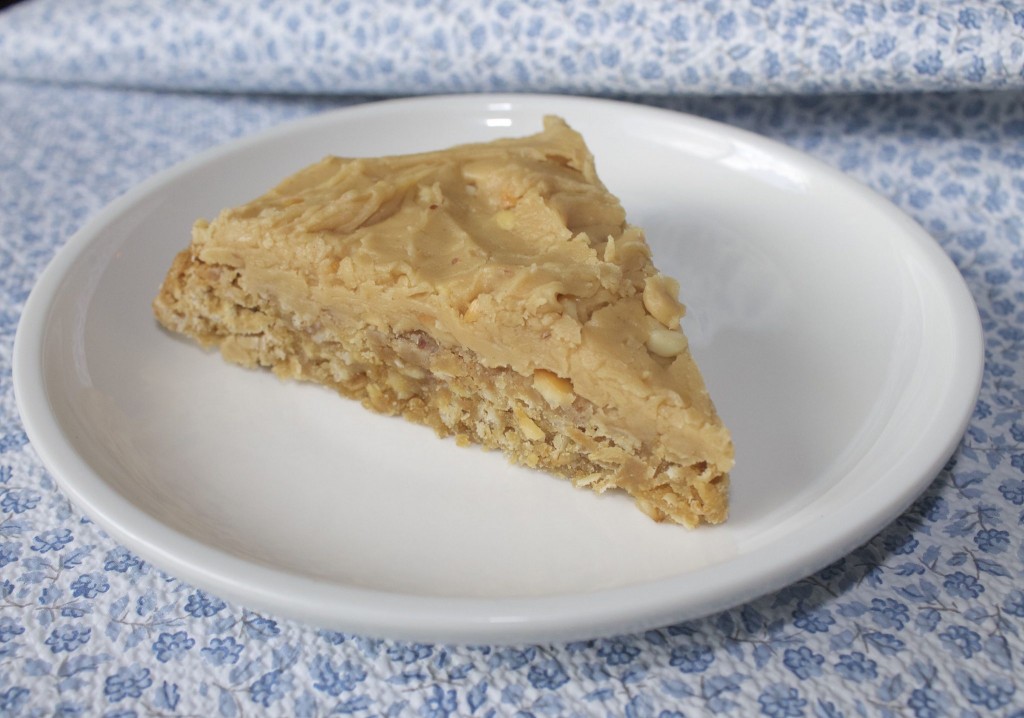 Do you LOVE peanut butter? Love your pressure cooker, too? If you said yes, you're in for a special treat!
These Pressure Cooker Peanut Putter Blondies
are chewy in all the right places, loaded with sweet peanut butter and full of terrific texture.
I admit it, I couldn't stop at making those decadent cocoa brownies in my pressure cooker
. Nope. I had to cross the flavor spectrum of desserts, venture into peanut butter territory and really put this thing to the test.
Well, after two horribly disastrous flop-a-roos I nearly called it a lost cause and gave up.
Fail #1 was made when I tried using a recipe from my old hand written cookbook. It called for 1/3 cup of crunchy peanut butter. Unfortunately it did not work in the pressure cooker. They were dense and unless you're looking for a peanut butter flavored hockey puck to chew on, you'll skip this one.
Fail #2 was even worse. It was so bad that I didn't even take a picture. I tried substituting the peanut butter with powdered peanut butter, using the same recipe. The brownies were doughy and raw tasting. Both batches were cooked at high pressure for 25 minutes. I really didn't think increasing the time would help because the batter was just too wet and heavy.
I called it a night and figured peanut butter brownies/blondies or whatever was just not going to happen.
Next morning, I was bound and determined to make something peanut buttery in my pressure cooker. That's when this happened..
Good ol' fashioned oats saved my demise and I stuck with the powdered peanut butter
to keep the batter from being too wet. Low and behold, pressure cooker peanut butter blondies was a win. Finally!
You may think I'm crazy for trying to "bake" things like brownies and blondies in the pressure cooker
when I have a perfectly good oven that would pretty much give me a no fail dessert.
However, some people can use good recipes like these pressure cooker peanut butter blondies because they don't have access to an oven, don't want to heat up their kitchen or are cooking in a camper. I think it's nice to be able to share what works and what doesn't with fine foodie folks out there.
If you're thinking you'd like to have these tasty treats but you don't have a pressure cooker, no worries. I've included alternative instructions for the oven in the notes of the printout below. 🙂
I do hope you'll give these yummy blondies a try and let me know what you think. I'd love to hear from you!
Have a fantastic day and as always, keep it delicious!
Till next time ~ much love, Connie

Pressure Cooker Peanut Butter Blondies
Ingredients
Peanut Butter Blondies
1/2

C

granulated sugar

1/2

C

light brown sugar

1/3

C

powdered peanut butter

1/2

C

butter

softened (plus more for buttering pan)

1

egg

room temp

1/2

tsp

salt

1

C

flour

1

C

regular oats

not quick

1/2

tsp

baking soda

1 1/2

C

water

for the pressure cooker pot
Frosting
1/3

C

peanut butter

crunchy or smooth

1/4

milk

1 1/2

tsp

vanilla extract

1 1/2

C

powdered sugar
Notes:
I have tested this recipe with the specific ingredients listed above. Substitutions may change the cooking time needed or the end result.
Instructions
Brownies
Lightly butter the sides of a 9-inch spring form pan. *

Cut out a round of parchment paper fit it into the bottom of the pan.

In a bowl, cream together the sugars, powdered peanut butter, butter, egg and salt.

Fold in the flour, oats, baking soda and mix until everything is incorporated.

Press the mixture into the pan evenly.

Cover the top of the spring form pan with a dry paper towel.

Seal the pan with a piece of aluminum foil.

Pour the water into the bottom of the pressure cooker pot.

Make a foil sling to lift the pan in and out of the pressure cooker.

Place the pan on the trivet and lower into the pot with the foil sling.

Place the lid on the unit and turn to locked position.

Turn the steam vent to sealing.

Press the manual button and adjust the time for 25 minutes.

When the timer has counted down, carefully release the steam.

Use the foil sling and two towels to lift the blondies out of the pot.

Allow to cool for 10 to 15 minutes.

Release the lever on the spring form pan and remove.

Place a plate on top of the blondies and invert.

Remove the parchment paper.

Allow to cool completely before icing with the frosting.
Frosting
Cream together the peanut butter, milk and vanilla. Mix in the powdered sugar until the frosting is desired consistency.

Smooth over blondies when they are cooled.
Notes
* 10/2/16 Updated Note: Originally, this recipe was created using a 9-inch spring form pan, which fits comfortably in the Instant Pot IPDUO 80.
After making the recipe again in a 7 inch pan, I found that you will need to adjust the pressure cooking time for this size, as the thickness of the "blondies" increases. Total pressure cooking time should be 30 minutes and steam release method should be NPR for 10 minutes.
Using powdered peanut butter keeps the batter in the blondies from being to heavy and wet. You can find this in your local grocery store in the peanut butter and jelly isle or the baking isle.
As an alternative method for this recipe, you can replace the powdered peanut butter with regular peanut butter or chunky and bake them in the oven at 350 degrees F. for 17 to 22 minutes until golden brown.
Recipe by: Connie Murray @Happybellyfoodie.com
Pin It: