Blueberry Pound Cake
It won't be long before the Spring berries will be flowing. You'll want to add this fantastic recipe to your list of delicious things to make with them!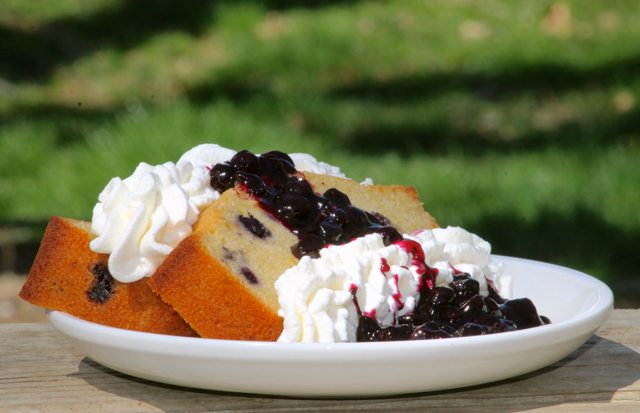 There are quite a few ingredients that go into making a pound cake but it's not difficult to make at all. The thing I love about this recipe so much is that it's so versatile. You can turn it into just about any fruity flavor you like. Blueberries seemed like the best choice, given that we'll be seeing lots of those around here soon.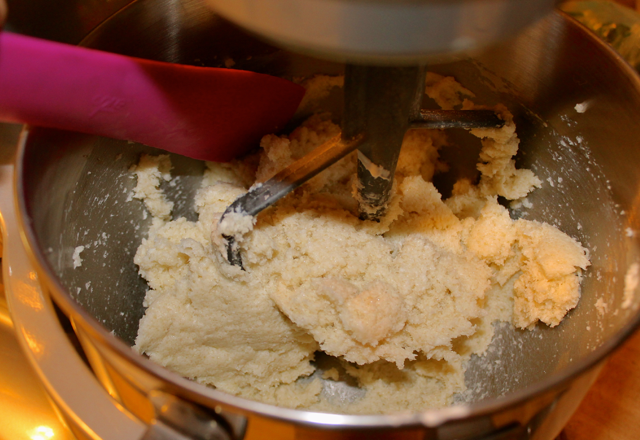 Of course, you'll want to start out with room temperature ingredients. When baking, that's pretty much the golden rule. For the pound cake, you'll start out by creaming a good amount of butter along with half a cup of sour cream and some sugar. The sour cream adds a wonderful moist element as well as a rich, tangy flavor.
Next, add in 9 lightly beaten whole eggs, a bit at a time.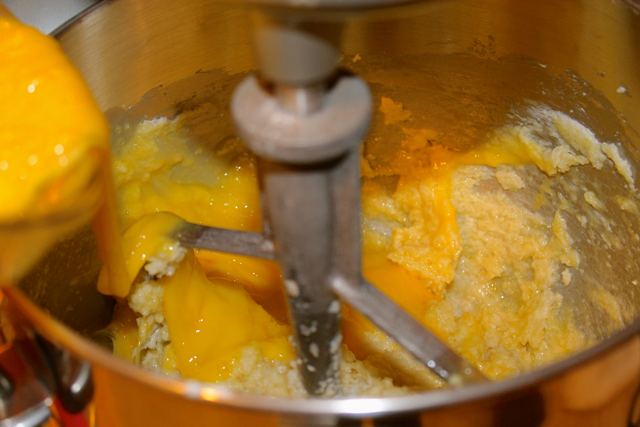 You'll add salt, vanilla and one pound of flour (it is pound cake, after all!) to the batter a half cup at a time.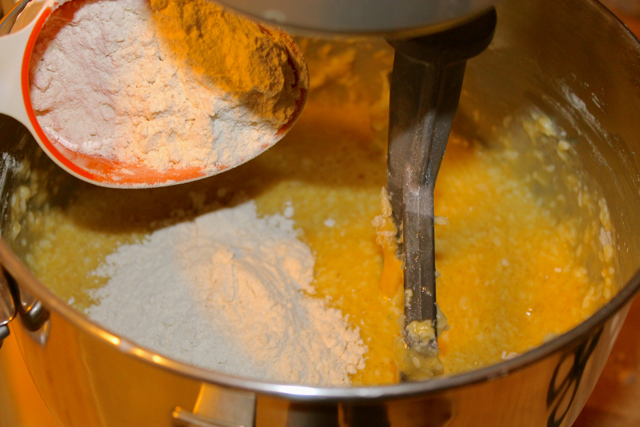 After everything is combined, you'll want to gently fold in the blueberries.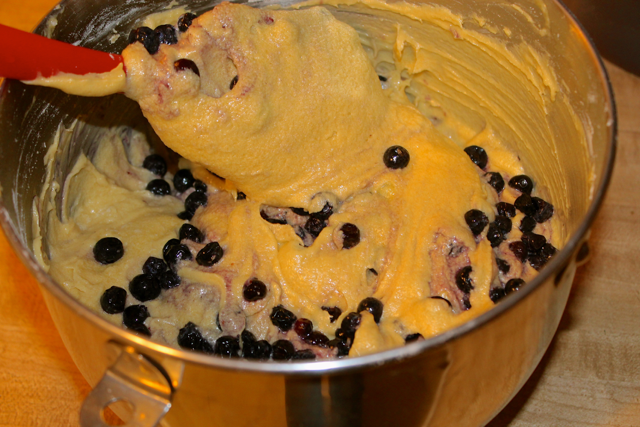 Similar to banana bread, this recipe makes two loaf pan cakes. Trust me, you'll most definitely want to make the whole recipe because the cake will disappear very quickly, as it did in our kitchen.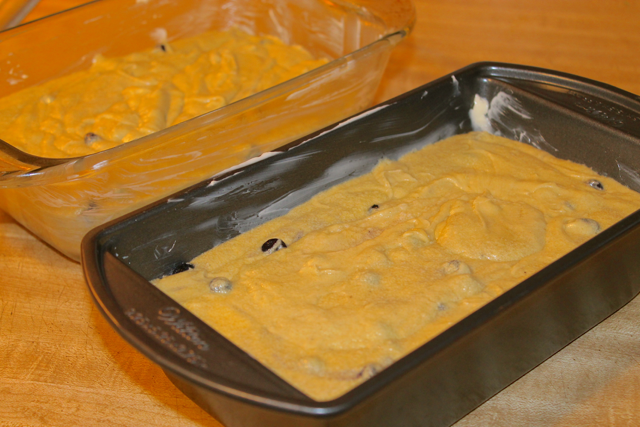 While you're waiting on the cake to bake in a 325 degree F. oven, go ahead and make a blueberry topping.
Simmer two cups of blueberries in a saucepan along with two tablespoons of lemon juice and a quarter cup of sugar until the berries pop open and release their juices.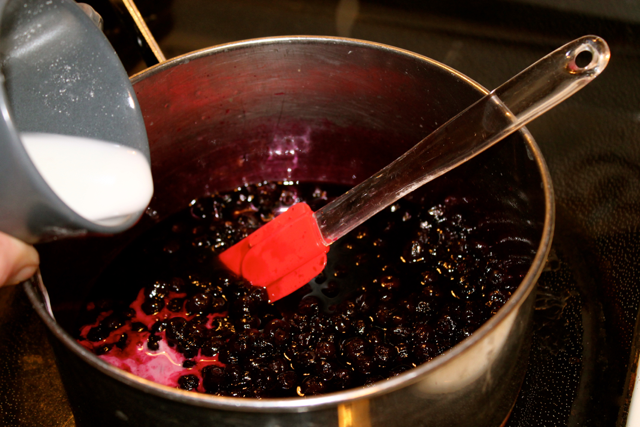 Stir in a mixture of one tablespoon cornstarch and one tablespoon cold water to thicken and the sauce is done.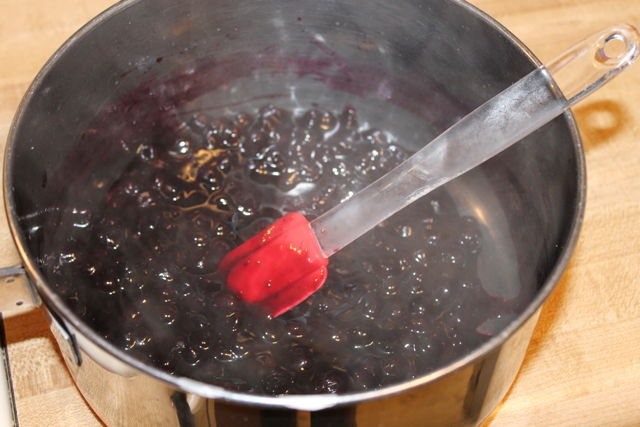 After the cakes are finished baking, set them on a rack to cool completely before slicing.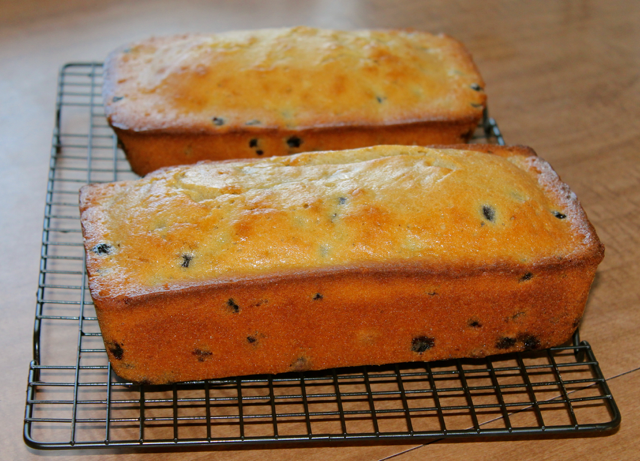 Serve the slices of cake with some freshly whipped cream and the blueberry sauce.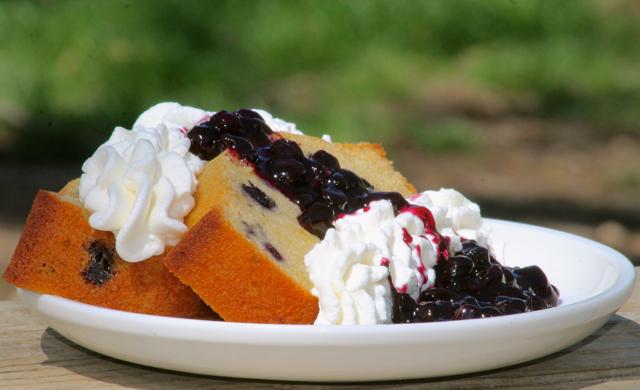 I don't know about you but Spring makes me giddy! Serving dishes like this makes everybody happy.
There are so many fantastic things you can do with the season's first fruits. I hope you give this little ditty a try and let us know how it turned out for you and your crew. We'd love to hear from you!
Have a beautiful day and as always, keep it delicious!
Till next time ~ much love, Connie
Blueberry Pound Cake with Blueberry Sauce
Ingredients
Blueberry Pound Cake

12

oz

butter

softened plus more for coating pans

1/2

C

sour cream

2

C

granulated sugar

9

eggs

room temperature and slightly beaten

16

oz

all purpose flour

1

tbsp

salt

1

tsp

vanilla

2

C

blueberries

fresh or frozen and thawed to room temp

Blueberry Sauce

2

C

blueberries

2

tbsp

freshly squeezed lemon juice

1

tsp

vanilla

1/8

tsp

salt

1

tbsp

corn starch

1

tbsp

cold water
Instructions
Preheat oven 325 degrees F.

Coat the inside of two 9 x 5 loaf pans with butter on the bottom and up the sides.

In the bowl of a stand mixer fitted with a dough hook, cream the butter, sour cream and sugar.

Add the eggs in four parts, mixing on low and scraping the bowl in between additions.

Add the salt and vanilla.

Add the flour, one half cup at a time and continue mixing on low and scraping the sides of the bowl down in between additions.

Once everything is incorporated well, remove the dough hook and fold in the berries.

Divide the mixture between the two loaf pans.

Tap the pans to remove any air pockets.

Bake in the oven for one hour or until a toothpick inserted into the center comes out clean.

Remove from oven and allow the cakes to cool in the pans for 30 minutes.

Remove the cakes from the pans and set on a cooling rack until completely cooled before slicing and serving.

Blueberry Sauce

In a small saucepan, combine the blueberries, lemon juice, vanilla and salt.

Bring to a boil over med/hi heat.

Turn the heat to med/low and simmer until the berries open.

Combine the corn starch and cold water to make a slurry.

Stir the slurry into the blueberry mixture and remove from heat when thickened.

Serve the sauce over the cooled cake slices.
Notes
Recipe by: Connie Murray@Happybellyfoodie.com