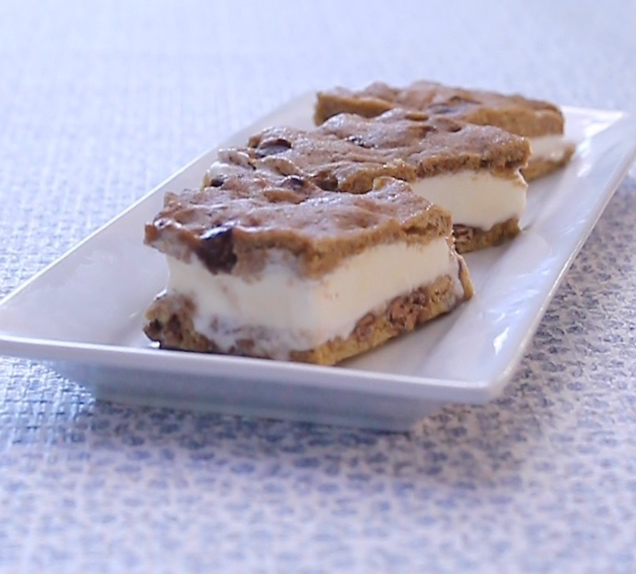 Pressure Cooker Chocolate Chip Ice Cream Bars are a true indulgence you're gonna love. Pressure cooking the chocolate chip cookies makes them soft and supple for that perfect bite.
It took a few tries to get these cookies to have the texture I was looking for. For ice cream sandwiches, you want more of a chew rather than crunch. The first batch came out greasy, as there was a cup of butter in the original (oven baked) recipe. That got cut in half.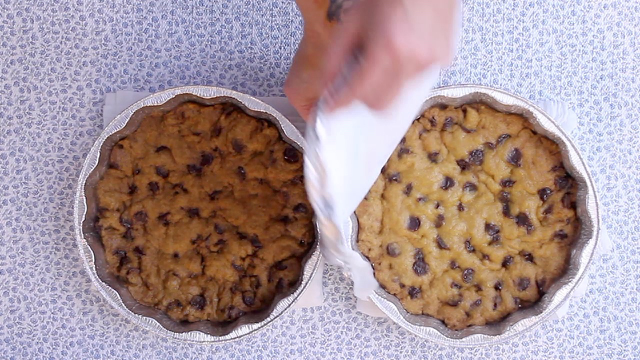 The second, third and fourth attempts were minor adjustments. I wound up cutting the entire recipe in half because they were too thick as well. I mean, I'm all for big fat chocolate chip cookies but I don't want to unhinge my jaw to get at it.
It will seem like there's not enough dough to cover both pans but there is. Just keep working with it until you get it spread out. Use butter or cooking spray to coat your hands to keep the dough from sticking so much.
Take a look at how the final version turns out…
For the ice cream, you can use any kind you enjoy. I prefer my homemade version but in a pinch I'd use a locally made brand.
As I type, I'm enjoying the last bite of the last batch of these. Five batches requires unbuttoning the britches, if ya know what I mean. Yes, me and my crew ate all the flops.
Some recipes are a quite tricky in the pressure cooker. You just gotta go for it and learn how to adjust if needed. I love that I can share the final version of recipes I've done that with. When  shows up here for all you fine foodie folks out there, you can bet your booty that I'm sharing a recipe that works and tastes great. I hope you'll give it a try and let me know about it. I'd love to hear from you!
Have a beautiful day and as always, keep it delicious!
Till next time ~ much love, Connie
Pressure Cooker Chocolate Chip Ice Cream Bars
Ingredients
1/4

C

butter

softened (2 oz by weight)

1/4

C

plus 2 tbsp granulated sugar

1/4

C

plus 2 tbsp light brown sugar

packed

1

egg

room temp

1/2

tsp

baking soda

1/4

tsp

salt

1/2

tsp

vanilla extract

1

C

all purpose flour

4

oz

semi-sweet chocolate chips

cooking spray for pans

1

C

water for the pressure cooker pot

2

C

vanilla ice cream
Instructions
In a medium bowl, combine the butter, sugars and egg with an electric hand mixer until smooth.

Add the baking soda, salt, vanilla, and flour and fold with a spatula.

Stir in the chocolate chips.

Divide the mixture in half.

Coat the bottom of two 8 1/2 inch round, aluminum foil baking pans. *see note

Press the cookie mixture evenly into the pans, making sure there are no uncovered spots.

Cover each pan with a dry paper towel and aluminum foil.

Stack the pans onto the trivet.

Pour the water into the pressure cooker pot.

Lower the pans into the pressure cooker.

Place the lid on top and turn to locked position.

Turn the steam vent to sealing.

Press the manual button and adjust the time to 25 minutes.

Place ice cream into a bowl and set in refrigerator to soften.

When the unit has finished cooking and the timer has counted to zero, carefully release the steam.

Remove the lid and take the pans out.

Remove the foil and paper towels from the pans and allow the cookies to cool completely.

Once the cookies have cooled, flip them over onto a hard surface to remove from pans.

Spread the softened ice cream onto one of the cookies.

Press the other cookie on top of the ice cream.

Place the ice cream cookie sandwich on a platter and freeze until the ice cream has hardened. (about 2 hours)

Slice into individual servings and enjoy!
Notes
* I'm using the 8 quart model of the Instant Pot. If your pressure cooker is a different size, check the width of the pot and use the correct size pans for it.
Recipe by: Connie Murray @Happybellyfoodie.com
Pin It: