Raised Beds and Container Gardening ~ Another Garden Update

If you've got limited space, raised beds and container gardening may be a great option for you to grow your own veggies. Take a look at what we're growing here at Happy Belly Foodie and see how easy it is.
In my last post, I showed how we're growing brassica plants together in a small raised bed. While the cabbage and cauliflower have a while to go before harvest, the broccoli was finished producing and needed to be cleaned out.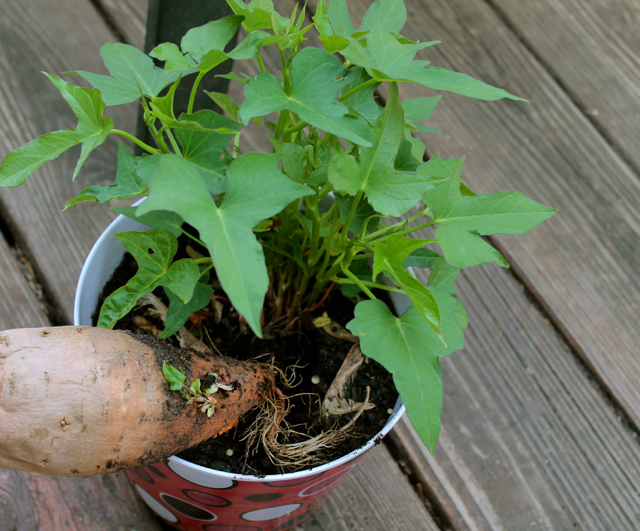 After growing sweet potato slips from store bought sweet potatoes, we replaced the broccoli with the sweet potato plants. By the time the cabbage and cauliflower are done, our sweet potatoes will take over that bed and grow some nice tubers underneath.
We love all kinds of potatoes here. However, sweet potatoes and white potatoes are completely different plants.
The sweet potato comes from the morning glory family and is grown from the rooted cuttings off of the potatoes (slips). Planting them in May or June (in Kentucky, zone 6) is ideal. They take three to four months to grow before you can harvest them and need to be cured before storage. A day in the sun and then 7 to 10 days in the shade. After that, they'll keep for months in cool storage. Perfect for turkey day!
White potatoes are a different story. They go in the ground or in our case in grow bags much earlier than sweet potatoes, ideally in March (in Kentucky). Rather than growing shoots off of the potatoes for plants, white potatoes are are the plants. Meaning, the actual potatoes go in the ground. Each "eye" or sprout you see on the outside of the potato is the start of the plant. The potatoes are cut into sections and planted deep within the dirt.
In a grow bag, you'll start fairly shallow with the seed potatoes planted at the bottom. Each time the plants sprout up above the dirt, you'll add more dirt until you've reached the top of the bag. If you're planting them in a bed, you'll simply keep mounding the dirt around the plants in the same fashion.
I've planted 3 – 4 seed potato sections in each grow bag and that's plenty, as you can see they grow quite hardy. Each grow bag holds 3 to 5 potato plants and will yield 7 to 13 pounds of potatoes. Within a couple of weeks after blossoms appear on the tops of the plants, it'll be time to harvest the potatoes. They'll need to be cured in a cool (55 to 60 degrees F.) place for about 2 weeks.
Along the south side of my house (the sunniest place), I usually grow tomatoes and peppers each summer. This year I decided to plant a perennial. Asparagus!
Asparagus will take a couple of years to begin producing, so this requires some patience but it's well worth it because the plants will produce fresh asparagus spears every Spring for about 20 years.
Asparagus plants start out as a root, otherwise known as crowns (pictured above). Simply make a mound of dirt to lay the roots over and cover, leaving the tips of the crown barely poking out. Once the plant begins to grow, you'll see tiny shoots of asparagus prodding through the dirt. Don't be tempted to pick. Leave it be and allow the plants to grow.
The shoots of asparagus will grow into ferns after a few weeks.
Some great companions for the asparagus are nasturtiums (an edible flower and great pest repellent), carrots and tomatoes. I've planted the carrots in front of the asparagus and the nasturtiums in between. Once everything was established and growing, I planted a couple of tomato plants on either end. And obviously the weeds are getting all comfy in there as well, so I'll be getting busy plucking those out.
Cherry tomatoes grow well in the top of my rain barrel and they're already flowering happily.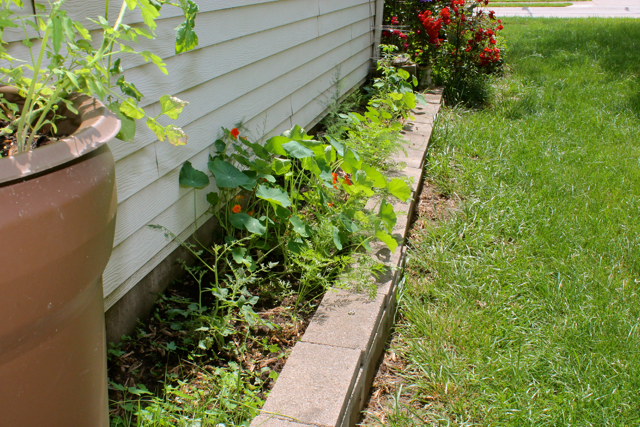 A couple of plants in containers that do well together are peas and mini carrots. Peas are super easy to grow and the entire plant is edible. Soaking the pea seeds over night is best before planting. The carrots will take over the planters when the peas are done and they're also completely edible as well.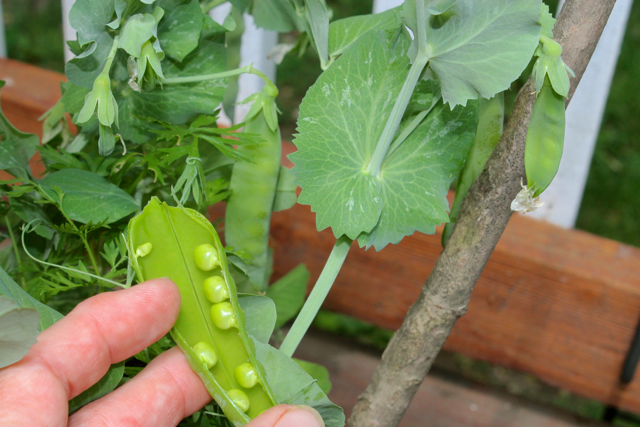 Brussel sprouts grow well in containers also. Just be sure you don't crowd them too much. They're a slow grower and like lots of room. Once the plants begin raising up, you'll want to remove the lower leaves at the stem. Those little nubs you see at the seat of each stem are the brussel sprouts.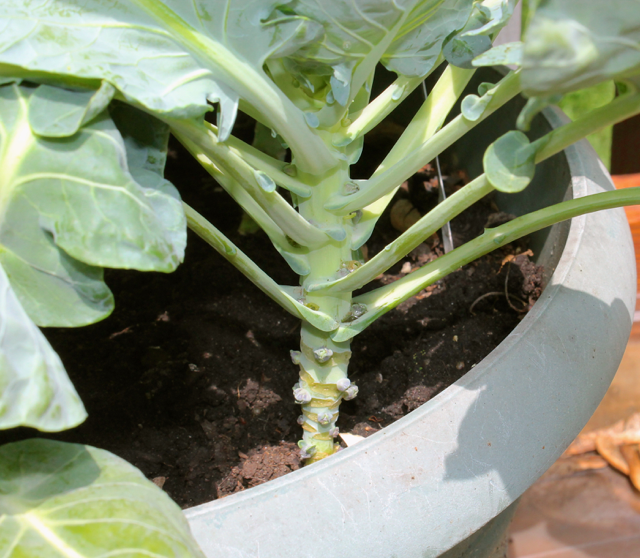 Of course just about any herb grows well in containers like this oregano. Some of your herbs like oregano, thyme, rosemary and tarragon will actually winter well and continue to grow if you cover the plants with mulch or leaves in the colder months. I was able to use these herbs all winter as needed and simply added more seeds to the containers in the Spring.
Parsley is fairly easy to grow, once you get it started. Over seeding is my favorite method for parsley and basil, as they are plants you tend to use a lot of when cooking. A couple of packets of seeds go on top of the dirt and a few weeks later, the containers fill up with growth. When you cut a section out, toss more seeds in and they'll keep producing and filling the container up.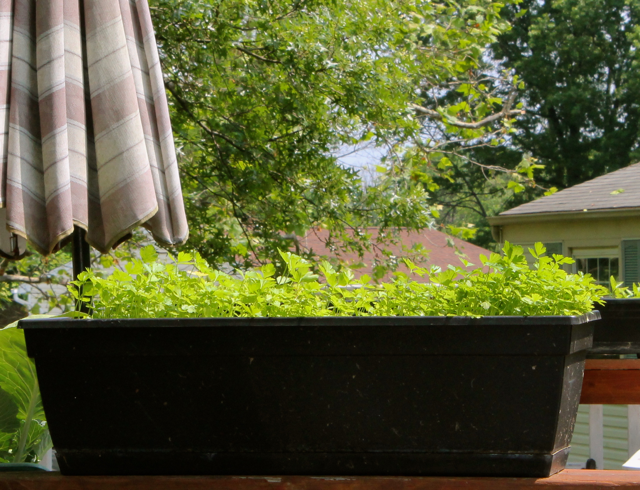 Lettuce works about the same way for me. I like over seeding containers like this and adding more seeds when I harvest to keep a steady flow of plants growing.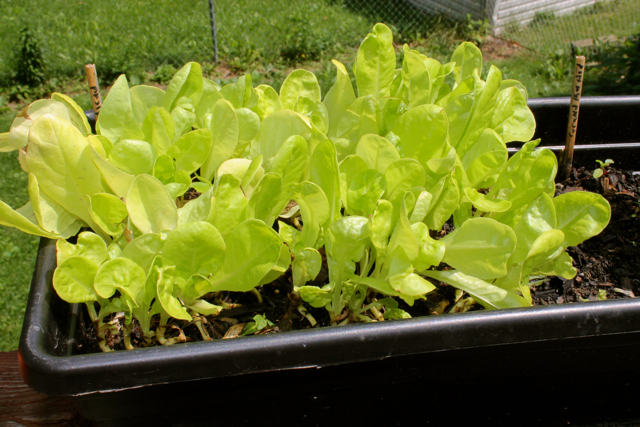 Blackberries are just getting nice and plump and will be ready to pick in a couple of weeks. Once you have a vine going, you'll have black berries indefinitely. Just like roses and any other viney type plants, the stems like to air root. In other words, the stems grow out and when they hit the ground, they attach to the soil and root. New stems and shoots grow out from there and so on. This can be an invasive little bugger, so be sure to plant it out of the way from other garden areas or it'll try and take over. Trim it back in the fall to avoid diseases.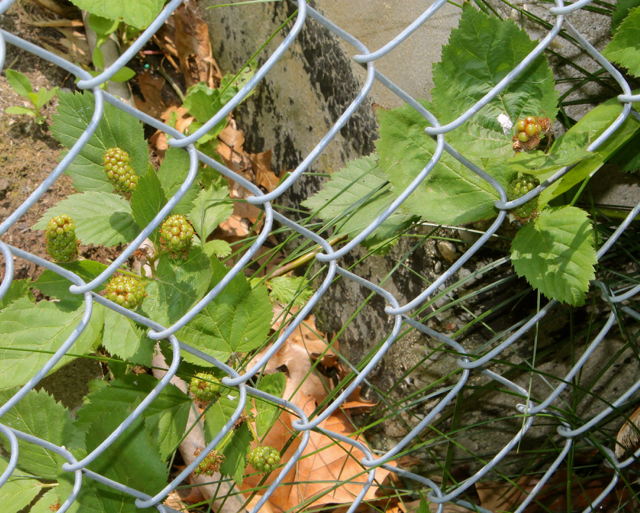 Finally, in the long lost corner of my backyard where nobody roams, I've planted a few spaghetti squash and they're doing quite well. We'll check back on them in a few weeks to look for blossoms.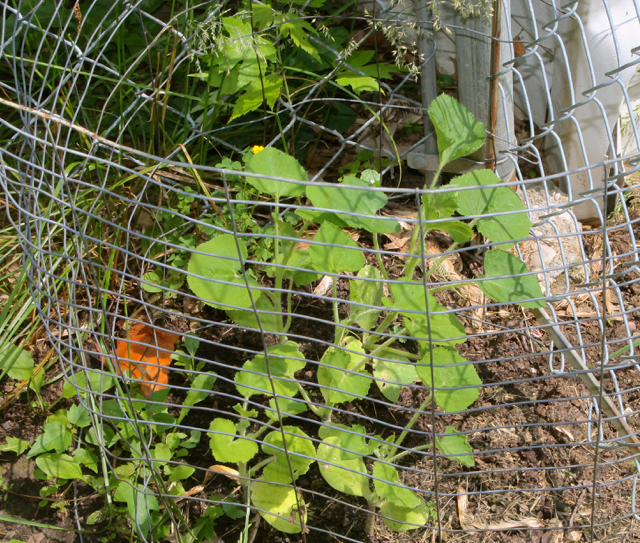 Sadly, the North wall of my house proved to be fruitless and none of my green beans or other beans survived. They sprouted and went kaput. I'm not really sure why nothing will grow there but for some reason I keep trying. Meh, you can't win em all. Perhaps I'll try some beans in containers and see how that works out. Luckily, we've got lots of farmer's markets around if it doesn't.
Well, that's all for now folks. I hope you're growing some delicious, fun veggies and fruits in your garden this year. Let us know about it. We'd love to hear from you!
Stay tuned for a couple of delicious orange recipes coming up next!
Have a beautiful day and as always, keep it delicious!
Till next time ~ much love, Connie