Meatball Hoagies ~ Homemade Baguette Rolls
Nice Rolls!
Oh the things we do to bread… Ever wondered how some hoagie rolls have the best crispy exterior yet remain soft and chewy inside? Well I did and I found out how to make them.
Let's dig in!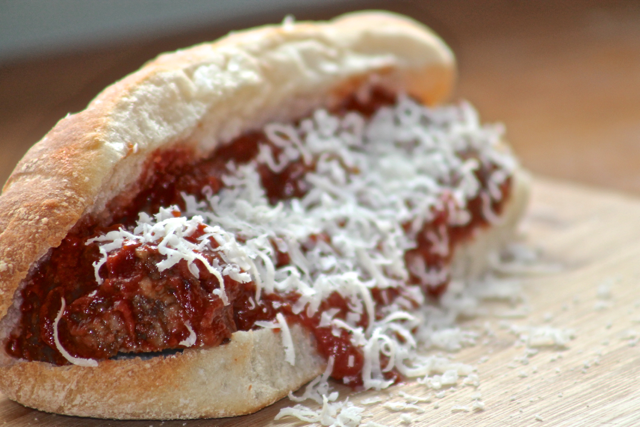 Baguette bread, with it's crusty, crunchy and flavorful exterior is quite heavenly if you ask me.
It all begins with a super sticky dough. The best part about that sticky dough is there's almost no kneading. Simply combine the ingredients in a stand mixer, place in a lightly oiled bowl and cover with plastic. Then allow the standard rising time of about an hour.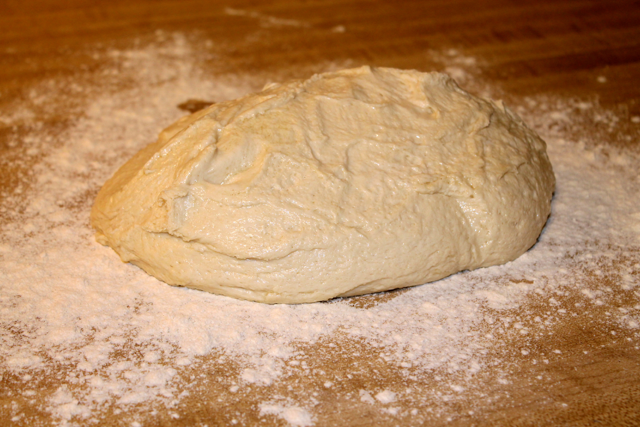 Flour up your work surface and cut the dough into six equal portions. Shape them into 8 inch rolls and place on a corn meal dusted baking sheet. Score the tops, cover with plastic and let them rise for another hour.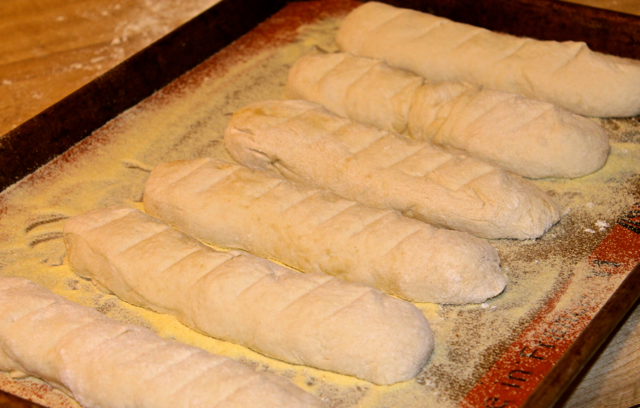 The baking part is where it gets interesting. To get that crusty, crunchy exterior, place a cast iron skillet on the bottom rack of the oven while you're preheating to 475 degrees F. Just before you place the buns/rolls on the top rack, pour a cup of cold water in the skillet below to create steam. The moisture from the steam penetrates the outer layer of the dough while it's baking and wha-la! Perfectly textured baguettes.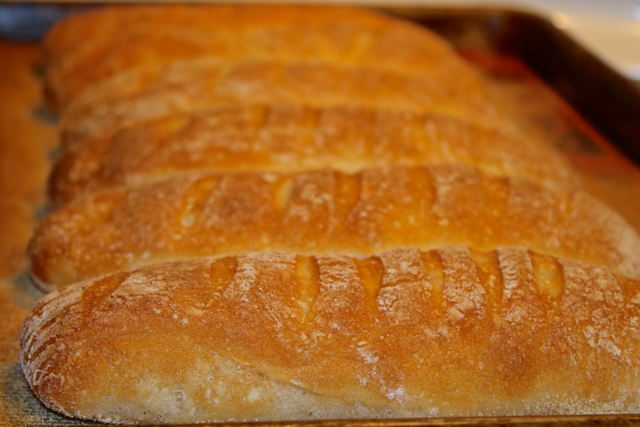 About those meatballs..
Since my post, What's your secret to Happy Meatballs?, I have changed a few things. Grinding the meat yourself really makes a HUGE difference in texture. The meatballs are much more tender. If you're not into going through the trouble of grinding your own meat, visit your butcher's counter and ask them to grind the cuts of meat you choose.
A mixture of beef and pork also makes a difference. It's really all about fat content. If you want tender meat, you need fat and the pork balances that out.
The rest of the ingredients are flavor components. I think it's important to saute onions before adding them to the ground meat. Otherwise, you'll be biting into crunchy bits of onion. Not good.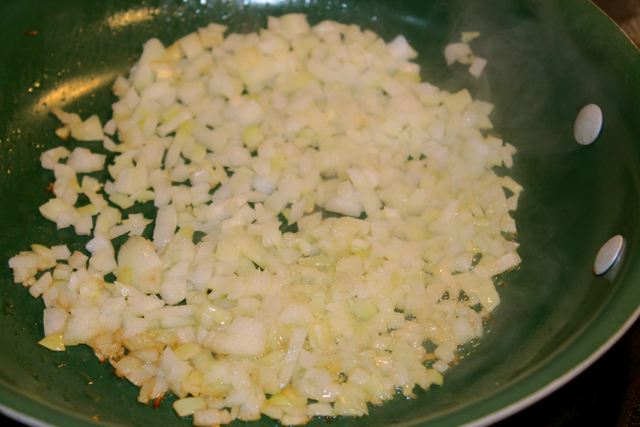 Seasonings are a matter of preference. I like oregano, basil and garlic for an Italian flavor. A little ground fennel adds more depth and a touch of ground cayenne gives some heat.
Another thing that makes ground meat dishes tough is handling the meat too much and cooking too roughly. Meatballs should have a nicely browned exterior that has a slight crust but be tender and juicy on the inside. To get that, gently combine the meat and seasonings and make the meatball shapes. Light hands here.
Instead of browning them in a skillet, try baking them in a 450 degree F. oven until browned on top. Place them on a wire rack
over a baking sheet to keep them from boiling in their own juices.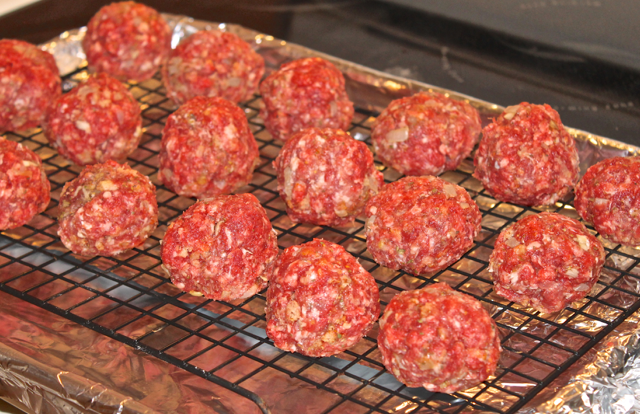 Turn them and brown the other side.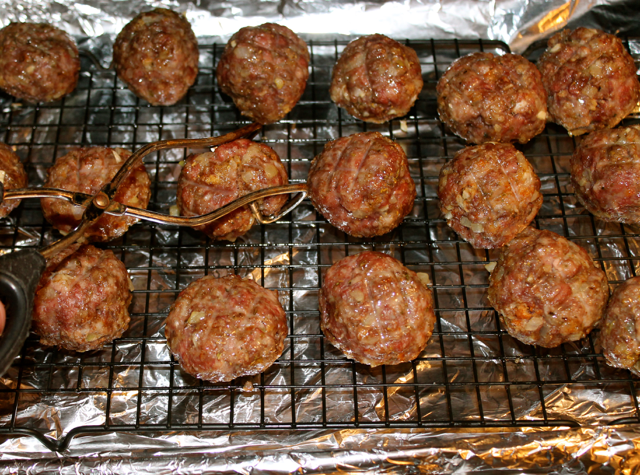 Have your sauce heating on the stove and add the meatballs to finish cooking. A nice thick marinara is perfect for hoagies. Check out my recipe for that here —>Easy Marinara Sauce.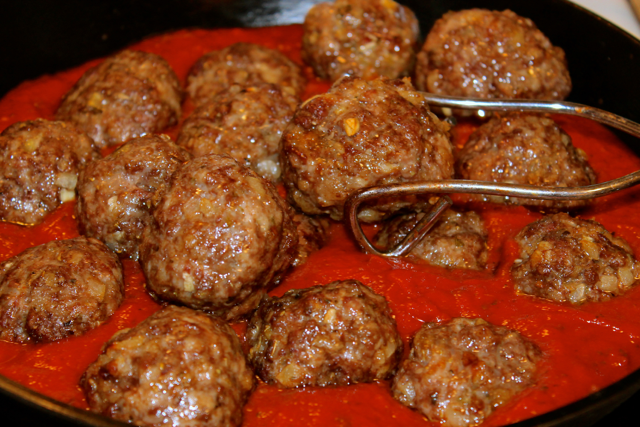 See the difference in cooking techniques? Above are the baked meatballs, made with freshly ground meat and below are the ones that were browned in a skillet and made with pre-ground meat. The ones below had great flavor but were not as juicy and tender as the ones above. Quite an improvement!
To assemble your scrumptious hoagies, there's no need to toast the buns. With this recipe, the texture of the bread is perfect after initial baking. Simply slice, fill and top with your favorite cheese.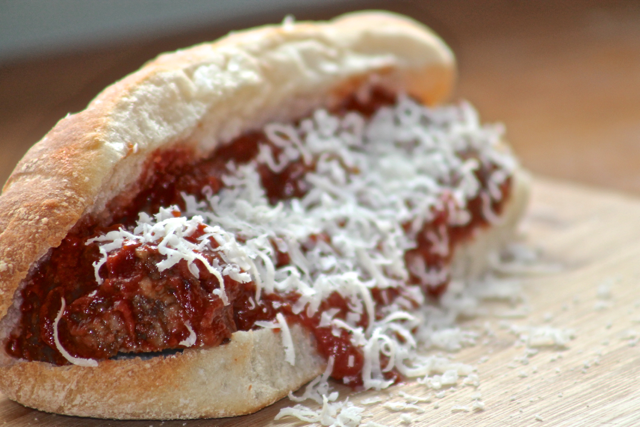 Sure, it's a bit more trouble to go through when you're after a meatball hoagie but it's totally worth every step. Foodies like me love perfecting our favorite foods.
The terrific thing about both the bread and the meatballs is the fact that they freeze well. I mean, if you're going to all that trouble, you might as well have plenty on hand for a quick, reheat and serve meal.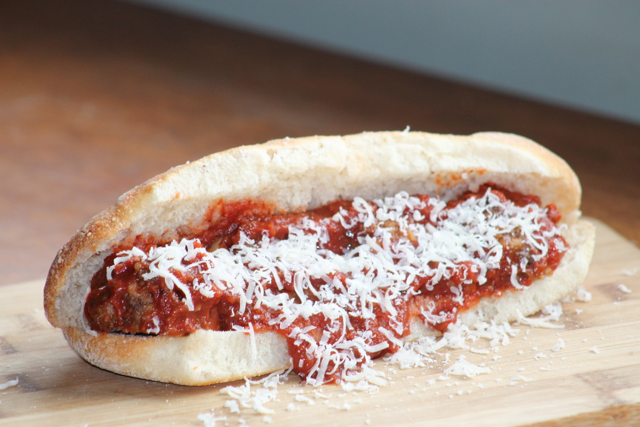 That's about it for the wondrous meatball hoagies on baguette rolls. We thoroughly enjoyed these for dinner and they were fantastic for lunch the next day, too.
I hope you'll give them a try and let us know the verdict.
Make it a fantastic day and as always, keep it delicious!
Till next time ~ much love, Connie
Meatball Hoagies ~ Homemade Baguette Rolls
Ingredients
Baguette Rolls

3 1/2

C

all purpose flour

more for work surface

2

tsp

salt

1 1/2

tsp

dry active yeast

1 1/2

C

warm water

105 degrees F.

1

tsp

sugar

1/4

C

corn meal for the baking sheet

you'll need a cast iron skillet for steam bath

1

C

cold water

Meatballs

1/2

tbsp

vegetable oil

1

medium onion

diced

1 1/4

lb

freshly ground beef

well marbled chuck roast

1/2

lb

freshly ground pork butt shoulder

1

garlic clove

minced

1

tbsp

dry oregano

1

tbsp

dry basil

1

tsp

ground fennel seed

1/2

tsp

ground cayenne

1/4

C

dry bread crumbs

1/2

tsp

freshly ground black pepper

Salt to taste

4

C

spaghetti sauce or marinara
Instructions
Baguette Rolls

Place the flour and salt in the bowl of a stand mixer fitted with a dough hook.

Combine the water, yeast and sugar in a small bowl and allow to stand 5 minutes.

Turn the mixing speed on to low and gradually pour in the yeast mixture.

Turn the speed up to med/hi and mix 5-6 minutes.

Turn the dough into a lightly oiled bowl and cover with plastic.

Allow to rise 1 hour or until doubled in size.

Turn the dough onto a well floured work surface and cut into 6 equal portions.

Roll the dough pieces with well floured hands into 8 inch rolls.

Dust a baking sheet with the corn meal and place the rolls on top, leaving space in between.

Cover with plastic and allow to rise 1 hour or until doubled in size.

Preheat oven to 475 degrees F. and place a cast iron skillet on the lowest rack.

Once the oven comes to temp, wait 30 minutes for the skillet to get hot.

Pour the cup of cold water into the skillet.

Place the rolls on the highest rack in the oven and bake 30 minutes.

Meat balls

Preheat oven to 450 degrees F.

Place the 4 C spaghetti sauce or marinara in a large pot over med/low heat and cover with lid.

Place a medium skillet on med/hi heat.

Saute the onion until translucent.

Set aside to cool.

Place the ground chuck on a baking sheet, lined with parchment paper and spread out.

Place the ground pork on top, distributing over the beef evenly.

Sprinkle the rest of the ingredients, including the cooled onion (except the salt) over the ground meat.

Lightly mix everything by hand and make form the meatballs.

Place the meatballs on a baking tray, fitted with a wire rack.

Season the outside of the meatballs with salt to taste.

Bake the meatballs in the oven for 6-8 minutes.

Turn the meatballs over and bake another 6-8 minutes.

Remove from oven and place the meatballs in hot spaghetti sauce or marinara.

Cover with lid and finish cooking the meatballs until done in the center. (about 15 to 20 minutes)

Assemble hoagies and top with parmesan, romano or mozzarella cheese.
Notes
Recipe by: Connie Murray @Happybellyfoodie.com