Grilled Lamb Skewers with Lemony Greek Yogurt Sauce
This dish was inspired by Sam of Sam's Places.
If you're not familiar with it, lamb can be an intimidating meat to cook. That's because it's a lot leaner than beef or pork and it has a richer flavor. However, recipe posts like Sams Grilled lamb and this one will walk you through techniques that make preparing the perfect lamb dish easy.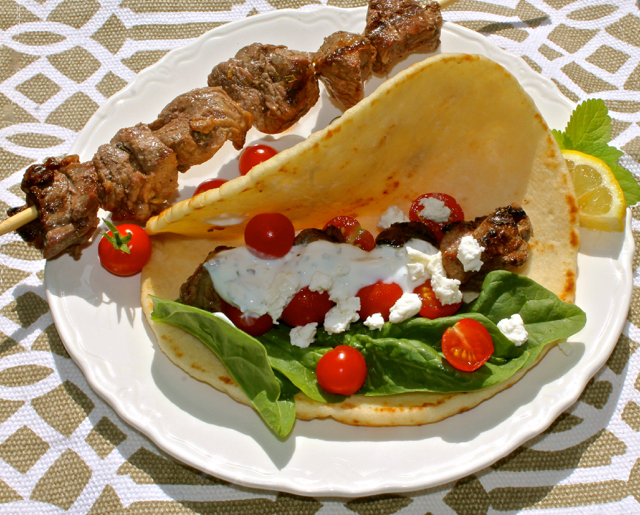 Though I have different featured flavors in my recipe here, I borrowed Sams techniques for marinating and grilling lamb on skewers. I was inspired by Sams post because other than using ground lamb for meatloaf or meatballs, there are only three recipes I've used for lamb, roasted leg of lamb and lamb chops and Irish stew.
When you're a foodie like me, inspiration for new dishes is always welcome and I couldn't wait to try this. Once you see how easy it is, I think you'll be inspired too.
Basically, you'll want to purchase a nice sized boneless leg of lamb and cut it into 1 to 1 1/2 inch cubes, removing any excess fat. You can have your butcher do this for you like Sam did for his dish (smart thinkin'!)
Prepare your marinade (ingredients listed in the recipe print-out below) or use a good quality oil based salad dressing to coat the meat well. Cover and allow the meat to marinate for 6 hours or overnight in the refrigerator.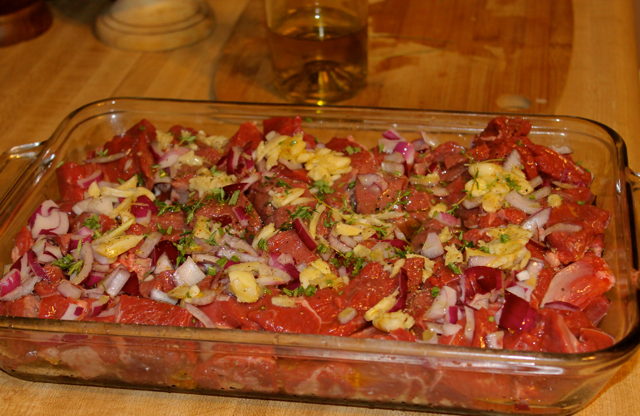 You can use metal skewers or wooden skewers to place the chunks of meat on for grilling. Just be sure to soak your skewers in water for at least an hour before using if they're wooden. This will help keep the wood from catching fire.
It only takes a few minutes to grill the meat on each side (depending on your preference in doneness), so you'll want to cook your lamb after you've got the rest of your meal prepared. Aside from marinating the meat, this dish is done quick!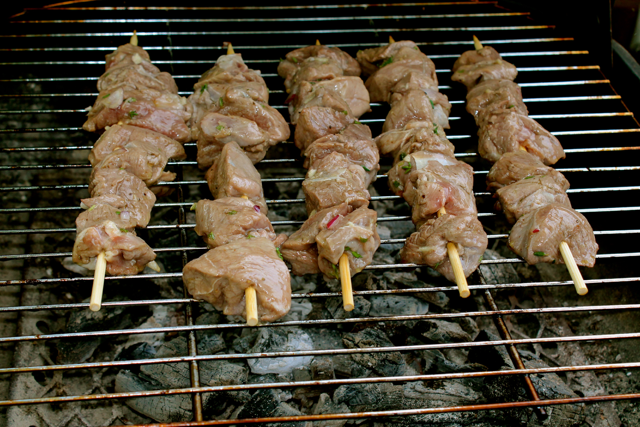 I decided to serve our lamb with a lemon flavored Greek yogurt sauce because it pairs well with this marinade. Plus, I had some lemon balm growing in my herb garden that I wanted to use up. The recipe for the sauce is included below as well but feel free to get super creative and try different flavors.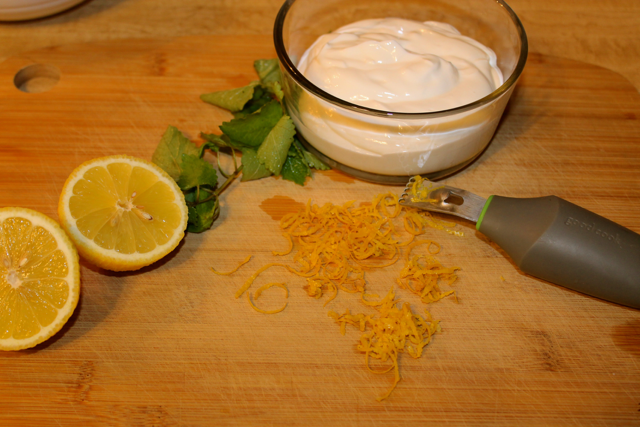 We had our lamb skewers on Tandoori Naan from our local bakery with some fresh spinach, cherry tomatoes from my garden, feta crumbles and some of that lemony Greek yogurt sauce. We also had a Greek inspired rice dish on the side. You can find that recipe here —> Greek Style Rice
I gotta say, I was really impressed with the tenderness of the lamb and the wonderful flavors of everything. What a great meal!
Sam has a wonderful recipe posted on his blog for homemade Syrian bread, which I definitely want to try next time we have this dish.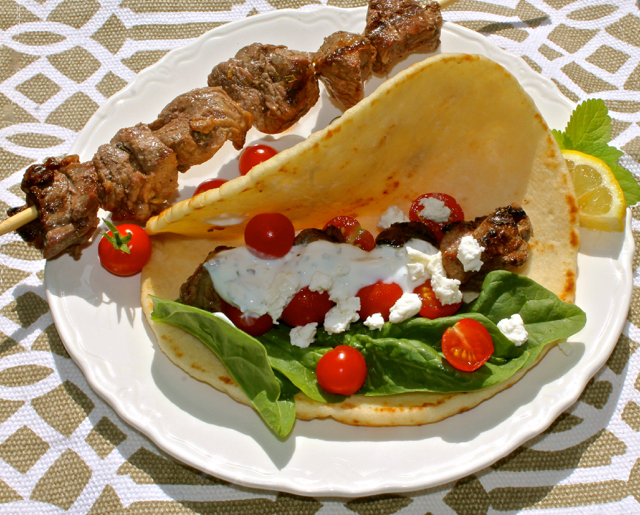 I'm so happy to have great fellow food blogger friends like Sam to be inspired by. Thank you so much for the wonderful work you do there on your blog Sam! Keep it up buddy!
I hope you fine folks out there are inspired as well. We food bloggers love sharing ideas, techniques and recipes with you. That's why we do what we do and we love hearing from you, too! Be sure to visit Sam's Places (<– that's a link to his blog) and give him a shout.
Have a fantastic day and as always, keep it delicious!
Till next time ~ much love, Connie
Grilled Lamb Skewers with Lemony Greek Yogurt Sauce
Ingredients
Lamb Skewers

10

extra large wooden skewers

1 6-7

lb

boneless lamb roast

1

small red onion

sliced

1

head of garlic

peeled and cloves smashed

2

tbsp

rosemary

2

tsp

thyme

1/4

C

fresh lemon juice

1/2

C

extra virgin olive oil

salt and freshly ground black pepper to taste

Lemony Greek Yogurt Sauce

1

C

Greek Yogurt

1

large lemon

1

tbsp

lemon balm leaves

finely chopped

1

tsp

dill
Instructions
Lamb Skewers

Soak the wooden skewers in cold water for at least 1 hour prior to using.

Cut the lamb into 1 to 1-1/2 inch cubes, trimming off excess fat.

In a large bowl or baking dish combine the rest of the ingredients (EXCEPT salt and pepper).

Add the cubed lamb to the bowl or baking dish and coat all the pieces well with the marinade.

Cover and refrigerate for at least 6 hours to overnight.

Preheat grill and rub a little oil on the grate with a paper towel to prevent sticking.

Remove the lamb cubes from the marinade and brush off the excess ingredients.

Place the cubes on the skewers with each piece lightly touching.

Season with salt and freshly ground black pepper to taste.

Place skewers on grill and turn to cook each side until desired doneness is achieved.

145 degrees F. -med rare 160 degrees F. -med well 170 degrees F. -well

Carefully remove from skewers and serve over flat bread with yogurt sauce and desired toppings.

Lemony Greek Yogurt Sauce

Grate the lemon zest off of the lemon and place in small bowl.

Squeeze the juice from the lemon into the bowl, discarding the seeds.

Add the rest of the ingredients, stir well, cover and chill until ready to serve.
Notes
Recipe by: Connie Murray @Happybellyfoodie.com