Roasted Leg of Lamb ~ the farmer's advice
The farmer says, "You can't go wrong with Rosemary and Garlic on Lamb!"
If you're gonna give something you didn't like the first time a second chance, taking advice from the farmer on how to prepare it is the way to go. For sure!
The first time I cooked lamb, I went with baby lamb chops. I bought them from a grocery store, came home and fried them in a pan just like I would a beef steak. They were horrible! They smelled weird. They were tough and I was totally turned off. I thought well, lamb just isn't something I'll ever try again.
That is, until I met Richard the farmer from Brookhill Farms. I've been buying products from this local farm on Saturdays at the market where I shop for the last year or so. Everything I've tried from Brookhill has been excellent and his advice surpasses any webpage, video or cookbook I've ever consulted.
On my last visit, I asked Richard to give me something different to try since I'd only been buying beef, pork, chicken and eggs. He handed me this beautiful bone-in leg of lamb.  As the flashbacks from my first terrible experience with lamb whisked through my mind, I'm thinking, "I'm totally gonna screw this one up and it'll wind up going into my shame file."
But I trust his advice so of course, I asked him what I should do with it. He explained in detail how to prepare and cook it.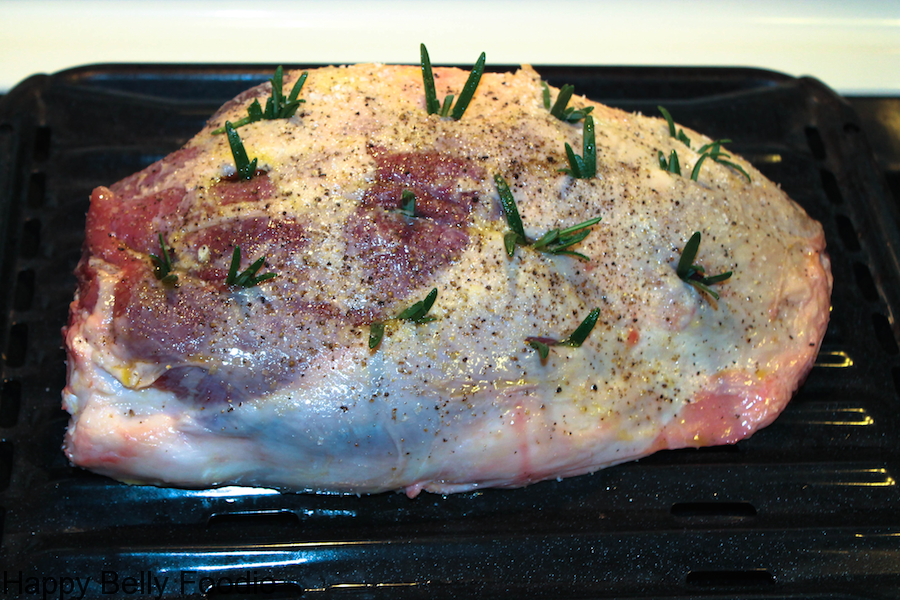 Actually, it's pretty simple. Just make a few cuts here and there throughout the roast and stuff garlic and rosemary, along with some olive oil in. Cover the roast with more garlic, rosemary and oil along with a little lemon juice and it's ready to go in the oven. Twenty minutes at 425 degrees F. will brown the outside nicely. After browning, you'll turn the oven down to 300 degrees F. and finish roasting.
While you're waiting for your lamb to rest (about 20 minutes) after roasting, you can use the juices from the bottom of the pan to make a nice sauce to serve it with.
The first try with this one turned out fantastic and I have to say, I'm no longer leery of lamb since I know how to cook it. In fact, I've made this roast several times and it's a favorite for me and my crew. If you're interested in trying lamb for the first time or looking for a new way to prepare it, the recipe and instructions down below are a good choice for you, too.
When in doubt, ask your local food source for advice. After all, they know their products best and they do want to keep you as a customer. So, you're bound to have great tips and recipes. Or you can always visit Happy Belly Foodie 😉 I'm always trying new recipes. The foodie life is fun!
Make it an awesome day and as always, keep it delicious!
Till next time ~ much love, Connie
Roasted Leg of Lamb
Ingredients
1 6-8

lb

leg of lamb

bone in

6-8

cloves

of garlic

2 cloves minced and the rest sliced

3

sprigs fresh rosemary

leaves removed from stems

Olive oil

Salt and fresh ground black pepper

2

tbsp

fresh lemon juice

1/2

C

white wine
Instructions
Take the lamb out of the refrigerator an hour before cooking.to allow the meat to come to room temperature.

Preheat oven to 425 degrees F.

With a knife, cut small (about 1/2 inch deep) slits about every inch or so, all over the meat. Carefully loosen the meat from the bone on the underside of the roast by running your knife down it.

Finely chop the rosemary leaves from one sprig and mix with the minced garlic, some of the olive oil and some salt and pepper. Rub the mixture on the inside of the meat where you loosened it from the bone.

Put the garlic clove slices inside each slit along with a pinch of rosemary leaves and a drizzle of olive oil. Rub any excess oil into the meat.

Season the entire outside generously with salt and freshly ground black pepper. Drizzle the fresh lemon juice all over.

Place the lamb fat side up in a roasting pan, fitted with a rack. Roast for 20 minutes in the oven. Turn the heat down to 300 degrees F and continue roasting until the desired internal temp is achieved. (about 15-20 minutes per lb depending on how well done you want your roast to be)

Rare: 120 to 130 F

Med-Rare: 130 to 140 F

Medium: 140 to 150 F

Well: 150 to 165 F

When done, take the lamb out of the oven, place on a serving platter and cover loosely with foil for 20 minutes to rest.

Drain the fat off of the bottom of the pan, pour in the 1/2 C wine and loosen the browned bits with a whisk. Place the pan back in oven for about 10 minutes.

Slice the lamb and drizzle the sauce from the pan over each serving.
Notes
Recipe by: Connie Murray @happybellyfoodie.com via Richard Taunton Boutall from Brookhill Farms in Ghent, KY.