How to Cook Steak on a Rock ~ Campfire Cookin'

Ever thought about cooking a steak on a rock while you're out camping? Let's take a look at how it's done. While you're at it, throw some potatoes and onions on that fire, too!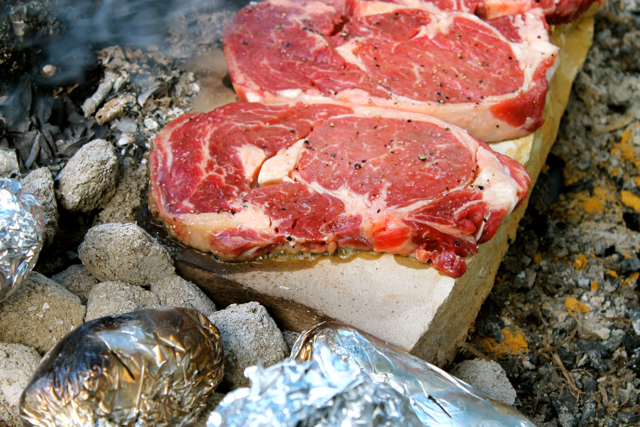 Sometimes, I get these crazy ideas for recipes and it'll eat at me until I give in and do it. When we were camping in Cumberland Falls State Resort Park, down in Corbin Kentucky I had this insane itch to cook something on a rock. Yes, cook something on a rock.
So this foodie went to work!
After a little research, a visit to a local stone center for advice and a few tests, I found that the best stone to cook on is sandstone, which has more of a grainy looking texture. It picks up heat well and holds it fairly evenly, compared to other stones. Also, since you're cooking on said stone, you want a good, flat stone with plenty of surface area. In order to pick up that heat and maintain it for cooking, it should be around 4 inches thick. And, you'll want to clean the surface well with plenty of clean water.
Rather than laying your stone directly on your campfire, you'll place it up against the fire. You want it just about touching the fire but not in the fire. According to Jeff, from the stone center, laying stones on or in the fire may cause them to crack.
Once you get your stone placed, let it heat up. To test if it's hot enough, sprinkle a few drops of water over the surface. If the water sizzles, you're ready to cook. It's a good idea to have a second stone placed by the fire but a little further away. If your steak is cooking too hot and too fast, you can move it to the cooler stone.
While you're at it, go ahead and wrap some potatoes and onions in some foil. You can place them on the fire and have them cooking while you're waiting for your stone to heat up for your steaks. Just make sure they're not sitting in the flames and they'll cook up fine.
Charcoal is ideal for cooking the onions and potatoes on but you can just use kindling or what ever you have on hand. They'll take about 40 minutes or so.
When you're stone is good and hot, place the steaks on and listen to the sizzle. YUM! This is the fun part!
Depending on the thickness of your steak and how done you like your meat, you'll cook them for around 6 to 10 minutes on each side.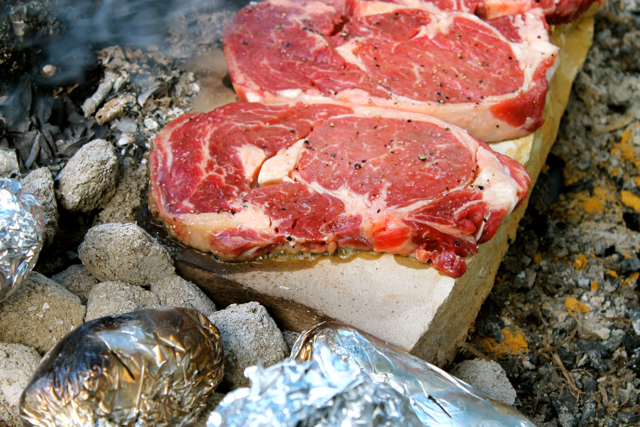 The onions get all caramelized when they're cooked directly on the fire and that makes for a great steak topper. The potatoes have just the right amount of crispiness on the skins and they'll be nice and tender on the inside.
My steaks were done in about 20 minutes. You may notice, like I did, that the part of your steak closest to the fire will be cooking faster. Just turn the stone around to even the cooking out. (Make sure you're using fire safe equipment and be careful!)
Of course I did have all the trimmin's on hand because I was in my own backyard during this experiment but I'll definitely be doing this again. The meal turned out fantastic and I can't wait to go camping again.
I hope you'll give this one a try next time you're out in the woods. Let me know how it turns out. I'd love to hear from you!
Make it a great day and as always, keep it delicious!
Till next time ~ much love, Connie