Ahh.. the ever versatile potato salad..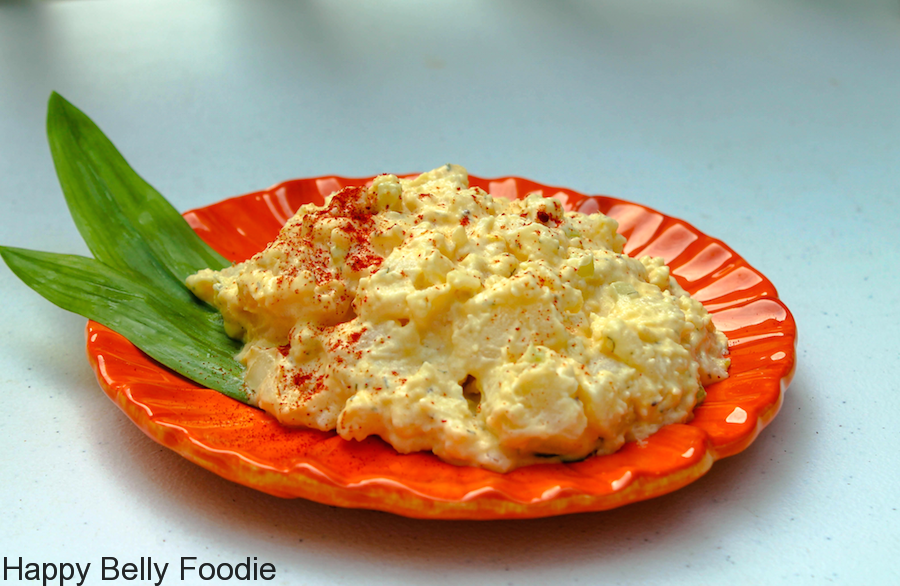 So many versions! What's a foodie to choose? My first batch for this year left me torn between two recipes, Mom's classic and my favorite Japanese style potato salad. You just can't diss Mama's tato salad! So, I came to a compromise and infused the two recipes.
Here, you've got your classic American style potato salad with it's crunch of fresh celery and onion and delicious dill in the background but then there's this subtle hint of sweet and tang in the dressing. Really great combo! It turned out fantastic!
What's the difference between the two? Well, Japanese style potato salad has boiled, diced carrots, slivers of onion, instead of diced and thin cucumber slices in it. The potatoes are roughly mashed, rather than cubed. It also has Kewpie mayo, a Japanese style mayonnaise, which is slightly sweeter, smoother and thinner in consistency.

To bring the recipes together, you take the chunky Mama style veggies and seasonings, add a touch of rice wine vinegar to regular ol' mayo and toss in some sugar for sweet. Wha-la! Recipe goes in the "winner" foodie files! And it really does taste like it could go either way. Is this Mom's or is this Japanese style? Ahh!! Both my favorites married in one delicious dish! Next time I'll add the carrots and cucumber slices to it!
A few mentions on potato salad success and safety:
You probably already know this but I thought it noteworthy to mention. My measurements for this recipe are what I like but because everybody has their own preferences in how much or little of each seasoning goes into their potato salad, you should always make your dressing separately and adjust your flavors before you "dress" the potatoes. I used to make the mistake of piling everything in a bowl, mixing it and then being disappointed if it didn't taste right, even if I followed the exact measurements in the recipe.
Very important.. we don't want anybody getting ill! I don't know the exact statistics on how many people are sickened by potato salad each year but it is touted as one of the most commonly contaminated foods at cookouts, potlucks or what have you. This is why I always boil the potatoes, cool them down in cold water, drain, place in a sealed container and refrigerate them overnight or at least 3-4 hours. I don't want that mayo spoiling in warm potatoes!
Also, the potato salad is the last thing I take out of the fridge before I head out the door to where ever I'm taking it to. If it's going to be kept outside, where there's no refrigeration available, put it over ice in a cooler
or in a picnic food carrier
with ice packs
to be on the safe side. That goes for any dish that has dairy or mayo in it. To be specific, the temperature for cold dishes like this should never rise above 41 degrees F. You get the point. Okay, I'm done preaching.
I do hope you'll give this new version a try for your next cookout and let me know how much you love it, because you will 🙂 Happy Monday foodie friends! Till next time ~ much love, Connie
American and Japanese Style Potato Salad in One
Ingredients
6-8

med Idaho potatoes

6

hard boiled eggs

peeled and separated with whites diced finely

1 1/2

C

organic mayonnaise

2

tbsp

distilled vinegar

1

tbsp

rice wine vinegar

1

tsp

celery seed

1/2

tbsp

mustard powder

1

tsp

dill weed

1

tbsp

sugar

1/2

tsp

cayenne powder

1/2

tsp

smoked paprika and some for garnish

Salt and freshly ground black pepper to taste

1

med white onion

diced

2

lg celery stalks

diced
Instructions
Bring the potatoes to a boil on high heat in a large pot of water. Turn the heat to medium and simmer until the potatoes are easily pierced with a knife and are soft in the center.

Remove from heat and drain the water. Pour cold water into the pot to cool the potatoes.

When the potatoes are cool, place them in the refrigerator for 3-4 hours or overnight.

Peel and dice the potatoes and set aside.

In a large bowl, mash the egg yolks and add the mayonnaise, vinegars, celery seed, mustard, dill weed, sugar, cayenne and paprika. Whisk until smooth and creamy.

Adjust seasonings to your liking and add salt and pepper to taste.

Add the potatoes, diced egg whites, celery and onion to the bowl and gently toss to coat with the dressing.

Cover the bowl and refrigerate at least 4 hours. Best if refrigerated overnight.

Garnish with a sprinkle of paprika.
Notes
Recipe by: Connie Murray @happybellyfoodie.com