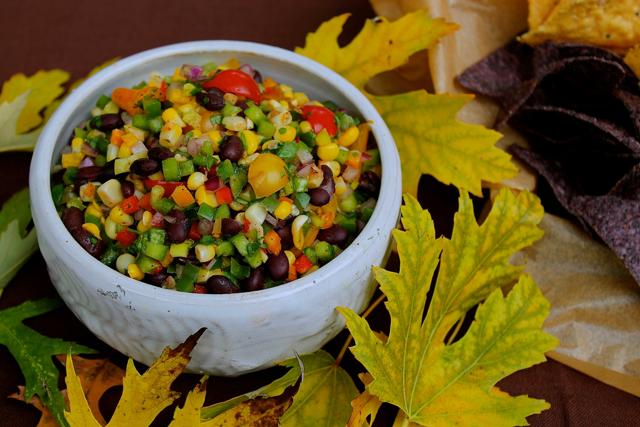 This beautiful Black Bean Harvest Salsa is just one of many end of Summer rewards. Fresh tomatoes, peppers, corn, spices and herbs are magically transformed into a tasty dip or taco topper when combined with a touch of lime. Turn up the heat or keep it low key by choosing your favorite peppers.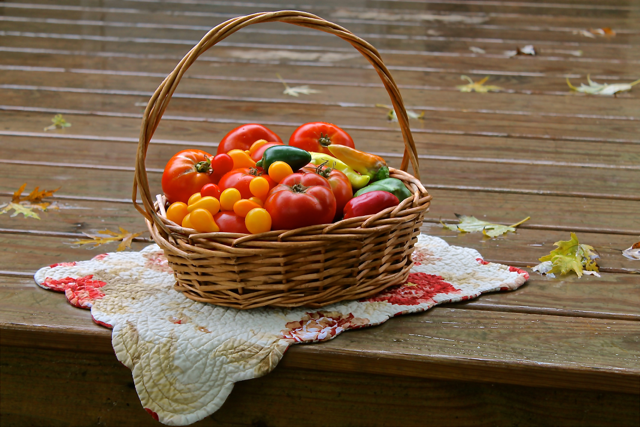 The end of Summer isn't bitter sweet.
*Sigh* Okay, maybe it is a little. *Swoon*
But with gorgeous tomatoes, corn and peppers that many gardeners and farmer's have on hand for the taking, I'd say we should do 'em justice. Besides, who couldn't use a little aroma enhanced chopping therapy? Cutting into the season's best bounty is true indulgence for me and I bet it is for foodies like you, too.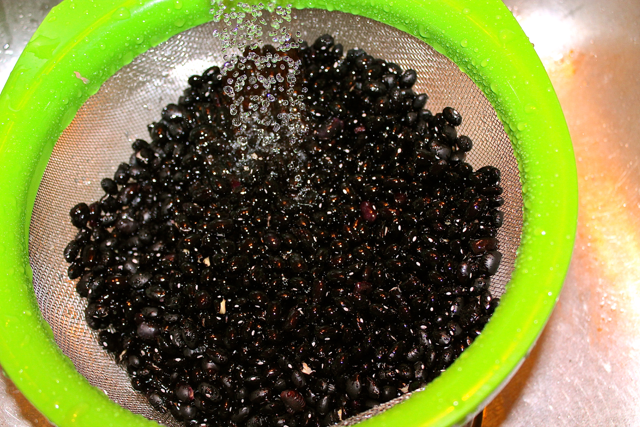 Just like the freshness of those wonderful veggies, I prefer to prepare my own beans for better flavor, quality and price. Black beans only take 30 minutes to cook in a pressure cooker
. Simply rinse, pick out any debris or damaged ones and place them in the pressure cooking pot with enough water to cover them. (2 cups of water per 1 cup of beans) Cook at high pressure and allow the steam to naturally release.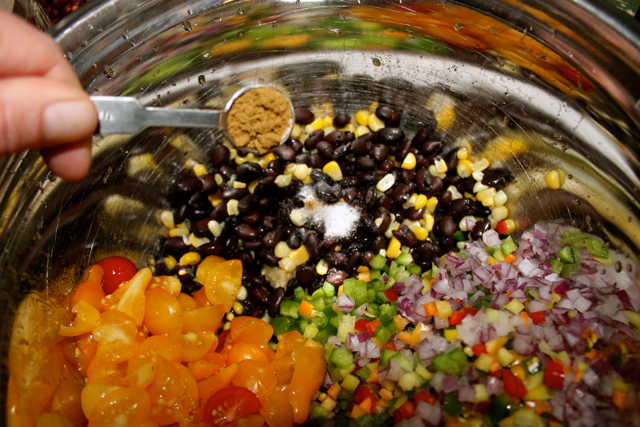 While you're waiting on the beans to cook, chop all your veggies up and combine them in a large bowl with your spices, seasonings and lime juice. (specific ingredients listed in the printout below) Once the beans are ready, rinse them in cold water and drain before adding them to the mixture.
Finally, add some freshly chopped herbs such as parsley and/or cilantro, like I have here. Oh the freshness of it all! Cover the bowl and place it in the fridge until it has chilled and marinated to your liking. Then break out the tortilla chips and enjoy!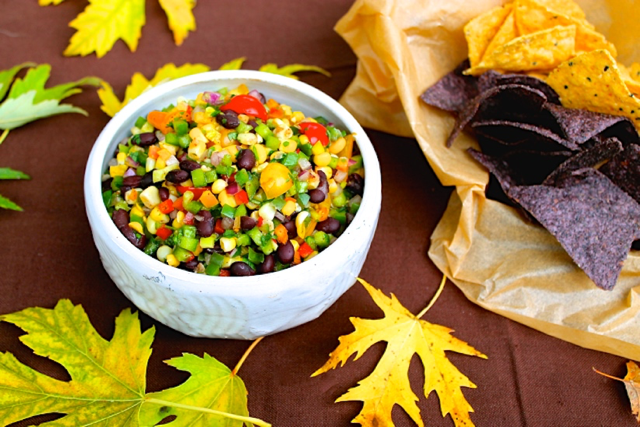 Doesn't that make you smile? Happy happy happy, right there!
I hope you'll give this tasty dish a try and let me know about it. I'd love to hear from you!
Enjoy the beginning bliss of Autumn and as always, keep it delicious!
Till next time ~ much love, Connie
Black Bean Harvest Salsa
Ingredients
1

C

corn kernels

1

C

black beans ** see notes below for preparing from dried beans

1

C

cherry and yellow pear tomatoes

diced

1

green pepper

trimmed, seeded and diced

1/4

C

hot peppers

such as jalapeno or hot banana, trimmed, seeded and diced

1

tbsp

cumin

1

tbsp

chili powder

1

tsp

salt

the juice from half a lime

1

bunch of fresh cilantro

chopped fine

and/or

1

bunch of fresh parsley

chopped fine
Instructions
Combine everything in a large bowl.

Cover and refrigerate for 1 hour.

Serve with corn chips.
Notes
To prepare dried black beans in pressure cooker, rinse, drain and discard any debris or damaged beans. Place in pot of pressure cooker with 2 cups water for every one cup beans. Cook at high pressure for 30 minutes and allow the unit to naturally release the steam. Remove from pot and rinse with cold water before incorporating into recipe.
Recipe by: Connie Murray @Happybellyfoodie.com
Pin It: