Pressure Cooker Country Style Green Beans
Tender, flavor infused green beans are a favorite side dish most of us are familiar with. That big ol' pot simmering away half the day, smelling all delicious throughout the house. Throw a few small potatoes in the mix and you're talking YU-MMY!
But sometimes, you just want them done fast, like say for a week night dinner. Well, once again, the beloved pressure cooker comes to the rescue!
25 minutes will do ya! Yes, I said 25 minutes and yes, they taste exactly the same.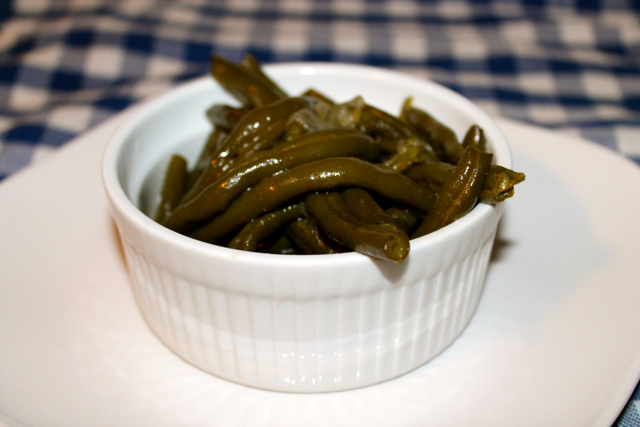 When it comes to green beans, I've been using the same country style recipe for years. Bacon or a salty piece of pork, onion and a few other key ingredients make them absolutely tasty. The only problem is, you've gotta cook them for a really long time to get them really tender.
So of course this is one of the very first recipes I adapted for my handy dandy, time saving pressure cooker
. None of the ingredients have changed. Only the amount of time waiting on them has. The best part, there's no flavor compromise.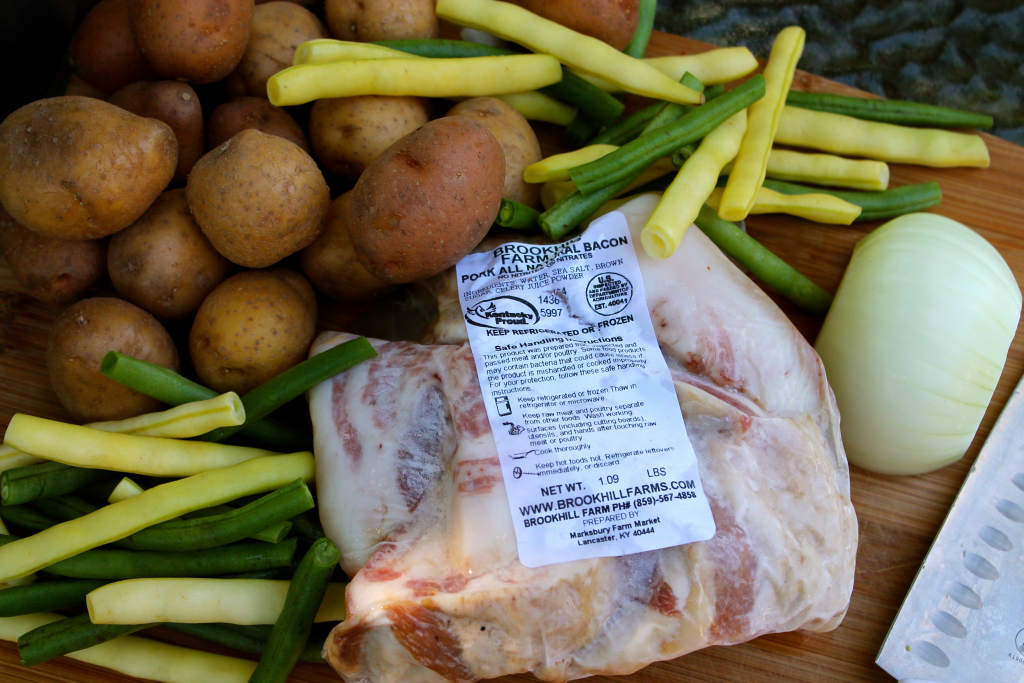 I've got a couple of secret weapons for getting the best flavor in my fresh green beans. Bacon, because well, bacon but also, I slip a couple of garlic cloves in the pot along with that onion. And instead of using plain water, I use chicken stock. Finally, a pat of butter gives it a nice finish. That combination right there is a clean-your-plate, scrumptious flavor guarantee.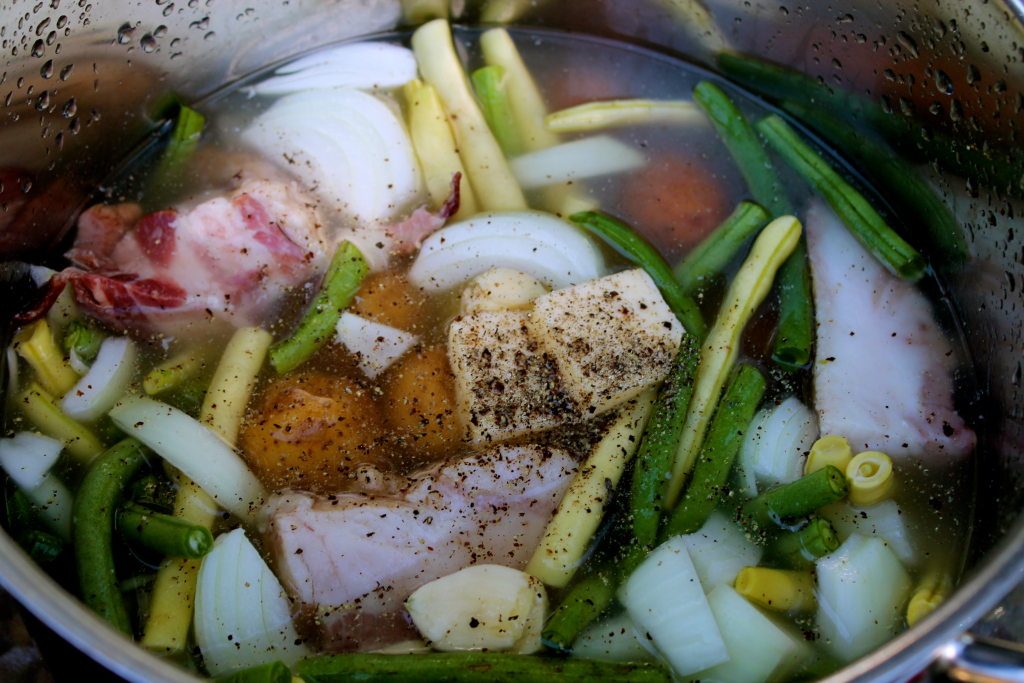 In using an electric pressure cooker, you simply put all the ingredients in the pot, set the pressure valve to closed and push the soup/stew button. Set the timer to 25 minutes and let the gadget do it's thing. This recipe works with or without the small potatoes. Just make sure you use the less starchy type potatoes such as red or new potatoes so they don't fall apart and become mush.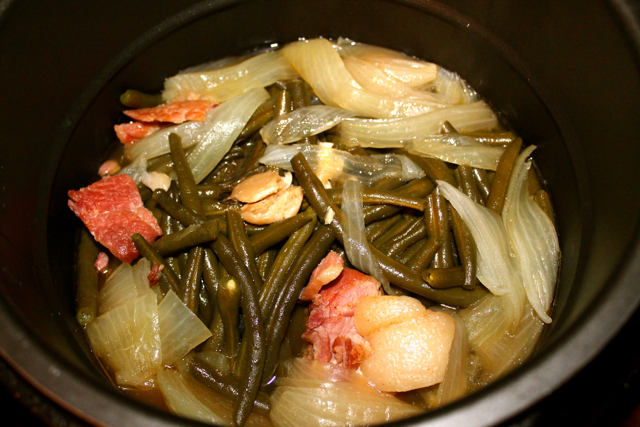 I will say that cooking the beans in the pressure cooker does leave them in tact better than slow boiling over the stove. They don't get jostled around as much, so you're left with a better looking side dish. And don't worry, that wonderful, nearly fall apart tenderness is definitely there. That makes me happy and I'm pretty sure, you will be too after you have some of these on your plate.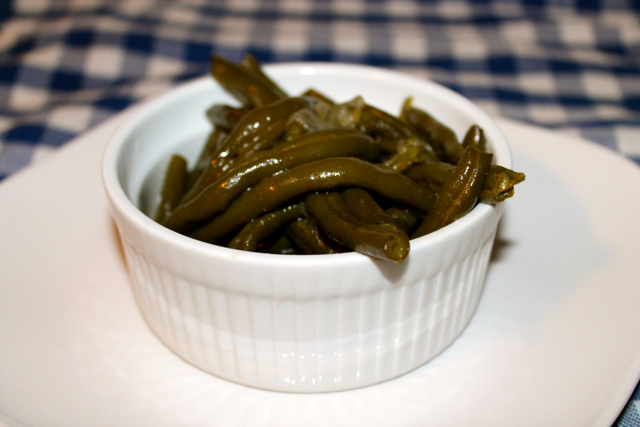 Week night hankerin's don't have to go unfulfilled when you've got a pressure cooker. It's a fantastic, simple way to get your food super tender in a short amount of time. This recipe works great whether you're cooking green beans low and slow on the stove or high temp and speedy in the handy dandy pressure cooker.
I hope you'll give them a try and let us know what you think.
Make it a fantastic day and as always, keep it delicious!
Till next time ~ much love, Connie
Pressure Cooker Country Style Green Beans
Ingredients
1

lb

fresh green beans

ends snapped off

1

tbsp

butter

2-3

pieces

of bacon

thick cut

1

lg onion

cut in eighths

2

garlic cloves

smashed

1

C

chicken stock

salt and freshly ground black pepper to taste

8 - 10

small red or new potatoes

if desired, uncut
Instructions
Place all ingredients in pressure cooker.

Turn the steam valve to closed.

Press the soup/stew button and adjust the time to 25 minutes.

Once the pressure cooker finishes cooking, carefully release the steam by turning the steam valve to open.

Adjust for season with salt and freshly ground black pepper to taste if needed.
Notes
Recipe by: Connie Murray @Happybellyfoodie.com