Pressure Cooker Greek Style Rice
Another delicious rice dish made simple!
If you've got an electric pressure cooker and you're looking for new recipes to try, rice is one of the best dishes to get you started. There are so many flavor combinations and possibilities. If you don't have a pressure cooker and you still want to try this tasty combo, it's as easy as cooking up your grain per package instructions and adding the rest of the ingredients to the pot.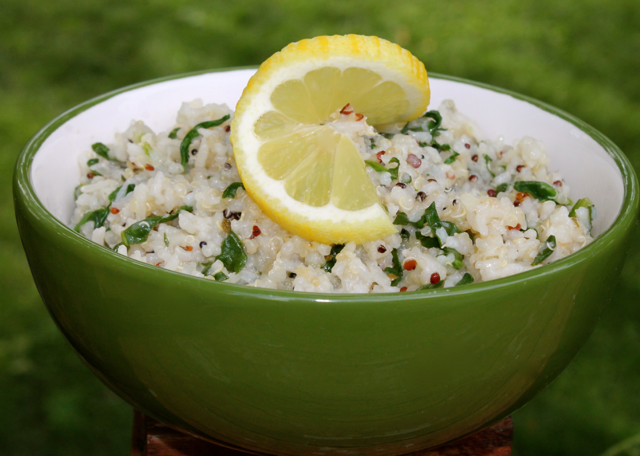 This Greek inspired side dish has a refreshing twist with lemon, garlic, fresh rosemary, oregano and chopped spinach.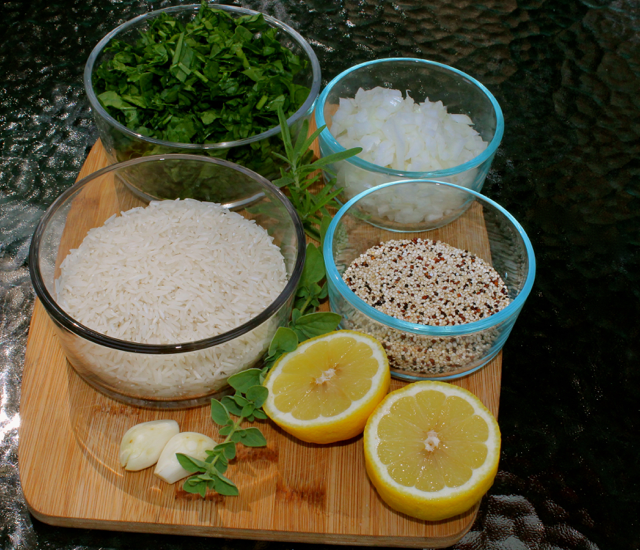 The thing I love about making rice with the electric pressure cooker is that it comes out perfect every time. I prefer Basmati rice but basically, as long as you follow the guidelines on your rice package for the liquid to rice ratio, you're good to go.
Your electric pressure cooker should have a pre-set button option for rice/risotto and generally the time is about 6 minutes or so. I always adjust the time by adding 3 to 4 minutes to make sure my rice is done. A minute or so extra isn't going to make your rice mushy. Too much liquid will.
As far as adding an oil to the mix, I have found that butter (real butter, not margarine) gives you the best flavor in the finished product. I've tried different flavored oils for my rice dishes but in my opinion they don't bring out the best of all the other ingredients like butter does. And yes, butter is very good for you!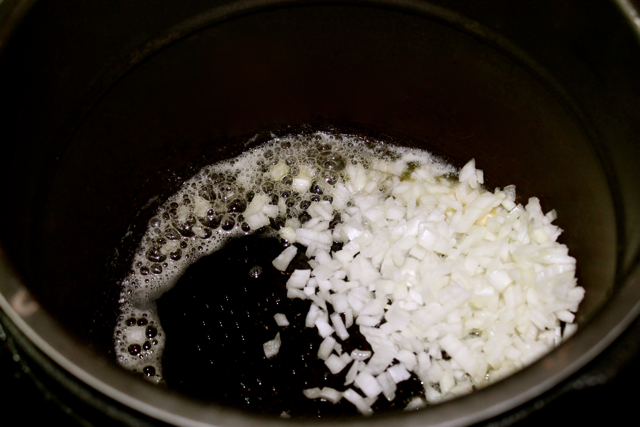 Before adding the rice and other ingredients to the pressure cooker, I like to saute the onion and garlic in the butter to give the them a chance to bloom in flavor.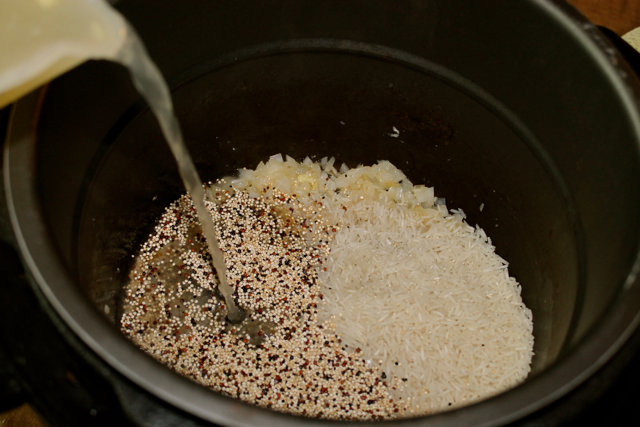 Then it's a simple matter of adding the rest of the ingredients. (Except the spinach or other veg)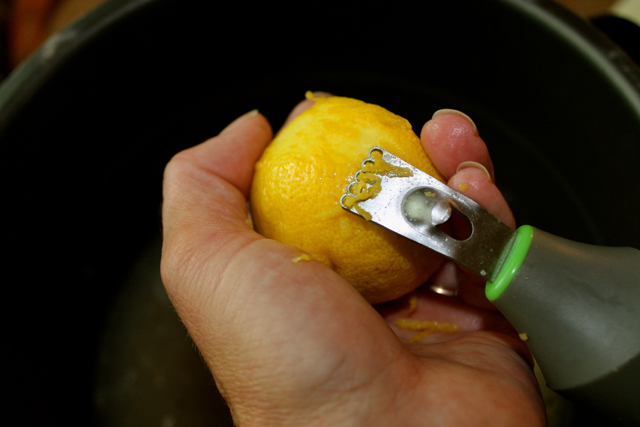 The juice of a lemon helps brighten the dish but to give that lemony flavor an added boost, add some of the zest as well.
Because spinach and other leafy greens get lost and fade in color as well as vitamin content when pressure cooked, I wait until the dish is finished cooking to add them.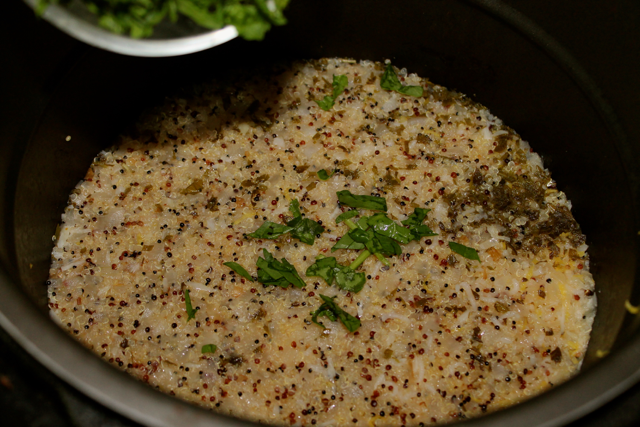 Less than 10 minutes of cooking time in the pot and your rice is done. You'll notice that there's quinoa in the mix for this recipe and yet that doesn't change the amount of time you need to cook. It's perfectly done as well. Plus, you've got the added bonus of protein as well as a lovely color combo.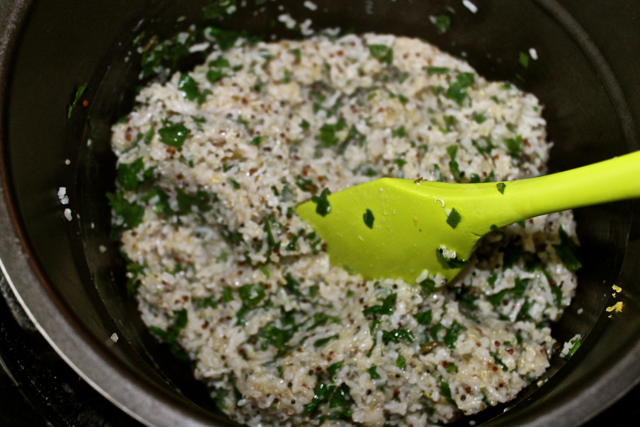 Stir in your freshly chopped spinach and the residual heat wilts it just enough.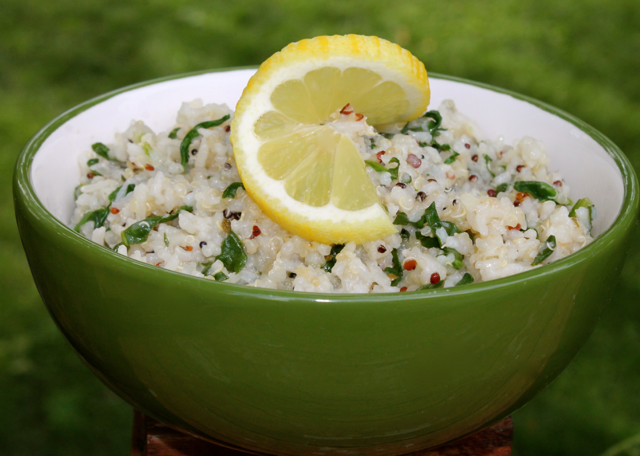 We really enjoyed this lightly tangy, flavorful side dish. It complimented a nice grilled lamb dinner (recipe coming soon!). I hope you'll give it a try and let us know what you think. We'd love to hear from you!
For more terrific ideas on rice side dishes, check out these posts… Fried rice and Mexican style rice.
Also, check out this –> post for even more great pressure cooker recipes.
Have a wonderful week and as always, keep it delicious!
Till next time ~ much love, Connie
Pressure Cooker Greek Style Rice
Ingredients
2

tbsp

butter

1

medium onion

diced

2

garlic cloves

minced

1

C

basmati rice

1/2

C

quinoa

2 3/4

C

chicken stock

juice from one lemon

2

tsp

lemon zest

1

tsp

rosemary

finely chopped

2

tsp

oregano

finely chopped

1

C

fresh spinach

finely chopped

salt and freshly ground black pepper to taste
Instructions
Preheat the electric pressure cooker by selecting one of the options.

Melt the butter in the pot and saute the onion for two minutes.

Add the garlic and saute one minute more.

Add the rice, quinoa, chicken stock, lemon juice, zest, rosemary and oregano.

Place the lid on top and lock it in place.

Turn the steam release valve to closed.

Clear the settings and select the rice/risotto button.

Adjust the timer to 10 minutes.

Once the timer has finished counting down, carefully release the steam and unlock the lid.

Stir in the chopped spinach and add salt and freshly ground black pepper to taste.
Notes
Recipe by: Connie Murray @Happybellyfoodie.com