How to Smoke Salmon
If you're considering buying a smoker or you already have one and you're looking for a great fish recipe to try, salmon is a must. It's actually one of the easiest things to cook in a smoker and it's perfect for a newbie.
If you don't have a smoker and your mouth is watering over that picture, check out my post about cooking fish on a cedar plank here –> Steelhead Trout on a Cedar Plank ~ Getting your Omega-3's. That's a fabulous method for cooking salmon, too.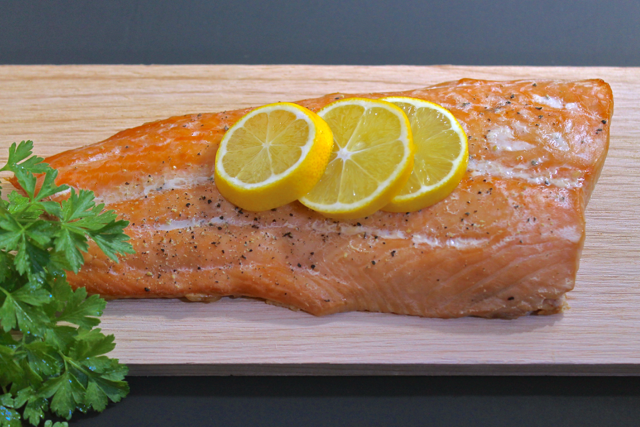 The first thing I'd like to recommend is that you buy fresh salmon from your local fish mart. That is, if you haven't gone out and caught your own. We've got a great place here called Afishionados and they serve up the best. They'll even take the skin off and trim your fish up for you while you're visiting.
If you do need to take the skin off of your fresh fillets, just run a sharp knife under the tip of the edge while holding skin. A firm grip will allow you to glide the knife from top to bottom.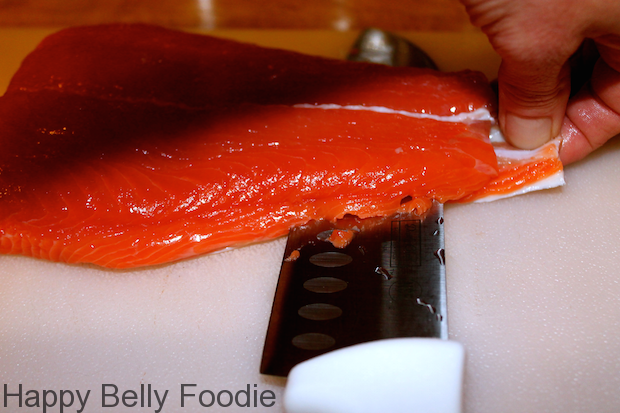 You'll want to make sure the blade of your knife
is good and sharp. Otherwise, you'll shred the meat. That brown stuff you see underneath there is just a layer of fat that insulates the fish. It's full of rich, heart-healthy omega-3 fatty acids. Some people remove it for cosmetics but I like leaving it on for the health benefits as well as the flavor.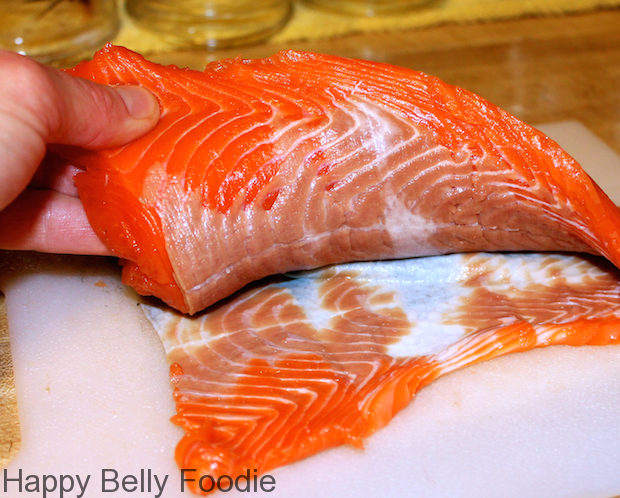 Like all meats that I cook in the smoker, I like to use a brine for my salmon. A brine is basically a marinade but it also helps the fish hold together better while it's smoking on the grate and it contributes to that beautiful color and flavor you want. Most brine mixtures have two main ingredients, brown sugar and salt. The salt is what pulls the moisture out of the fish and since salmon has lots of good-for-you healthy fats, it'll be plenty moist and juicy after smoking.
You can either coat the fish with the brine and wrap it in plastic before leaving it in the refrigerator to marinate or you can add water to the brine mixture and just float the fish in the liquid. I prefer the latter method. Either way, you'll need to brine the salmon for at least 8 hours.
I like a lightly flavored brine. So in mine, I just use a couple of garlic cloves and some chipotle pepper flakes. Nothing too fancy or over powering.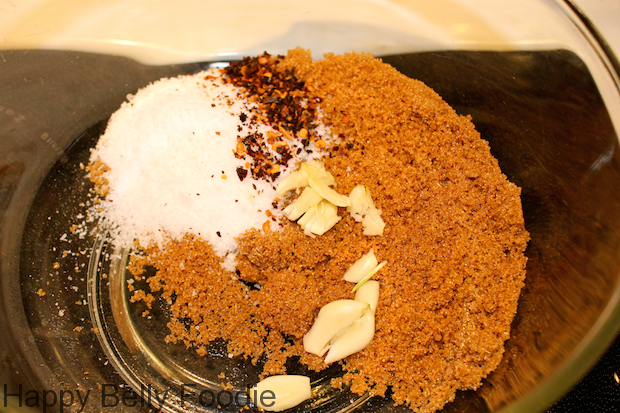 After the brine, you'll rinse the meat off with some water and pat the filets dry with some paper towels. Let them sit out in the open air to firm up and dry out for about an hour or so.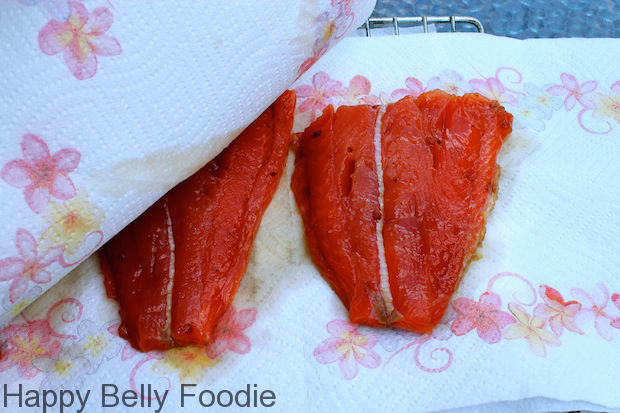 While you're waiting for the salmon to dry, go ahead and get your smoker set up. You'll need to set the temp and timer. I set my temperature to 200 degrees F. and then adjust the heat and the vent after I put the meat in. By the way, I am using a Masterbuilt
electric smoker. Just click that highlighted link to see the model.
Your smoker should include a water pan and you'll want to fill that half way with hot water. Go ahead and place that in the smoker as well.
I soak my wood chips
in a cup of water while I'm waiting for the unit to heat up. That way the wood chips don't burn up too fast when you put them in the smoker box.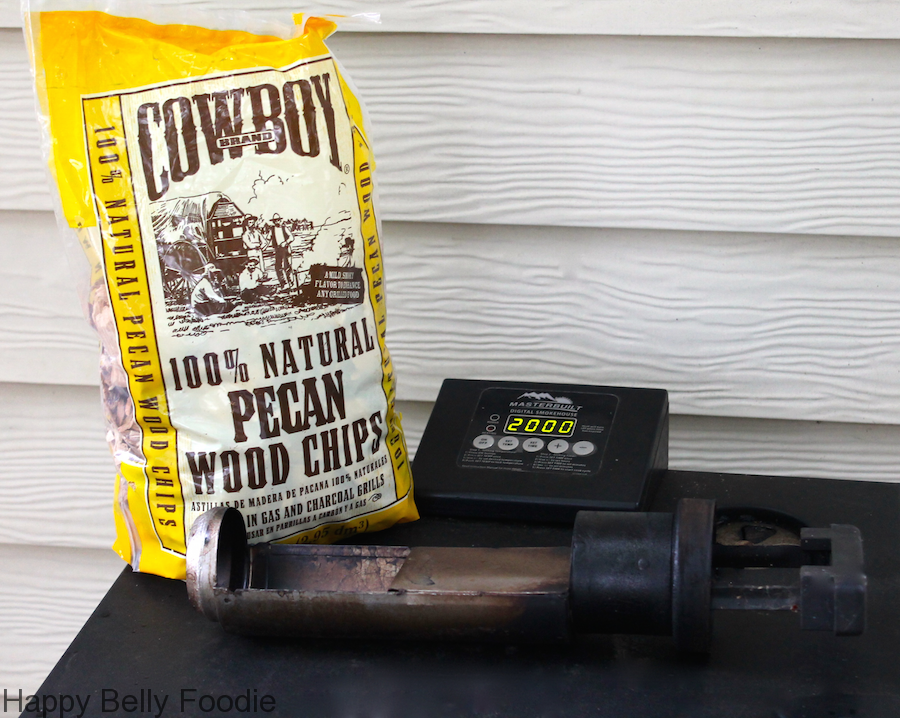 Once everything is ready, I give the fish a last little seasoning just before placing it in the smoker, drain the water off the wood chips and place them in the smoker box. Close the door and let the smoker do it's magic.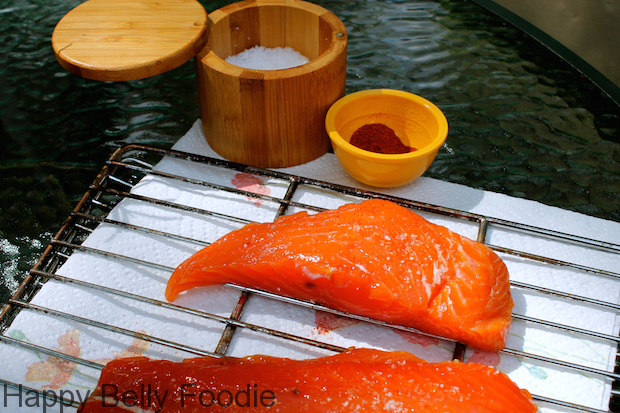 The smoking part for salmon only takes about an hour. The recommended internal temperature for salmon is 145 degrees F.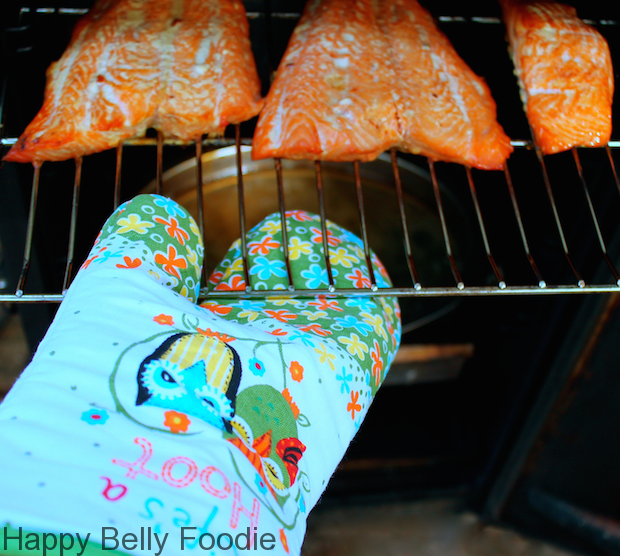 Once the internal temp reaches 145 degrees F. your delicious, smokey flavored salmon is ready to serve.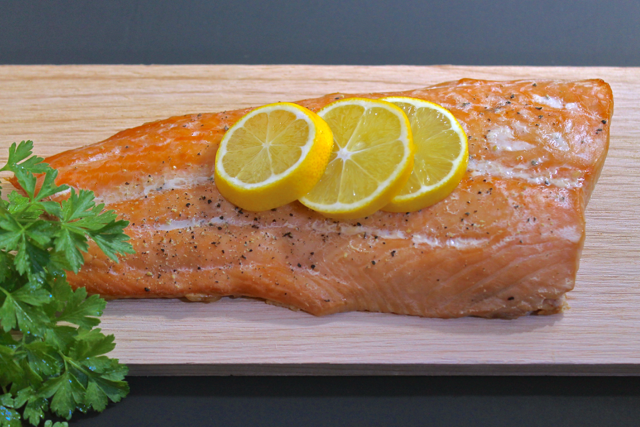 Whether you're an old pro at using a smoker or you're a newbie, salmon is one thing you'll definitely want to put on your list of things to try. And it's SOOO good for you, too!
If you're new to smoking and have any questions, leave a comment in that little box below. I'd love to hear from you!
Have a fantastic day and as always, keep it delicious! Till next time ~ much love, Connie
Smoked Salmon
Ingredients
1/2

C

brown sugar

1/4

C

salt

2-3

garlic cloves

peeled and smashed

1

tbsp

dried chipotle flakes

3

C

water

4-5 4

oz

salmon filets

kosher salt and ground cayenne powder for seasoning

1

C

cherry wood chips

1

tbsp

bourbon

1

C

water

your favorite local jam and fresh chopped parsley for garnish
Instructions
In a large bowl, combine all the brine ingredients.

Trim the skin off the salmon and gently place in the brine.

Cover and refrigerate overnight.

Heat the smoker to 195 degrees F. and soak the wood chips in the bourbon along with one cup of water.

Remove the salmon filets from the brine, rinse them off and pat dry with paper towels.

Place the filets on a rack to dry in the open air. Allow at least one hour for drying.

Place the salmon filets in the smoker and cook for about an hour or until the salmon done.

Remove from smoker and serve with your favorite jam and a garnish of fresh chopped parsley.
Notes
Recipe by: Connie Murray @Happybellyfoodie.com