Tropical Fruit Salad. Enzyme Therapy! That's a bowl full of sunshiny health right there!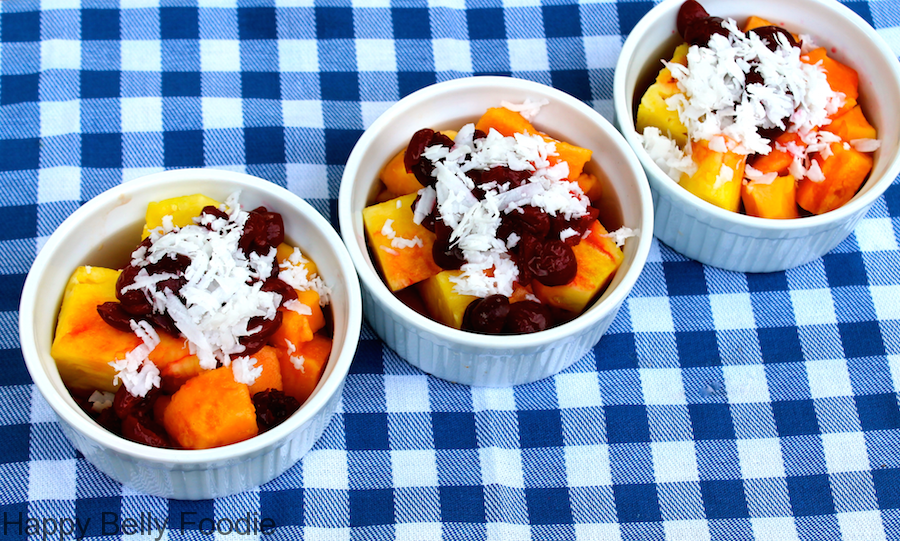 Alright foodie warriors, let's talk about your gut. Rather, let's talk about what's in your gut!
Your digestive system feeds every cell in your body. It also contains roughly seventy percent of your immune system. It's also known as your "second brain." That's because of the vagus nerve. The vagus nerve supplies motor parasympathetic fibers to all the organs except the adreal glands, from the neck down to the second segment of the transverse colon.
If spread flat, your digestive system is so big that it would cover a tennis court. That's freaking HUGE!
Your gut manufactures significantly more neurotransmitters than your brain. Eighty to ninety percent of serotonin is made in the gut. Serotonin comes from tryptophan and is the "Happy feelin" neurotransmitter. Low levels of serotonin are big factors in problematic mental diseases such as obsessive-compulsive disorder, depression, and anxiety. All of these problems can lead to serious physical health problems.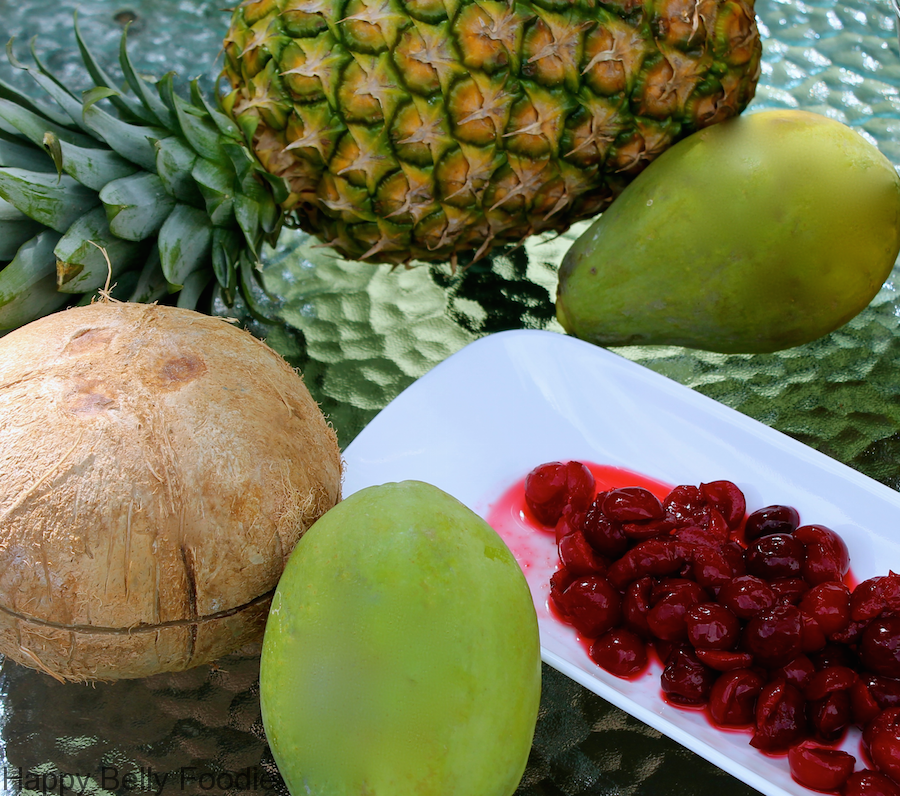 That's some serious stuff right there!
So, you're eating right. Getting the proper amounts of protein, (that's where tryptophan comes from) but you're still feeling like crap? Perhaps you've got some funky party going on down in your gut that we need to fix because it is very possible that your not digesting your proteins or other foods well enough to get the nutrients you need. Power fruits to the rescue!! Gimme those enzymes! Yep! That's where we're heading!
Btw, did you know that as you age your body produces less enzymes on it's own, which causes grey hair in addition to many other crappy aging things that happen to our bodies?
I'm gonna go ahead and throw a disclaimer in here, simply because I am NOT a health care professional. I just happen to read the heck out of food, nutrient and health articles.
* If you're having health problems, please see your doctor, a nutritionist or what ever you prefer to get you on the right track.
My food blog is for reading, recipes and sharing information with you fine foodie folks. Plus, I like entertaining, too.
There. 🙂
Now we can talk about those fun fruits on the table. We have pineapple, papayas, fresh sour cherries (Thank you Joycey! She hand picked those from her own cherry tree for me. What a sweetheart!) and a coconut.
What are these things gonna do to help us digest our food better? Good question!
In addition to all the fabulous vitamins and minerals they provide, fruits like these, especially that big ol' pineapple up there have enzymes. Enzymes help break down proteins and complex carbs. Giving your body digestive enzymes is like hiring a crew to build a highway to health in your tummy. Enzymes fight like a mo-fo to keep your gut healthy. The primary digestive enzymes are, Lipase (breaks down fats), Protease (breaks down protiens), Amylase (breaks down carbs) and cellulase (breaks down cellulose molecules into simple sugars).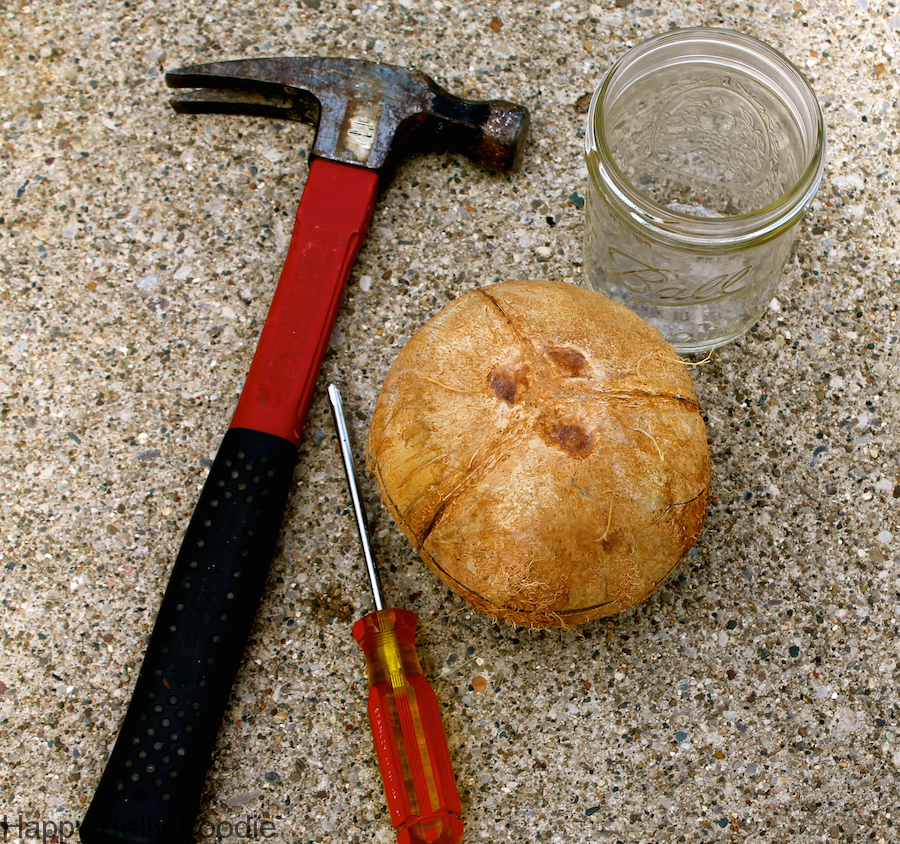 * break from the seriousness* Let's crack open that coconut! LOL I was dying to do this. No, I've never cracked open a coconut before.
So you find the weakest "eye" of the three on the top of the coconut and you poke a sharp instrument through it. I used a screwdriver (don't worry, I washed it)
When I put it through, there was a hissing noise, like I just let the air out of a bike tire. Cool, huh?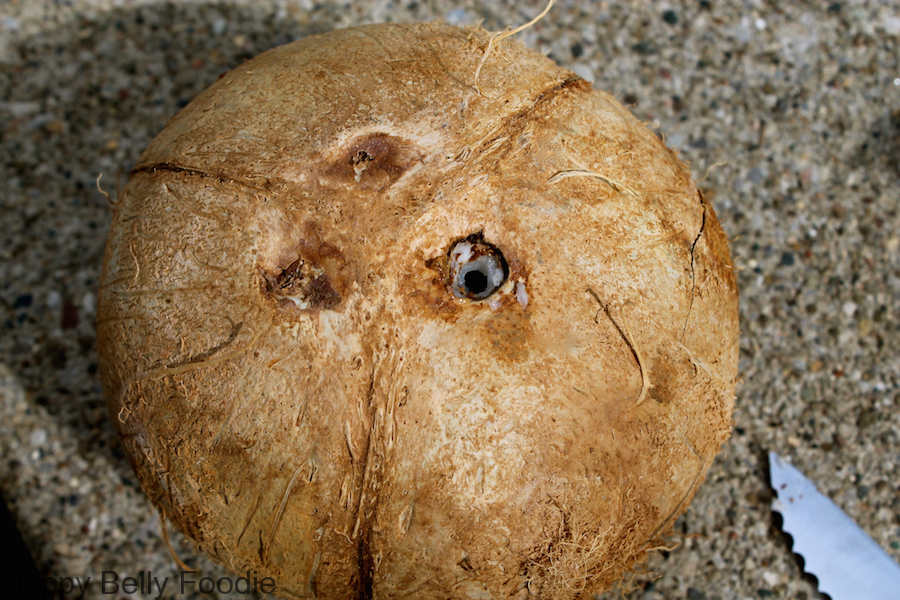 Then, you pour the water out of the coconut. I put mine in a cup to save. I'm pretty sure that water is good for something.
Remember that scene in Cast Away, where Tom Hanks says, "Gotta love crab. In the nick of time too. I couldn't take much more of those coconuts. Coconut milk is a natural laxative. That's something Gilligan never told us."
Hahahaha! I love that movie!
A dear friend of mine, Sister Catherine, used to say, "My back door is closed and the plumbing is all clogged up!"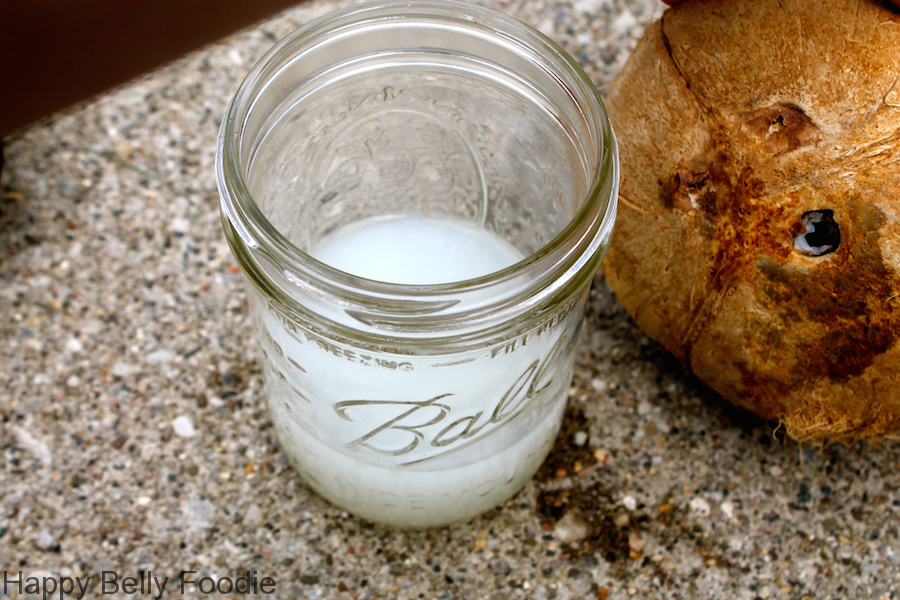 After you crack it, (I just beat the crap out of it with a hammer. Careful you don't hit your thumb!) you slide a knife through the "meat" and then pluck it away by slipping the knife between the shell and the meat, like this..
*back to business* Coconut meat has micro-nutrients, which include dietary minerals such as magnesium, vitamin C, iron, zinc and vitamin B-6. All good stuff for the tummy and the body!
Papaya. Papaya has an enzyme called papain. Papain breaks down tough meat fibers and complex carbs. It's used as a meat tenderizer as well. The reason we want to eat this fantastic fruit is to help us break down our protein and complex carbs better so that we can get as many nutrients as possible out of them.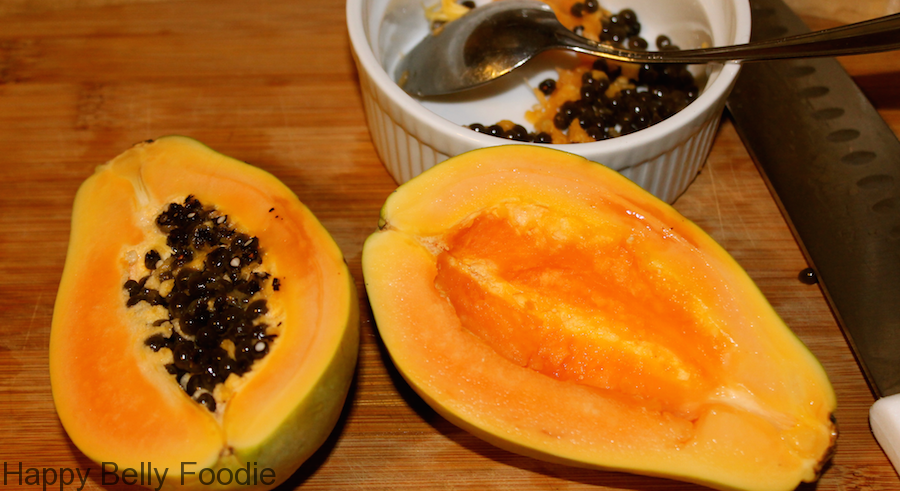 Pineapple. Pineapple has an a mixture of enzymes that are called bromelain. Bromelain also breaks down protein and complex carbs. It also reduces inflammation and helps treat indigestion.
Bromelain is also useful for treating bowel conditions such as colitis and ulcers, relaxing muscles, treating arthritis and improving the body's ability to get rid of fat.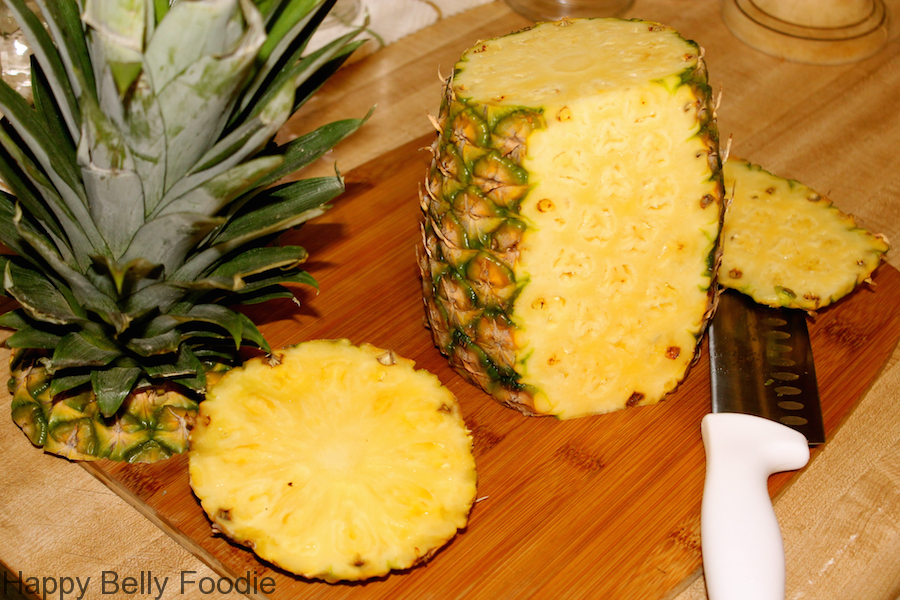 Last but not least, cherries. Man I love cherries! Cherries are fantastically wonderful for you, your gut and your brain! They activate detoxification and antioxidant enzyme systems in the body. They protect blood vessels and brain cells. With regard to cardiovascular disease, they help lower trigyceride (fat in the blood) levels.
They also act as a natural pain killer, comparable to ibuprophen and naproxen, which can ease arthritis pain and muscle pain. Cherries can also help you sleep because they're rich in melatonin, which regulates the sleep-wake cycle.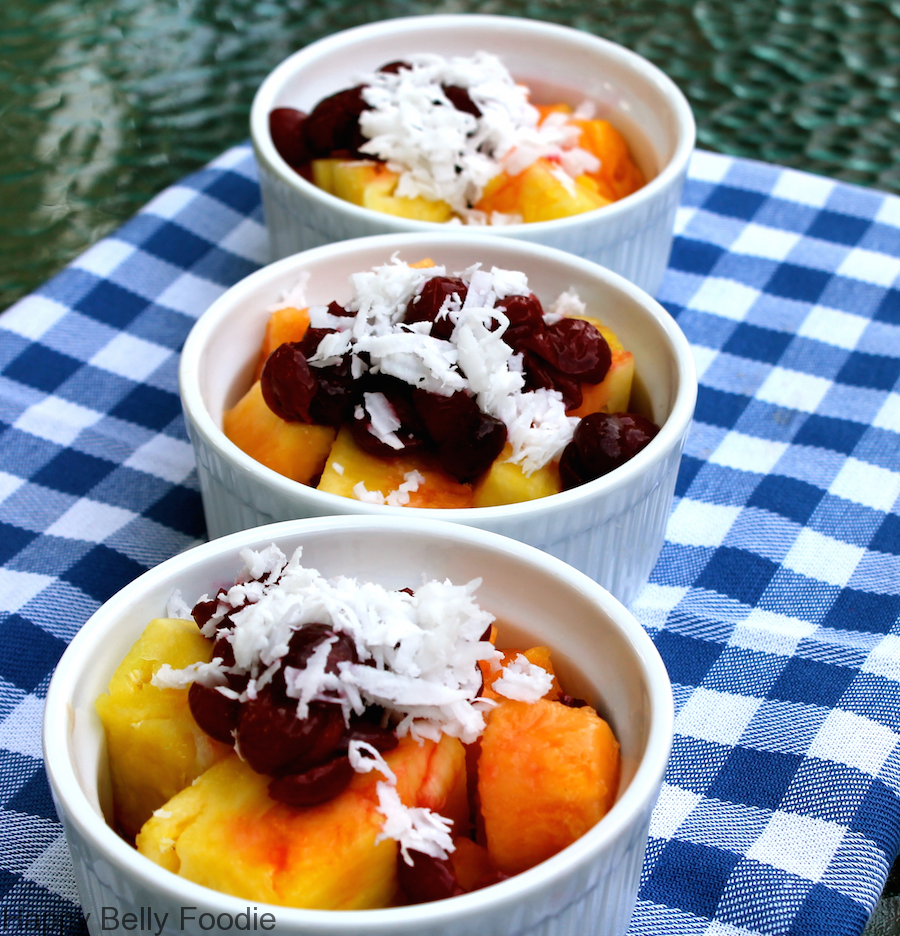 I'm not saying you have to be a complete lunatic reader like me to be healthy and make good choices with your food but just in case you're wondering where I get my info from, most of it comes from a book
(<- that's a link to the book) that I've been studying from for many many years called Prescription for Nutritional Healing. Other sources I use are websites like Web MD, Rodale News, Biotech Learn and many, many more. (Google is pretty freaking awesome!)
This dish is probably one of the healthiest things you could put in your body. All the fruits have different textures and levels of sweetness to complement each other. I'm just gonna go ahead and call it a powerhouse dessert/snack. The most fantastic thing about it? You should eat it before you have your dinner! It'll fill you faster and help you digest the rest of your meal so you get optimal nutrition absorption! That was kinda the point of this whole post, you know. Good idea, no? 😉
I hope the info and recipe in today's post gave you a sunshiny feelin down to your toes foodie friends. Go on, have a bowl and smile! I'm gonna go have a bowl for myself right now.
Tropical Fruit Salad
Ingredients
1

coconut

1

pineapple

trimmed and cut into chunks

2

papayas

trimmed and cut into chunks

1

C

sour cherries

pitted and juice reserved
Instructions
To open the coconut, find the eye, the weakest "eye" and insert a sharp metal object. Drain the juice from the coconut. Crack it in half. Slice the meat of the coconut with a sharp knife and scoop out.

Grate the chunks of coconut.

Combine all other ingredients and pour the cherry juice on top. Top with the fresh shredded coconut and serve.
Notes
Recipe by: Connie Murray @Happybellyfoodie.com