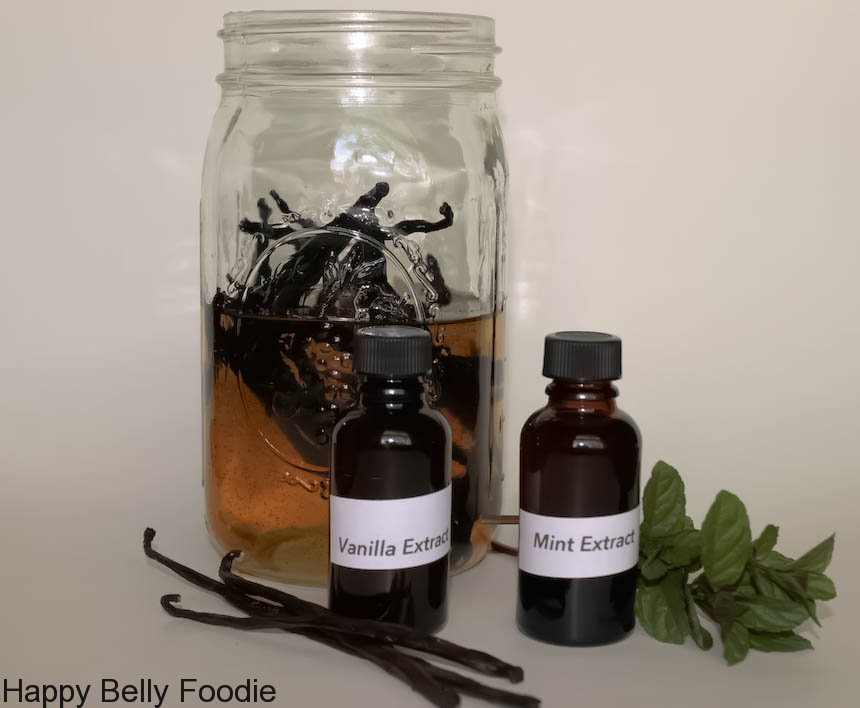 You'll love having your own homemade extracts. Getting down to the nitty gritty and saving money is a bonus, to boot!
I've got a small mint garden in my yard (more like a mint jungle) and it always pleases me to see the fresh sprigs pop up every Spring.
I love the brightness that fresh mint adds to teas and fresh fruit.The true essence of a sunny day, topped with your own garden goodies is pure Heaven to me.
However, in the winter my little mint patch quietly goes into a hush and disappears, which makes me sad. So a couple of summers ago I decided to make some mint extract with it to help me get through dark dreary days. I'm so glad I did!
Now, if I've got a case of the winter blues, I just open the bottle and take a smell. Talk about healing aromatherapy! I really do believe it's important to do kind things for yourself like this.
* Tip ~ to keep skeeters from bothering you in warm weather, put some of the mint extract on a cotton ball and rub it on your ankles and wrists. Blood suckers hate mint! (I think it works on vampires too!)
Last year I made vanilla extract, too. It couldn't be easier. You just split the vanilla beans open with a knife and put them in a jar with either Vodka, Bourbon, or Vegetable Glycerine

(if you want alcohol free). Seal the jar with a lid, place in a dark cool place, shake it once a day. (the jar, or your hips if that tickles your fancy ha ha) Six weeks later, remove the beans and it's ready to use. There's no expiration date.
Now I know, it's a crying shame to throw the vanilla beans away. So don't! I've got a bazillion tricks up my sleeve!
When you take the vanilla beans out, place them on a paper towel and let them dry. Then chop them into small pieces and put them in an air-tight container with a few cups of sugar. Seal and let it marinate for a week or so and you've got your very own vanilla flavored sugar. Cool huh?
It's worth mentioning that vanilla beans are expensive. That is, if you buy them in a store or specialty shop, especially if you're using 8 or 10 of them at a time. So if you can wait a few days, I recommend buying them online. Here's the ones I use.. Madagascar Vanilla Beans (25 count)
.
Also, I found these cute little 2 oz Amber Bottles with lids
to put my extracts in. I'm planning surprising some very special friends and relatives with some as gifts. Shhh, don't tell them 🙂
I hope you'll try making your own extracts after seeing how easy it is. I'm going to experiment with other flavors like lemon and orange very soon. If you've got a favorite that you'd like to share, let me know. I'd love to hear from you! ~ much love, Connie
Homemade Extracts, Vanilla or Mint
Ingredients
2

C

Vodka

Bourbon, or Organic Vegetable Glycerine

For Vanilla ~ 8-10 whole vanilla beans

split open

For Mint ~ 2 Cups of fresh mint

crushed lightly with the stems included
Instructions
Place the Vodka, Bourbon or Glycerine in a large canning jar along with the mint or vanilla beans and seal with a lid. Place in a cool dark place. Shake the jar once every day for 6 weeks. Remove the mint or vanilla beans and use the extract as needed.
Notes
Recipe by: Connie Murray @happybellyfoodie.com