Try a refreshing twist on tacos with these spicy shrimp tacos with blueberry peach salsa.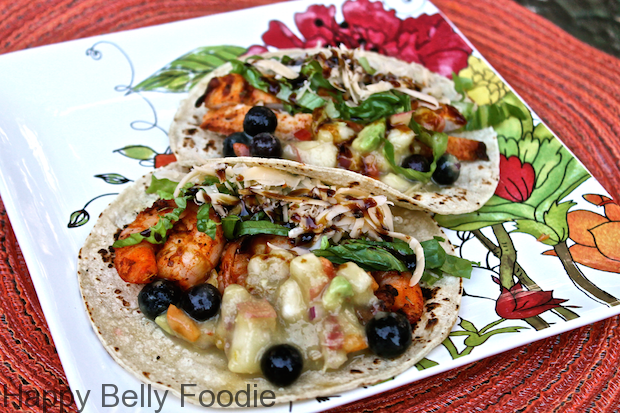 There's quite a bit of ingredients that go into these delicious tacos but it's totally worth the effort because they are DELICIOUS!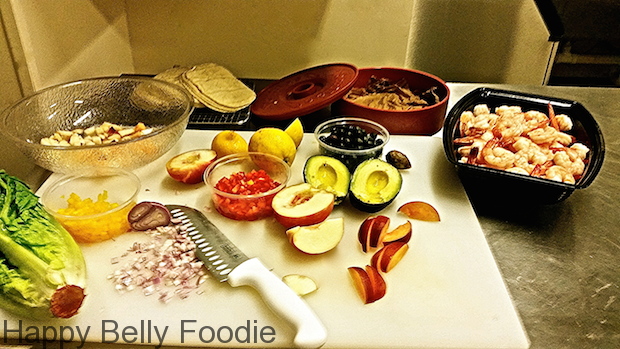 I was inspired to come up with the salsa when I went looking for some fresh ingredients to create a meal that included shrimp. While at my local farmer's market I saw these big white peaches. Oh, you have no idea what that did for me! I picked one up and smelled it. Instantly, I was taken back to childhood summers and the memory of standing under a peach tree, tasting the sweetness of it all. I love moments like that.
I asked another customer that was standing near by, "What do you think about a peach salsa for shrimp tacos?" She said, "Well, that actually sounds fantastic!" So off to create the dish I had in mind.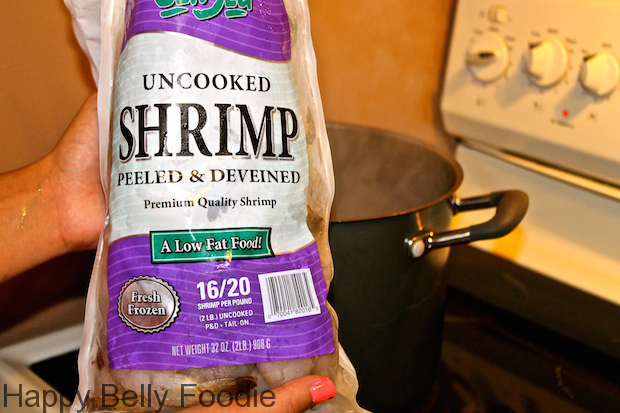 You can do so many things with shrimp!
For the salsa, you'll need some fresh peaches, peppers, lemons blueberries and red onion.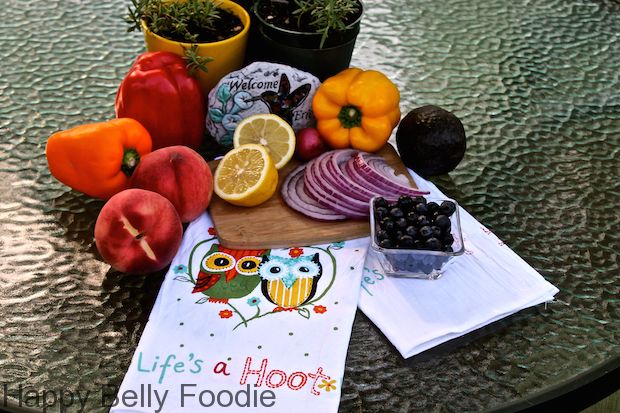 Lot's of chopping with all these ingredients! If you like short cuts, one of these handy dandy choppers is a great time saver.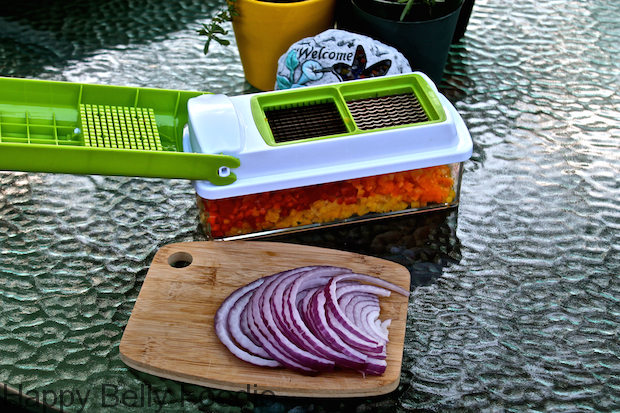 So here's the salsa. After you chop everything up and put it together, you add a few ingredients and give it a mix. We were eating it with corn chips. Hey, you gotta taste stuff, right? YUMMY!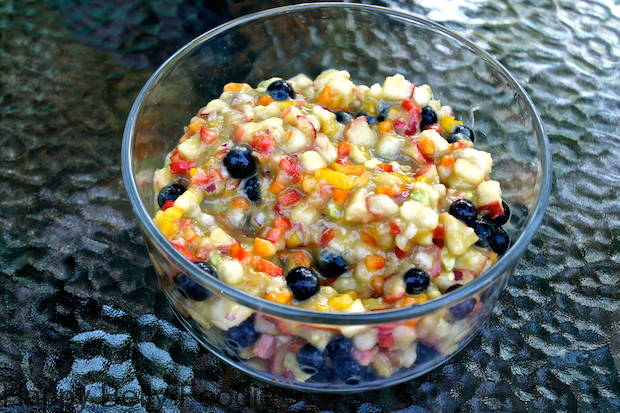 For the shrimp, I just put them in a baggie with a little olive oil and the seasoning to marinate and threw them on the grill.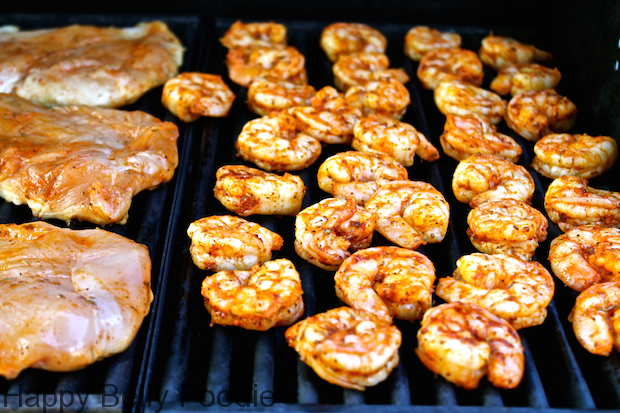 For the tortillas, you'll toast them in a dry skillet and put them in a tortilla warmer
or in the oven covered with a lightly damp cloth.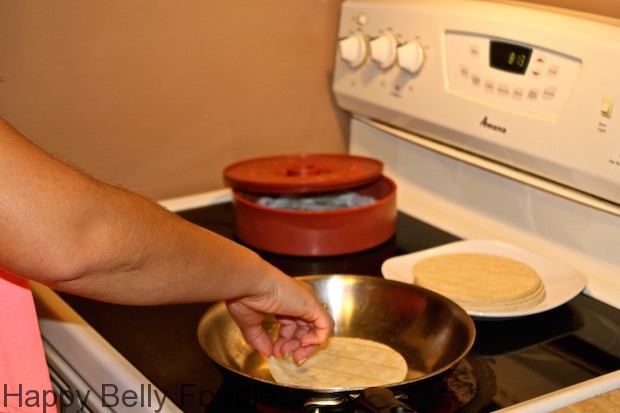 Ready to assemble the tacos, have all your shrimp and other ingredients ready.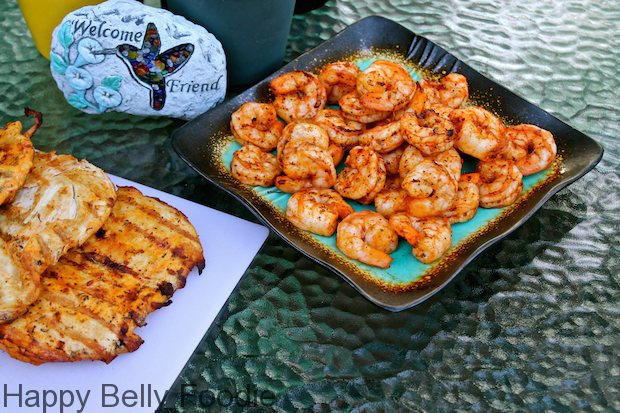 I like doing these in a buffet style so everyone can choose the ingredients they want.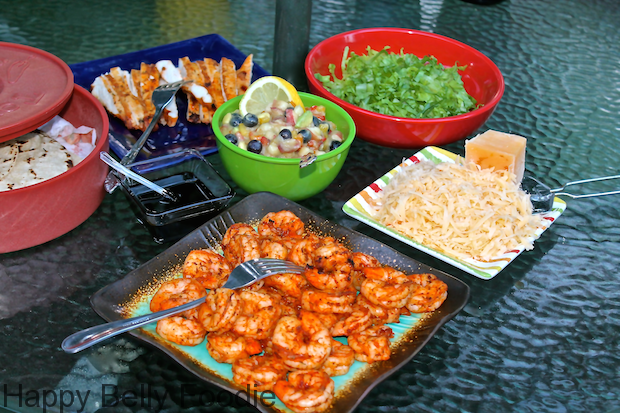 Here's the money shot! Pretty, no? Yes, they're messy! You gotta just pick it up, get a good grip and plow into it. There ain't any judging here! NUM!
That's a wrap folks! (literally, get it? wrap, tacos… lol) Enjoy!
Spicy Shrimp Tacos with Blueberry Peach Salsa
Ingredients
Blueberry Peach Salsa:

2

lg peaches

diced

1

avocado

pit removed, peeled and diced

Juice from half a lemon

1

C

blueberries

1

C

red

yellow and orange bell peppers, diced (for color)

2

tbsp

brown sugar

1

tbsp

white wine vinegar

1

tsp

orange powder

Shrimp Tacos:

2

lbs

medium sized shrimp

peeled, tails pulled off and deveined

1

tbsp

olive oil

Cajun seasoning for the marinade

10 – 15

soft corn tortilla shells

1

C

shredded lettuce

your choice

1

C

shredded

habenaro infused cheddar cheese

1/4

C

sweet soy sauce

for drizzling on tacos
Instructions
Blueberry Peach Salsa:

Combine all ingredients and place in the fridge to marinate while preparing the tacos.

Marinade the shrimp with the olive oil and Cajun seasoning in a zip top bag, in the fridge.

Prepare the grill and heat to 350 degrees F.

Cook the shrimp on the grill until they are white in the middle. (About 3 minutes or so per side)

Warm the tortilla shells in a dry skillet on medium heat and place them in a warmer until ready to serve.

Place 3-4 shrimp on each shell, top with the salsa, lettuce and habenaro cheese. Drizzle the sweet soy sauce over each taco and serve hot.
Notes
Recipe by: Connie Murray @Happybellyfoodie.com