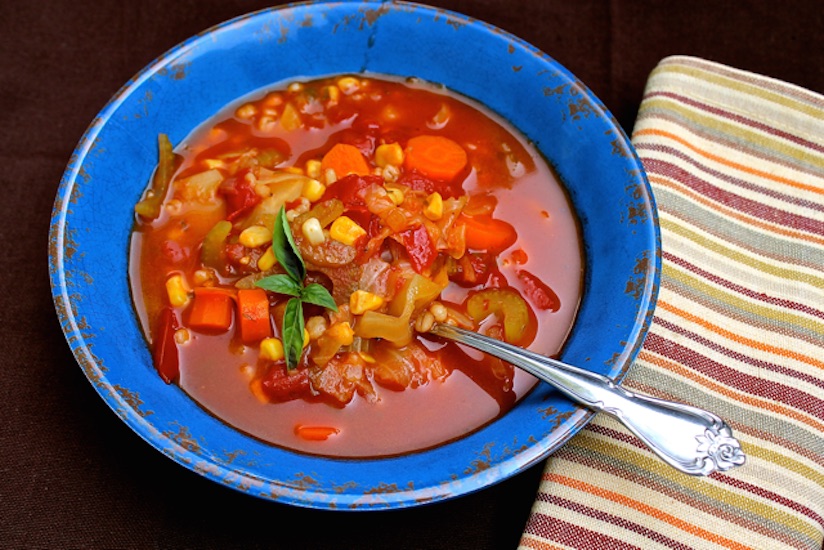 Capture the power of the sun with this tasty Pressure Cooker Vegetable soup. Full of flavor with a hearty bite, it boasts Summer's bounty while remaining nutritiously light. Aromatically pleasing with a fresh herb appeal, you'll enjoy a great big bowl any season.
I LOVE a great veggie soup and taking advantage of all the season has to offer with fresh produce is the perfect way to celebrate it. Fresh scallions, tomatoes, potatoes, green beans, cabbage, celery, carrots and even a fresh ear of corn blend merrily in the pressure cooker
with my best combination of seasonings and beef stock in a mere 25 minutes.
You can add some chunks of beef if you want to make it even heartier. Just brown the meat using the saute function or a skillet on the stove before adding it to the pressure cooker. Or go completely vegetarian and switch it up with vegetable stock. Either way, you're guaranteed to want another bowl.
For an added source of fiber, toss in some barley. Talk about good for you, barley has vitamin B1, chromium, phosphorus, magnesium, and niacin, all packed into those teeny tiny kernels. Wait. Are they kernels? Meh. You know what I mean. And since we're pressure cooking, they'll be nice and tender along with everything else.
The recipe I have in the printout below has a totally fantastic finish and it's my go to deal for veg soup but feel free to get creative and add your own touch. Using the pressure cooker
to make your dish is a major time saver and I highly recommend it but don't fret if you don't have one because soups like this are so generous. Simmering everything on the stove for a couple of hours or a low slow six hours in the crock pot will give you that same great taste.
When you're hankerin' a healthy, good-for-you veg soup, you can't go wrong with FRESH, no matter how you cook it. Double the batch for a great go to freezer meal or pack some for lunches.
I hope you'll give this beautiful soup a try. Let me know about it. I'd love to hear from you!
Have a terrific day and as always, keep it delicious.
Till next time ~ much love, Connie
Homemade Vegetable Soup ~ Pressure Cooker Fast!
Ingredients
2

tbsp

butter

1

tsp

anchovy paste

2

small shallots

chopped (can use onion)

3

carrots

peeled and chopped

3

celery stalks

chopped

10 - 12

green beans

chopped

1/4

small green cabbage

chopped

2

medium tomatoes

chopped

1

ear of corn

kernels cut

2

potatoes

chopped

1/4

C

whole grain barley

1

tbsp

fresh parsley

chopped

2

sprigs fresh thyme

1

bay leaf

1

tsp

oregano

2

C

bone stock

can use beef or chicken stock or broth

1 15

oz

can tomato sauce

salt and freshly ground black pepper to taste

*See note below for adding beef to this recipe or making it all vegetarian.
Instructions
Heat the pressure to saute the butter and add the anchovy paste.

Add the shallots and saute for one minute. Add the rest of the ingredients to the pot.

Place the lid on the unit and turn to locked position.

Turn the steam release valve to sealing.

Press the manual button and adjust the time for 25 minutes.

When the unit has finished cooking and the timer has counted to zero, carefully release the steam.

Remove the lid, take out the bay leave and other herb stems and discard.

Stir and serve hot.

*See note below for alternative cooking methods.
Notes
To add beef to this recipe, chuck roast is best for flavor and tenderness. Cut it into 1 to 1 1/2 chunks and brown before adding it to the pot. (In the pressure cooker, on the stove or in a crock pot.
To make this recipe completely vegetarian, simply use vegetable stock in place of the beef stock.
Alternative cooking methods:
You can easily make this soup on the stove top. Bring everything to a boil on high heat. Turn down to med/low and allow it to simmer for about 2 hours or until desired vegetable and barley texture is achieved.
For making this in a crock pot, place everything in and cover with lid. Allow the soup to simmer on high for 4 to 6 hours or until desired vegetable and barley texture is achieved. Add water as needed.
Recipe by: Connie Murray @Happybellyfoodie.com
Pin It: