How to Cook Live Lobster
I know, you can feel the excitement I'm exuding over this one because… well, it's freaking live lobster! I've been dying to do this!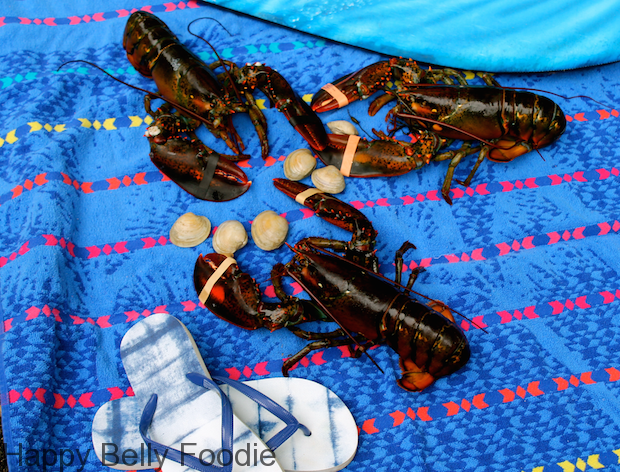 So, foodie friends.. Do you LOVE lobster but always wondered how to cook it? Let's get to it because it's WAY easier than you think.
Grab a cooler and fill it about a quarter way with some ice. Visit your local seafood shop and get those suckers in there. You wanna keep these guys nice and cool until you're ready to cook them.
Oh, and btw, take care if you got some doggies around. They're curious about big ol' sea bugs. Good thing those claws are banded. My big bubba there could have lost his sniffer. Say hello to my sweetheart Danny. He's one of my big, lovable pooches!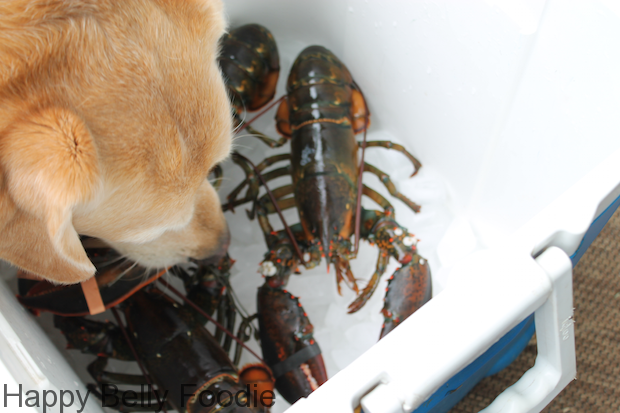 Just in case you're wondering, YES! They can hurt you if you're not careful. Don't worry, I'm gonna tell you all about 'em and how to keep from getting pinched or cut.
This here is my fourteen year old son (well, his arm anyway), learning how to pick up a lobster properly and yes, I let him do the cookin' this time.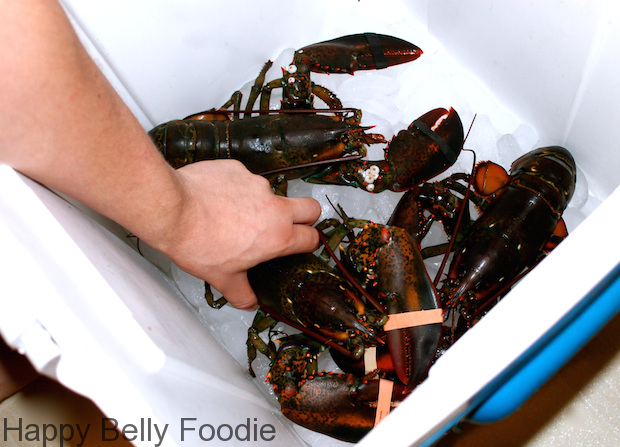 Basically, you wanna pick these guys up from the front end. Yeah, they do move around a lot. Stop squirmin' in yer seat. It ain't any worse than goin' fishin' and fryin' up a catfish.
This guy got a little friendly with my son when he picked him up…
If they get agitated, they'll throw their claws back and it kinda looks like their ready to fight. Like, "WHAAAA! Hai-Ya!" They'll swing those big fist lookin' claws around like they're Popeye, "Why, I oughta pulverize you! Where's me spinach?" Hahaha!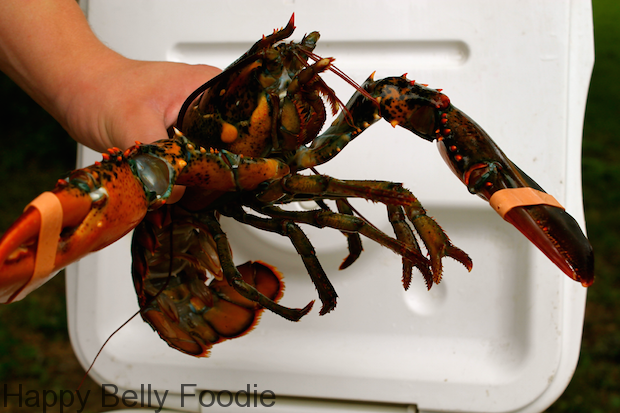 I know what you're thinking… "Holy Hot Tamales! I ain't ever gonna do that!" Right? Stop. Really.. there's only one thing you gotta steer clear of when you're handling these crusty shelled fellers.
See all those sharp parts on the sides of the bottom of the tail? Yeah, that's what you wanna stay the heck away from. John told me that he got caught up in one of them once and they do clamp down tight if you get your finger in there. Ouchy! So, if you just keep the bands on the claws and keep your fingers away from the bottom of the lobster's tail, you have nothing to fear. They can't reach your hands if you've got em on the back shell up by the top of the legs. Just grasp them like my son did in that last picture and you're good to go.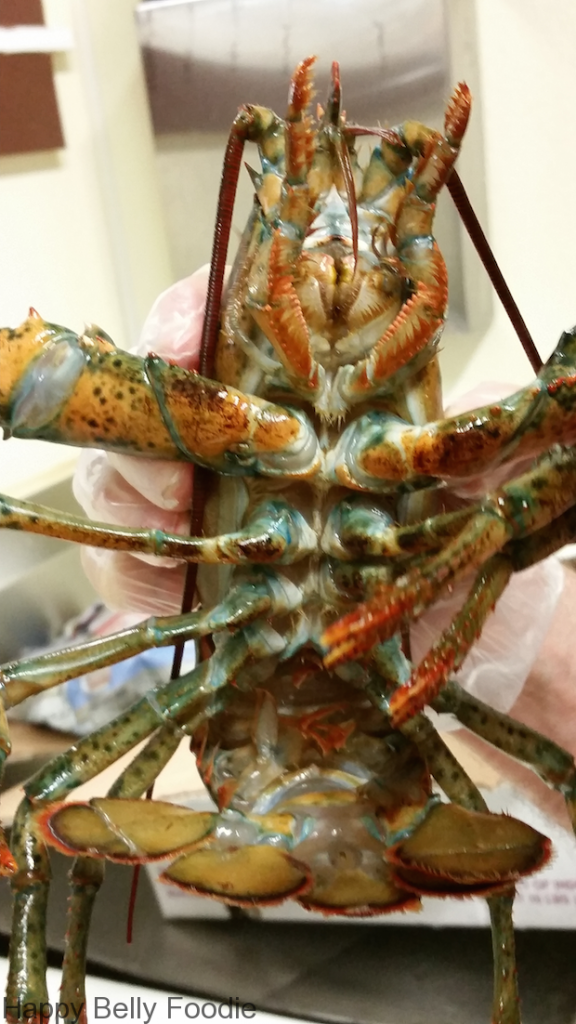 Get you a nice big pot and put about an inch of water in it. Put that on high heat on the stove. Once it's boiling, put the lobster(s) in.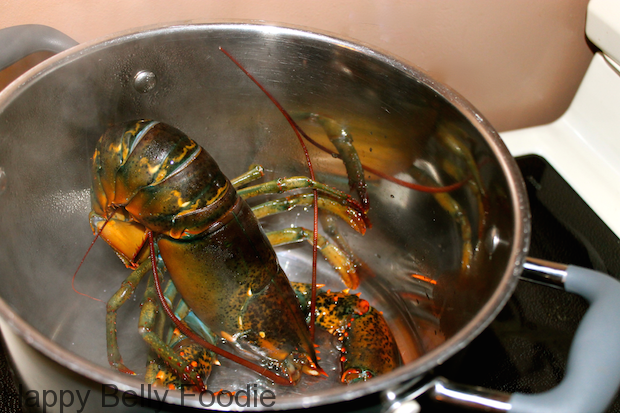 It's okay to just lay 'em on top of each other. They'll cook just the same. We had three and they did fine.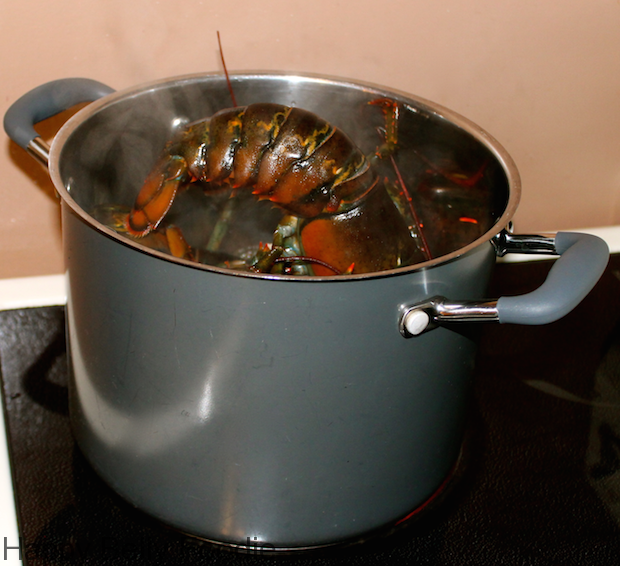 After the lobster(s) settle down, cover them with a lid. Leave the lid ajar a tad because you don't want it to pop off from the steam build-up.
You'll wanna stay right with it for a few minutes because these guys can push the lid off. They did when I was at the shop and Jacinda had to keep putting the lid back on.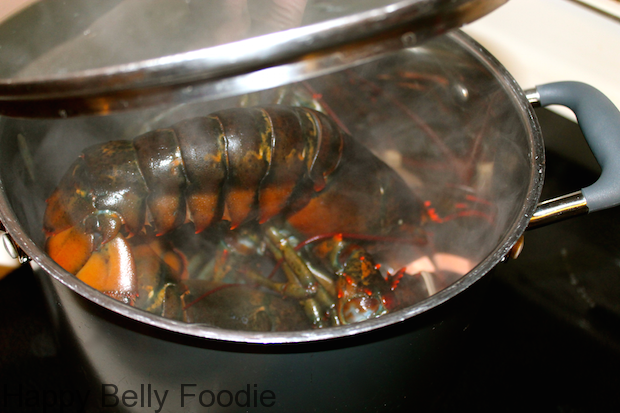 Set your timer for 13 minutes. That's about all it takes to get these suckers cooked up. When the water starts to foam and the shells of the lobster(s) are nice and bright red, they're done. After that happens, just push the pot off of the heat and cover completely with the lid for a minute or so.
Now, I know you're not just gonna eat lobster with your meal, so before you begin cooking them, you'll want to have all your side dishes ready. That way, you can sit down and enjoy as soon as the main course of your meal is done.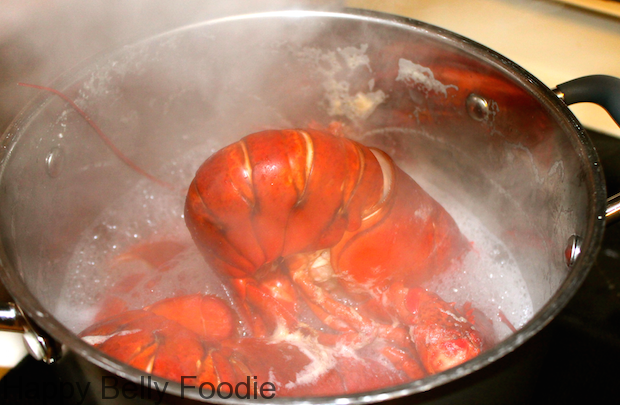 Wasn't that easy? Go on, dig in!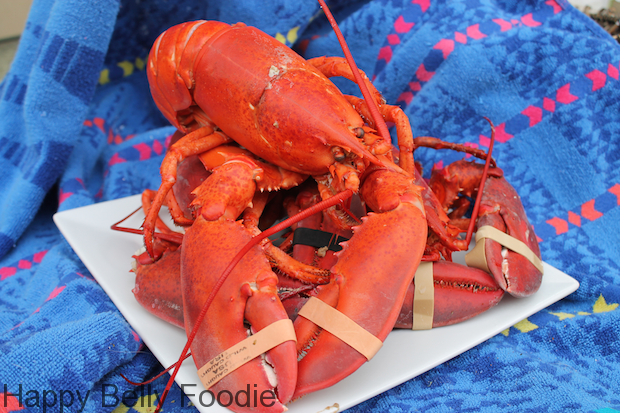 Oh wait.. You gotta know how to cut the shells and what-not, right?
Okay, so here's what you do. Get a nice sharp knife and place it length-wise over the center of the tail. Take the heel of your palm and karate chop the knife. One swift hit and it'll break right through that shell. Give the tail a twist from the main body and that's all you do with that part. Well, except the eating part.. YUM!
Give the claws and legs a twist right at the joints against the main body and they'll pop right off. Careful now.. there's some really sharp parts on those arms and legs. I just put a towel over my fingers to protect my skin. That way, you don't get cut by those sharp thorny edges.
Funny, we didn't have any lobster cracking tools. So, I got out my walnut shell crackers. They worked just fine.
For the claw there, if you just spread it apart and twist off the lower half, you'll be able to pull the meat out with no problem at all. DELISH!
As for the head and the main part of the body goes.. well, most people don't eat that part. It's got the liver and digestive system in it. John told me that some people consider that a delicacy. They call it the tamale. I didn't picture it here but yeah, it's kinda gross looking. It's green and if it's a female it'll have teeny tiny eggs attached to it. Those eggs are called roe and they're considered a delicacy, too. So if you're into that kinda thing, by all means… have at it.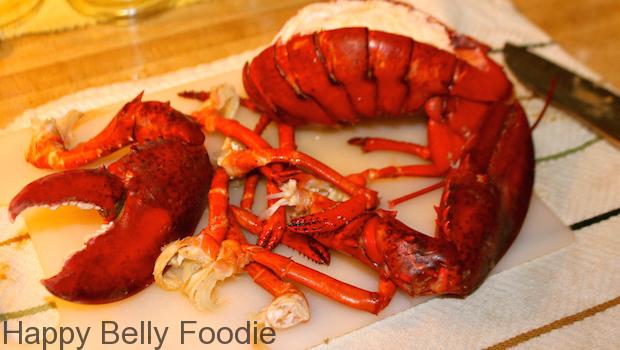 Tell me that doesn't look scrumptious right there..
Oh, those little white bubble lookin' things on it's elbows? Those are called barnacles and they don't hurt a thing. They're just weird lookin'. Ask Spongebob and Mr. Crabs, They'll tell you all about em' 🙂
One last thing: If you're gonna do live lobsters, make sure they're healthy and ALIVE. If you let them die before you cook them, you'll get sick when you eat them. (Thanks for all that great info John!)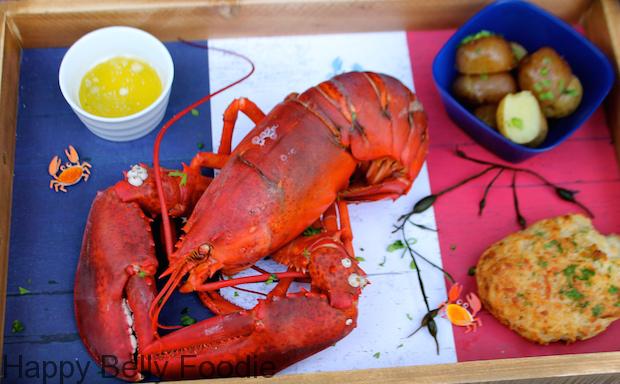 There you have it folks. That's how you do lobster. Of course! I had to do lobster for a food blog. Now I feel all official n stuff.
Btw, don't throw any of the shells or that head in the garbage. Tomorrow, I'm gonna show you how to use 'em to make a whole new meal. FUN! Hey, if you're gonna do lobster, you gotta get the most bang for your buck. I don't like wasting anything and I'm sure you don't either. You can just toss 'em in a bag in the refrigerator. Or, put 'em in the freezer if you're not gonna use them right away.
Make it a great day friends, and as always, keep it delicious!
Till next time ~ much love, Connie
Lobsta! ~ Learning how to cook 'em!
Ingredients
3

live lobsters

1-2

cups

water
Instructions
Keep the lobsters in a cooler with a little bit of ice until ready to cook.

Place a large pot over high heat with the water in it. The water should be about an inch deep.

When the water is boiling, place the lobsters in. You can just stack them on top of each other.

Cover with a lid and leave the lid slightly ajar to allow steam to come out.

Set a timer for 13 minutes.

When the timer is done, the water should be foaming. Move the pot off of the heat and cover with the lid until you're ready to break the shells open and eat.

To break the shells open, Take a sharp knife to the top of the tail. Using the heel of your palm, hit the back of the knife into the tail. It should split easily.

Twist off the legs and claws.

Use shell crackers to get into the meat of the legs and claw. Use a fork to pull the tail meat out.

Serve hot with butter.
Notes
Recipe by: Connie Murray @Happybellyfoodie.com via John LaFontaine